By Jessica Benda
Speeding through the streets of New York City's Lower East Side, a 13-year-old super-genius and a fire-engine red T-Rex have no shortage of energy—and the same can be said for their new Disney Branded Television series.
Marvel's Moon Girl and Devil Dinosaur debuts on Friday, February 10, on Disney Channel and Wednesday, February 15 on Disney+. The story kicks off when Lunella Lafayette (aka Moon Girl, voiced by Diamond White) accidentally brings Devil Dinosaur (voiced by Fred Tatasciore) into modern-day New York, where they join forces as the city's newest heroic duo. With a mischievous entity called The Beyonder (voiced by executive producer Laurence Fishburne), a bright best friend named Casey (voiced by Libe Barer), and eccentric villains, Lunella has her hands full for the season.
Excitement for its premiere brimmed at a recent virtual press conference, featuring White, Tatasciore, Fishburne, Barer, Gary Anthony Williams (Pops), and Emmy® Award-winner Steve Loter, who executive produces alongside Fishburne.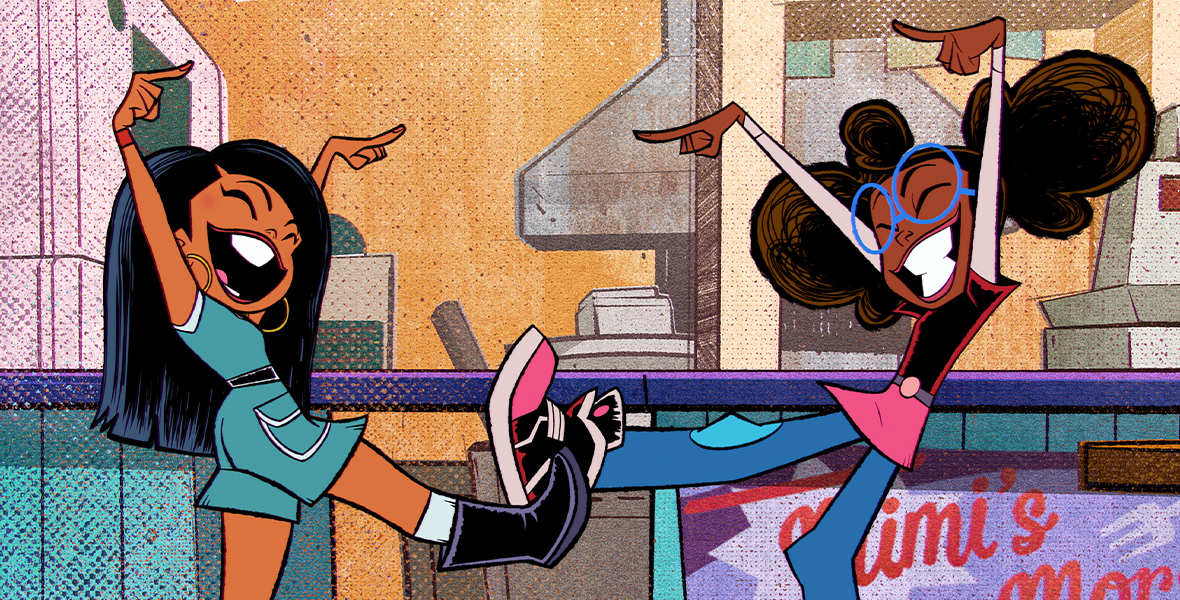 On celebrating intelligence:
"It doesn't matter what your gender, what your color, what your faith, what country you live in. I've always thought that it was really, really cool to be smart," Fishburne said. "I think it's just important for us to have this kind of representation because you can't be what you can't see. So if more young girls of color get to see an experience of a person like Lunella, then perhaps, they won't be afraid to show their intelligence and to lead with their intelligence."
"Also, why was smart ever not cool?" Barer added. "I think there's a lot of really cool reclaiming and reestablishing what is cool in this show—like, one of the things for myself is I love that Casey speaks Spanish and is cool. I would have loved to see that as a little girl, and I love getting to bring that to life."
On authentic representation:
"Well, definitely, I've experienced someone calling my hair frizzy or messy, and that's why it was important for me to see the episode where Lunella gets her hair straightened, the perm episode," White said. "That touched my soul in a place where it was like, yeah, I've been through this. Growing up Black, your hair really does become your enemy. So, it's really cool to see that play out, and that's something that I've never seen on television before."
"We currently have an all-female writing room, a very diverse writing room," Loter added. "So a lot of Lunella's stories in this are based on real-life experiences that our writers have experienced and have put it through the lens of Lunella. Authenticity was primary."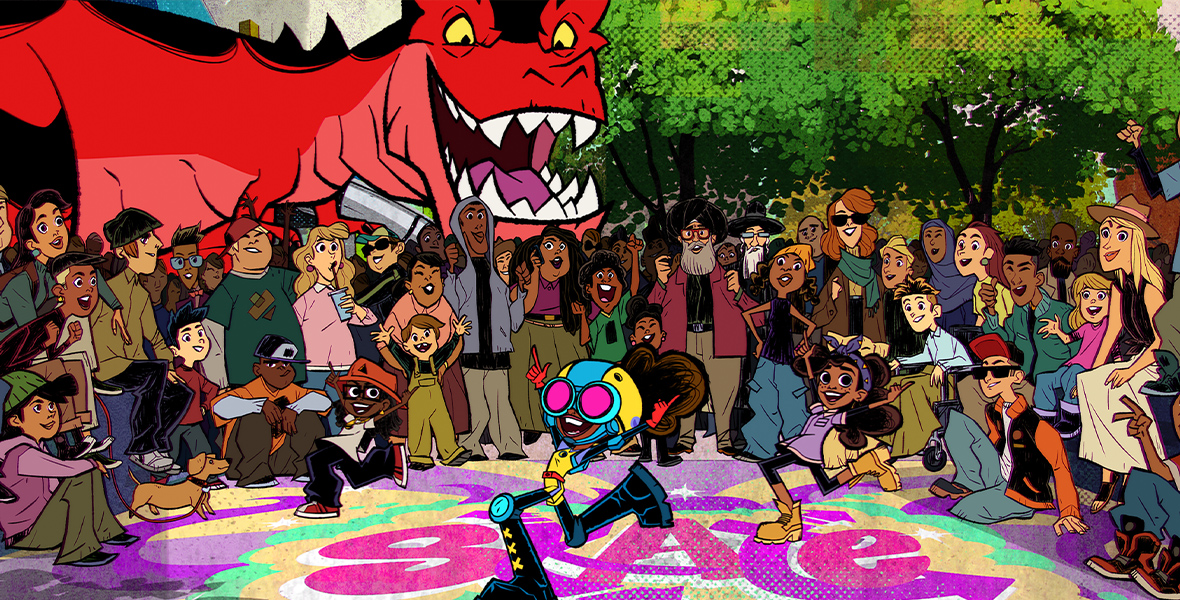 On capturing New York City through animation:
"I grew up in New York in the '80s and '90s," Loter explained. "It was New York prior to gentrification, so I was there at the perfect time where creativity, imagination, and just music, art, poetry, and books were still very vibrant and alive in New York. I wanted to make sure that we could capture that in the show, because I've seen New York misrepresented in a lot of animated properties, so I had to make sure it was accurate. So we relied on a lot of New York artistic benchmarks—the Andy Warhol silk screening process, [Jean-Michel] Basquiat graffiti art, street art murals—to find the flavor of New York we wanted to capture."
"We had a lot of conversations about backgrounds and about the environment, the color palette, and all of these textures," Fishburne added. "It was all those things plus… we are people who really, really love animation, from the very beginning of our lives."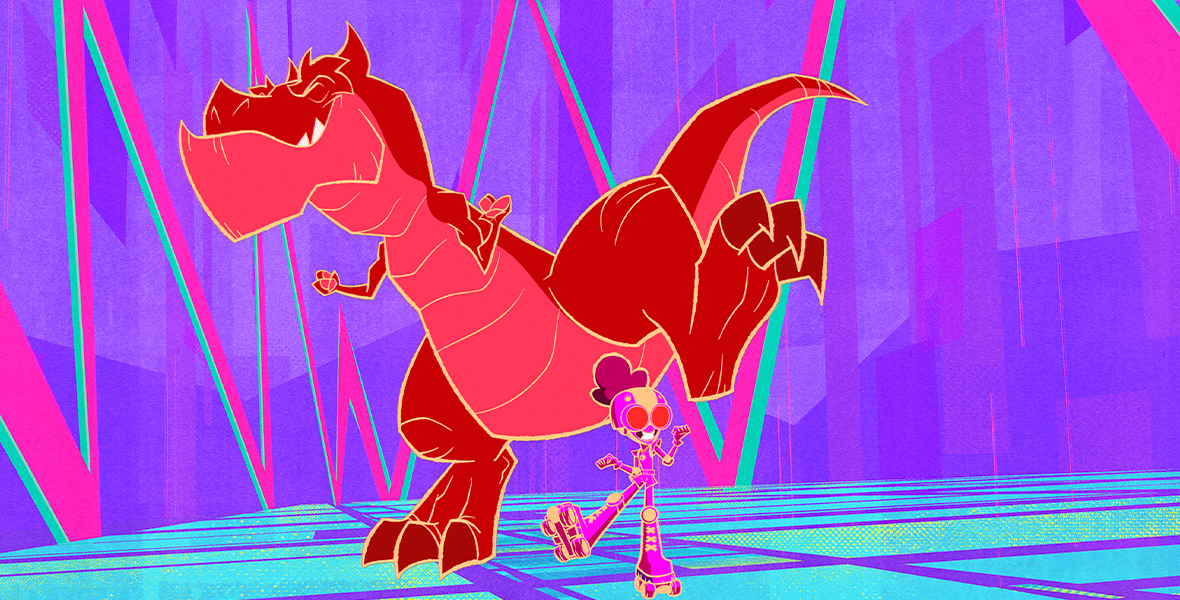 On the difficulty of voicing Devil Dinosaur:
"It's a beautiful, artistic challenge because I feel like I'm showing up with this broken saxophone instrument," Tatasciore said with a laugh. "We know the traditional sounds are what we think of dinosaurs of being [roars and snorts], and the scariness and the bigness, and he's a force of nature. But then, we wanted to try to figure out what's the language of his heart and articulation with Lunella? And so we had to really work together to find it without going the other direction."
On Aftershock, the first villain of the season, and her deeper meaning:
"We really did want to encapsulate a lot about what the mission statement was of the series—the one-girl-makes-a-difference storyline," Loter said. "So to have this character coming into the Lower East Side sapping it of its energy… it is a statement about gentrification. It's a statement about losing community and neighborhood and connection. It was really important for Aftershock to be the conduit—no pun intended—for that kind of story."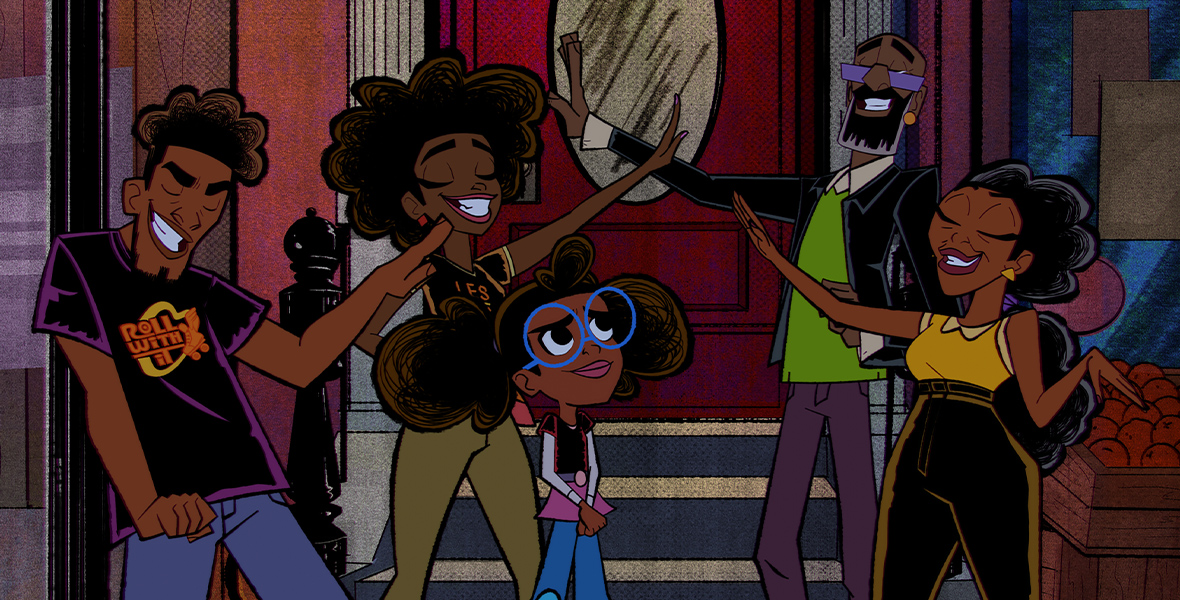 On relating to the lively Lafayette family:
"I grew up in a huge family. I have six sisters, two brothers, mom and dad and then my grandmother was always there. My cousins were always there," Williams recalled. "So to get to show that whole family unit, literally the way that I grew up, except for down south, to get to be a part of that and that heart and love that comes from my character, Pops—who's Lunella's granddad and also just a huge fan of Moon Girl, even though he doesn't know it's the same person—that means everything to me."
Loter on subtle references throughout the series:
"You'll see a couple of MCU characters in the show, but also you'll see that some of the characters we have in there are really deep cuts in Marvel Comics," Loter said. "We love doing that because we always find the right character to fit the right thematic element for that episode. There's a lot of Easter eggs."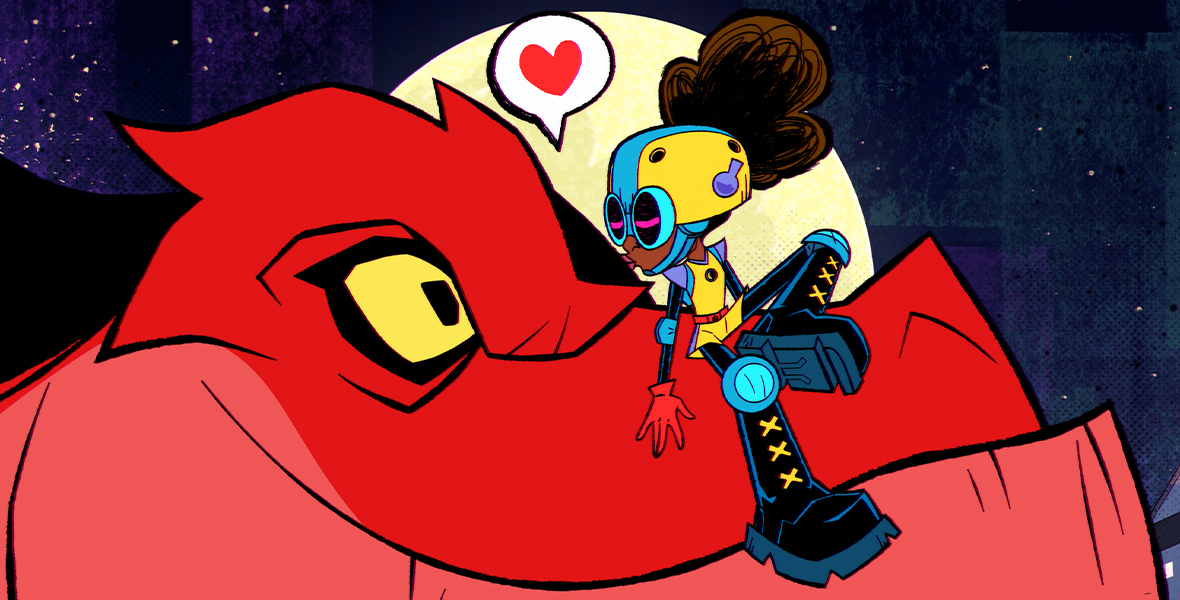 White on the impact of Marvel's Moon Girl and Devil Dinosaur:
"We made history being Marvel's first teenage Black girl Super Hero," White said. "So it's important to see that kind of representation. It's a show that I needed growing up and I feel like it really does make a difference. Like the show says, one girl can make a difference."