By Kevin Kern, Walt Disney Archives
Every now and then, while working with the historical production artwork preserved in the Walt Disney Archives, one has to pause to appreciate just how special each individual piece is, and what story it helps to tell. Some of my favorite examples to peruse in this way come from the production of director Walter Murch's 1985 epic, Return to Oz.
Combining lavish production design and intricate special effects, the film marks a unique moment in Disney studio history, one that has come to be fondly embraced as a cult classic by an entire generation of fans. Return to Oz is a unique artistic realization, featuring a sense of design grandeur that firmly plants itself in both the realms of Baum's classic Oz tales and the era of Hollywood blockbusters it was produced amidst.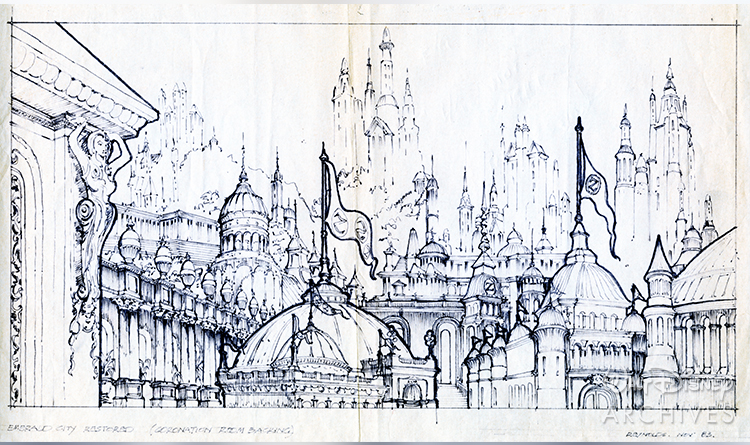 Taking cues from a studio looking to broaden its film fare, boldly experimenting with some of the brightest and most creative minds in the motion-picture industry at the time, Return to Oz showcased a memorable take on Baum's source material—itself which has become known as the prototypical series of American fairy tales. Digging deep into our vaults (something we're sure even the great Nome King would be proud of), we wanted to share a brief gallery of concept artwork from the film, highlighting this important, yellow-bricked crossroad, one of the many intersections between Disney and Oz.
Loose and highly stylized, the following sketches are the work of current Pixar production designer Harley Jessup, who was a story artist on Return to Oz early in his career. Representing the special effects-heavy sequence from the film when The Gump first takes flight, whisking Dorothy and her travel companions away from the clutches of the evil Mombi, these small felt marker works are meant to immediately invoke a heightened sense of character, energy, and scope for what is an exciting, action-packed moment in the film.
From Oz to Kansas and back, we hope you enjoy this artistic peek at Return to Oz, one of The Walt Disney Studios' most ambitious projects.
Follow the yellow-bricked crossroad and Return to Oz, now streaming on Disney+!