By Andie Hangmann
On Monday night, the stars and creatives from Disney's Chang Can Dunk strutted down the orange carpet for the film's launch and screening event at the Walt Disney Studios lot in Burbank, California.
The film's stars Bloom Li, Dexter Darden, Ben Wang, Zoe Renee, Chase Liefield, Mardy Ma, and Eric Anthony Lopez, along with writer and director Jingyi Shao; producers Rishi Rajani, Lena Waithe, and Brad Weston; and costume designer Joshua Marsh were all in attendance.
Chang Can Dunk follows Chang (Li), a 16-year-old, Asian American high school student in the marching band, who bets the school basketball star that he can dunk by Homecoming. The bet leads Chang on a quest to find the hops he needs to dunk in order to impress his crush, Kristy (Renee), and finally gain the attention and respect of his high school peers. But before he can rise up and truly throw one down, he'll have to reexamine everything he knows about himself, his friendships, and his family.
"It's a film about family, friendship, going after what you want, and trying to become a better version of yourself," said Li. "I'm grateful for everything that's happened and everyone here. This is really a dream come true and I'm just trying to appreciate the moment."
Added Rajani, "For me, to be able to put out a movie that is the kind of movie I wish existed when I was a kid is surreal. I think a lot of people will see themselves in this film."
Prior to the screening, guests were immersed into the basketball world of Chang Can Dunk through engaging dunk photo opportunities and hoop-rific entertainment.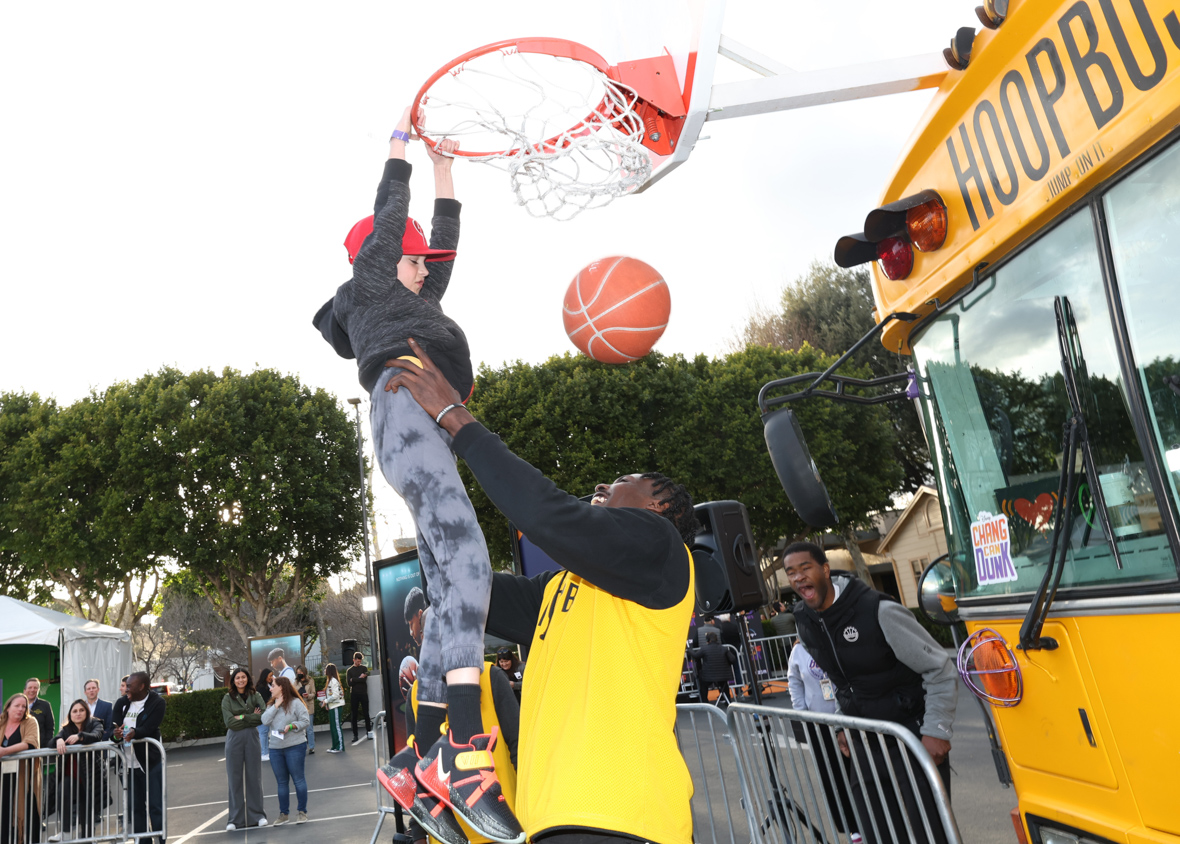 "It is a basketball movie, so [the event] very basketball centric," shared Shao with a laugh. "I see the Hoop Bus back there; it's been a while since I've laced up the sneakers, but I'm going to put my jump shot to the test!"
"I hope when people watch this film they're inspired and find out what their 'dunk' is," he added. "What they're dreaming to do."
Chang Can Dunk debuts Friday, March 10, exclusively on Disney+.
Enjoy more photos from the launch event below: