Avast, me hearties—and celebrate 55 years of swashbuckling scallywags on Pirates of the Caribbean with a treasure of a pin! This D23 Gold Member-exclusive pin is the best bloomin' way to dig up the nostalgia and history of this seminal attraction, beloved by guests since its debut at Disneyland in 1967, and in Disney Parks across the seven seas today. This Pin features Marc Davis-inspired art of the iconic tippled pirate and his scurvy swine!
Pirates of the Caribbean is now considered one of the most immersive attractions ever created for a theme park… but when Walt Disney originally designed it in the 1950s, he imagined it as a wax museum and a walk-through adventure. After the success of Walt Disney's Carousel of Progress at the 1964 New York World's Fair, however, Disney and his team of Imagineers decided that Audio-Animatronics®—Walt's latest mechanical animation technology—was the most imaginative way to tell a rousing pirate story. Thanks to the highly detailed scenes, lavish special effects, and memorable characters, the attraction earned rave reviews and has remained a beloved classic ever since.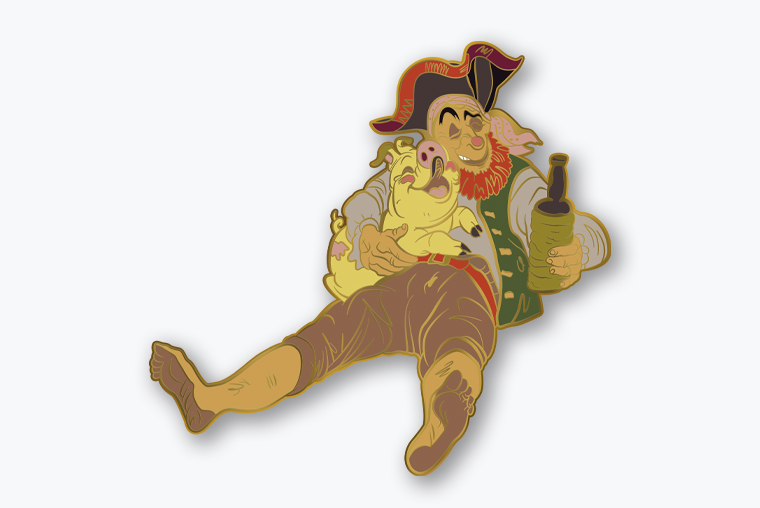 Our Pirates of the Caribbean pin, offered in a limited edition of 1,967, will be available exclusively to D23 Gold Members on shopDisney beginning at 7 a.m. PT on March 14, 2022.
*Available while supplies last. To purchase, you must log in to shopDisney.com with the Disney account tied to D23 Gold Membership. Pins are sold for $12.99 each, plus applicable sales tax. Maximum of three (3) pins of this style for purchase per D23 Gold Member for online orders. Shipping not available to PO boxes; shipping and handling fees may vary for all online orders. Other restrictions may apply. All information is subject to change including, but not limited to, artwork, release dates, editions sizes, and retail prices.