By Alison Stateman
Get ready to gear up for a road trip of epic proportions. On September 8, in celebration of Disney+ Day, Cars fans will be treated to a new series of animated shorts from Disney and Pixar that takes two beloved characters on a journey across America.
Cars on the Road follows Lightning McQueen (voiced by Owen Wilson) and his best friend Mater (voiced by Larry the Cable Guy) as they head east from Radiator Springs on a cross-country road trip to meet up with Mater's sister for her wedding.
"This is the coolest thing I've ever done in my entire life. And coming back to do the voice has just been fantastic," says Larry the Cable Guy, the longtime voice of Mater. "It's so much fun doing it with Owen because we both know each other so well by now with these characters. The series is unbelievable, and it's hilarious."
The nine-episode Original series, produced by Marc Sondheimer, serves as a reunion of not just the two lead actors—who last worked together on Cars 3 in 2017—but also for Cars and Pixar collaborators Steve Purcell, Brian Fee, and Bobby Podesta, who helm three episodes a piece.
"All three of us have been involved in this franchise since the very beginning. We all go back to Cars 1. So, it's in our DNA; it's in our blood. We're all just heavily rooted in these characters," says Fee, who wrote and directed Cars 3. "I think the beauty, for me—the joy of working directly with these guys—is that we all have slightly different personalities and thumbprints, and that's a resource. We kind of rely on each other to help fill in the gaps and make it better."
During a recent press conference, the creative team shared why a road trip was the perfect vehicle for expanding upon the Cars franchise and the friendship between Lightning McQueen and Mater, while also tapping into their own memories of family road trips.
"When I was 8 years old, my family traveled from Ohio to San Francisco. And that trip stuck with me. I just remember every day was some new adventure," explains Purcell, who directed Episodes 1, 2, and 8. "And in creating this series and writing these stories, it felt like a great opportunity to create something that was sort of modular—in that every step along the way could be a totally new location and totally new sensibility, and a totally new set of characters."
"Our touchstones are Lightning McQueen and Mater, and we sort of put them through the wringer and see how their personalities play themselves out. It's really fun," he adds.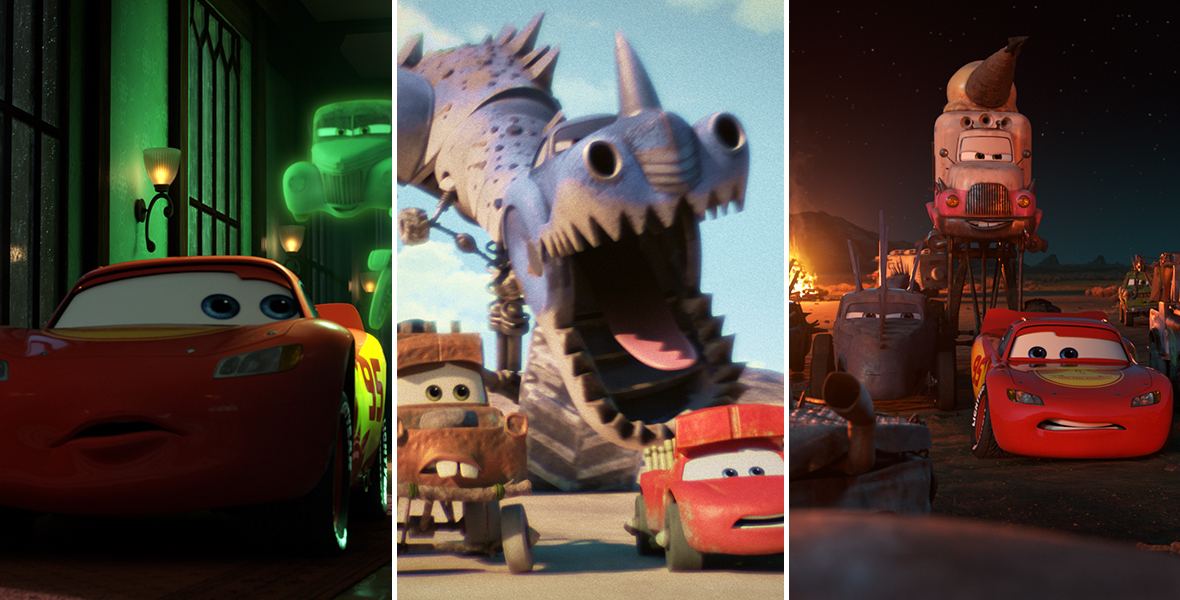 Indeed. The series finds the two besties traversing the country with pit-stops to locations including a "dino park," a roadside circus, spooky campgrounds, and even a haunted hotel. Each episode is chock-full of homages to not only past road trips, but movie genres, directors, animators, and even a Disneyland attraction. For instance, the look and movement of the "dino-cars" in the second episode were inspired by the work of legendary visual effects artist Ray Harryhausen (The 7th Voyage of Sinbad, Clash of the Titans)—and there are nods to classic films.
Each episode is singular in terms of tone, look, direction, and music, courtesy of composer Jake Monaco who scored each installment.
"Music has been a part of the Cars world going back to the first film; it's an integral part of it. And we wanted music to be a part of this as well," says Fee.
For Sondheimer, partnering with Disney+ allowed them to step out of their usual production methods and expand their creative approach.
"To be able to tell a story, or a bunch of different stories, and put these characters in unique situations…works perfectly for these characters and this franchise. And to be able to have a partner like Disney+ that supports us all along the way—to [be able to] do different things with these characters and try out different ideas—is a perfect match."