By Alison Stateman
Come November, fans will be treated to a fantastical, awe-inspiring world beyond their wildest imagination in Walt Disney Animation Studios' newest feature, Strange World.
The action-adventure story, which debuts exclusively in theaters on November 23, introduces a legendary family of explorers, the Clades, as they navigate an uncharted, treacherous land—alongside a motley crew that includes the family's three-legged dog, Legend; a mischievous blob named Splat; and a slew of ravenous creatures.
Helmed by Oscar®-winning director Don Hall (Big Hero 6, Raya and the Last Dragon), the film boasts a voice cast led by Jake Gyllenhaal as Searcher Clade, a farmer who finds himself thrust into an expedition into the unknown; Dennis Quaid as Jaeger Clade, Searcher's larger-than-life explorer father; Gabrielle Union as Meridian Clade, a pilot, natural leader, and Searcher's wife and partner in all things; Jaboukie Young-White as Ethan Clade, Searcher and Meridian's 16-year-old son, who longs for adventure beyond his family's farm while also navigating a school crush; and Lucy Liu as Callisto Mal, the head of the land of Avalonia—a valley surrounded by mountains so steep that any explorer who has tried to climb out has never returned, and the leader of the exploration party.
Recently, Hall and other leading creatives, including co-director and writer Qui Nguyen (Raya and the Last Dragon) and producer Ron Conli (Big Hero 6, Raya and the Last Dragon), shared more about the inspiration, artistry, and process of bringing the film to life.
Looking to the Past
"Strange World is an all-new original story inspired by some of the great adventure stories that we grew up with," Hall shared. "Especially stories about a group of explorers that stumble upon a hidden world." Inspirations include pulp serials from the first half of the 20th century, from authors like Jules Verne and Arthur Conon Doyle and movies like King Kong.
Nguyen picked up, "At its core, Strange World is an adventure film with lots of heart and comedy; a story about the beautiful yet complex relationship between fathers and sons, parents and children, and humanity's role within the greater environment—and, ultimately what it might take to truly save the world."
As the film begins, Searcher has rejected the vocation of his famed explorer dad, Jaeger, becoming a farmer in Avalonia, which has grown prosperous through a magical plant named Pando. Searcher is a treasured member of Avalonia after having discovered the plant-based power source, which provides energy to the entire community—and is something he rescued from a long-ago mission with his father. However, when the Pando crops start to wither, he must abandon the life he chose to go on a perilous expedition to a strange world beneath their planet's surface.
Other creative inspiration, Hall shared, came from sources as varied as landscape paintings from early American artists (for vista shots and lighting) to French-Belgian comics (for character styling)—plus other personal touchpoints, including the farm in Iowa where Hall was raised.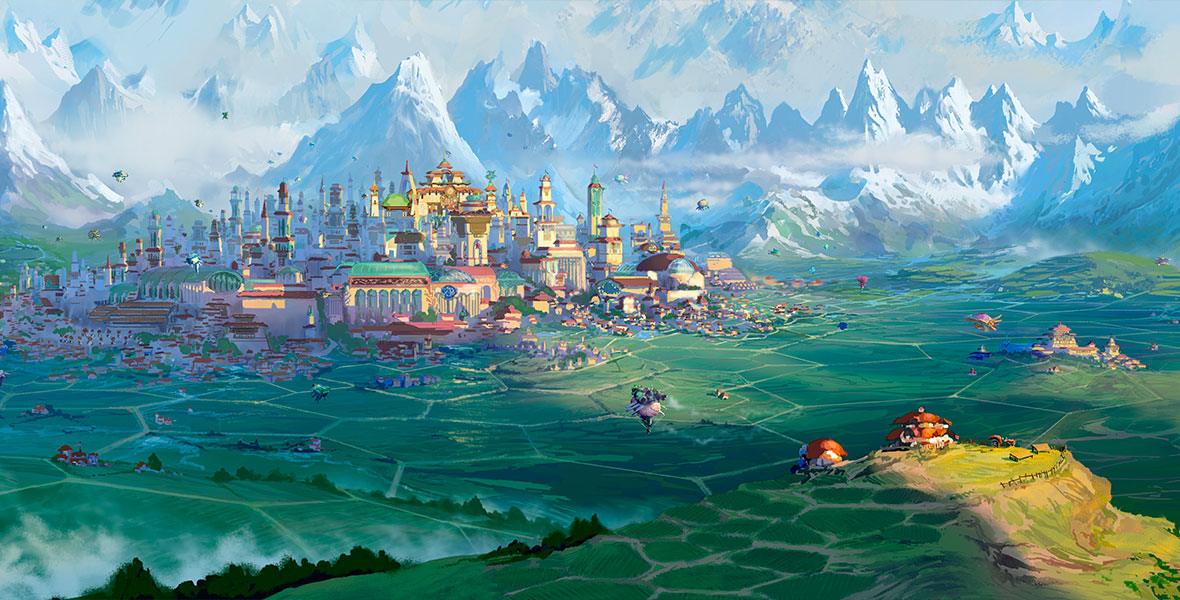 A Whole New World
The filmmakers brought a clutch team together to help create the distinctive environments and animation style to life, including Sean Jenkins, head of environments (Frozen 2); Mehrdad Isvandi, production designer (Encanto); Amy Smeed, co-head of animation (Raya and the Last Dragon); and Justin Sklar, co-head of animation (Wreck-it Ralph).
"We take a look at those references, those inspirations, and translate that into the world itself," said Jenkins. "We had a word that ended up originating on the show, called 'chonky'… which was our way of summing up how those kind of action novels and French comic books translated themselves into the styles. Avalonia, for instance, was really built substantial. It's chunky; it's large; the columns on the front of the farm are huge—you won't find anything that's kind of fine and filigree."
Jenkins continued, "On the farm side, one of the big references was actually a bunch of images Don sent us of his family farm."
"Every time I go back, it strikes me how far you can see. The world feels so big and green," Hall elaborated. "There's a lot of fields, corns, and soybeans. But there's an almost geometric rhythm, I guess, to the landscape that I thought would be interesting to get in the film."
Then, of course, there's the world beneath Avalonia, which came to life in initial concept art by Isvandi.
"This is one of the first paintings that I saw when I started on the project, and it automatically made me realize how large of a world we were really going to build. Ultimately, they are some of the largest environments that we've ever made at Disney Animation," said Jenkins. "It was great early on to try and understand the rule of the world, how the world evolves, how you can give it a history. So, it was super exciting, and then to be able to populate the world to make it feel rich."
He continued, "In fact, when we first built it, we didn't actually have computers large enough to be able to show the whole world. And we had to work with our talented team to try and figure out how can you get the most on the screen that would show the richest world—from the little blades of grass all the way to the biggest structures and still be able to fit it onto our computers."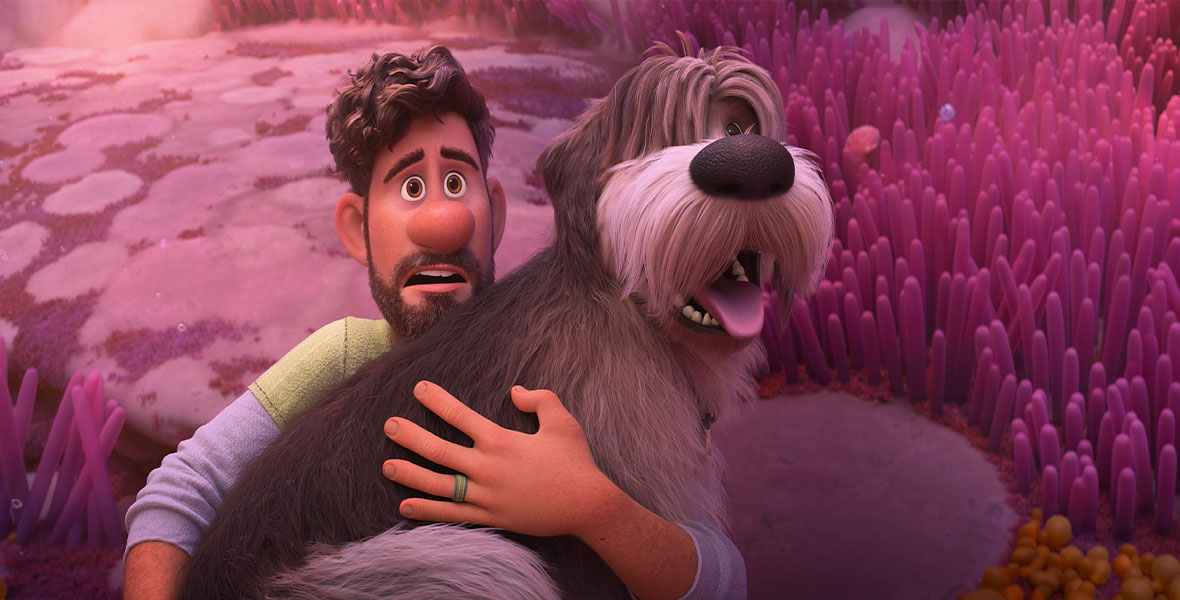 To help ground Strange World, the creative team was given a helpful suggestion by none other than Disney Legend and storyboard artist Burny Mattinson, who contributed to such Disney classics as Lady and the Tramp, Mickey's Christmas Carol, and The Great Mouse Detective. In addition to Strange World, Hall worked with Mattinson on the animated features Winnie the Pooh (2011) and Big Hero 6 (2014).
"One day in a story meeting, Burny said to me, 'You're creating such a wonderful world, but you need something grounded to reality. You need a dog,'" Hall recalled. "So, we gave it some thought, and, sure enough, Legend was born."
"Our nickname for Burny is 'Legend' because he's a bona fide Disney Legend," Hall continued, "That's why we named [the dog] Legend. It's all because of Burny that he exists—and steals every scene he's in."
In terms of character animation, Sneed said Hall and Nguyen wanted to push it "a little more than we typically do."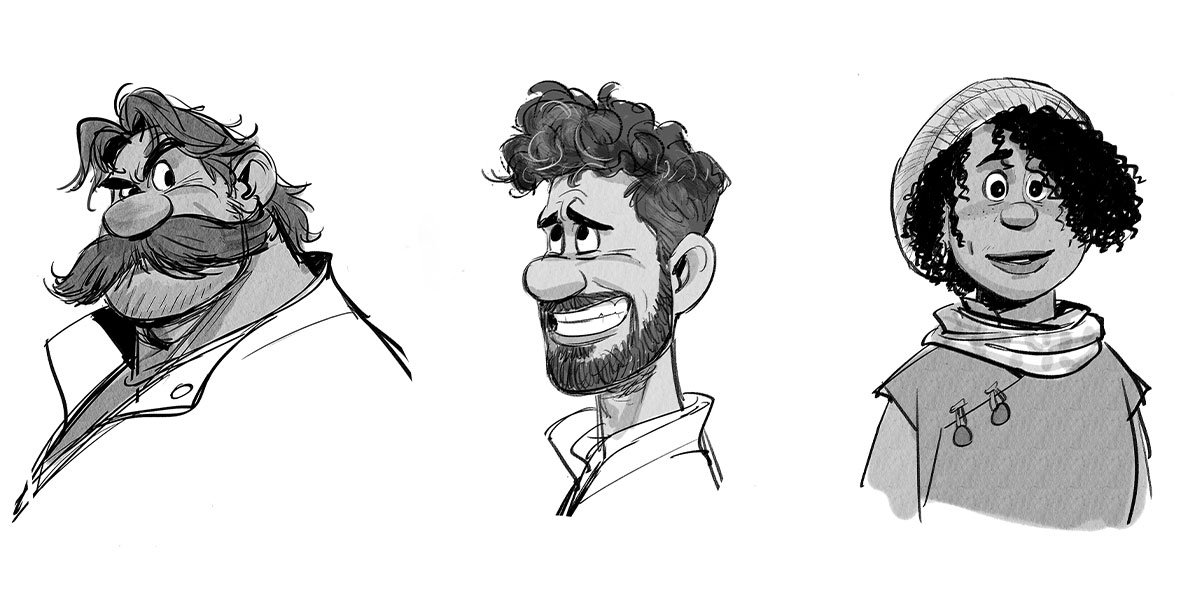 "They wanted to stage things and create moments where we could play a little bit more, and just have fun with the animation," she said. "Justin [Sklar, co-head of animation] and I were really inspired by Jim Kin's character designs. He's really leaning into the French comic book influence. We just started experimenting with style very early on, and looking for ways where we could push on the stylization of our characters."
Early on, during dialogue and physicality tests, Hall noticed the look the animation team came up with was reminiscent of films Disney was making around World War II, such as Peter Pan and Sleeping Beauty—causing Sneed and her team to start "looking deeply at those films and more modern films, such as Treasure Planet."
"We spent a fair amount of time looking at our recent films like Encanto and Raya," Sklar added. "For us, the animation in these movies is really based in naturalism and tends to focus on both through the sincerity and the complexity of human movement."
"Ultimately," Sneed said, "we came up with this idea that we were calling this modern Disney performance, but with a post-war Disney approach."
Nguyen singled out the result of the creative mashup: "Just to see the challenges that they took on to lead this very complex world, it's incredible how broad and funny these characters can be, but also so nuanced and emotional," he said. "It's a magic trick that Amy and Justin have pulled off with their amazing team."