By Zach Johnson
ESPN, The Walt Disney Company, and the National Football League are teaming up for Toy Story Funday Football, a first-of-its-kind presentation featuring beloved characters from Pixar Animation Studios. This Sunday at 9:30 a.m. ET, fans can immerse themselves in a fully-animated offering on Disney+, ESPN+, and on mobile with the NFL+ app when the Atlanta Falcons and the Jacksonville Jaguars game at London's Wembley Stadium is recreated live in Andy's room, one of the film's iconic settings. This special presentation marks the latest in ESPN's innovation strategy, providing alternate telecasts in key events.
Andy's room will replicate the on-the-field gameplay from Wembley Stadium—host of the NFL International Series game—where each Falcons and Jaguars player will have an animated representation on a familiar-looking field, modified for the Toy Story setting. Fans will see all of the football-related action through state-of-the-art tracking technology enabled by the NFL's Next Gen Stats player tracking data and Beyond Sports. In addition to the gameplay, other aspects—including the announcers Drew Carter (play-by-play), Booger McFarland (analyst), and Pepper Persley (reporter); the graphics; the scoreboard; the penalty announcements; and more—will embrace the Toy Story-themed presentation in their packaging and delivery. Woody, Buzz Lightyear, Bo Peep, Jessie, Bullseye, Bunny, Ducky, Forky, and other characters from the acclaimed animated franchise will be visible throughout, participating from the sidelines and in other non-gameplay elements. And, during the special Halftime Show, daredevil Duke Caboom will attempt a motorcycle jump!
This pioneering NFL presentation is made possible by ESPN, ESPN's Edge Innovation Center, The Walt Disney Company, NFL, Pixar, Next Gen Stats, Beyond Sports, and Silver Spoon. ESPN and Disney's Toy Story alternate telecast complements the primary game presentation of the Falcons and Jaguars' Week 4 matchup available on ESPN+, local broadcast stations in the markets of the participating teams, and on mobile with NFL+. In the U.S., a replay will be available shortly after the game ends on Disney+ and NFL+ (for a limited time). Globally, Toy Story Funday Football will be available in over 95 markets live and/or on replay. Video on Demand will be available 24 hours after the live broadcast ends.
Before Toy Story Funday Football streams this weekend, Michael "Spike" Szykowny, Senior Director, ESPN Creative Studio, shared an inside look at how the presentation comes to life.
D23: ESPN's NHL Big City Greens Classic—which aired on ESPN+, Disney Channel, Disney XD, and Disney+ in March—was the first live, animated NHL game telecast. What lessons from that special presentation did you implement for Toy Story Funday Football?
Michael "Spike" Szykowny: Rather than start from scratch, as we'd done with Big City Greens, we built upon it. From the Beyond Sports point of view, the characters are now football players instead of hockey players. What improvements could we make there? How could we make the environment—Andy's room—even more interesting? We knew how to do the mocap [motion-capture] characters, but Silver Spoon said, "Let's take what we did and build on it." We added a third person, Pepper. And then in the game presentation, the Toy Story brand is so iconic that there was a lot more for us to build upon in the animation package. So, we took the playbook of Big City Greens—which had great 2D animations, by the way—and we built upon it even more. Taking the lessons learned from the NHL Big City Greens Classic—starting 50% up from where we were last time—really helped us out.
D23: What made Toy Story the right IP to incorporate in an ESPN alternate presentation?
Spike: We sat around in a room brainstorming until somebody said, "What about Toy Story?" Everybody looked around at each other and said, "Yeah, that'd be awesome!" We looked into it, and there's research to prove how powerful the Toy Story brand is with a lot of different age groups. It just resonates with everybody, so it was a great property to use.
D23: You're fully animating Drew, Booger, and Pepper—and their body movements—via motion-capture technology. How are they adjusting to this added production element?
Spike: Drew's done one with us, and he's great. I do believe this is going to be the first time for Booger and Pepper to wear a mocap suit. We learned during the Big City Greens telecast, for example, that you have to watch where you place the hockey stick; you can get an occultation that intersects with the other characters, so you have to be careful. But ultimately, once they're in their mocap suits, we practice quite a bit to make sure that the movements feel good. We'll run through it in order to find out what they can and can't do.
D23: From a technological standpoint, how are you animating the gameplay in real-time?
Spike: The principle is the same as before. We're using tracking chips on the players and a tracking chip in the ball. Some of the bigger differences from last time are that hockey's only six people per team on the field at the same time, and it's almost constant motion. Football has 22 players on the field, and there is downtime between each play. With hockey, everyone kind of skates the same way and takes a shot the same way; they're the same motions. With football, you have so many variations: a lineman acts totally differently than a quarterback does, and a running back acts totally differently than a receiver does. It's a little more challenging to make everybody do what they need to do [in animation]. And, honestly, this has never been done before—combining the single-point tracking with the optical link tracking. But Beyond Sports has a lot of very smart people working on this.
D23: What a fun and unique opportunity to work with another segment of The Walt Disney Company.!Can you explain how the graphics package was designed with the Pixar team?
Spike: First of all, I can't stress enough how wonderful [Franchise Creative Director] Jay Ward, [Franchise Marketing Manager] Brian Tanaka, [Marketing Coordinator] Catalina Hosokawa, and everybody from Pixar has been. We have two IPs, Toy Story and the NFL, and we have to be respectful of both of them. And that's the balancing act, right? Pixar has been great to work with. They've told us what we can and can't do. They've supplied us with some elements to get us started. The ESPN Creative Studio animation team is doing all of the animating past the stuff they gave us. Pixar gave us clips in a tool kit, and then we took those clips and said, "OK, Woody and Jessie are dancing. When would that happen in the game? Oh, on the sidelines after a touchdown!" So, then we had to build the correct background and put them in the correct environment. After a team scores a touchdown, we can cut to that clip, and it looks like because of the touchdown, Woody and Jessie are dancing on the sidelines. That's sort of the magic behind it. We're also doing the Duke Kaboom daredevil spectacular at Halftime—which is a brainchild of our group—and Pixar loved the idea. Even though we're animating the entire piece, we got to work with the animator who actually did the animation for the movie [2019's Toy Story 4]. It's been a great collaboration overall. We want to be respectful of their IP. They know what we're trying to get done, so we all meet in the middle and do whatever we can to make it work.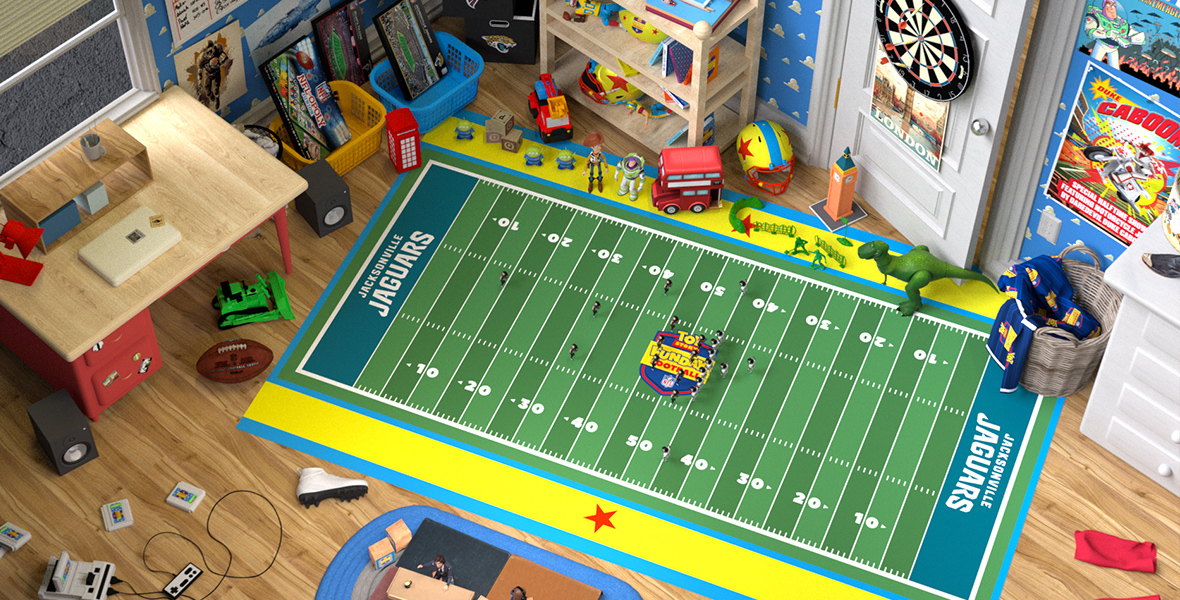 D23: What do you hope young fans and families take away from this alternate presentation?x
Spike: Alternative broadcasts are a great way for audience expansion. The world has changed a lot, and people have a lot of different things going on. Traditional sports games are still super compelling, but how do you reach the casual fan? After Big City Greens, I had so many people say, "My kid would never sit down and watch hockey, but because of how you presented it, they sat there for the whole game." That's the way the world is going. To be relative and to continue to expand our audience, we need to find new ways in. These alternate presentations are great. The ManningCast is another great example, right? You have these two amazing, Super Bowl-winning brothers giving you an inside look at football.
D23: Is it safe to assume other alternate presentations of this kind are in development?
Spike: Absolutely. A lot of sports are interested in doing this. With the NHL, we scratched the surface a little bit; it opened a lot of people's eyes. The difference is the NHL one was a little bit more under the radar for us. I think once everybody saw that, it was like, "Oh! This is pretty cool." Now it's like, "OK, how can we expand this out?" These aren't easy to do. It's a lot of work and they're time consuming; a lot of goes into it. The bigger the hype, the bigger the sport, are more challenges to overcome. But I think the plan is to try and do these on a regular basis where they make sense and where they can make the most impact.
D23: How would you summarize your experiencing working on Toy Story Funday Football?
Spike: It's super exhilarating, but at the same time, it's exhausting! [Laughs] It's been so exciting to see it all come together, knowing we still have a few challenges ahead. If anything's too easy, it just doesn't feel as rewarding. I think every great project has those moments that test your mettle, right? You'll often wonder, "Are we going to be able to do this or not?" And then you figure out a way to do it. I think that's the fun of the challenge.