We're sad to report that famed animator, sculptor, and Disney Legend Blaine Gibson passed away on Sunday, July 5, at the age of 97.
Born on February 11, 1918, in Rocky Ford, Colorado, Blaine attended Colorado University—but left school early to join The Walt Disney Studios in 1939. While working as an inbetweener and assistant animator on films like Fantasia, Sleeping Beauty, and Alice in Wonderland, Blaine took evening classes in sculpture (a favorite hobby since childhood) at Pasadena City College. It wasn't until 1954 that Walt Disney himself saw one of Blaine's sculpture exhibits and invited him to start working on his big new project: Disneyland.
He divided his time between animation and sculpture until 1961 when he transferred full-time to WED Enterprises (now Walt Disney Imagineering) to supervise the newly created sculpture department. Pulling constant inspiration from the people around him, Blaine created hundreds of sculptures from which Audio-Animatronics® figures were produced—including figures for Haunted Mansion, it's a small world, Walt Disney's Enchanted Tiki Room, and Pirates of the Caribbean. As he once explained, "My goal in sculpting is to render the uniqueness of an individual." Blaine's more historical work began when he used a life mask of Abraham Lincoln to create a sculpture of the 16th President for the 1964–65 World's Fair; later, he would supervise the creation of all the other U.S. Presidents (through George W. Bush in 2001) for The Hall of Presidents at Walt Disney World.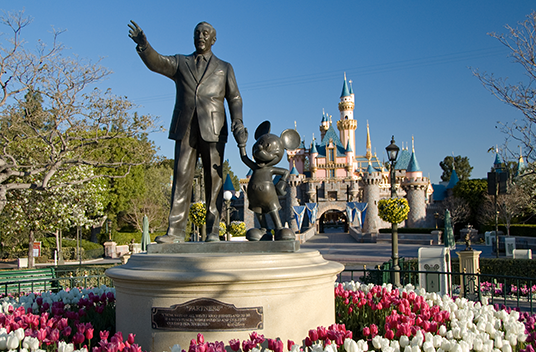 Though he officially retired in 1983 after 45 years with the Company, Blaine continued working on Disney-related projects for some time, including The Great Movie Ride at Disney-MGM Studios (now Disney's Hollywood Studios) and the "Sharing the Magic" statue of Roy O. Disney and Minnie Mouse seen at Magic Kingdom Park, Tokyo Disney Resort, and The Walt Disney Studios. But perhaps most famously, Blaine sculpted the "Partners" statue of Walt Disney and Mickey Mouse in 1993—the same year he became a Disney Legend. "I chose to depict Walt as he was in 1954," explained Blaine at the time. "I think that was when Walt was in his prime. It was tough trying to match the media image of Walt Disney, the one the public knows, to the real Walt, the one we knew." The original "Partners" statue, featuring Walt and Mickey standing hand-in-hand, can be seen at the Central Hub inside Disneyland, as well as at The Walt Disney Studios and at Disney parks around the world.
"We are deeply saddened by the loss of such an incredibly talented artist and Disney Legend, yet we all are very fortunate that his amazing work will continue to live on in our animated films and theme parks," said Bob Iger, chairman and chief executive officer, The Walt Disney Company.