We are sorry to report that Disney Legend Al Konetzni, artist and character merchandising "idea man," passed away in Bradenton, Florida, on February 8. He was 100 years old.
Born May 19, 1915, in New York City—where he attended the Pratt Institute of Art—Konetzni joined Walt Disney Productions in 1953, working out of the Madison Avenue offices where the character merchandising division was located. Previously Konetzni had spent 16 years working for the Pal Personna Blade Co., where he developed the company's Pal man character, which was featured on product packages.
"I'm still Disney. I said at my retirement party, 'Working for Disney is like a religion. It gets in your blood and it stays there.' It was a thrill."
Konetzni's creative skills and self-taught knowledge in sales, marketing, and copyright law led to him being named a marketing account executive for Disney, coordinating licensing with industry giants like General Electric (for the Mickey Mouse night light), Lever Brothers (for the Mickey Mouse toothbrush), and Bradley Time and Elgin (for Mickey Mouse watches and clocks, among others). Among the most iconic products developed and licensed by Konetzni are the now-collectible Pez Mickey and Donald candy dispensers and a popular lunch box set featuring a host of Disney characters on board a school bus. The classic lunchbox sold its nine millionth unit in 1976 and is now a prized collector's item among Disney fans.
"I used to commute to work on the Grand Central [train system]. If I had a 9:00 meeting with clients, I'd be sketching on the train all the way in, working on ideas [for merchandise concepts to sell to clients]," Konetzni told Disney Newswire in 1999.
After retiring from the Company in 1981, Konetzni served as a merchandise consultant for Ringling Bros., Barnum and Bailey Circus for two years. While there he helped develop merchandise for the joint Disney and Ringling Bros. touring ice show, Disney on Ice. He also published a best-selling cartoon book, Double Bogey, which looked lightheartedly at golfers and their foibles.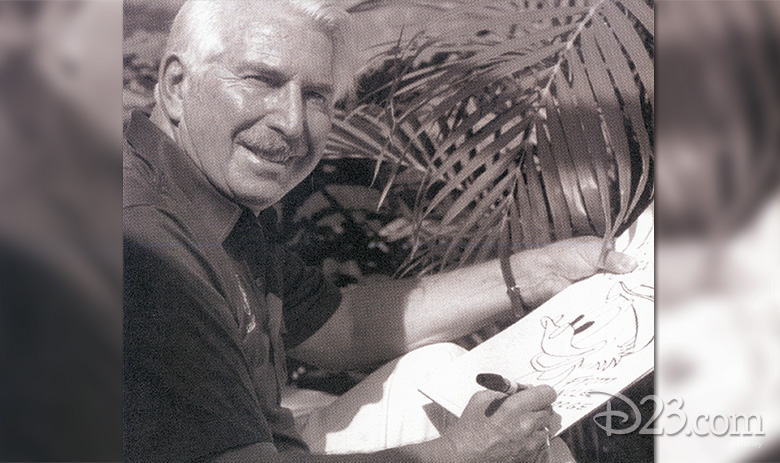 Long after his retirement, Konetzni still fondly remembered his time at Disney. "I love the company," he said in Disney Newswire. "I'm still Disney. I said at my retirement party, 'Working for Disney is like a religion. It gets in your blood and stays there.' It was a thrill." He was inducted as a Disney Legend in 1999, and he celebrated his 100th birthday in 2015 with a "magical moment" at Walt Disney World Resort in Orlando, Florida. During the event, Konetzni shared special remembrances of his career, received an Honorary Ambassador for the Day pin, and enjoyed a birthday cake shaped like his famous lunch box.
Konetzni is survived by his children, Al Jr., Doug and Karen; 10 grandchildren and 18 great-grandchildren.