Kermit, Fozzie Bear, and Gonzo showed up at Stage 23 at D23 EXPO to tell us all about their new show The Muppets, premiering this September on ABC. Oh… and they brought along their personal "Muppeteers" to help (the humans whose hands and voices give life to the Muppets).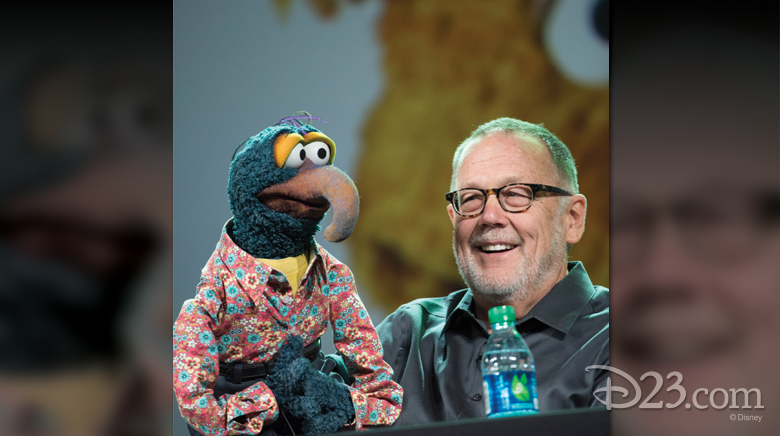 "We're always learning," said Dave Goelz, voice and Muppeteer for Gonzo. "Everyday we like to surprise each other with new aspects of the characters." Other Muppeteers joining Goelz onstage were Steve Whitmire, Bill Barretta, Eric Jacobson, and Matt Vogel.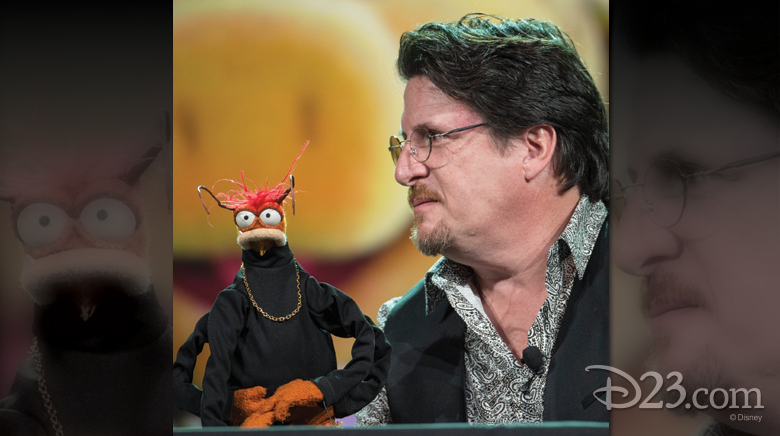 Bill Barretta, Muppeteer for Pepe the King Prawn and Rowlf the Dog, agreed, saying, "Every day we're pushing them a little bit and have fun with them. The characters, even after we cut, tend to stay alive. This new show is about what happens to them after we call cut, which is fun. People don't usually get to see the backstage stuff."
Fans fell in love with Kermit, Miss Piggy, and their whole oddball cast during the initial run of The Muppet Show back in the '70s, a comical look at what it takes to put on a weekly variety show. Since variety shows aren't as well known today, The Muppets is now a behind-the-scenes look at a late-night talk show—Miss Piggy's late-night show, of course. "It's two shows—a show within a show," Whitmire said. "But you probably can't find that late-night show, although Kermit says he's trying to find a place on the air."
Kermit, as always, is in charge, but with a twist—he and Miss Piggy are no longer seeing each other (many blogs and entertainment sights reported the breakup as closely as other Hollywood split).
During the Q&A portion, a D23 EXPO attendee asked about the tone of the new show, to which Steve Whitmire, Muppeteer for Kermit and Rizzo the Rat, answered, "It'll be real life. A little edgy by nothing that parents can't let their kids watch."
I'm really excited. I don't know if I've ever worked on a project like this before.
Goelz added, "You want to do something you're interested in. We've always done things that amused us, that worked on an adult level but safe for kids."
Perhaps the best part of the panel was when the Muppeteers, along with Kermit, Fozzy, Gonzo, and few other famous fuzzy stars, invited some lucky D23 EXPO fans up onstage to learn how to work with Muppets. They ended up dancing, kind of like an oddball Muppet-and-fan congo line. It showed the enthusiasm and love fans are now lavishing on the Muppets, eager to see them return to TV after such a long absence. "We couldn't have done this show five years ago," said Whitmire.
"The time feels right now," Jacobson added. "After the viral videos [a series of Muppet-themed viral videos tore up social media the past couple years] primed the pump, followed by the movies that we did. There's now a real appetite for the Muppets. And we've got this amazing team, the creatives, the writers, this material—it's so incredible. I'm really excited. I don't know if I've ever worked on a project like this before."