By Courtney Potter
"Could it be? Yes, it could. Something's coming, something good!" 20th Century Studios' West Side Story opens in U.S. theaters just a few days from now, and those lyrics—written by the late Stephen Sondheim, in one of his first Broadway forays—certainly sum up the excitement to come. Directed by Academy Award® winner Steven Spielberg, from a script by Tony® and Pulitzer Prize winner Tony Kushner, this reimagining of the beloved musical tells the classic tale of fierce rivalries and young love in 1957 New York City.
Recently, Spielberg, Kushner, and legendary actress Rita Moreno (who won an Oscar® for her portrayal of Anita in the 1961 version of West Side Story, and who not only costars in this iteration as Valentina but also executive produces) joined several other members of the film's cast—including Rachel Zegler (María), Ansel Elgort (Tony), Ariana DeBose (Anita), David Alvarez (Bernardo), Mike Faist (Riff), Josh Andrés Rivera (Chino), Corey Stoll (Lieutenant Schrank), and Brian D'Arcy James (Officer Krupke)—for a memorable virtual press conference, hosted by Sunny Hostin from ABC's The View. Read on for an inside look at bringing such an iconic tale to big-screen life once again:
1. Spielberg on Sondheim's vital role in this reimagining:
"Steve was the first person I met when I sought the rights to make our version of West Side Story," explained the acclaimed director. He was the first person I sat down and met with at his place in New York City, in person, with his dogs," he recalled, chuckling. "We had met before because my company made Sweeney Todd… I met Steve at the premiere of that for the first time. And then we wound up bumping into each other at the White House when we received the Presidential Medal of Freedom with Steve, myself, and Barbra Streisand. And each time I met Steve, I wanted to say to him, 'I have this desperate desire to do my version of West Side Story'—and I just couldn't get the words out of my mouth… And then finally, I just sort of bit the bullet, and I was able to meet with him and the other estates. Steve was very involved. He was involved in commenting about Tony's script; they had an open dialogue during the process of going from one draft to the next. But where Steve got really involved, which was the best place for his involvement, was [when] we did all the pre-records with the artists. Steve was there for three weeks, five days a week, every day sitting right next to me at the recording studio. And that was a such an honor, to share that."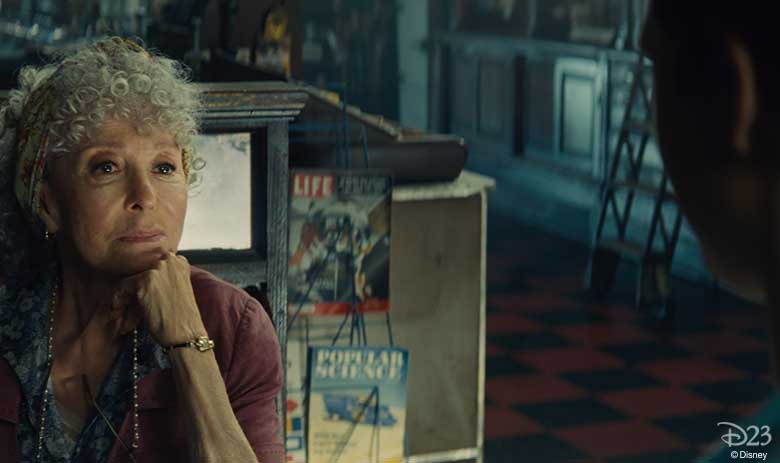 2. Kushner on how his husband is somewhat responsible for Moreno's role in the film:
"When Steven first asked me to do it, I went home and told my husband, 'Steven just asked me to do something completely insane,'" he remembered, laughing. "[I thought], 'How do I get out of it? This is absolutely an impossible thing!' I love the 1961 film; everybody does. It's a masterpiece. But it felt like an impossible thing to do, that even if we did a great job with it, we would be overshadowed by what was inarguably one of the most beloved movie musicals of all time. And justifiably so. I've said this before, but [my husband] Mark's first response was 'You should do it, but you have to get rid of the character of Doc—and what you should do is make the character Doc's widow—make her Puerto Rican, and ask Rita Moreno to play it.' So, I called Steven immediately and I said, 'Mark just had a great idea.' And Steven said, 'Oh my God, that is a great idea!' That's how the character of Valentina was born."
3. Moreno on "passing the torch" of her original character to DeBose:
"That's a great way to put it," the colorful Emmy®, Grammy®, Oscar, and Tony-winning actress said. "I wasn't easy. I mean, I'm not gonna say I wasn't envious—that would be a bloody lie. I wished I could be that young again and do it again, obviously. But that wasn't going to be. And I get this beautifully written [new] part by this man [indicates Kushner]. I love me in this movie," she added, bringing chuckles from Spielberg and Kushner. "You don't say things like that easily. Because [people are] gonna say, 'Oh, ma, give me a break.' I don't care what they say. I love every scene I'm in, therefore I love what I'm doing."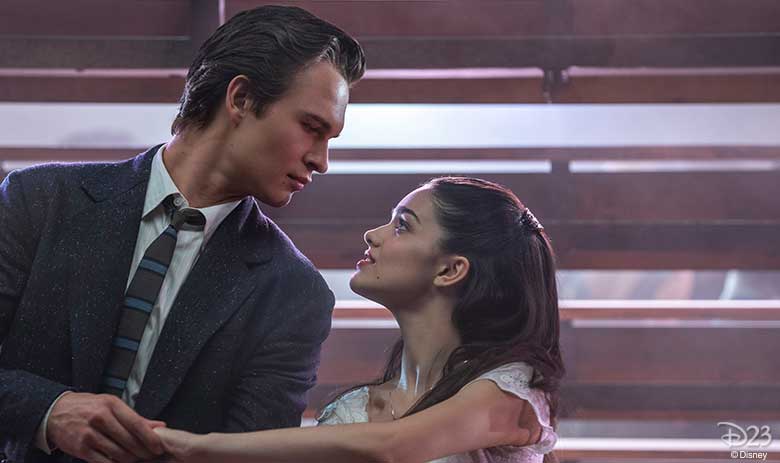 4. Elgort on how his friendship with Faist wound up mirroring their characters, and on the encouragement he felt from the cast and crew:
"Mike and I—we were sort of like Riff and Tony for a long time through the rehearsal process," explained the actor. "We spent a lot of time together, and we built that friendship—we imagined about what it was like being kids, 'playing' as the Jets, before things even probably got too violent. And then [in the musical number] 'Cool'—it's kind of like us revisiting that friendship and almost having too much fun and playing with fire again, and then it gets to the point where he crosses a line… I have to give a lot of credit to being able to work with such amazing people, because I came into that rehearsal—rehearsing months in advance—and I was not the strongest dancer. But you have these incredible dancers who are all around me and also are all supporting me… It felt like the whole process—singing, dancing, acting—it was like an incubator. And Steven wanted us to all to be at our best."
5. Faist on making his character as sympathetic as possible:
Said the actor, "You have to really lean into where it's coming from—obviously fear. But where is that fear coming from? Underneath all of that, there is a love. The background that these boys have, they don't have the family that [the Puerto Rican immigrants] are attempting to create in a new city. They don't have that. All they have is this toxicity of a tribe and familial relationship that they've built and culminated together, and it's totally unhealthy and co-dependent, but it's what they've got."
6. Alvarez on the unique way he wound up auditioning for the film:
"The casting director somehow found me online [via social media]," the Broadway performer explained. "She sent me a message, and she was like, 'Hey, I remember I saw you in Billy Elliot back in 2009. I've been looking for you for a while. Where have you been?' You've disappeared!' I was backpacking in Mexico for three years—I had taken a break. But then she found me. When I read her message, and I saw that it was Steven Spielberg [directing], I thought, 'Well, what do I have to lose, to just send in the self-tape?' I expected nothing. I was like, 'I'm t gonna send it in just so I feel good.'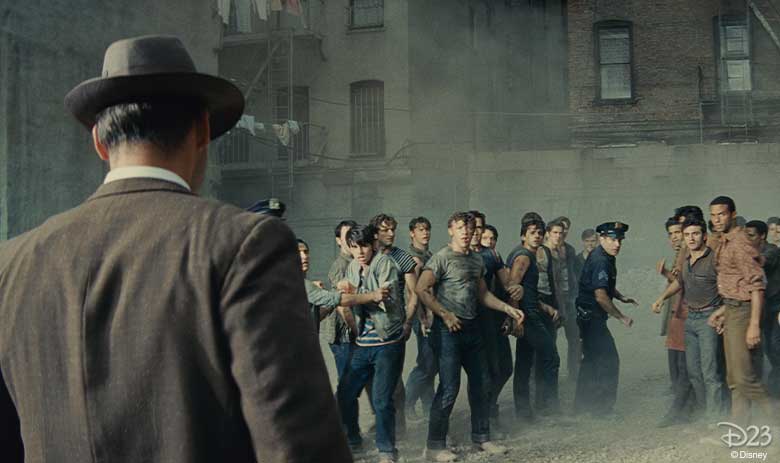 7. Rivera on what the film means to him, and the arc of his character Chino:
"This film was a lot of things for me," the actor explained, "and it's my first feature, it's a work of Steven Spielberg's, and it's that representation of Puerto Ricans—which is my heritage. So, it was just a lot of things at the same time. When people ask me how it feels, there's so many components to that. To be able to dive into it with the nuance that [audiences see], in all the characters… Chino starts out kind and gentle, and—spoiler alert—does go to the 'dark side.' What's nice is, and I thank Tony Kushner for this, he gave me a lot of meat and potatoes [to work with], which I really appreciate. You get to really see and understand and empathize with the arcs of all the characters and how everything plays out. You see it in real time. So, to be able to represent that, and to be able to like chat with my family about it—being part of this film… Yeah, it's nothing short of incredible."
8. James on watching the film's youthful cast making magic together:
"I spent five days [filming] the 'Dance at the Gym' number, literally on the outside just standing and watching this incredible array of ability and talent and enthusiasm and joy and spirit. I always laughed at the fact that after every take, a throng of 40 dancers would run over to the monitor and watch the scene—and after the scene was over, everyone would go, 'Hooray!' That was great. And to me, that is the lifeblood of this film. Because the spirit of this film is captured by everybody [being] so in love with the fact that they got to do it—and so in love with each other." Speaking to his castmates, he continued, "You appreciated it because you guys were in it, and we—who had not as much to do—were lucky to witness it as it was unfolding. That kind of thing is very rare, I think… To watch it and still be a part of it was really special."
9. …and Spielberg on his collaboration with Kushner, and why it makes this film so special:
"I don't think there was a scene in this film that Tony and I didn't feel we had to get absolutely perfect," the director said. "A scene is simply a progression toward making a point or reaching the end of the story. We both felt that if the scene did not contribute to the overall story—or it didn't contribute to the growth, or the arc of these characters—that scene should not, would not, find a place in West Side Story. So, every scene has an essential role to play in basically unspooling the story—in celebration of being alive, and in tragedy, because conversation wasn't able to be had before tragedy occurred. And the message [is], that conversation must always be attempted before anything else is attempted. All of these are all little building blocks; it's like a string of pearls."
See 20th Century Studios' West Side Story in U.S. theaters beginning this Friday, December 10!