By Jessica Benda
In the carefully cartoony, vibrant, and now lush land of Mickey's Toontown, Mickey and his friends welcome guests into their reimagined home beginning Sunday, March 19.
At Disneyland Park, Mickey's Toontown pioneers a new way of play. Sprawling green spaces, curb-free streets, and a quieter area for decompression add a welcome element of relaxation during an often adrenaline-filled day. Though Mickey & Minnie's Runaway Railway previously opened in January as part of the Disney100 celebration, Mickey's Toontown will open in its full, quirky grandeur over the weekend.
Reimagining a beloved place like Mickey's Toontown, which initially opened in 1993, required a steady balance, says Jeff Shaver-Moskowitz, Portfolio Executive Producer at Walt Disney Imagineering. "We knew how important Mickey's Toontown was for so many of our guests, for many generations who made memories here and connected with this land," Shaver-Moskowitz says. "We wanted to make sure we don't lose any of that [as we] bring in new magic for all of our guests and for the next generations."
The reimagined Mickey's Toontown was thoughtfully crafted by Walt Disney Imagineering to try to remove as many barriers to play as possible, with large landscapes for gathering and interactive opportunities to suit every child.
"We've got a lot of guests who utilize our parks in different ways, who see, hear, feel our experiences in different ways," Shaver-Moskowitz says. "We want every child to know that when it came to this land, it was designed for them–that they were seen, and that this place welcomes them."
Below, find nine of our favorite details about the reimagined land.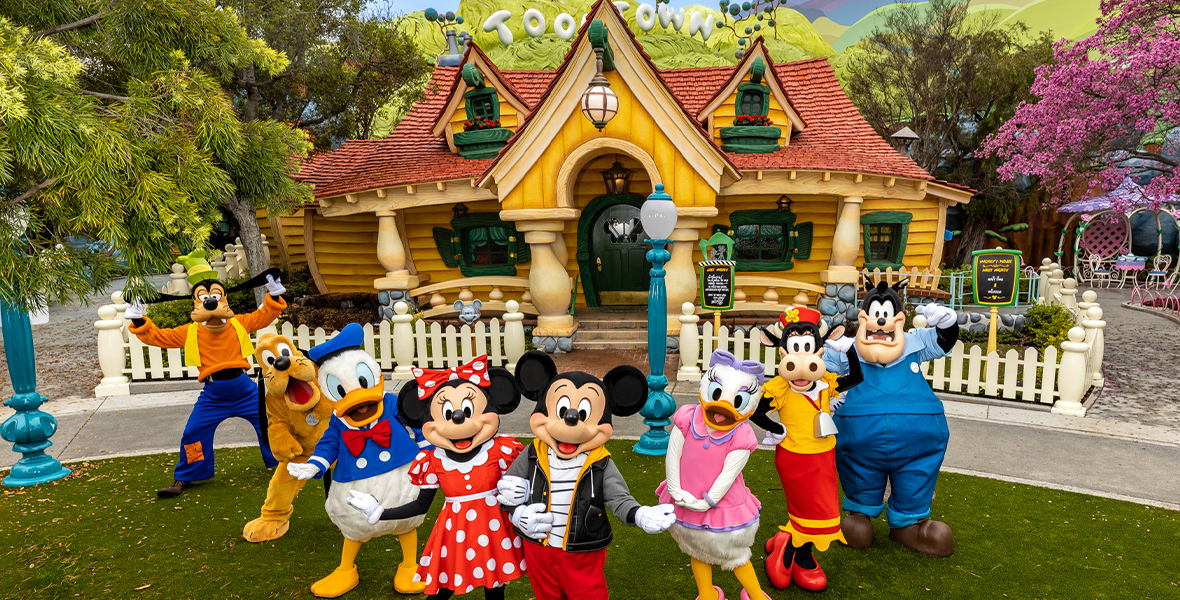 1. An Abundance of Green Spaces
Under the beaming Southern California sun, there's no shortage of shade in Mickey's Toontown. Three central green spaces pack the area, with CenTOONial Park the first space guests see when they enter. When outlining the land, Imagineers saw a bounty of opportunity for green spaces where families can connect. Inspired by the thought of a day in the park, they cultivated a space for guests to simply sit and be together.
"We wanted to make sure that for big kids, for adults, this land is designed for them as well," Shaver-Moskowitz says. "We know a day at Disneyland can be when guests try to pack a lot in, running from one attraction to another and one reservation to the next. We wanted Mickey's Toontown to not only be exciting, but also decompressing and relaxing and welcoming."
Beyond CenTOONial Park, there's also a stretch of greenery outside Mickey Mouse and Minnie Mouse's two houses. The third space is a quiet, shady spot nestled in the land's far corner beside Chip 'n' Dale's GADGETcoaster. The land's tunes, working with composer Mike Rubino, were arranged into a spa-like, quiet soundscape, designed to help guests who may be overstimulated to decompress. Amid the quirky plants and fanciful trees, it offers a moment to relax.
One of the best parts? The town's plants are all real! The team thoughtfully selected flowers and trees that felt "Toontown-y." They searched for plants that blossomed in vibrant colors or grew strange leaves, rooting them around the town to bolster greenery while preserving the cartoon atmosphere.
2. A Dreaming Tree
Inspired by Walt Disney's Dreaming Tree in Marceline, Missouri, the dreaming tree is one of the gems of CenTOONial Park. Under a canopy of leaves are larger-than-life roots for children to interact with. They cater to kids' love of play with the concept of "over, under, and through," offering plenty of balance beams and roots to crawl under. Guests who use wheelchairs can play in the "through" experience, which provides a wheelchair-accessible path through the roots.
The dreaming tree is a Disney tree, grown on Disneyland property before Imagineers decided it was perfect for Toontown. With velvety leaves and a trunk that seems drawn by an animator, the canopy will grow even more lush as the season progresses. For an extra magical look, visit at night to see the sparkling lanterns dangling from its branches.
The dreaming tree isn't the only nod to Walt. Up on the land's backdrop, guests can spy an old windmill and barn, inspired by Walt's Barn. "Any time we have a chance to get that Disney DNA in anything we do, we try to weave that back in," Shaver-Moskowitz says.
3. The Interactive CenTOONial Park Fountain
The fountain within CenTOONial Park isn't just a pretty water feature—though it certainly excels—it's also an interactive play area! The water tables invite guests to have a sensory experience, adding another play element to the land.
Once the sun has gone down, the fountain glows with a gentle light show. Since little kids don't always stay awake for the fireworks, the Toontown team wanted guests to have something similar to a "good night" moment. The fountain plays the lyric version of "My Happy Place," part of Toontown's (entirely new) score.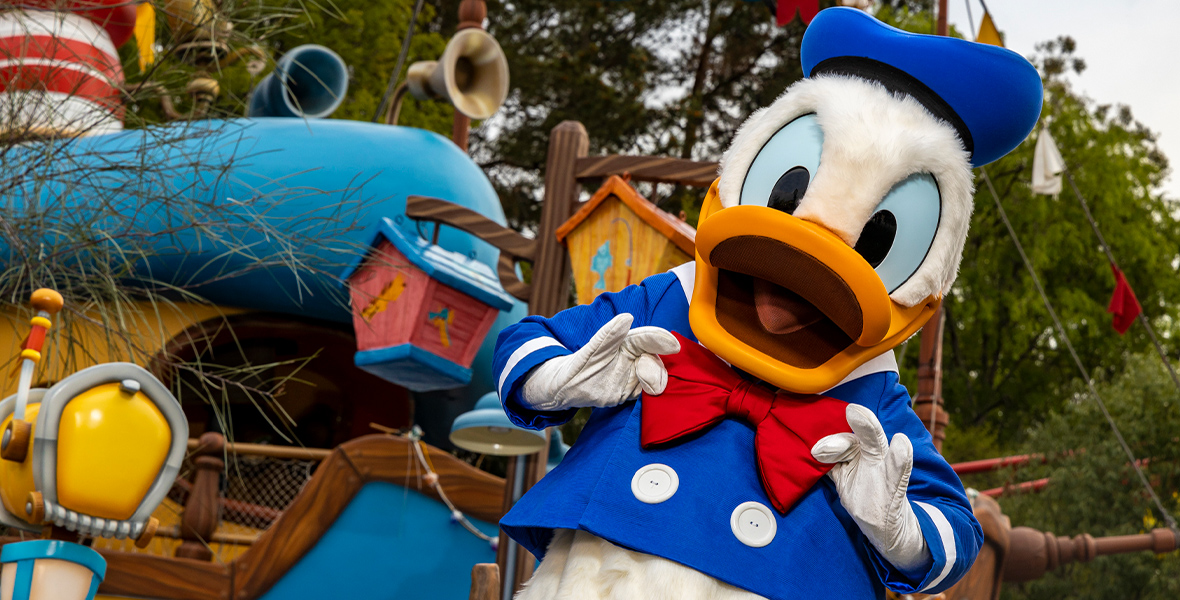 4. Goofy's How-To-Play Yard and Donald's Duck Pond
Goofy's How-To-Play Yard incorporates a whimsical sound garden where kids will discover new ways to make wacky noises, as well as an all-new, elevated clubhouse.
The Sound Garden allows guests to interact with music, using soft, natural sounds to avoid any potential upset. The play yard is a bevy of interactive games, a lookout point, and exciting roller slides. The roller slides are intended make it easier for guests with less mobility to transfer from the bottom of the slide back into their wheelchairs without being rushed.
Imagineers wanted to create an experience for the littlest guests to escape their strollers, so they added a shaded corner specifically for them. With a floor of soft, spongy material, they'll be able to explore and play no matter how small they are.
Inside Goofy's house, kids will find the honey Goofy has harvested, which he intends to use in a sweet endeavor. Kids can help him by using a bizarre and irresistibly fun candy-making contraption that only Goofy could imagine.
Just over the gate, Donald's Duck Pond takes cooling off one step above shade. The splash yard is a wonderland of larger-than-life spinning water lilies, balance beams, and rocking toys. Donald's boat is flooding from the inside, and explorers can look into the boat's portholes to witness bubbles of fun featuring ducklings Huey, Dewey, Louie, and Webby. An extra perk: The splash yard is gated and separate from the play yard, so parents don't have to worry if they prefer their kids stay dry!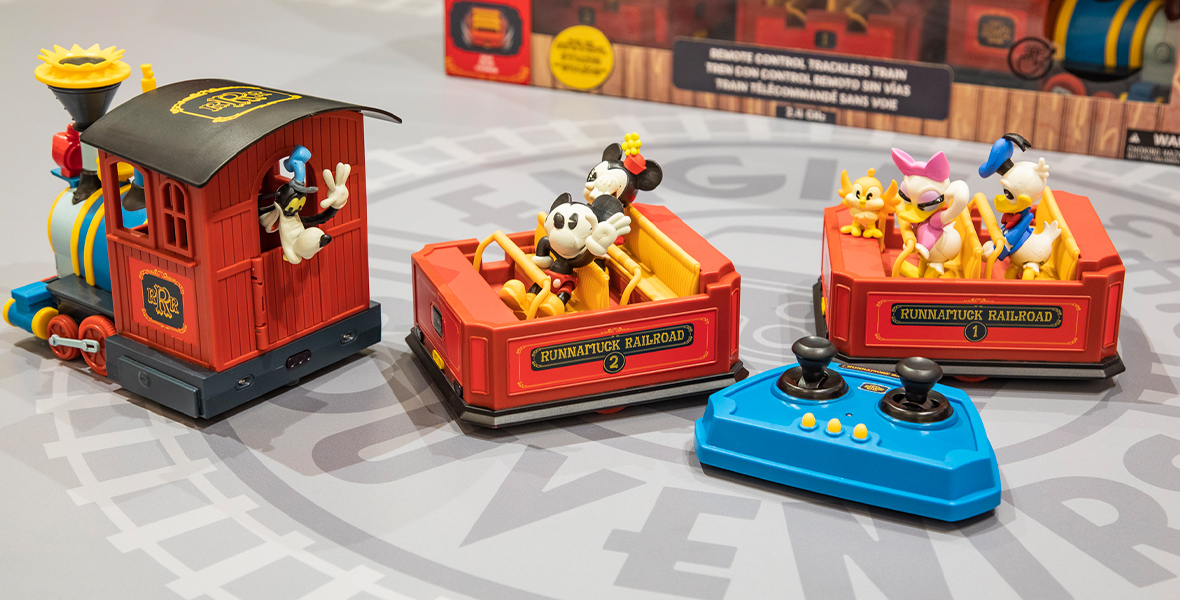 5. A Take-Home Trackless Train
The hub of Toontown merchandise is EngineEar Souvenirs, an eclectic shop beside Mickey & Minnie's Runaway Railway. With a fleet of apparel, toys, and pins, the store offers something for everyone.
One of its most exciting items is the Mickey & Minnie's Runaway Railway Remote Control Trackless Train. Based on the attraction, which uses trackless technology, the locomotive and cars are detached from each other. The cars follow the locomotive using a sensor, chugging along on any flat surface. The train includes six posable characters with 13 unique character sayings, triggered based on which characters are sitting in the car. And, Minnie sings!
"We want to ensure that merchandise complements all of the amazing creativity of Toontown," says Lori Nakashima, Director Location Strategy, Merchandise at Disneyland Resort. "We want to ensure we're looking at the inspiration behind the product. How are we thinking about sensory-friendly options? How are we thinking about creating an inclusive guest space?"
An apparel highlight is the ear bands, which sport some of the Sensational Six members topped with a red checkered bow. There's both a traditional ear band and an adaptive one, which utilizes a chinstrap instead.
6. Pete!
For the first time ever, Pete is stomping into a Disney Park. Mickey's favorite frenemy arrives to cause mischief around Toontown, available for photos and autographs. He's one of many to roam the land, alongside Minnie, Donald, Daisy Duck, Pluto, Clarabelle, and Goofy. We can't forget Mickey, who's sporting a new outfit specifically for when he's outside of his home.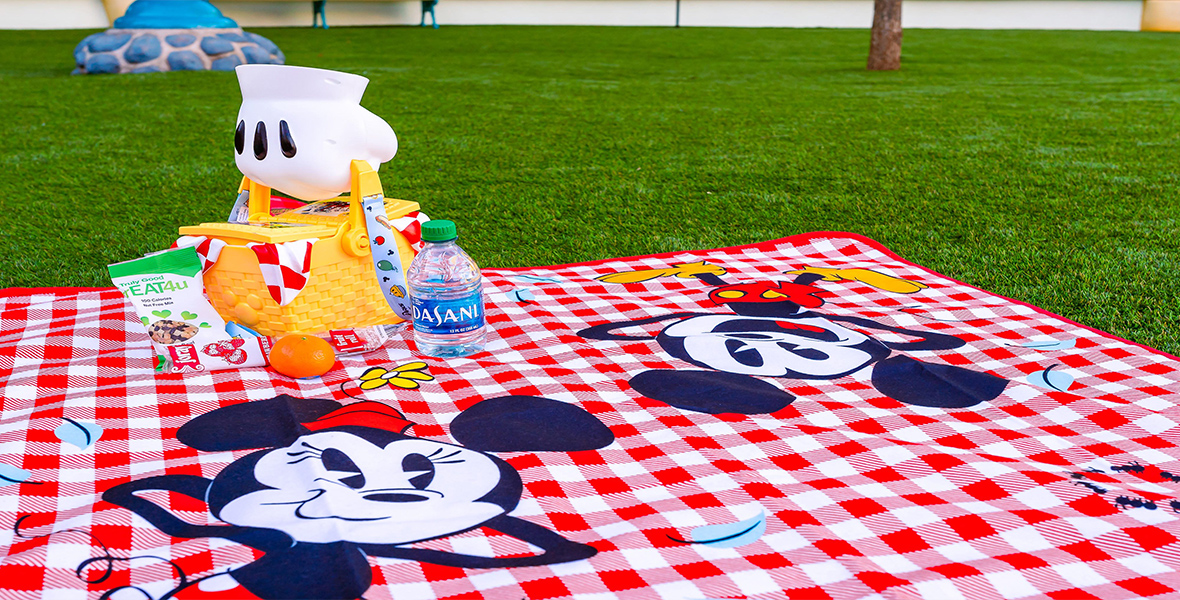 7. Build Your Own Picnic Baskets
A personalized picnic is waiting on the Toontown grass. With the Perfect Picnic Basket, choose three snack items for your basket, add on a blanket, and head to the lawn. The basket is lightweight, so guests can keep it at their side even after they leave Toontown.
To pair with the idea of a picnic, much of the Toontown food is handheld, explains Michele Gendreau, Director Product Optimization of Food & Beverage at Disneyland Resort. Café Daisy, Daisy's sidewalk table eatery, serves delicious pizza flopovers, Minnie's mini corn dogs, and Daisy's dressed-up dog—a foot-long hot dog with chili cheese sauce, mac 'n' cheese, and parmesan potato chips!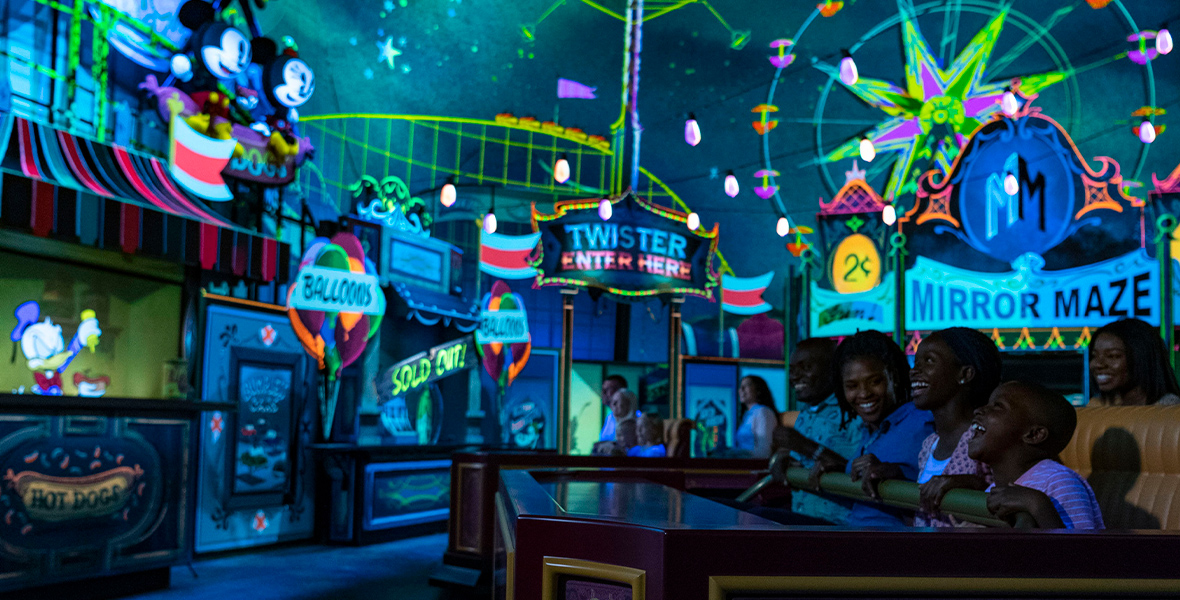 8. Whimsical Attractions
Mickey & Minnie's Runaway Railway, which debuted January 27, is the very first ride-through attraction at Disneyland Resort starring Mickey Mouse and Minnie Mouse. Best of all, there's no age or height restriction, so families can travel together into the wacky and unpredictable cartoon world!
For a coaster experience, head across town to Chip 'n' Dale's GADGETcoaster. The track guests remember remains unchanged but now brings in beloved characters, including a new Gadget figure.
"This is a lot of kids' first coaster experience here at Disneyland, so we've brought character presence into that," Shaver-Moskowitz says. "We've got [figures of] Chip, Dale, and Gadget here at the coaster, so kids can have those reassuring faces if they're anxious or excited. During the lift hill, Gadget will be there to reassure kids and get them excited."
9. Return of Familiar Favorites
Nostalgia lovers, never fear—some of Toontown's original beloved parts are preserved as you last remember them. Guests will once again crash their taxis on Roger Rabbit's Car Toon Spin, whose hectic driving is rivaled only by Mr. Toad's Wild Ride. The whimsical abodes of Mickey and Minnie are just as they were, albeit with a fresh coat of paint.
Speaking of paint, one of the reimagining's more subtle details is the shifting color palette. While guests still wander amid familiar reds and yellows, the overall colors have been softened to make the town even more welcoming.
To check out Mickey's Toontown for yourself, head to Disneyland Resort!