By Jocelyn Buhlman
We're celebrating five years of the thrilling adventures of Ezra Bridger, Kanan Jarrus, Hera Syndulla, Sabine Wren, Zeb Orrelios, and the feisty astromech droid Chopper: Disney XD's Star Wars Rebels. We talked with Dave Filoni, executive producer of Star Wars Rebels, as well as the previous animated series Star Wars: The Clone Wars, about what makes this tale of a ragtag group of rebels a true Star Wars story at its heart.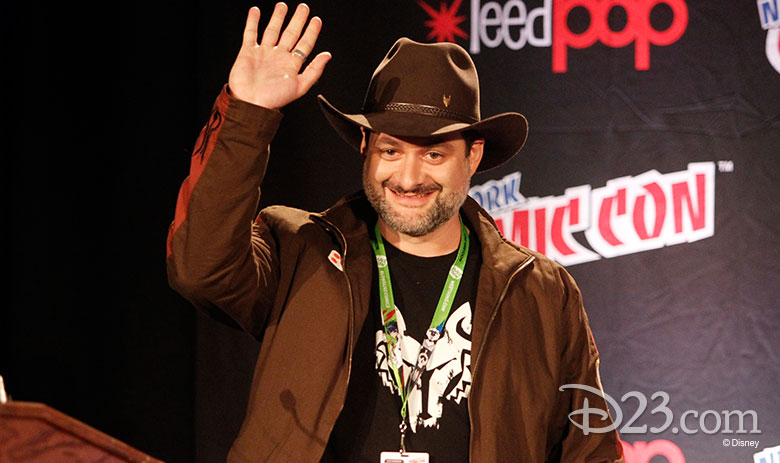 1. It's Fun for the Audience
The beauty of Star Wars Rebels is that you can fall in love with the show no matter how much you know about Star Wars. Some fans are on the edge of their seats waiting to see how this final season will lead into the events of Rogue One: A Star Wars Story and Star Wars: A New Hope, while other fans watch the show and wonder about that mysterious weapon the Empire is building. Whether you're a near-Jedi in your knowledge of all things Star Wars or a mere padawan who is still discovering the galaxy far, far away, you can count on having a blast while watching this final season of Rebels. As Filoni explains, "The key is always to remember to treat the story as if nobody actually knows what's going to happen, and that really helps." Of course, the crew loves to give shout-outs to the hardcore fans, but Filoni wants everyone to be able to enjoy Star Wars Rebels. He explains, "Your friend might be getting more out of it because he's a bigger Star Wars fan than you are, but that just increases the fun. There's nothing quite like Star Wars."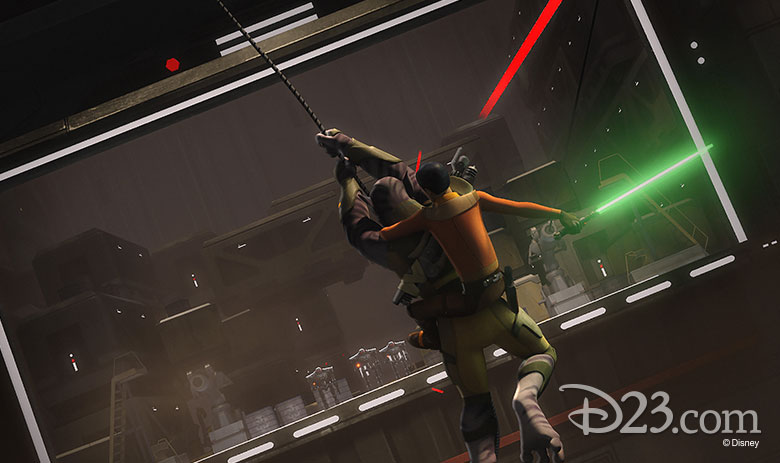 Fans of Star Wars Rebels who may—gasp!—have not really watched the original movies are encouraged to enjoy the story of Rebels for what it is. "While there is a point where there are crossovers, the story of Star Wars Rebels is still fulfilling on its own, even if you've never watched A New Hope or Rogue One,," Filoni explains. And if Rebels is your starting point for the Star Wars universe? Filoni hopes it enhances the rest of your viewing experience: "For example, if you've watched Rebels and then watch Rogue One, you have a better understanding of Saw Gererra as a character, but it's not necessary in order to enjoy Rogue One. Rebels is about Ezra and his family. I try only to cross over when it's important for our characters."
2. It Inspires Hope
We can't help but feel hopeful when we watch any Star Wars story—that's what the movies are all about! And Star Wars Rebels carries on that message of hope in more than just the story. Each character can inspire fans to be their best selves, and two fan-favorite characters have their own special impact.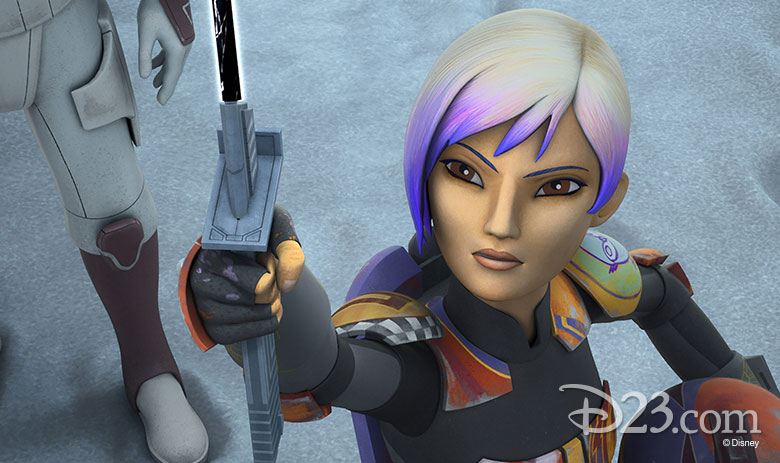 "I think that Sabine is an important character because she started off kind of lost in the beginning: She had to find her family and had to learn to trust, and that's a valuable lesson," Filoni explains of the young Mandalorian artist. She's come a long way from her life as a cadet at the Imperial Academy of Manadlore—now, she's a full-time rebel, artist, and team player. That's something that everyone can learn from, but young girls especially can see themselves in her. Filoni elaborates, "She doesn't just suddenly have a relationship with Ezra because he's the young boy on the show. They have a mutual respect for each other. They like each other and they care about each other, it's not the typical teen romance. We wanted to avoid that."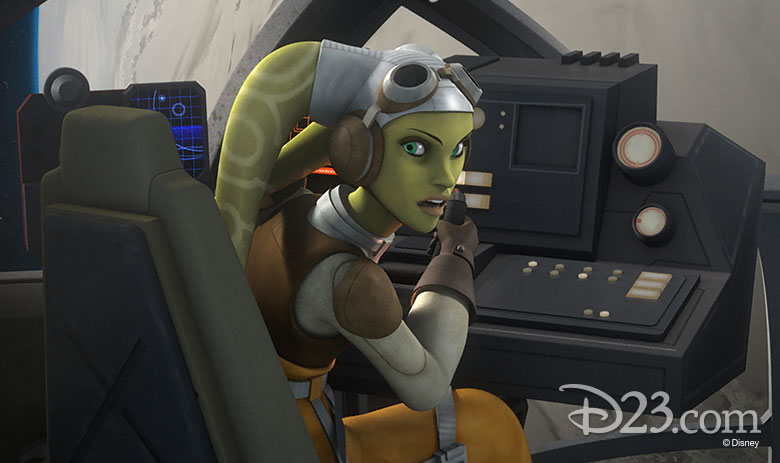 Similarly, Hera Syndulla, the pilot of the Ghost, serves as the Rebels' team mom, and that makes her unique in the Star Wars world. Filoni points to Hera's bravery and maternal qualities to explain why the character is such a fan-favorite. He notes, "She embodies so many women out there who are mothers, who are strong, who are empowered; and we don't have a lot of that type of character in Star Wars."
He hopes this inspiration will resonate with fans long after the final season has ended. As Filoni puts it, "It parallels that girls can be anything—but sometimes you need to see it in order to be it. Sometimes you need to be that strong warrior and wear that helmet."
3. We Get to Meet Characters From All Over the Star Wars Galaxy
So many characters the fans love are returning for this final season of Rebels, from Star Wars: The Clone Wars favorites like Bo-Katan Kryze, to film favorites like Mon Mothma, and, most excitingly, the Star Wars Legends character Thrawn.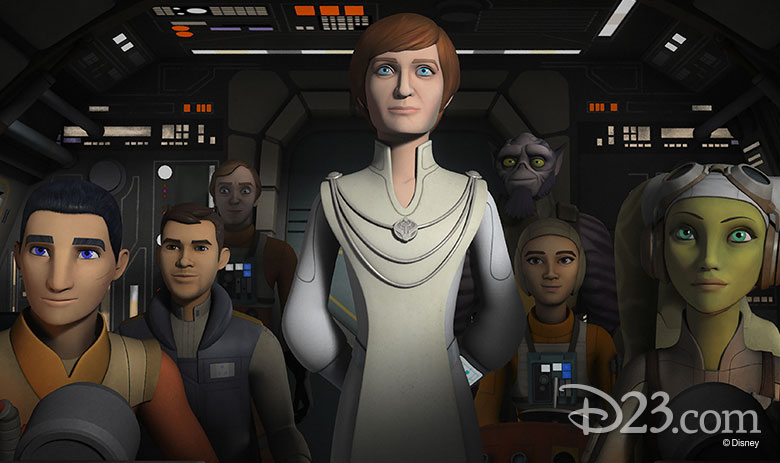 Adapting each character is its own challenge, explains Filoni. "The characters in the movies are somewhat easy because they are pretty defined, since there's an actor playing them and we know what their voice sounds like. You think about how much you want a voice actor impersonating the character versus bringing something to the role as themselves," he says. "We knew Genevieve O'Reilly was going to play Mon Mothma in Rogue One, and we wanted to make Star Wars Rebels' Mon Mothma a visual combination of her and Mon Mothma from Return of the Jedi [portrayed by Caroline Blakiston], so there's a frame of reference when we make the characters on screen. We want the audience to go, 'Oh, that's Mon Mothma, oh that's Saw Gererra.'"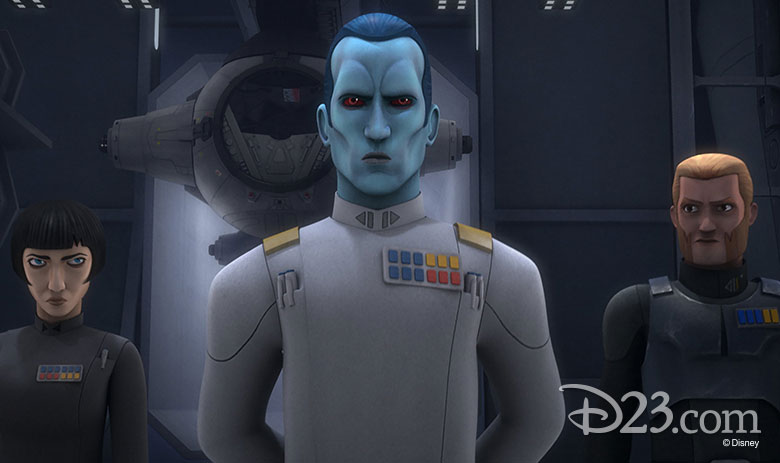 When it came to adapting Thrawn, Filoni faced a unique challenge: "The character is well-known, but you've never heard his voice! While he's been seen in a lot of art and may have consistent elements, there's no one defining Thrawn. So you're dealing with a character that lived in the fans' imaginations for years! We hoped that the version we have in our heads is true to the one the fans are picturing. In the end, Lars Mikkelson just nailed it. And I've had a lot of people remark that his voice is what they heard in their heads, which is a credit to Lars' voice acting."
4. It's Full of Easter Eggs
While Star Wars Rebels ties in with the Star Wars films, fans of the series can also expect shout-outs to the characters they love from the show while watching the theatrical films. Who wasn't freaking out when a certain grumpy astromech droid had a cameo in Rogue One? Filoni tells us that he was possibly the most excited of us all: "I was on set when Chopper was rolling across the hanger! Easter eggs are something that we have a great time with here, and the Rogue One crew said, 'Can we put the Ghost in Rogue One?' and I was like 'Oh yeah, you can! What else do you want?'"
Rogue One was a goldmine for Star Wars Rebels fans, in terms of Easter eggs. Filoni tells us, "I think that's one of the coolest things we can do for a fan. It's rewarding and exciting, and it ties things together. The hammerhead ships that appear in the movie came about because I said, 'We should really have our ships be similar, since the movie and show take place in the same time period. Why don't you take some of the hammerheads?' and they came up with that great maneuver to ram the Star Destroyer." Filoni also reveals that if you listen closely during a Yavin IV sequence in Rogue One, you might hear a reference to Hera Syndulla.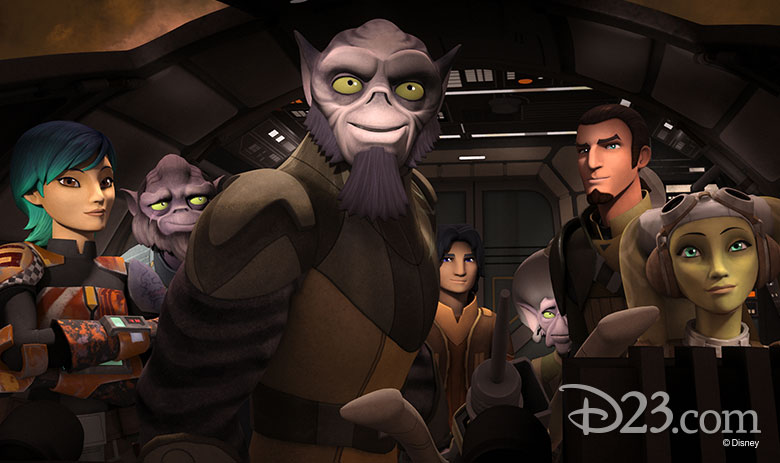 5. Star Wars Is for Everyone
Whether you watched Star Wars: A New Hope when it premiered in 1977 or you're turning on your TV this week to watch Star Wars Rebels for the first time, the galaxy far, far away connects us all. Filoni believes this connection is why we just can't stop telling these stories.
"I think that the galaxy far, far away feels really close to home," he says. "It's filled with characters that we relate to on a daily basis. Amazingly, people all around the world relate to these characters. It gives us something in common. And that story of hope that George told at the beginning is the fundamental reason to watch. Hope, and happiness."