By Zach Johnson
Talk about livening things up!
From creators David Windsor and Casey Johnson comes Not Dead Yet, a new ABC comedy series adapted from Alexandra Potter's book, Confessions of a 40-something F**k Up. Not Dead Yet follows Nell Serrano (Gina Rodriguez), a broke, newly single, self-described disaster who wants to restart the life and career she left behind five years ago. After becoming an obituary writer (not her first choice!), Nell receives life advice from some unlikely sources… the dead people whose lives she's writing about.
In addition to Rodriguez, Not Dead Yet stars Hannah Simone as Sam, Lauren Ash as Lexi, Rick Glassman as Edward, Josh Banday as Dennis, and Angela Gibbs as Cricket. Before the series premieres with two episodes on Wednesday, February 8, at 8:30 p.m. ET/PT, the cast and creators share five reasons to tune in for ABC's lively new comedy.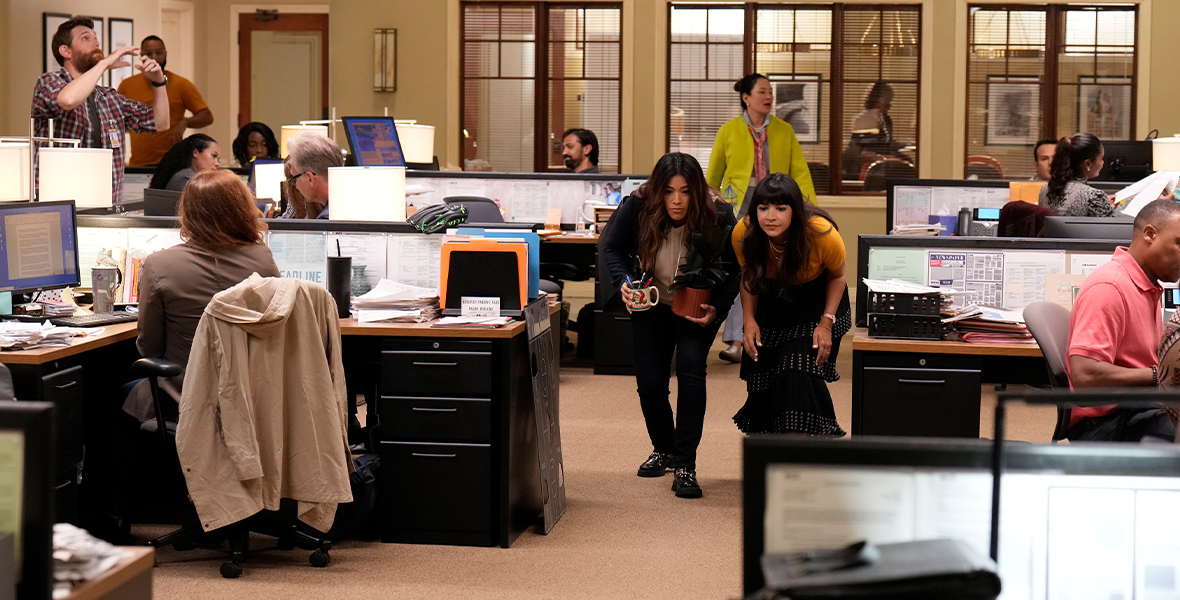 1. Each episode explores what it means to truly be alive.
"The reason why I connected with this show so much is because I've always felt like my ancestors have been around me and have been present in my journey, taking care of me in moments of fear or doubt," says Rodriguez, who also serves as an executive producer. "When I read this script, I was immediately attracted to this idea that when people pass—when they transition—they can come back and give you elements of knowledge that you wish you had or that you needed in the moment." Not Dead Yet celebrates moments of "laughter, joy, friendship, self-reflection, and growth," she adds: "How do we continue to grow in every stage and every chapter of our lives?"
2. The cast is as close off-screen as they are on-screen.
"It wasn't a lot of work to try to bond; it was instant," Simone says. "We went to a cast dinner, where we all met in person for the first time, and someone came over and asked how long we'd been friends. We were like, 'Oh, no… we all just met tonight.'" But Simone had already endeared herself to at least one other actor before dinner was even served. Ash recalls, "When I got cast, Hannah somehow got my phone number and immediately started texting me. I drove her to that dinner—and we'd never met!"
3. Not Dead Yet has a fa-boo-lous lineup of guest stars.
Throughout Season 1, Ed Begley Jr., Mo Collins, Deborah S. Craig, Telma Hopkins, Don Lake, Martin Mull, Rhea Perlman, Paula Pell, Tony Plana, Brittany Snow, and Julia Sweeney will each guest star as Nell's ghostly visitors—with even more talent to be announced at a later date! "In thinking about this show, we were so excited about being able to write a new character every week," Johnson says. "Then, we kind of dreamt about who would be our dream cast. We've got some really fantastic people."
4. Despite its otherworldly elements, the series is grounded in reality.
"When David and I were writing the pilot, we discovered we both loved to read obituaries," Johnson says. "We didn't know that about each other, and we've been writing together for over 20 years. Everyone has a story, and even the most ordinary-seeming person is fascinating if you just pay attention." According to Windsor, they "had quite a few meetings" with journalists, obituary writers, and publishers to add a sense of authenticity to Nell's workplace. "We'd never been inside of a newsroom," Windsor says. "We did a lot of research through them to make sure it was accurate."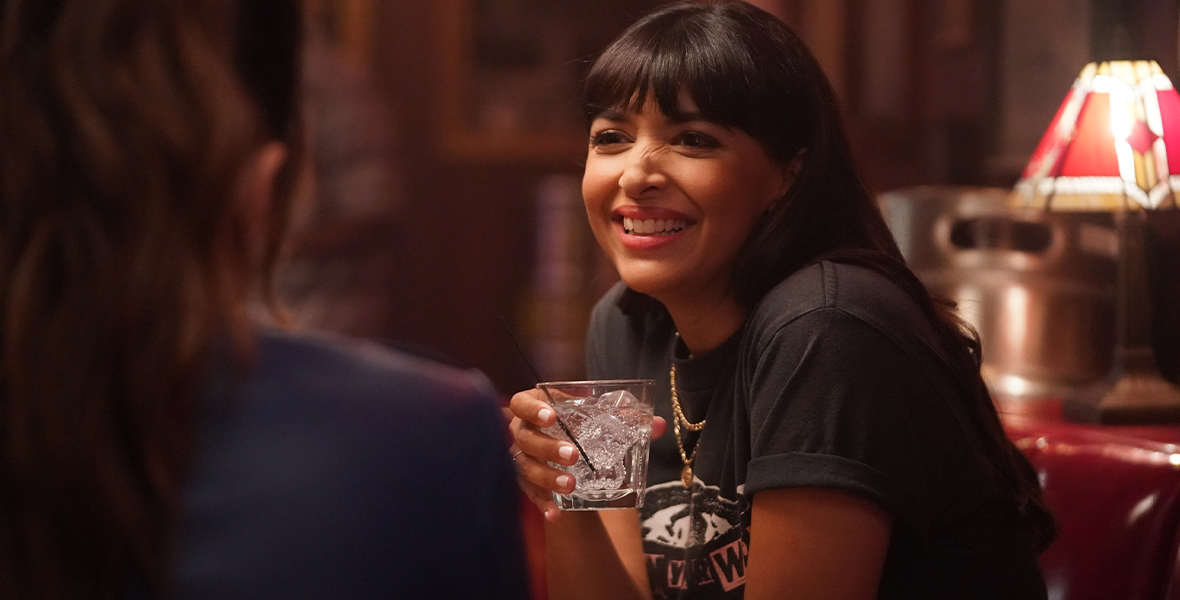 5. Not Dead Yet celebrates diverse characters, perspectives, and stories.
"What's groundbreaking and refreshing about this show is that you have these three women at the top of the call sheet, but this is not a show that's about women," Simone explains. "You have two women at the top of this call sheet who are women of color, but it's not a show about being of color. And that's usually how it was in the past. You always had to explain yourself or define the show by those relationships… But this is a show about people who are learning and growing and forgiving—and the fact that we can all be seen as people on the show is what I find so groundbreaking."