By Sarah Sterling
On Friday Disney's Animal Kingdom turns 24 years old, and we're celebrating Walt Disney World Resort's wildest park with 10 hidden details you may not have noticed before!
Ketchup, Mustard, Mayo, and… Iguanodon?
Before you board your time rover and head back to the Cretaceous Period, you'll notice several pipes in the final room of the Dinosaur queue. Above the loading dock, there are three pipes—red, yellow, and white—with a series of numbers and chemical compounds printed on them. These pipes display the chemical formulas for (respectively) ketchup, mustard, and mayonnaise! Why? Well, Dinosaur (known at the time as Countdown to Extinction) was originally sponsored by McDonald's from 1998 to 2008. This detail was left inside the Dinosaur queue as a tribute to the attraction's beginnings.
Helping Handprints
You may have been too stunned by the beauty of Avatar Flight of Passage to notice this detail at the attraction's exit. As you make your way out of the Alpha Centauri Expeditions center, you can spot three red handprints clustered together on a concrete wall. These are very different from the Na'vi handprints you see during the entrance queue for the attraction, as they belong to the creative leaders behind the Avatar films and Pandora – The World of Avatar. J.R. stands for Joe Rohde, lead design Imagineer for Pandora and all of Disney's Animal Kingdom; J.C. belongs to James Cameron, director of the original Avatar and, of course, Avatar 2 (coming December 2022); and J.L. represents Jon Landau, producer of the Avatar films. They really made a lasting mark on this park!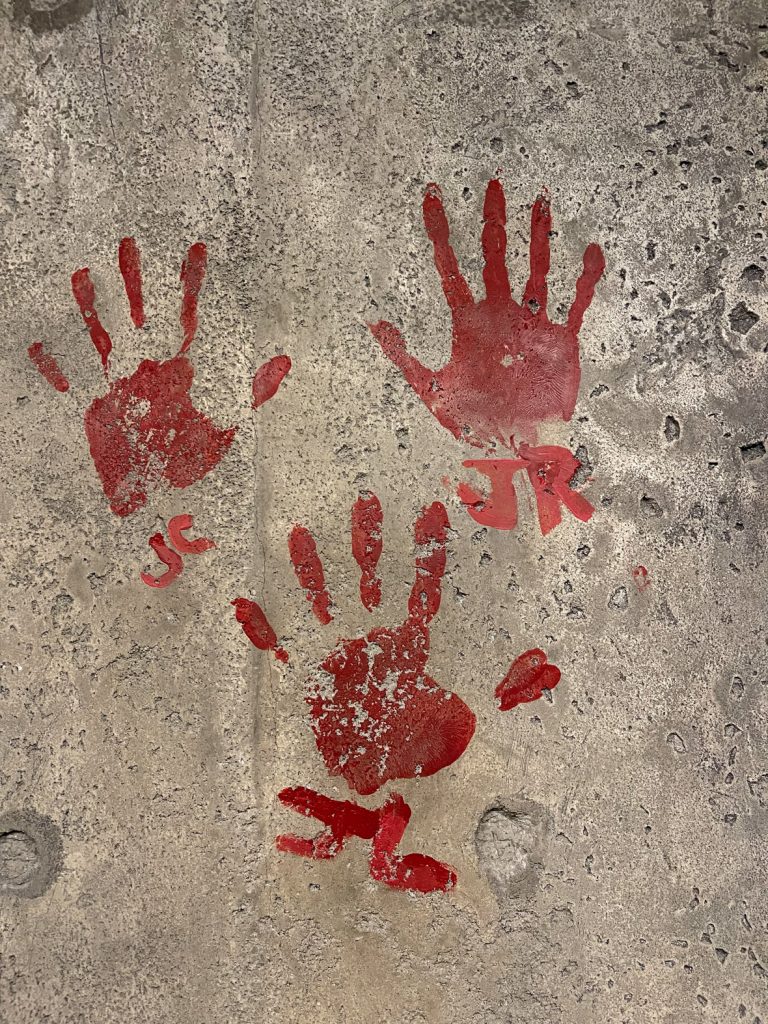 JORODI Masks & Beads
Speaking of Joe Rohde… As the lead creative designer behind Disney's Animal Kingdom, there are naturally a few nods to Rohde's legacy around the park. One can be found at the Tusker House restaurant located in Africa. On your way to the restrooms, look up to find a sign that reads "Jorodi Masks & Beads." Phonetically, "Jorodi" sounds exactly like "Joe Rohde"—and the mention of "beads," along with another wooden sign nearby reading "earings," is a sly reference to the extra-large earring that Rohde famously wears on his left earlobe.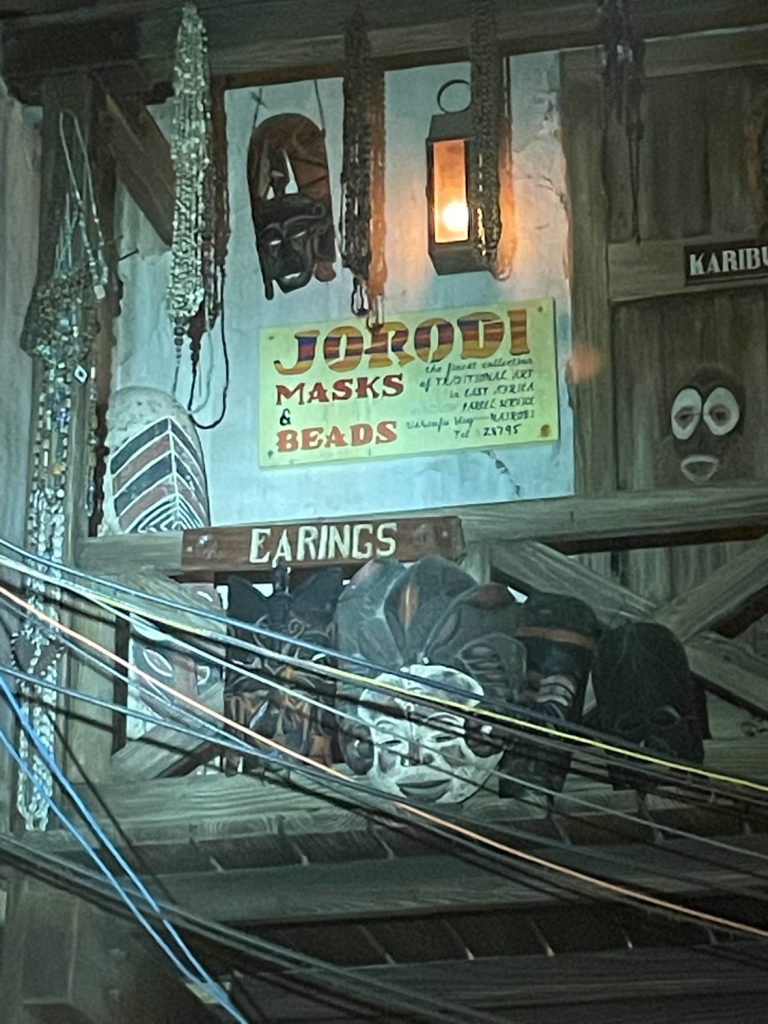 A Familiar Silhouette
We all love Expedition Everest, one of Animal Kingdom's most thrilling attractions. Many of you have also visited the shrine across Discovery River that pays homage to the mountain and its fearsome Yeti. But you may not have realized that this shrine's peaks and shape exactly mimic the silhouette of Expedition Everest! If you stand directly in front of the shrine and position your line of sight toward the mountains, you'll see how perfectly the two match up! Pretty neat!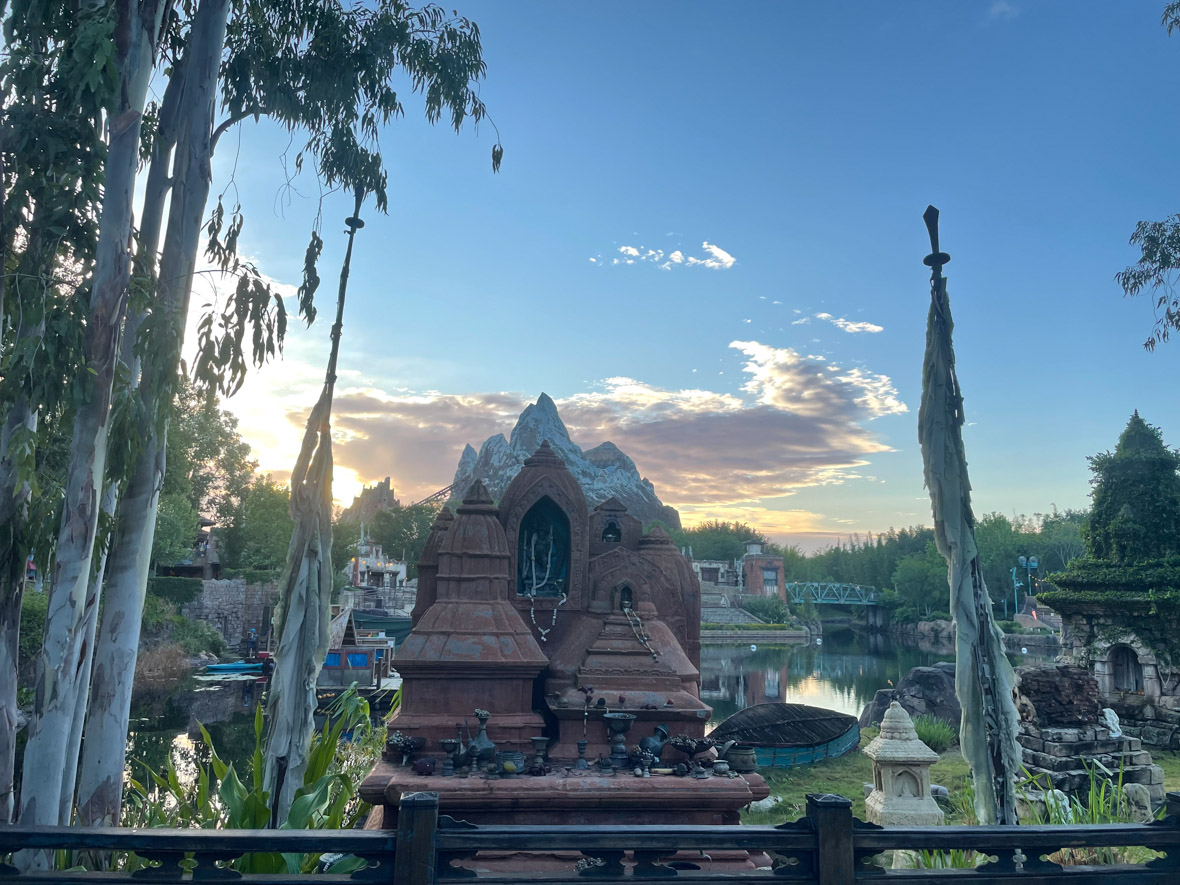 Fantasia (1940) & DinoLand U.S.A
You're probably thinking ­– what do Disney's Animal Kingdom and Disney's 1940 musical anthology film, Fantasia, have in common? If you're a fan of Fantasia's "The Rite of Spring" sequence, we have an Easter egg just for you! Inside Restaurantosaurus in DinoLand U.S.A., you can spot multiple concept art pieces and character sheets framed on one of the shop's walls. "The Rite of Spring" features many Jurassic characters, culminating in a showdown between the menacing Tyrannosaurus rex and formidable Stegosaurus—so these pieces of art fit perfectly inside DinoLand U.S.A., and provide a unique opportunity to link Disney's newest Walt Disney World park with a classic film.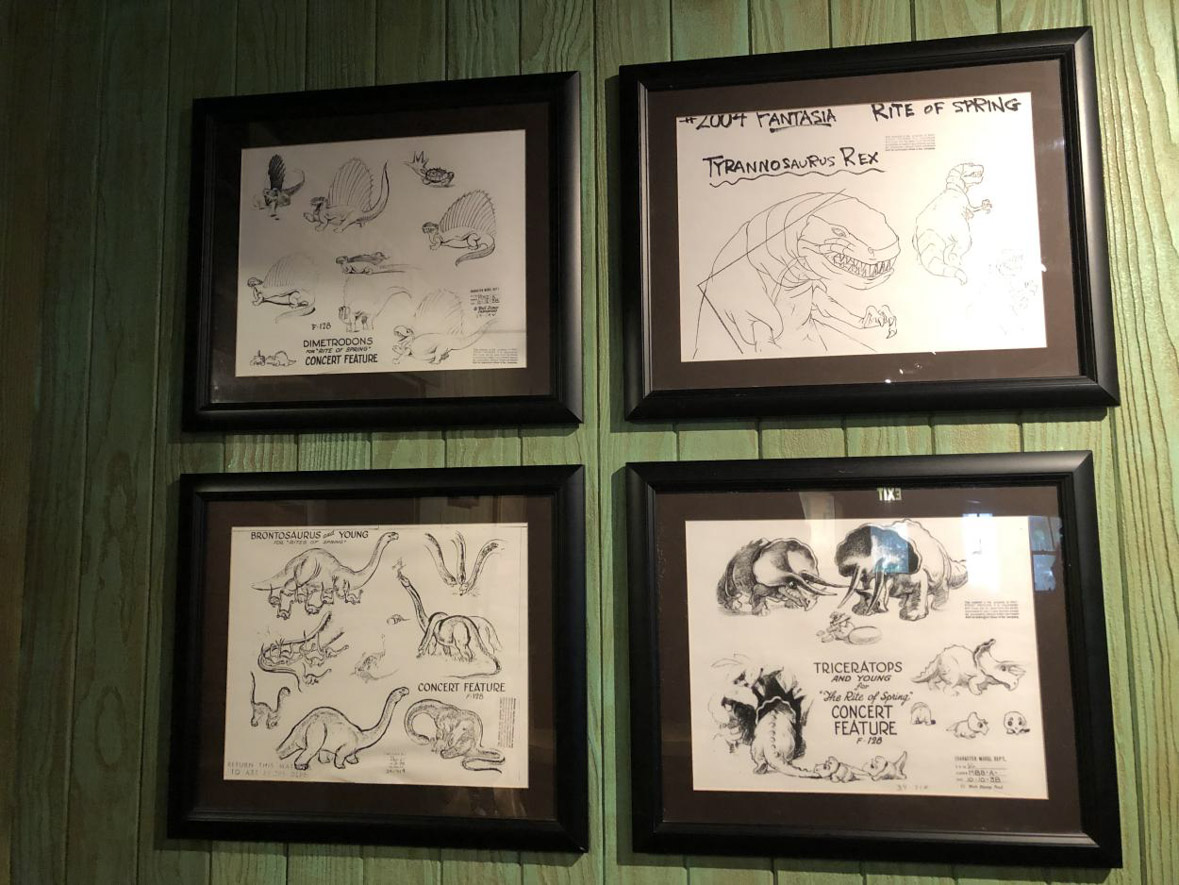 Marshall Lam and the Valley of Mo'ara
Soon after Pandora – The World of Avatar was first announced, fans got their first taste of the magic of Pandora when the team broke ground on the construction of this new land. An unbelievable photo was snapped featuring former Parks and Resorts Chairman Tom Staggs, Imagineer Joe Rohde, former Chief Creative Executive of Walt Disney Imagineering Bruce Vaughn, former Walt Disney World President George Kalogridis, former President of Walt Disney Parks U.S. Meg Crofton, and Avatar producer Jon Landau. They were joined by Mickey Mouse and…a Na'vi! If you visit Pandora's Satu'li Canteen, you can see this photo in person, located on the wall next to the queue for the registers. Also visible on the wall is a photo featuring two Na'vi with Alpha Centauri Expedition founders at the entrance to the Valley of Mo'ara. One of these founders, the fictional Marshall Lam, is portrayed by Landau!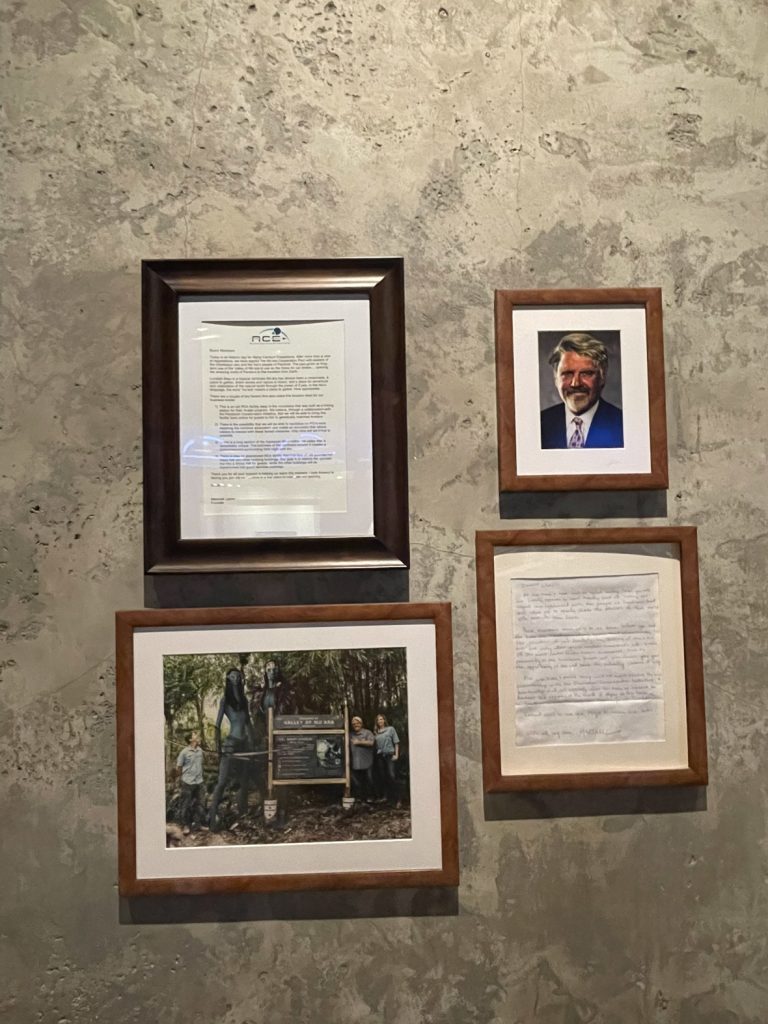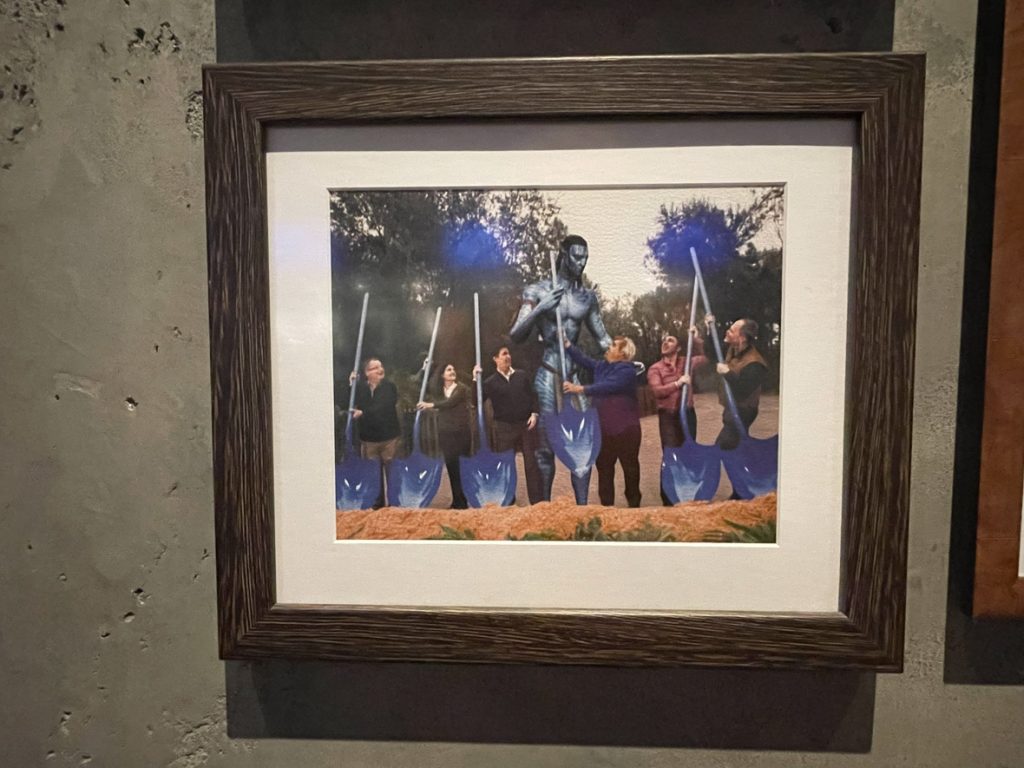 Countdown to Extinction
There are many nods to the original Countdown to Extinction attraction in the present-day Dinosaur at Disney's Animal Kingdom. Countdown to Extinction was re-themed and re-named following the release of Disney's film Dinosaur in 2000, but the original name lives on through various stamps of "CTX" on ride vehicles, pipes, and walls. One of our favorite nods to the original prehistoric adventure is this stencil along a far wall in the Dinosaur loading area. It reads "Sector CTX-WDI-AK98", not only recognizing Countdown to Extinction (CTX), but Walt Disney Imagineering (WDI), and Animal Kingdom's opening year, 1998 (AK98)!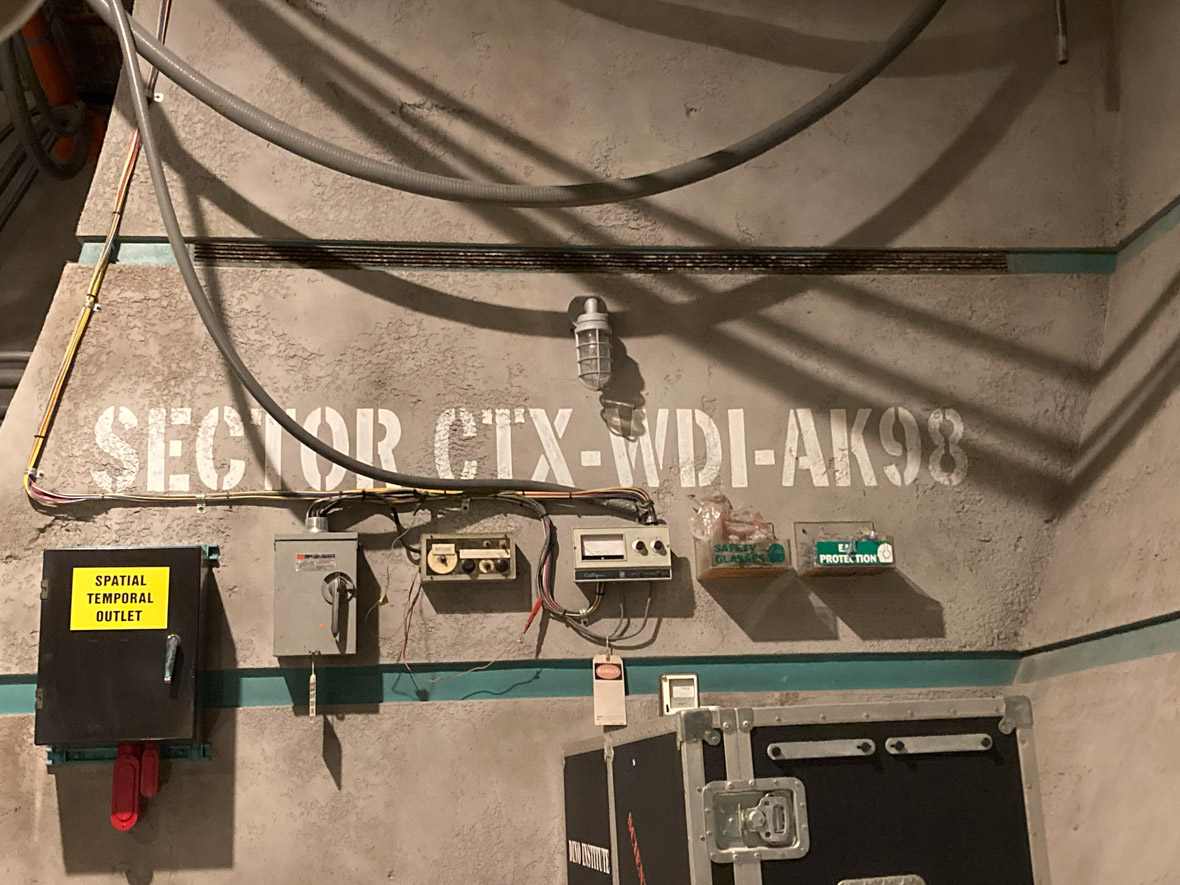 Simply DiVine!
You may know every detail from Disney's Animal Kingdom and still might have missed one of the park's most shrouded treasures—the living plant, DiVine! DiVine is an original character featured at Animal Kingdom and she has been entertaining and surprising guests since 1998. Covered head to toe in vines and flora, DiVine camouflages completely into the foliage of the park, but can often be spotted near the park's entrance or on the pathway between Africa and Asia. Representing the park's commitment to environmentalism and the intrinsic value of nature, DiVine never speaks a word and moves about slowly with serenity and grace. She measures between 7 and 16 ft. tall, depending on how she is posed, and will be happy to take photos with guests… if they can spot her!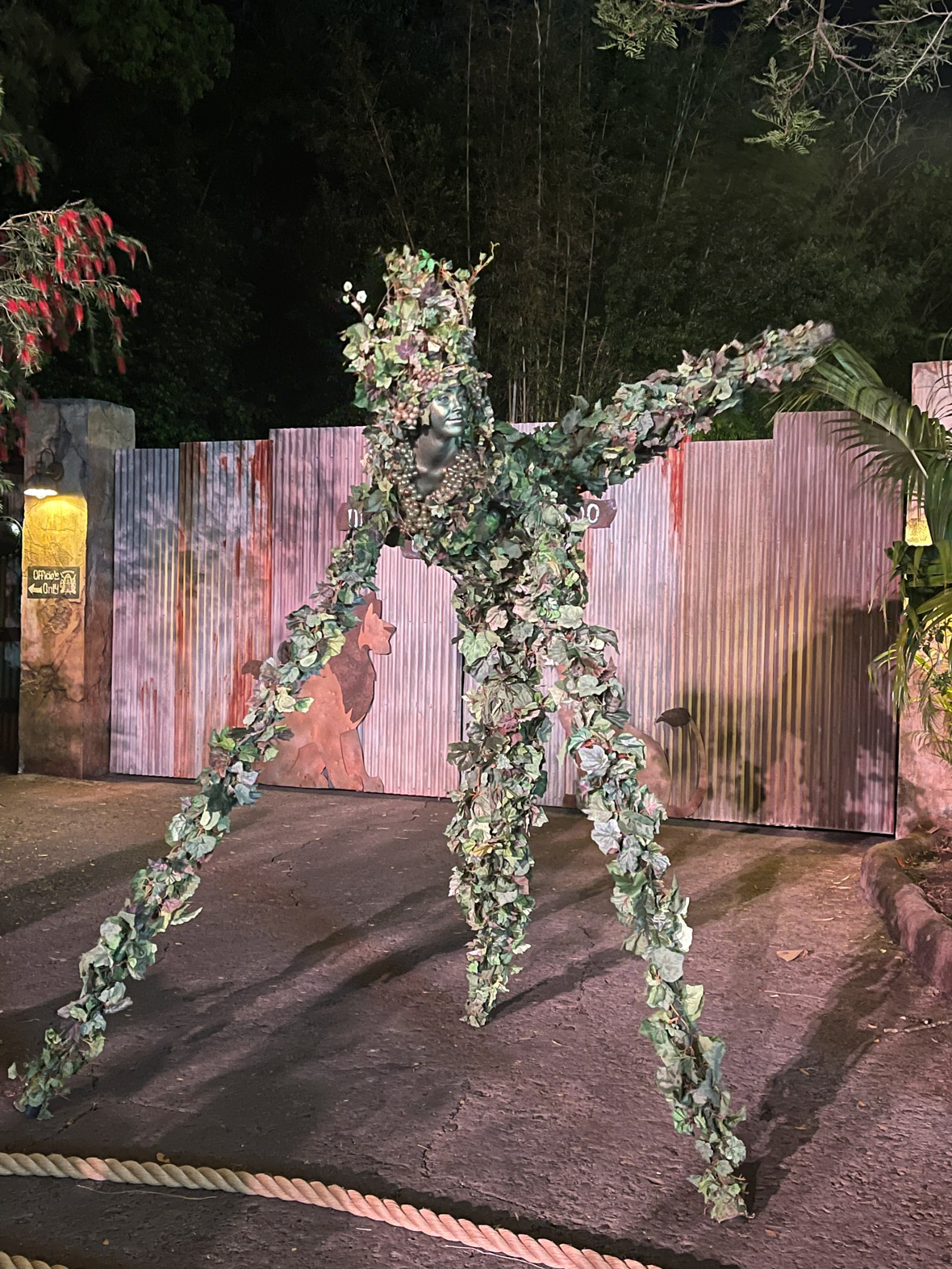 The Stone Dragon of Beastly Kingdom
Disney's Animal Kingdom celebrates creatures of the past; animals that still roam the Earth today; and some that only live in our imaginations. Beastly Kingdom was a proposed land for Animal Kingdom that would have featured unicorns, dragons, and fictional sea creatures like the Loch Ness monster. Remnants of Beastly Kingdom can be seen all over Disney's Animal Kingdom, namely on the park's entrance sign which prominently features a dragon silhouette. Keen eyes can still spot another, more hidden, nod to Beastly Kingdom on the bridge between Discovery Island and Pandora – The World of Avatar. When crossing the bridge, or taking a break at Nomad Lounge, gaze out toward the river on the right side of the bridge and you'll find a collection of rocks shaped like a dragon's head! Today, Pandora – The World of Avatar and Expedition Everest both fulfill the park's original mission and allow guests to encounter fictional species like the Na'vi and the Yeti.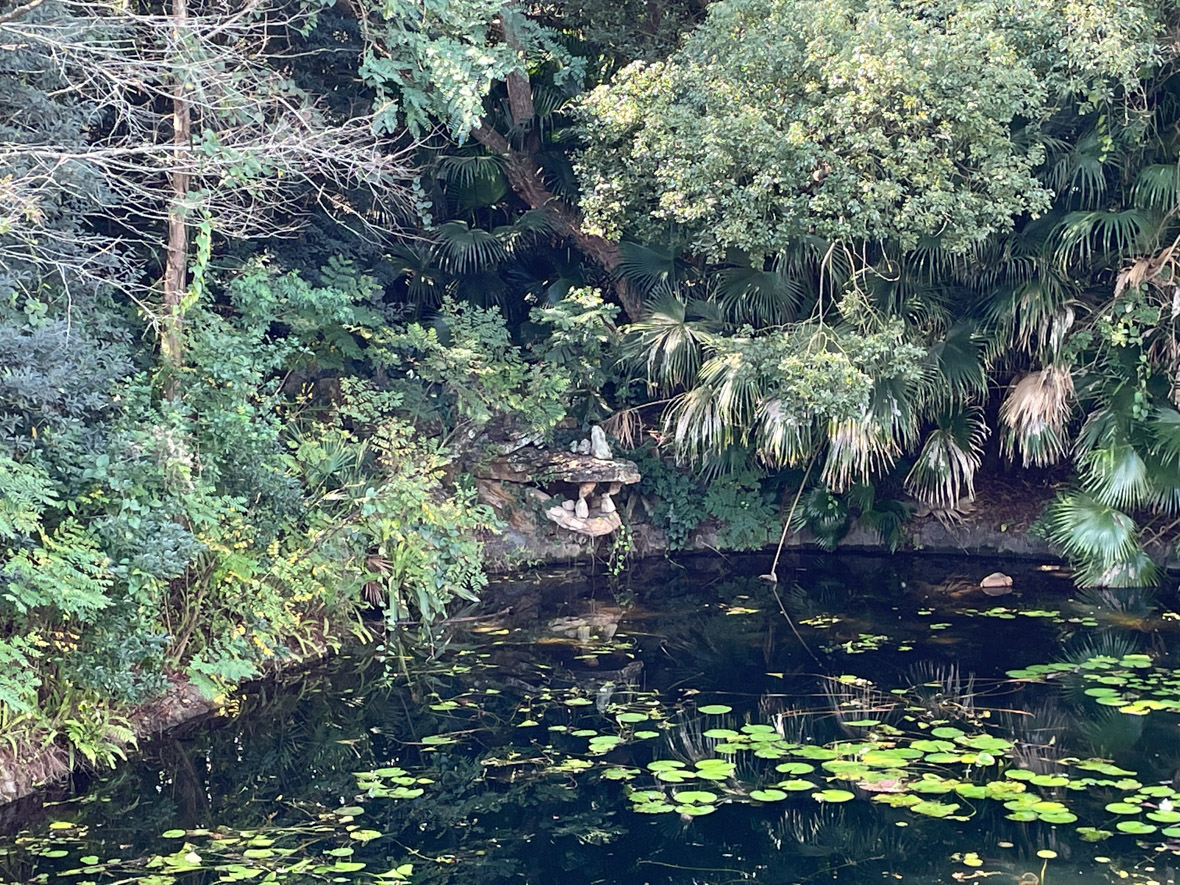 Eco-Friendly Benches
Disney's Animal Kingdom has always been committed to the conservation of wildlife species and the natural world. From the endangered species nursed back to health by Disney's animal care team to the paper straws found at eateries, many aspects of this park are centered around the ability to reduce, reuse, recycle, and preserve the magic of nature. This includes less-noticeable recycling efforts like the colorful benches found around the park. These bright benches shaped like alligators, turtles, and other animals are made of 100% recycled milk jugs! It takes over 1,000 bottles to make one bench. Next time you're at Animal Kingdom, find one of these benches and think of all that went into your seat as you rest your feet.
Stay tuned to D23.com for more information on Disney Parks across the globe. Join in on the fun now by joining D23! The 2022 D23 Gold Member Collector Set is included as part of any 2022 D23 Gold membership.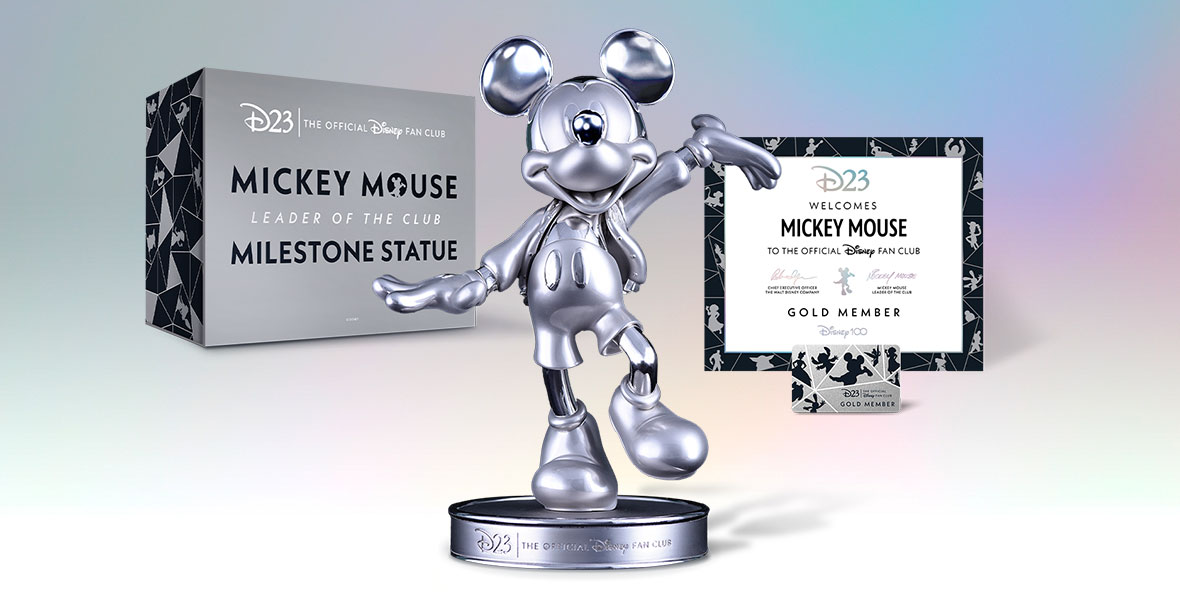 Get More Disney with D23 Gold Membership
Enjoy exclusive discounts and access to special events and merch.
Also includes our quarterly publication and annual Collector Set.