By Zach Johnson
As our excitement for this year's D23 Expo grows by the day, let's take a trip down memory lane and revisit some of the biggest announcements to ever come out of its 10-year history. From extraordinary expansions in the Disney Parks to a stellar slate of animated and live-action films, the D23 Expo has played host to some of the most talked about moments in recent memory. Rest assured, we've got plenty of surprises in store for this year's celebration—but until the fun officially begins on August 23, join us in celebrating just a handful of highlights!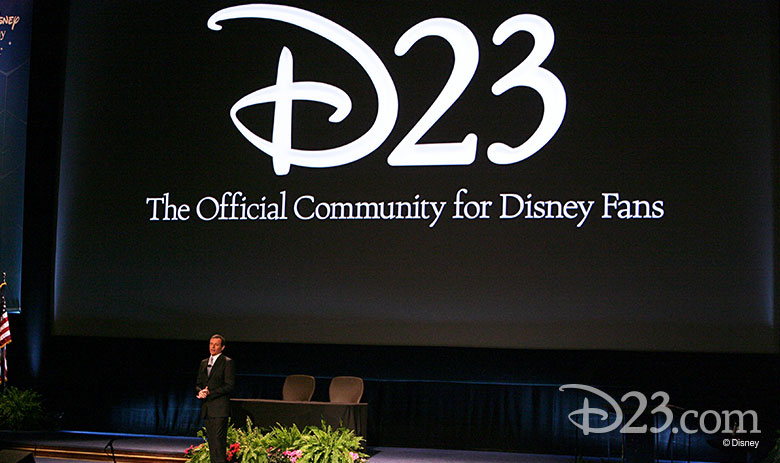 2009: The D23 Expo Is Born
Technically, the first major announcement was made months before the first D23 Expo even happened. The March 10 episode of ABC's The View cut to Bob Iger, Chairman and CEO of The Walt Disney Company, who was at the annual shareholders meeting. It was there that he announced the genesis of D23: The Official Disney Fan Club and revealed the inaugural D23 Expo would take place September 10-13, 2009, in Anaheim, California. "We have a fantastic legacy that started in 1923 and is based on timeless stories, beloved characters and unforgettable experiences, but it's our fans who keep the spirit of Disney alive year after year, generation after generation," Iger said. "D23 is our way of saying 'thank you' and celebrating our fans, who bring the magic of Disney to life every day in every corner of the world."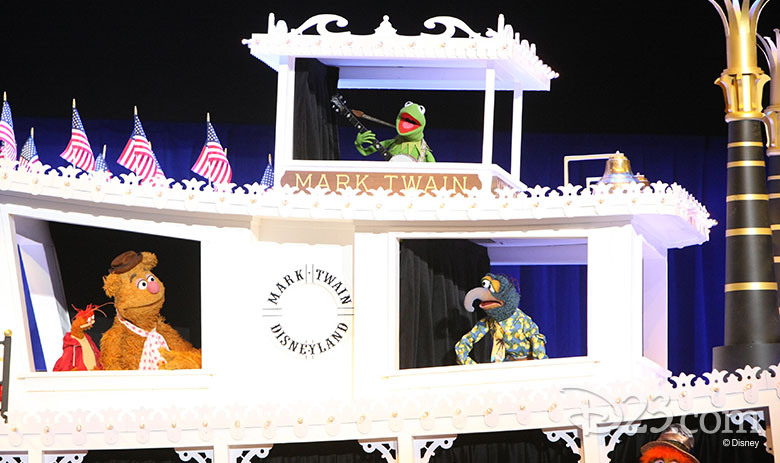 2009: The Muppets Reconnect With Audiences
The Muppets made a surprise appearance on a smaller replica of Disneyland Resort's Mark Twain Riverboat during the "Disney Movie Magic: Inside the Disney Studios" presentation. Kermit the Frog played the banjo on the upper deck, while Fozzie, Pepe, Gonzo, Miss Piggy, Animal, Janice, Floyd, Dr. Teeth, Zoot, Beaker, Dr. Bunsen Honeydew, Scooter, Rizzo the Rat, Lew Zealand, Robin, the penguins, and the chickens joined him by singing "The Rainbow Connection" from the riverboat's lower decks; Sweetums, meanwhile, stood beside the group. Following the concert, Statler and Waldorf appeared onstage and shouted, "We want Grumpy!"
The Muppets had a film in the works, tentatively titled The Cheapest Muppet Movie Ever Made!. The project later evolved into the 2011 comedy The Muppets, co-starring Jason Segel.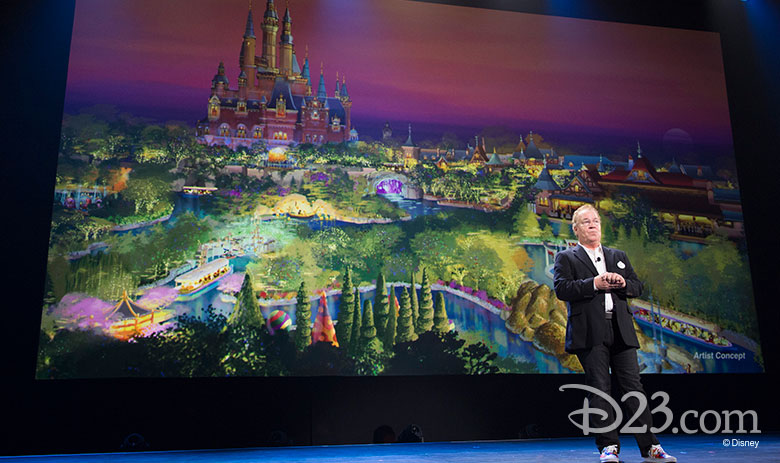 2011: Fans Get a Peek Inside the Castle
Four months after ground was broken on the Shanghai Disney Resort site, fans were given a sneak preview of Enchanted Storybook Castle—nearly two years before construction began! "We're really starting to define our vision for the property," Bob Weiss, then the Executive Vice President of Walt Disney Imagineering, said while showing 3D renderings and concept art. He later added, "While most people see an empty tract of land and mud, we see a stunning resort with a wonderful new theme park, a huge lake, two resort hotels, and an extensive retail, dining, entertainment complex." As guests who've visited the park can attest, Shanghai Disneyland Park Resort—which opened to the public in June 2016—was well worth the wait.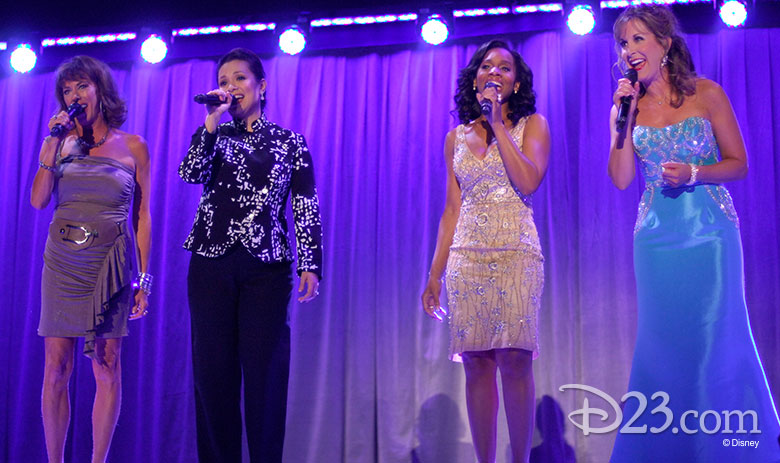 2011: Disney Princesses Celebrate a Crowning Achievement
After the voices of the Disney Princesses were inducted as Disney Legends, Linda Larkin, who provided the speaking voice for Jasmine in 1992's Aladdin, introduced Paige O'Hara, who sang as Belle; Lea Salonga, who sang as Mulan; Anika Noni Rose, who sang as Tiana; and Jodi Benson, who sang as Ariel. After their solos, they gave fans the royal treatment by teaming up to perform "A Dream Is a Wish Your Heart Makes" from Disney's 1950 animated classic Cinderella.
Other Disney Legends inducted in the Tom Bergeron-hosted ceremony included Barton "Bo" Boyd, Jim Henson, Regis Philbin, Ray Watson, Guy Williams, Bonita Wrather, and Jack Wrather.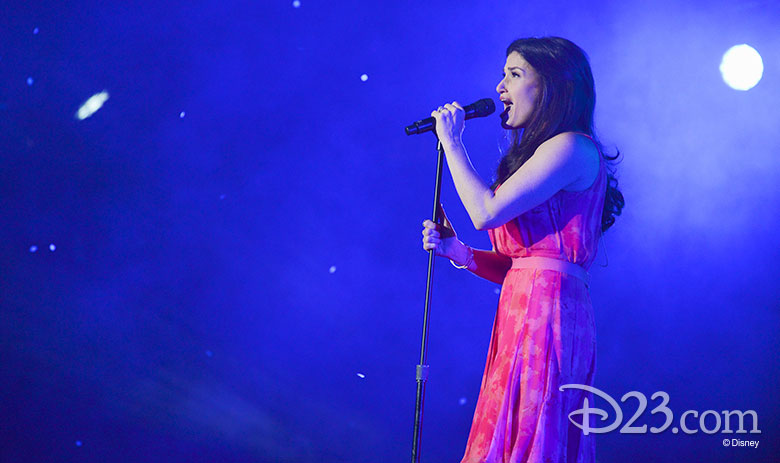 2013: Arendelle's Gates Open With a Musical Number
After being introduced as "one of the most amazing actresses and singers on the planet," Idina Menzel appeared onstage to perform Elsa's instantly iconic song "Let It Go" for the first time in public. As the award-winning talent later told D23, "It was fabulous to unveil the song! We'd been keeping it in for a long time. And I'm just so proud to have such an epic, anthemic song that symbolizes so much of what we feel." She added that young women in particular "hold in what makes us most special and powerful, because we're afraid to alienate people around us."
Working with co-star Kristen Bell (voice of Anna) was a favorite memory, she added. "It's been a dream, honestly, to be in a Disney animated movie and to have a character that sings," she said. "To be in this movie in particular, that represents so much of what I believe in, is terrific."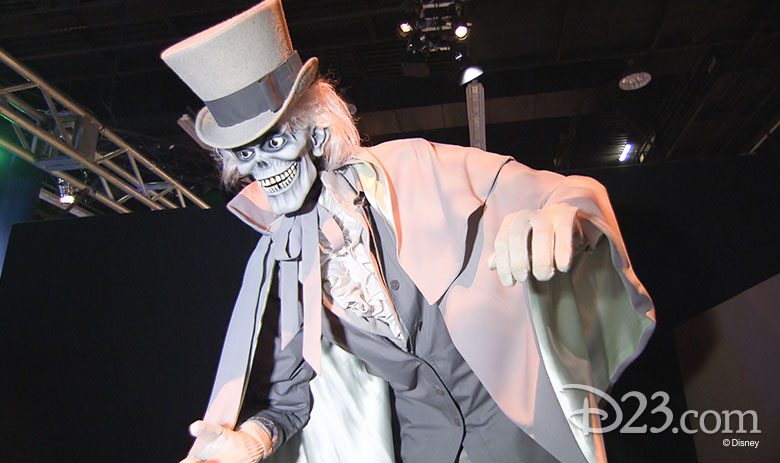 2013: A Ghost Finds a New Haunt
The Hatbox Ghost called The Haunted Mansion's attic home when the attraction opened at Disneyland Park in 1969. His name was apt, as his head would disappear then re-appear inside his hatbox. Eventually, he vanished entirely—but 44 years later, as a D23 Expo exclusive, Walt Disney Imagineers transformed an A-100 Audio-Animatronics model into the Hatbox Ghost, giving him a much wider range of motion. A centerpiece of the Journey Into Imagineering Pavilion, it would be two years before the Hatbox Ghost came out to socialize again in the park.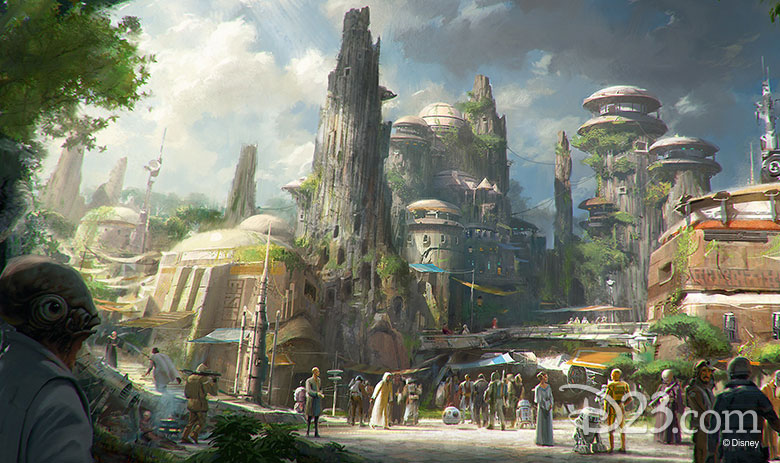 2015: The Star Wars Universe Gets Bigger
Iger made waves throughout the galaxy when he announced to more than 7,500 fans that in just a few years, Star Wars-themed lands would be coming to Disneyland park in Anaheim, Calif., and at Disney's Hollywood Studios at Walt Disney World Resort in Orlando, Florida. Spanning 14 acres each, the new lands promised to transport guests to a never-before-seen planet. "I am thrilled to announce the next chapter in the long and exciting history between Disney Parks and Star Wars," Iger said. "We are creating a jaw-dropping new world that represents our largest single themed land expansion ever. These new lands at Disneyland and Walt Disney World will transport guests to a whole new Star Wars planet, including an epic Star Wars adventure that puts you in the middle of a climactic battle between the First Order and the Resistance." (Read the latest on Star Wars: Galaxy's Edge, opening May 31 in Anaheim and August 29 in Orlando.)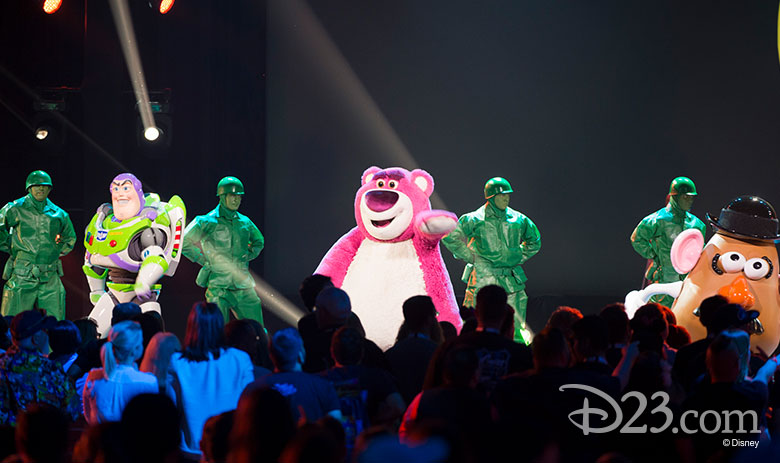 2015: The Toy Story Story Continues
Although Toy Story 4 was officially announced during an investor's call in November 2014, it wasn't until the 2015 D23 Expo that fans learned what filmmakers had in store. It was originally described as a "romantic comedy." But what was originally conceived as a love story between Bo and Woody evolved into something else. (Essential elements from that screenplay remained after Josh Cooley was named sole director in 2017.) The presentation ended with Randy Newman performing "You Got a Friend in Me," complete with green army men running drills onstage as characters like Bo Peep danced near the group.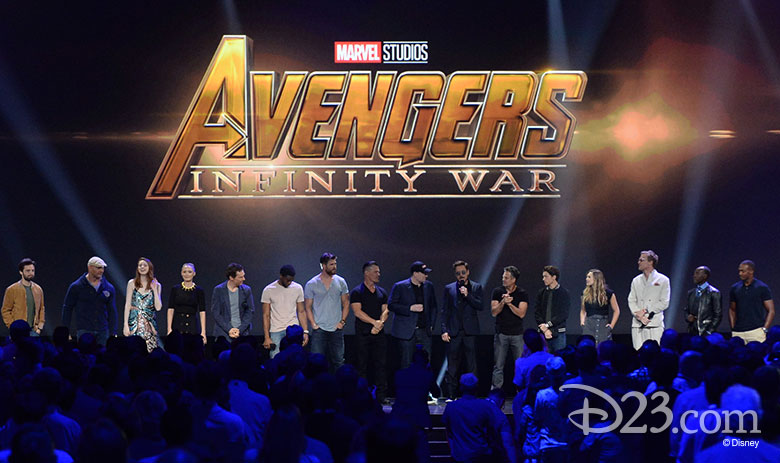 2017: Avengers Assemble to Preview Infinity War
To promote Marvel Studios' Avengers: Infinity War, a life-sized statue of Thanos, created by Legacy Effects, was put on display alongside sculptures of the Black Order's Corvus Glaive, Proxima Midnight, Ebony Maw, and Cull Obsidian, giving fans a close-up look at the new villains. For the presentation, producer Kevin Feige, director Joe Russo, and actors Robert Downey Jr., Josh Brolin, Mark Ruffalo, Chris Hemsworth, Paul Bettany, Elizabeth Olsen, Pom Klementieff, Karen Gillan, Dave Bautista, Anthony Mackie, Benedict Cumberbatch, Sebastian Stan, Tom Holland, Chadwick Boseman, and Don Cheadle introduced a clip highlighting 10 years of the Marvel Cinematic Universe, along with never-before-seen footage from Avengers: Infinity War. The clip, which was screened exclusively for the panel, received an immediate standing ovation.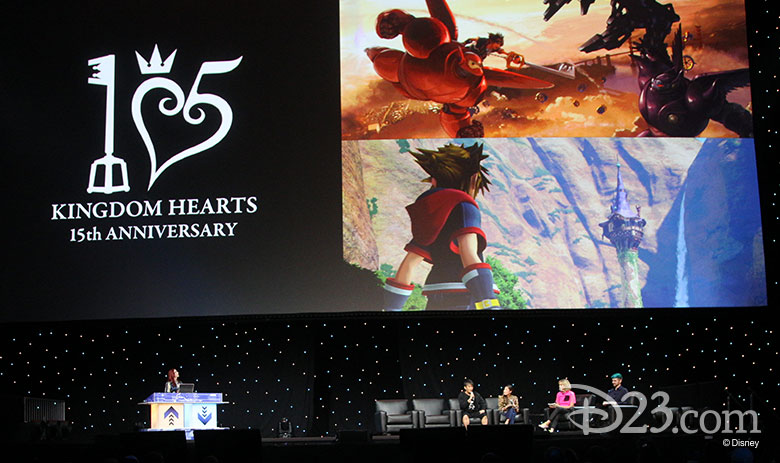 2017: Kingdom Hearts III Open the Pixar Toy Box
Disney and Square Enix debuted the first footage from Kingdom Hearts III, bringing PlayStation 4 and Xbox One gamers into the world of Pixar for the very first time. The highly anticipated trailer was Toy Story-themed and showed Sora, Donald Duck, and Goofy teaming up with Woody and Buzz Lightyear to take on the Heartless. The teaser also included a brief appearance from Organization XIII, the primary antagonists. With new worlds inspired by the Disney and Pixar films Big Hero 6, Frozen, Monsters, Inc., and more, the game was released two years later.
We can't wait to see you in Anaheim for the Ultimate Disney Fan Event beginning August 23!