(Pictured above, left, Russi Taylor)
Russi Taylor has a light, bubbly, energetic performance quality, with an incredible range and a skilled and intelligent sense of improvisation. Her "cast of characters" includes newborn infants and Muppet Babies, children and grown-ups, and a menagerie of animal and fantasy personalities.
Her most famous role, and certainly one that she feels closest to, is Minnie Mouse. "You have to bring yourself to a character," Russi once observed. "But because of this particular character, she actually enhances who I am, she really does. In a sense Minnie makes me better than I was before 'cause there's a lot to live up to."
Born in Cambridge, Massachusetts, on May 4, 1944, Russi had a desire to work for Disney ever since childhood and once even had the opportunity to express that hope directly to Walt Disney, when she encountered him at Disneyland. Walt himself assured young Russi that her dream would come true.
Russi has been the official voice of Minnie Mouse since 1986, when she won the coveted role in an audition that included nearly 200 hopefuls.
She has given voice to Minnie in the films Runaway Brain and Mickey, Donald, and Goofy: The Three Musketeers, and the TV series Mickey's Mouse Works, House of Mouse, and Mickey Mouse Clubhouse.
Her other Disney voices have included Nurse Mouse in The Rescuers Down Under as well as Donald's mischievous nephews, Huey, Dewey, and Louie, and Webbigail Vanderquack in DuckTales. Other audio appearances included the TV series TaleSpin, The Little Mermaid, Buzz Lightyear of Star Command, and Kim Possible.
As one of the leading voice performers working today, Russi is in perpetual demand and has a resume of credits that runs more than six pages. Among her most famous roles are Strawberry Shortcake, Baby Gonzo of Muppet Babies, Pebbles Flintstone, Duchess the Cat in the film Babe, and Ferny Toro in Jakers! The Adventures of Piggley Winks.
Russi had a recurring role as Penny Tompkins in The Critic, and has provided the voice of Martin Prince and the twins, Sherri and Terri, on more than 100 episodes of The Simpsons" as well as the blockbuster feature The Simpsons Movie.
Even with this vast repertoire, Minnie is never far from Russi. "Russi has imbued Minnie with so much of her own appeal, her strength, her spirit; a sense of gentleness, but combined with a certain sauciness," Roy E. Disney once said. "In the process, she has really helped to define Minnie's character for new generations."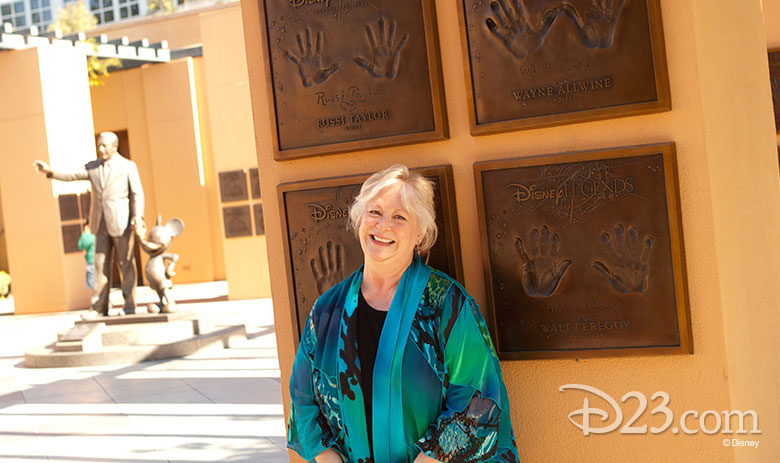 Russi feels a deep sense of stewardship about Minnie. "I really want whoever comes after us to be aware of the history and the tradition, and to love the characters as much as we do," she says of herself and her husband, Wayne Allwine, who provided the voice of Mickey Mouse until his death in 2009.
Of her long career providing voice for Mickey's lady love, and the benefit that she and Allwine derived from the roles, Taylor once stated, "We're so lucky, we really are."
Russi Taylor passed away in Glendale, California, on July 26, 2019. She was 75.