As a Tony®-, Emmy®-, and Grammy®– winning and Oscar®-nominated director, Julie Taymor has changed the face of Broadway with her innovative direction.
Julie was born on December 15, 1952, in Newton, Massachusetts. From an early age she was drawn to the stage, becoming one of the youngest members of the Boston theatrical community. At age 15 she spent time studying abroad in India and Sri Lanka, and after graduating high school she traveled to Paris to further immerse herself in theatrical studies.
After graduating from Oberlin College in 1974, Julie spent several years in Asia. In Bali, she founded her own theater company, Teatr Loh. Along the way, Julie studied many techniques of puppetry and mask-making that would become a trademark of her later productions.
After returning to the United States in 1979, Julie designed her first American production, The Odyssey. Her next production, The Haggadah, earned her the American Theatre Wing's Hewes Design Award for Scenic, Costume, and Puppet Design. She directed and wrote the book for the musical Juan Darién: A Carnival Mass in 1988, which earned her the Hewes Award for Concept Puppetry and Masks. A 1996 production of the musical, Julie's Broadway debut, earned five Tony Award nominations, including one for her direction.
Her Broadway adaptation of the animated classic The Lion King debuted in 1997. An instant sensation, it received 11 Tony Award nominations, with Julie receiving awards for Best Director and Costume Designer. She was the first woman in theatrical history to receive the award for Best Direction of a Musical. In addition to her Tony Awards, she also received awards for her puppet, costume, and mask designs.
Disney's The Lion King has gone on to become the most successful stage musical of all time. Julie presided over 24 global productions that have been seen by more than 90 million people, with the most recent premiering in 2016 at Shanghai Disney Resort. The show has played in more than 100 cities in 19 countries.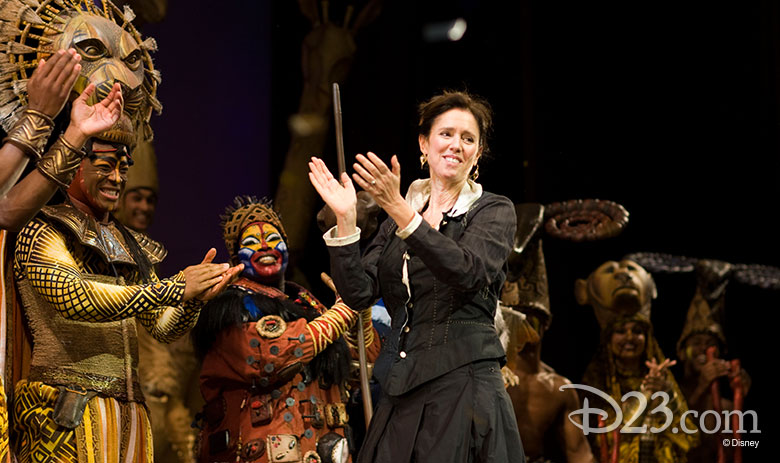 In 1999 Julie released her first film, Titus. Afterward she worked with Salma Hayek on the biographical film Frida, which earned six Oscar nominations and brought Julie a co-nomination for Best Original Song. Her 2007 film Across the Universe earned a Golden Globe nomination for Best Motion Picture – Musical or Comedy, and she then returned to Shakespeare's works for 2010's The Tempest.
Also an author, Julie has written or co-written several books including Julie Taymor: Playing with Fire, The Lion King: Pride Rock on Broadway, Titus: The Illustrated Screenplay, and Frida: Bringing Frida Kahlo's Life and Art to Film.
Julie has continued to work in the theater, directing and designing The Green Bird, co-writing and directing Grendel, and designing, co-writing, and providing the original direction for Spider-Man: Turn Off the Dark.
Julie is a recipient of the MacArthur "Genius" Fellowship and an inductee into the Theater Hall of Fame for Lifetime Achievement. She is currently directing M. Butterfly on Broadway, opening in fall 2017.