A teen heartthrob who then became one of the biggest movie stars in the world star, Johnny Depp is a rarity among actors, willing and able to mix swashbuckling leading-man performances with eccentric character roles. Perhaps best known among these parts is the internationally-beloved Captain Jack Sparrow of the Pirates of the Caribbean films.
Nothing, however, could match the record-smashing and Academy Award®-nominated success of Johnny's Captain Jack Sparrow.
Born John Christopher Depp II in Owensboro, Kentucky on June 9, 1963, Johnny moved frequently as a child before dropping out of school at age 15 to become a musician. Encouraged to become an actor, he made his first on-screen appearance in 1984's A Nightmare on Elm Street. He earned a role in Oliver Stone's acclaimed drama Platoon, but rocketed to fame on TV's 21 Jump Street. A series of acclaimed roles followed, including John Waters' Cry-Baby, Benny & Joon, and What's Eating Gilbert Grape?
Edward Scissorhands marked Johnny's first work with director Tim Burton, and the beginning of a long friendship and collaboration that has included eight films to date. Their second film together, the 1994 masterpiece Ed Wood, marked Johnny's first appearance in a Disney film. Subsequent successes included Don Juan DeMarco, Donny Brasco, Fear and Loathing in Las Vegas, and Sleepy Hollow.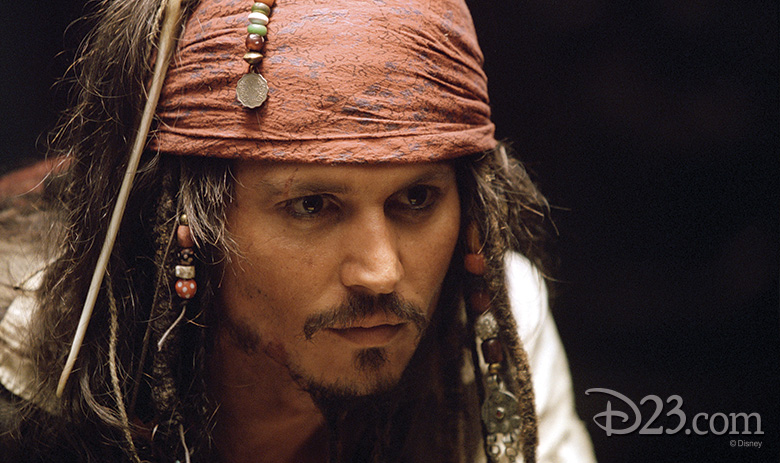 Nothing, however, could match the record-smashing and Academy Award®-nominated success of Johnny's Captain Jack Sparrow, beginning with 2003's Pirates of the Caribbean: The Curse of the Black Pearl. Not only has he reprised the role in three sequel films, but he has continued to bring this unique character to life in video games, the Pirates of the Caribbean attractions in Florida and California, and The Legend of Captain Jack Sparrow at Disney's Hollywood Studios. Captain Jack Sparrow will next be seen in the upcoming Pirates of the Caribbean: Dead Men Tell No Tales. Depp once said, "It was mentioned that they were considering a movie based on the Pirates of the Caribbean ride, and I said I was in. There was no screenplay, no director, nothing. For some unknown reason, I just said I was in."
"It's been a fun ride, and I'm enjoying it for all it's worth."
More recently, Johnny has appeared as Peter Pan creator James Barrie in Finding Neverland, and has scored hits with Charlie and the Chocolate Factory, Corpse Bride, The Tourist, Dark Shadows and Rango. In 2010, Johnny had another blockbuster success at Disney with Alice in Wonderland, and his brilliant characterization of the Mad Hatter will return in Alice Through The Looking Glass in 2016. He returned to the Studio in 2013, as Tonto in The Lone Ranger and appeared as the Wolf in 2014's Into the Woods.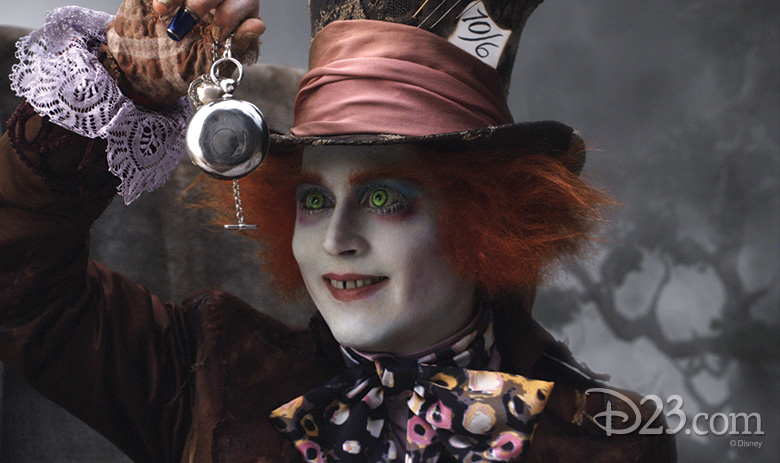 Long acclaimed for his acting work, Johnny received a Golden Globe Award for Best Actor for Sweeney Todd: The Demon Barber of Fleet Street and a Screen Actors Guild Award for his performance as Captain Jack Sparrow.
"I've been around long enough to know that one week, you're on the exclusive list of guys who can open a movie, and then the next week, you're off the list," Depp once said. "It's been a fun ride, and I'm enjoying it for all it's worth."