By Beth Deitchman
Tune in for a total "fam-demic" in the return of ABC's popular comedy The Conners, which finds Dan (John Goodman), Jackie (Laurie Metcalf), Darlene (Sara Goodman), Becky (Lecy Goranson), and D.J. (Michael Fishman) quarantining together. As the series' key art notes, the Conners have been "socially distant since always," but they'll get through the global pandemic as they face all challenges: as a family. Season three finds the Conners confronting not just the global health crisis, but financial issues closer to home. Dan struggles to catch up on back mortgage payments and the Lunch Box is forced to remain closed for all but takeout and delivery. Becky and Darlene are both forced to search for additional income at the newly reopened Wellman Plastics plant, where their Aunt Jackie worked way back at the beginning of the Conners' story more than three decades ago.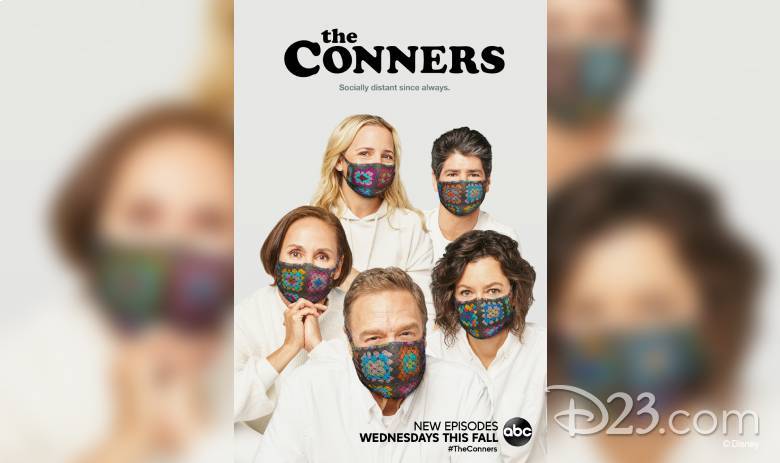 There was never a question as to whether The Conners would incorporate the pandemic into the new season's storyline. "The characters were built for disaster, and we've been following their life and their trials through all the things that have been going on since the 1980s," executive producer Bruce Helford noted during ABC's recent VirtuFall Panel Series. "It just seemed natural that we would be in—you know, in the middle of this and do it. I know there are a lot of shows that probably aren't going to be reflecting what's really going on, but we felt that it was an obligation to our viewers and to stay relevant and to show them what it's like for a family that knows how to get through hard times but is thrown a curve like never before."
The Conners recently returned to production, carefully and with safety and COVID-19 protocols a top priority—and the series' cast and creative team is also navigating the pandemic, albeit with a more agreeable dynamic and outlook than that of their on-screen counterparts. "I felt nervous coming in on the first day," Laurie Metcalf admitted. "But when I saw all the safety precautions that had been taken and had talked with fellow cast and crew members about how seriously we were all committed to keeping the set extremely safe, I felt much more comfortable."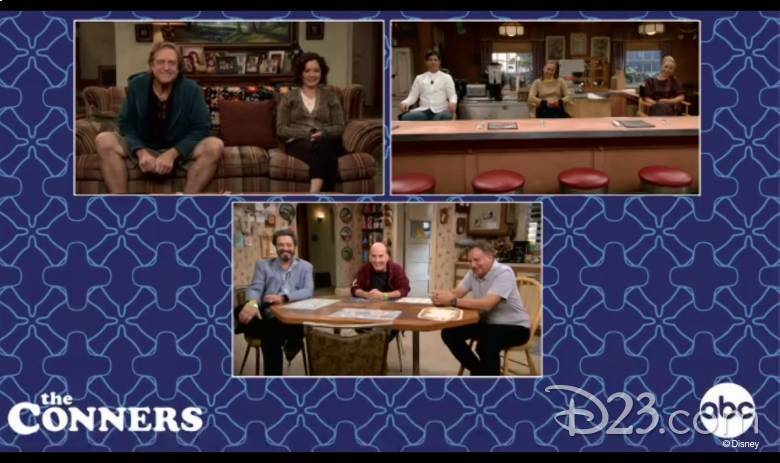 The cast has been a second family for Fishman, Gilbert, and Goranson for almost their entire lives. At the start of the pandemic, Goranson had hoped to travel back east to where she lives part of the year, but when those plans fell through, she found herself quarantining alone in Southern California and welcomed the opportunity to return to the soundstage. "For me, not only being able to see other people that I love and many of whom I've known for 30 years, and to be able to have a focus, to be able to contribute to society in a way that I feel like I can do as being part of our show, to address some of the feelings and the things that we've all been going through, I feel very, very blessed," she said.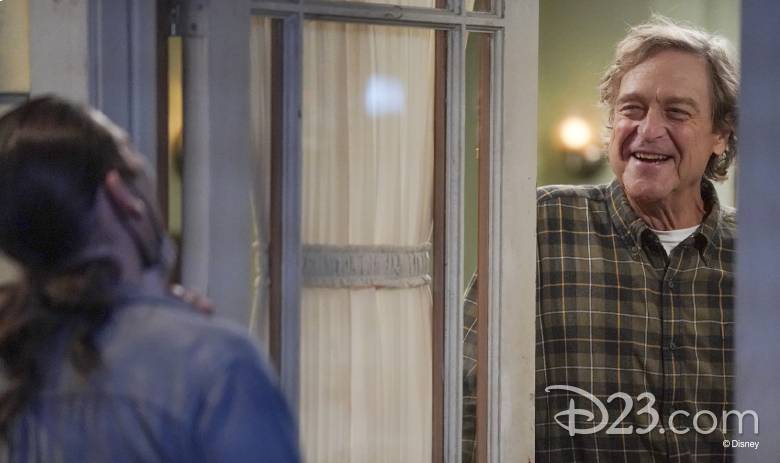 John Goodman shared that he has coped with the pandemic by focusing on his gratitude for the things in his life that make him happy. "I've been working very steadily for the last few years. I've been grateful for that, but it was nice to have some time off and just appreciate the things that make up my life," he said. "And it's just the gratitude that I have now is something I hadn't had earlier in my life, and I'm glad it's come to me now."
Fishman hopes that in watching the Conners come together on screen, viewers will be inspired by the characters' strength and ability to depend upon each other, and that they'll see that reflected in their own families. "I think it's a tough time for everybody. I think you lean on your friends and you lean on your family. We're very lucky to get to lean on each other and get to come to work with amazing people and do an amazing show that is topical and socially aware," he emphasized. "It's what you strive for, to get to do good work with good people. And it's not just the ones you see in front of the camera. It's all of the multitudes of people behind the camera that make coming to work kind of a paradise. It's an oasis in a tough time."
Be sure to catch America's favorite working-class family on an all-new night. The new season of The Conners begins Wednesday, October 21, at at 9/8c on ABC. Episodes can also be viewed the next day on demand and on Hulu.