By Zach Johnson
The times, they are a-changin'!
The fan-favorite daughter-father comedy Sydney to the Max returns for its third season starting this Friday, March 19, at 8:25 p.m. ET/PT on Disney Channel and DisneyNOW. It will continue to follow the adventures of Sydney (Ruth Righi), who lives in Portland, Oregon, with her dad, Max (Ian Reed Kesler), and her grandmother, Judy (Caroline Rhea). As Sydney navigates becoming a teenager alongside her best friend, Olive (Ava Kolker), flashbacks to the '90s show a young Max (Jackson Dollinger) and his best friend, Leo (Christian J. Simon), experiencing similar growing pains, mirroring Sydney and Olive's lives. Season three promises plenty of hilarious high jinks, while also tackling challenging and relevant topics, like cultural identity and divorce, as well as the impact of microaggressions.
The first new episode will find Sydney entering eighth grade and remodeling her bedroom to fit her new, artsy persona. Max, meanwhile, struggles with being the shortest kid in class. Ahead of the eagerly awaited season premiere, D23: The Official Disney Fan Club spoke with Righi, Kolker, Dollinger, and Simon about what else to expect as the season continues.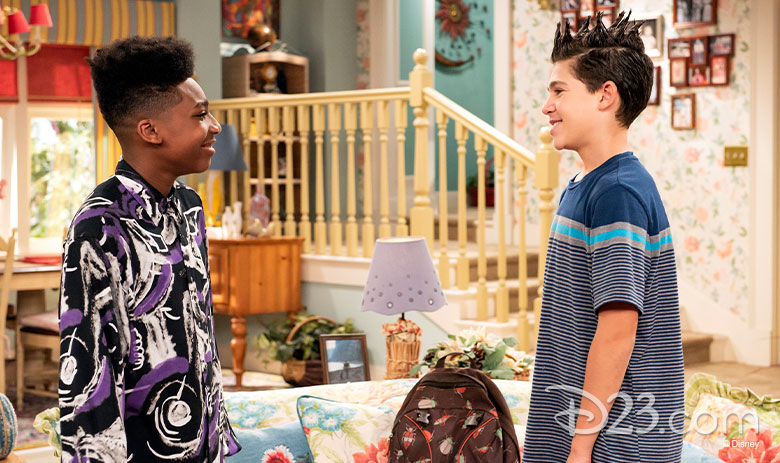 Righi began by acknowledging that the young cast has "changed a lot" since Sydney to the Max premiered in 2019. "I think we've grown together," she explained. "Everybody's changed in some way or another. I've definitely changed a lot since the pilot. We're sort of coming into our own and figuring out our place in the world, just like our characters are doing this season." To that point, Kolker added, "I am a very different person than I was in the first season. In the pilot, I was only 11—and now I'm 14. I feel like in the last couple of years, we have all sort of discovered ourselves and gotten to know ourselves a little better."
Now that Sydney and Olive are in eighth grade, they inevitably get into countless "sticky situations," said Righi. "They learn a lot from them. They deal with some really important, heavy stuff that a lot of people deal with." No matter what curveballs are thrown their way, the girls' friendship is their saving grace. "What's so great about them is that they're such true friends," Righi said. "They're there for each other through every crazy and tough time."
Meanwhile, Simon revealed Max and Leo will experience their own share of "ups and downs." While they may not always see eye to eye, they always keep each other in check. "Max struggles with being more responsible," Dollinger said. "He's a little immature, but he starting—with Leo's help—to grow up a little bit and take responsibility for his actions."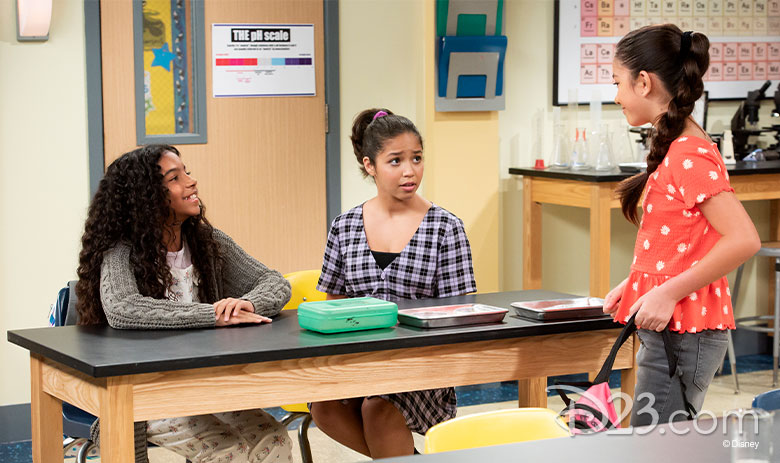 Things only get more complicated when Leo's cousin, Alisha (Cassidey Fralin), returns to the mix—and Max develops a crush on her. "You'll see Leo, especially, trying to balance family and friendship," said Simon. However, Dollinger added, Max must also figure out how to "make time for his crush and keep her happy while making time for his best friend."
In its first two seasons, Sydney to the Max didn't shy away from tackling relatable topics, telling heartfelt, honest, and humorous stories about real things, from feminist protests to the awkward transition into young adulthood. And its third season is no exception. The effects of microaggressions, for example, will be explored in an upcoming episode, and it "does a really good job of showing kids and explaining to viewers what a microaggression is," Simon explained. "The episode also teaches kids to stand up for themselves. Sometimes, people will make it seem like just because you're a kid, you can't use your voice. But everybody has a voice, and you have to use it—especially when it comes to something like this." Through this episode, Righi said she hopes fans realize "that there's a place for you to speak up, that your feelings are real."
Meanwhile, another episode will deal with divorce. "It's going to be a really great one for kids all over the world," predicted Dollinger. Kolker called it a "very important subject," adding, "It's really cool we get to portray that, to make sure kids know they're not alone."
The third season of Sydney to the Max is proof that the more things change, the more they stay the same. So, Righi said, "There's something everyone can take from it—young or old."
The first two seasons of Sydney to the Max are now streaming on Disney+.