By D23 Team
Whether you've been a D23 Gold Member since the very beginning, or if this is your very first D23 Expo, there are special benefits for everyone to enjoy during the ultimate Disney fan event. Read on and stay tuned for more D23 Expo news!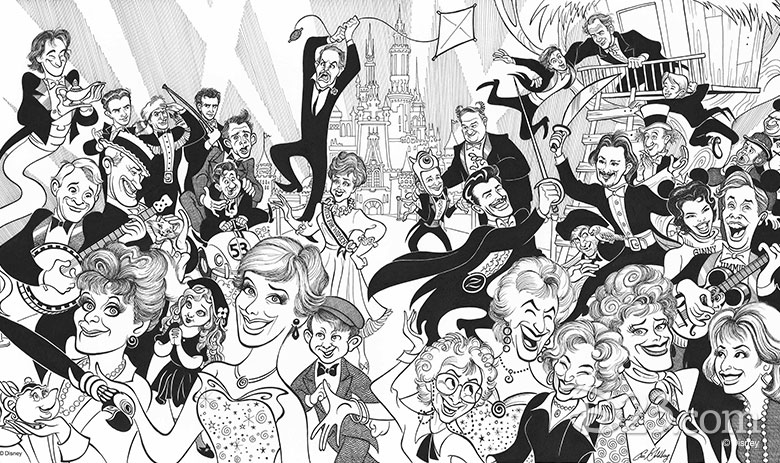 D23 Expo Gold Member Gift––Disney animator Eric Goldberg crafted a piece of artwork exclusively for the latest issue of Disney twenty-three featuring more than 30 Disney Legends, including Julie Andrews, Steve Martin, Angela Lansbury, and Robin Williams. As a bonus, D23 Gold Members attending D23 Expo 2017 will receive a complimentary print of the artwork at the event.
D23 Fan Lounge––Need to recharge in between panels, presentations, and exploring the Expo? Everyone is welcome to enjoy the D23 Fan Lounge, which will be located in the heart of the show floor. Here, you can charge your phone at complimentary stations, take Insta-worthy shots at fun photo spots, and learn more about D23. The lounge is located directly in front of Center Stage, and you won't be able to miss it––it will feature décor inspired by everyone's favorite lucky rabbit, Oswald!
D23 Gold Member Benefits––If you're a D23 Gold Member (we hope you are!), be sure to take advantage of several benefits, including priority seating for presentations in Hall D23 and the D23 Expo Arena, a complimentary Expo-exclusive print, and special offers and discounts from Disney partners including Havaianas, Ozobot, Steiff, and Thomas Kinkade (Stay tuned for the full list of Disney partners and offers).
D23 Charter Member Lounge––If you've been with us since the very beginning, don't forget to stop by the D23 Charter Member Lounge. D23 Charter Members (who joined in 2009 and have maintained their Gold Membership status) will have exclusive access to this private lounge off the show floor, where they can relax and purchase food and beverages.
For more information on D23 Expo, visit D23expo.com