By Courtney Potter
Revival of Adventureland Treehouse Coming to Disneyland Park in 2023 
Listen up, Disneyland Resort fans! Some fun news has just been announced, and we won't have to wait too long to see it take root… pun intended.
Walt Disney Imagineers just provided an inside look at the enhancements coming to the treehouse in Adventureland, formally known as Tarzan's Treehouse. Paying tribute to the original treehouse that Walt Disney and his Imagineers built in 1962 for the film Swiss Family Robinson, the Adventureland Treehouse will return in a delightful new way in 2023.
The attraction will showcase fascinating new environments created among the branches of a giant tree on the shores of the Jungle River, where guests will once again enter via the giant waterwheel and follow the wood rope up stairways and into the boughs.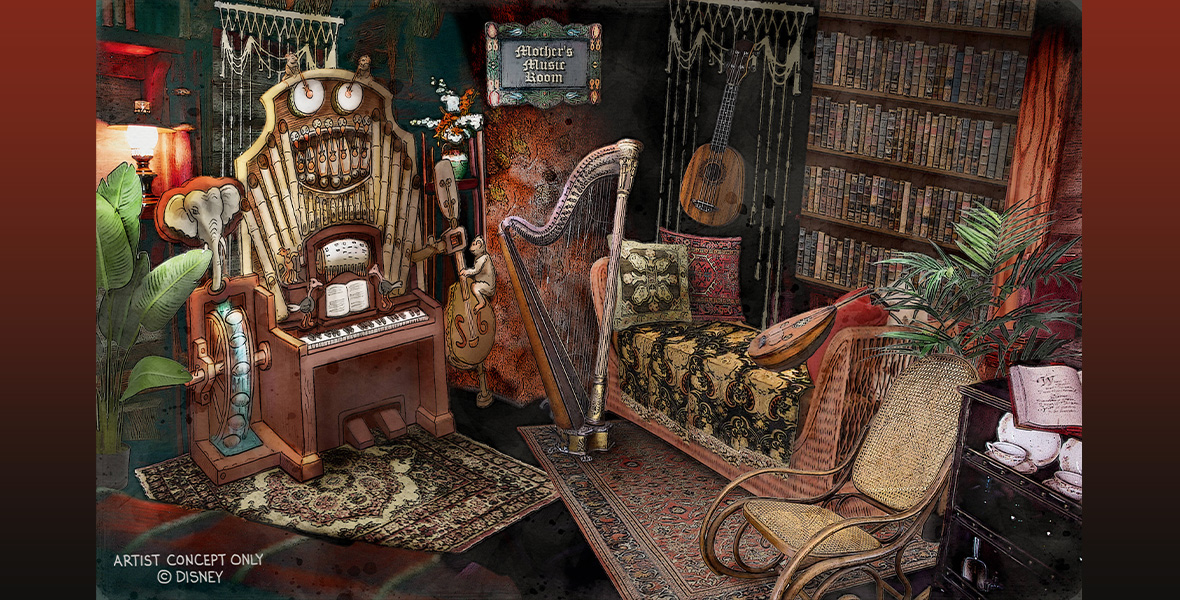 In this new story, guests will find amazing rooms that the resident family created for one another. From the mother's music den (as shown in the concept art, above) and the young sons' nature room to the teenage daughter's astronomer's loft, all things are fashioned from found objects, natural resources, and pure ingenuity.
For those who would rather stay on terra firma, the bottom floor will showcase an ingenious kitchen and dining room, along with the father's art studio—displaying hand-drawn sketches and paintings of each of the rooms.
Imagineers are hard at work bringing this classic back in a fresh way… full of magic, enchantment, and wonder. Stay tuned for more details—including opening dates!
5 Fantastic Things to Watch This Weekend Presented by State Farm®
Hunker down in your comfiest clothing this November weekend and enjoy some incredible content from around the worlds of Disney… What's there to look forward to? Why, the premiere of the sing-along version of Mary Poppins Returns on Disney+, for one! There's also a new episode of Hamster & Gretel on Disney Channel; brand-new hijinks on Celebrity Wheel of Fortune on ABC; and so much more.
New Casting Announced for Disney+ Original Series, Lucasfilm's The Acolyte
Earlier this week, Disney+ announced eight talented performers joining the cast for The Acolyte, an upcoming Original Star Wars series from Lucasfilm.
Joining the previously announced Amandla Stenberg (The Hate U Give) are Emmy® Award winner Lee Jung-jae (Squid Game), Manny Jacinto (Nine Perfect Strangers), Dafne Keen (His Dark Materials), Jodie Turner-Smith (Queen & Slim), Rebecca Henderson (Inventing Anna), Charlie Barnett (Russian Doll), Dean-Charles Chapman (1917), and Carrie-Anne Moss (The Matrix).
The Acolyte is a mystery-thriller that will take viewers into a galaxy of shadowy secrets and emerging dark-side powers in the final days of the High Republic era. A former Padawan reunites with her Jedi Master to investigate a series of crimes, but the forces they confront are more sinister than they ever anticipated.
From creator, showrunner, and executive producer Leslye Headland (Russian Doll), The Acolyte has begun production in the United Kingdom. Look for it exclusively on the streaming service soon.
This Way to a New Trailer for Idina Menzel: Which Way to the Stage?
We have our first look at Disney Legend Idina Menzel's brand-new documentary, Idina Menzel: Which Way to the Stage?—coming next month to Disney+. The intimate and inspirational documentary from Disney Branded Television and Ideal Partners follows Menzel on her journey to fulfill a lifelong dream to headline Madison Square Garden.
The beloved Tony Award®-winning actress and singer's many triumphs include iconic Broadway roles in the original productions of Rent and Wicked, as well as the voice of Elsa in Disney's Frozen and Frozen 2. Yet one dream goal has evaded her grasp: to headline a concert at the world-famous Madison Square Garden in her hometown of New York City. In Idina Menzel: Which Way to the Stage?, filmmaker Anne McCabe captures Menzel on a national tour over the course of 16 shows as she juggles the challenges of being a working mom with a grueling travel schedule, all while preparing to finally realize her dream.
Take an in-depth look at Menzel as you've never seen her before when the film premieres on Friday, December 9, only on Disney+.
Prepare Yourself for Black Panther: Wakanda Forever with These 5 Details
The day has finally come… Black Panther: Wakanda Forever is now in theaters, and we'll follow along as the Wakandans try and embrace their next life-altering chapter. What should you know before going to see the film? We've put together a list of five important details, culled from the film's recent virtual press conference; find out more by clicking here.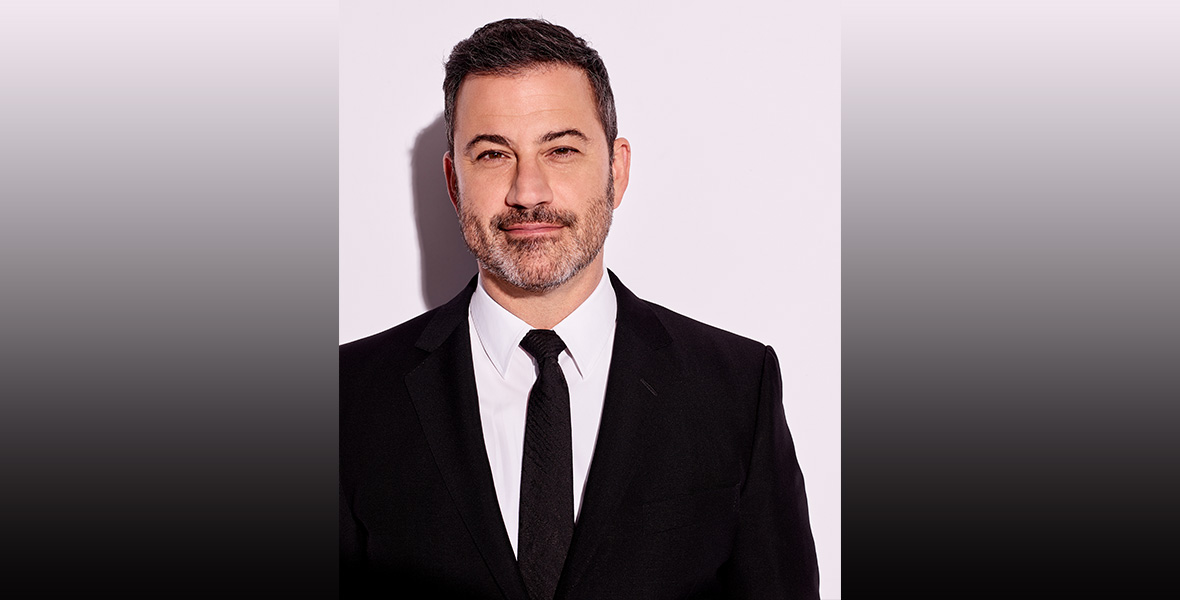 Jimmy Kimmel Returns to Host the 95th Oscars®
Emmy® Award-winning late-night talk show host and producer Jimmy Kimmel will return to host the 95th Oscars, according to executive producers and showrunners Glenn Weiss and Ricky Kirshner; Kimmel hosted back-to-back broadcasts in 2017 (89th Awards) and 2018 (90th Awards). Additionally, Molly McNearney (Kimmel's wife and a producer on Jimmy Kimmel Live!) will serve as an executive producer.
"We're super thrilled to have Jimmy score his hat trick on this global stage. We know he will be funny and ready for anything," Weiss and Kirshner said. Added Academy CEO Bill Kramer and Academy President Janet Yang, "Jimmy is the perfect host to help us recognize the incredible artists and films of our 95th Oscars. His love of movies, live TV expertise, and ability to connect with our global audiences will create an unforgettable experience for our millions of viewers worldwide."
"Being invited to host the Oscars for a third time is either a great honor or a trap," Kimmel joked. "Either way, I am grateful to the Academy for asking me so quickly after everyone good said 'no.'"
Kimmel serves as host and executive producer of ABC's Jimmy Kimmel Live! and recently signed a three-year contract extension, making him one of the longest-running talk show hosts in American TV history.
The 95th Oscars will be held at the Dolby® Theatre at Ovation Hollywood—and will be televised live on ABC and in more than 200 territories worldwide on Sunday, March 12, 2023.
Zootopia+ Has Arrived on Disney+!
The good folks at Disney+ released a brand-new trailer for their short-form Original series Zootopia+ in honor of all six episodes dropping this week—and it promises some truly adorable fun!
The series heads back to the beloved, fast-paced mammal metropolis and dives deeper into the lives of some of the Oscar®-winning feature's most intriguing residents—including Fru Fru, the fashion-forward arctic shrew; ZPD dispatcher Clawhauser, the sweet-toothed cheetah; and Flash, the smiling sloth who's full of surprises. (Fun fact: Keep your ears peeled for a voice appearance by Disney Legend Kristen Bell, reprising her role as Priscilla the Sloth!)
Zootopia+ is directed by Josie Trinidad (co-head of story, Zootopia; head of story, Ralph Breaks the Internet) and Trent Correy (director, Once Upon a Snowman and Drop), and produced by Nathan Curtis (associate producer, Encanto and Raya and the Last Dragon). It's now streaming exclusively on Disney+
ICYMI: Celebrate Native American Heritage Month with Films Dubbed in Native American Languages
Ever wonder what it's like to hear Star Wars: A New Hope in Navajo? Wonder no more, because it's available right this very minute as a bonus feature on Disney+! There are a few other films dubbed in Native American languages available on both Disney+ and Hulu; get more information here, and then have your own watch-a-thon in honor of Native American Heritage Month!