By Courtney Potter

See Godmothered on Disney+ Beginning December 4
Holiday wishes really do come true: Earlier this week, Disney+ announced that Godmothered—an enchanting new Christmas comedy starring Jillian Bell and Isla Fisher—will debut exclusively on the streaming service Friday, December 4.
Set at Christmas time, the film follows Eleanor (Bell), a young, inexperienced fairy godmother-in-training who, upon hearing that her chosen profession is facing extinction, decides to show the world that people still need fairy godmothers. Finding a misplaced letter from a 10-year-old girl in distress, Eleanor tracks her down and discovers that the girl, Mackenzie, is now a 40-year-old single mom (Fisher) working at a news station in Boston. Having lost her husband several years earlier, Mackenzie has all but given up on the idea of "Happily Ever After," but Eleanor is bound and determined to give Mackenzie a happiness makeover… whether she likes it or not. Plus: Keep your eyes peeled for the Godmothered original soundtrack, with a score by Oscar®-winning composer Rachel Portman, which will arrive on all digital formats the day of the film's debut.
Directed by Sharon Maguire, Godmothered also stars Santiago Cabrera, Jane Curtin, June Squibb, Stephnie Weir, Utkarsh Ambudkar (Mira, Royal Detective), and Jillian Shea Spaeder—whose songs "Rise Up (Joy to the World)" and "Hero" are featured on the film's soundtrack. Mark those calendars!
5 Fantastic Things to Watch This Weekend
It's a particularly notable weekend, in terms of "available viewing from around the worlds of Disney"—and if you were also looking for great stuff to watch as you start your holiday decorating in earnest (it's 2020 and we are not judging in the slightest), we've got ya covered. So carve out some time for the Hulu premiere of the thought-provoking documentary I Am Greta; the debut of Inside Pixar on Disney+; the finale of Magic of Disney's Animal Kingdom; and more.
First Trailer for Black Beauty, Coming Later This Month to Disney+
Another big reveal this week from our pals at Disney+: The new trailer for its upcoming film Black Beauty! Featuring the voice of Academy Award® winner Kate Winslet as the title character, the movie stars Mackenzie Foy, Iain Glen, Claire Forlani, and Calam Lynch.
This modern-day reimagining of Anna Sewell's timeless classic follows Black Beauty, a wild horse born free in the American West. Rounded up and taken away from her family, she is brought to Birtwick Stables, where she meets a spirited teenage girl named Jo Green (Foy). They forge an unbreakable bond that carries Beauty through the different chapters, challenges, and adventures of her life.
Directed by Ashley Avis, who also wrote the screenplay, Black Beauty arrives on Disney+ on Friday, November 27.
New Look at The Wonderful World of Mickey Mouse
Sometimes when it comes to news, it's an embarrassment of riches from one particular source—and this week, Disney+ gets a gold star! Take a gander at the new trailer for their animated short series The Wonderful World of Mickey Mouse, above.
Premiering on Mickey Mouse's birthday, November 18, the series follows along as he and his best pals—Minnie Mouse, Donald Duck, Daisy Duck, Goofy, and Pluto—embark on their greatest adventures yet, navigating the curveballs of a wild and zany world where the magic of Disney makes the impossible possible. Each seven-minute short is filled with laugh-out-loud comedy, modern settings, timeless stories, new music, and an unmistakable classic art style… and includes stories inspired by various lands at Disney parks and cameos by classic Disney heritage characters.
The Wonderful World of Mickey Mouse is produced by Disney Television Animation with Emmy® Award-winning artist and director Paul Rudish serving as executive producer and supervising director. Christopher Willis, the Emmy-nominated composer of the Mickey Mouse shorts, also provides the music. Oh boy!
ICYMI: Disney Channel Announces Brand-New Holiday DCOM
We've entered the season of giving, and Disney Channel is set to give us a fantastic gift in the form of a brand-new holiday DCOM. Christmas Again will feature Disney Channel fan-favorite Scarlett Estevez of BUNK'D, along with some TV, film, and stage veterans; find out more about the holiday shenanigans in store!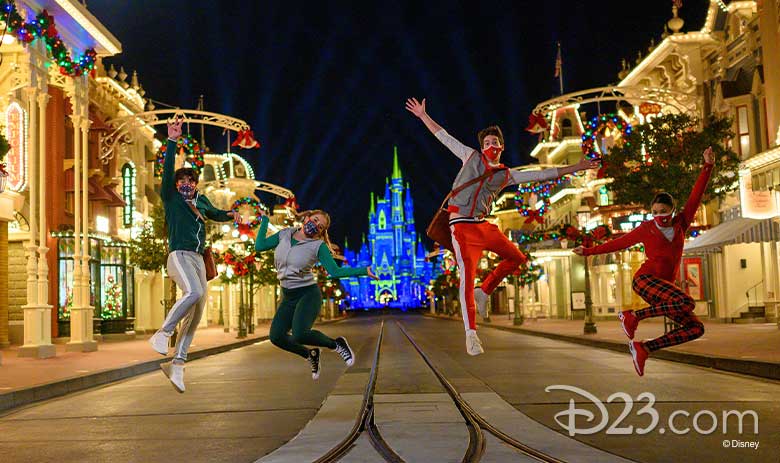 Jingle All the Way with Disney Channel Holiday Specials
… And speaking of Disney Channel, there's more merry on the way! They're set to present three special programming events for kids and families to kick off the holiday season throughout December.
Disney Holiday Magic Quest, a one-hour high-stakes adventure through the twists and turns of Magic Kingdom Park at Walt Disney World Resort, will premiere Friday, December 4, at 8 p.m. ET/PT. Virtually hosted by Raven-Symoné, it features ZOMBIES 2 stars Milo Manheim, Kylee Russell, Ariel Martin, and Pearce Joza navigating a series of challenges and obstacles through iconic Disney attractions, including the Haunted Mansion and Cinderella Castle, all in an attempt to restore the holiday magic that was stolen by famed Disney villains Maleficent and Evil Queen.
That special will be followed by Challenge Accepted! Disney Channel's Epic Holiday Showdown, a one-hour event where network stars compete to save the holidays from Ebenezer Scrooge (played by Raven's Home star Anneliese van der Pol), premiering Sunday, December 6, at 7 p.m. ET/PT. And just one week later, Disney Channel stars will come together to deliver laughs with a holiday sketch comedy show, Disney Channel Holiday House Party, on Friday, December 11, at 8 p.m. ET/PT; hosted by Miranda May (BUNK'D), the show features an ensemble of fan-faves decking the halls with a variety of wacky characters and sure-to-be-hilarious sketches.
Never fear: All three specials will be available via DisneyNOW as well. Gather the fam, pour a nice, cold glass of eggnog, and enjoy!