By Matt Moryc, Walt Disney Archives
One of the joys of being an archivist, especially for a collection as robust as the Walt Disney Archives, is rediscovering those forgotten tidbits of Disney history and connecting the dots to tell a story that few have heard before. Whether it's searching through scrapbooks, document boxes, newspaper clippings, or the personal correspondence of retired employees, the thrill of discovering new and enduring Disney history is endlessly motivating.
In recent years, the tide of unearthing little-known Disney history has begun to shift towards those who haven't yet had their turn in the spotlight, which is why I am delighted to share details of an unsung woman who was a foundational cast member at Disneyland Park throughout the 1960s. She mingled with presidents, royalty, and celebrities; debuted a role that became synonymous with the best and brightest cast members Disney has to offer; participated in a historic World's Fair; and led a vanguard group of people who introduced the Walt Disney World Resort project to the citizens and tourists of Central Florida. Meet Valerie Curry.
Born Valerie Jane Watson on December 2, 1938, in Orange, California, she went to high school in Long Beach, California, and later attended Fullerton Junior College from 1956–1958 as a music major—and was voted "Homecoming Queen" in 1957 and "Woman of the Year" in 1958. An accomplished pianist, she also attended the St. Louis Institute of Music on a scholarship and spent a semester at Whittier College in Whittier, California. She collected classical records and piano literature, and that love of music led to an interest in teaching elementary school children, but she would take a break from school in 1959 to rethink her major.
During that time away from school, Curry joined the Disneyland Customer Relations Division (later named Guest Relations) answering letters requesting information about the park. On April 4, 1959, King Hussein of Jordan arrived at Disneyland for a day of fun in Walt Disney's original Magic Kingdom, but there was a problem: all the Tour Guides employed in the Disneyland Customer Relations Division were taller than the king, which was a breach of etiquette at that time. The issue was solved by hurriedly locating Curry, who was then 20 years old and 5 feet 3 1/2 inches tall. "I had the good fortune to be selected to greet King Hussein of Jordan… for no special talent other than my height," she later recalled. "After greeting King Hussein, I was made a VIP hostess."
Curry spent the next few years living a charmed life as a Disneyland VIP Tour Guide where she spent time with notable names such as Soviet composers Kabalevsky and Kondrashin, actor Jimmy Stewart, then-U.S. Attorney General Robert Kennedy, and President Dwight D. Eisenhower—who remarked to her, "It must be quite an experience for you, working in this wonderful place every day." To which she replied, "It's more than that. It's the greatest experience of my life."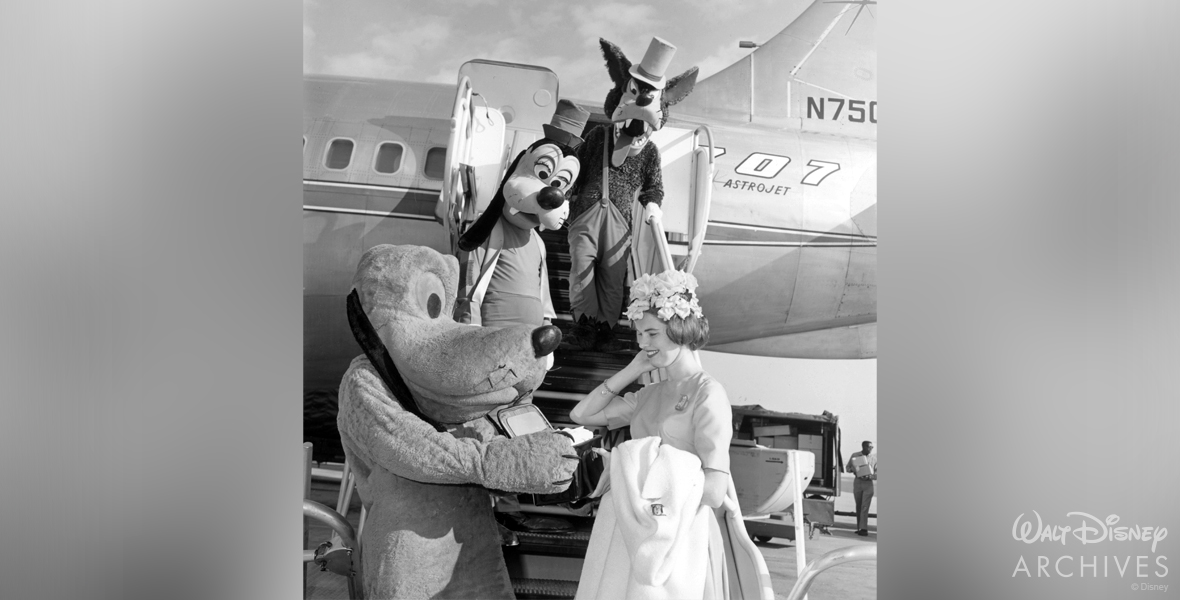 In February 1962, Curry was bestowed with the title of "Miss Disneyland," an honor that was born out of necessity for an ambassador-type presence for the forthcoming special production of Disneyland, U.S.A.—a lavish stage show featuring costumes, characters, vehicles, and other properties straight from the park and onto to the stage of Radio City Music Hall in support of the April 5, 1962, New York City premiere of the Disney film Moon Pilot. Russell Downing, then-president of Radio City Music Hall, had previously met Curry when she was his Tour Guide at Disneyland, and he, along with Disney officials, thought she was the unanimous choice to represent the park in New York City. "They decided, 'How can we get the interest of the press in New York?'… so they came up with a tag of 'Miss Disneyland,'" she remembered. "They weren't looking for a beauty queen. They were looking for someone who had knowledge of the organization and enthusiasm."
After the event's conclusion, Curry returned to California to resume her duties as a Disneyland Tour Guide. Despite her "Miss Disneyland" moniker existing for only a few short weeks, the title and responsibilities would later evolve and rebrand into what we know today as the Disneyland Ambassador role, beginning with Disney Legend Julie Reihm Casaletto during the park's 10th anniversary celebration, the Disneyland Tencennial.
Curry returned to New York City three years later for the second season of the 1964–1965 New York World's Fair. Disney designed and operated four different pavilions at the fair, including the "it's a small world" attraction for sponsor Pepsi-Cola as a benefit for UNICEF. The management in charge of operations for the "it's a small world" pavilion specifically requested that Curry be included for the 1965 season to manage and train the Guest Relations personnel at the pavilion's VIP lounge. Disney Legend Bob Matheison, manager of operations for the "it's a small world" pavilion, summed up Curry's contribution in a company memo: "I don't have to tell you that Valerie continues to do an outstanding job, and is a very great asset to us. I sometimes wonder if the executives of our company and the Pepsi-Cola Company truly realize how much she does represent their respective organizations at the fair."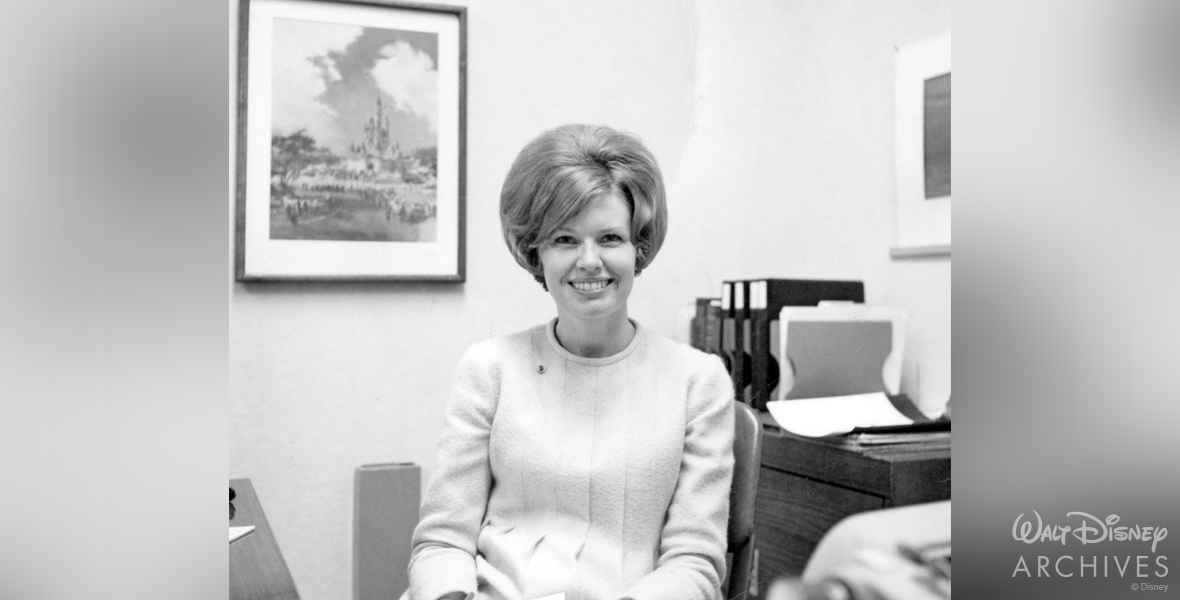 Curry changed course in her Disney career in 1966 with a move to WED Enterprises (known today as Walt Disney Imagineering) for a three-year stint in a secretarial role that she said was her favorite. "The best was at WED; I worked for the master planners of Walt Disney World, and it was all secret. It was called Project X," she once told an interviewer.
In April 1969, Walt Disney Productions set up temporary headquarters at the Ramada Inn in Ocoee, Florida, to present detailed plans for "Phase One" of Walt Disney World to press, leaders of American industry, Florida legislators, and invited guests. The four-day event included displays of artist renderings and models, a motion picture, and a construction site tour of the massive Disney property. To assist with the event, 10 Disneyland cast members were selected and flown to Florida, including Curry, who served as the group's leader. Also in attendance was Bill Hoelscher, an Operations manager from Disneyland, and Holly Suminski (née Hoelscher; no relation to Bill)—a Guest Relations cast member at Disneyland since 1962. Unknown to them at the time, all three would reunite a few months later to onboard the first guest-facing cast members for Walt Disney World.
Around the start of October 1969, Curry moved to Central Florida, joining Suminski and Hoelscher to begin the important task of recruiting, hiring, and training the initial Guest Relations cast members for the Walt Disney World Preview Center, the first building on Walt Disney World property open to the public. It was here where tourists and locals could preview the upcoming Walt Disney World project via models, artist renderings, merchandise, and a short film detailing what "Phase One" of the property would look like once completed on October 1, 1971.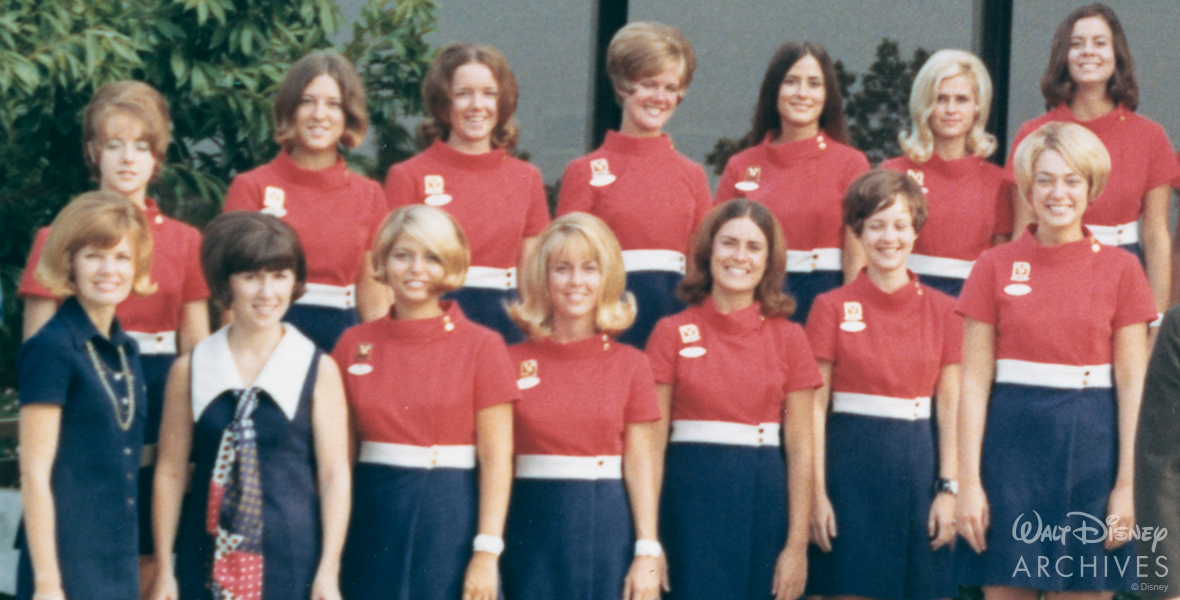 Curry continued in her role as supervisor throughout the lifespan of the Preview Center from January 10, 1970, to September 30, 1971, and then moved over to the newly constructed Magic Kingdom in October 1971 to help establish and supervise the Guest Relations department.
In the spring of 1972, Curry, along with her husband, John Curry (then-director of Walt Disney World hotels), left Disney. The couple eventually settled in Hilton Head Island, South Carolina, in 1973 where they lived for the next three decades. While there, she was an active member of the community, serving on various boards dedicated to education and the arts. In 1993 she penned a book simplifying classical music for laymen, copies of which she donated every year to new subscribers of the Hilton Head Symphony Orchestra and sold to orchestras nationwide. She also leveraged her love of classical music to spearhead the creation of the Hilton Head International Piano Competition in 1996, which has become one of the leading international piano competitions in the United States. She passed away on September 28, 2010.
Throughout Curry's storied 13-year career with Disney, she consistently displayed an aptness for representing the values established by Walt Disney—and the early pioneers of Disneyland—to provide an unparalleled level of courteous and welcoming service to all who visited "The Happiest Place on Earth," and the world beyond its gates. From her role as "Miss Disneyland"—the forerunner for the legendary Disney Ambassador program which has selected cast members for nearly 60 years to represent Disney Parks around the globe—to her job opening shop for the nascent Walt Disney World Resort, Curry ensured the world-famous spirit of happiness and friendliness established at Disneyland would live on wherever she went. Curry was not only part of Disney history… she created it.