By the D23 Team
It's a sci-fi action adventure, and the definitive origin story of the legendary Space Ranger we've come to know and love... Disney and Pixar's all-new animated feature Lightyear follows Buzz (voice of Chris Evans) after he's marooned on a hostile planet millions of lightyears from Earth, alongside his commander and best friend Alisha Hawthorne (voice of Uzo Aduba) and their crew. As Buzz tries to find a way back home through space and time, he's joined by a group of enthusiastic recruits (voices of Keke Palmer, Taika Waititi, and Dale Soules), as well as his adorable robot companion Sox (voice of Peter Sohn). In the meantime, he's faced with the arrival of Zurg (voice of James Brolin)—a truly imposing presence with an army of robots and a very mysterious agenda.
In anticipation of the film's big launch next week, we're taking a closer look at Buzz and his friends... and foe: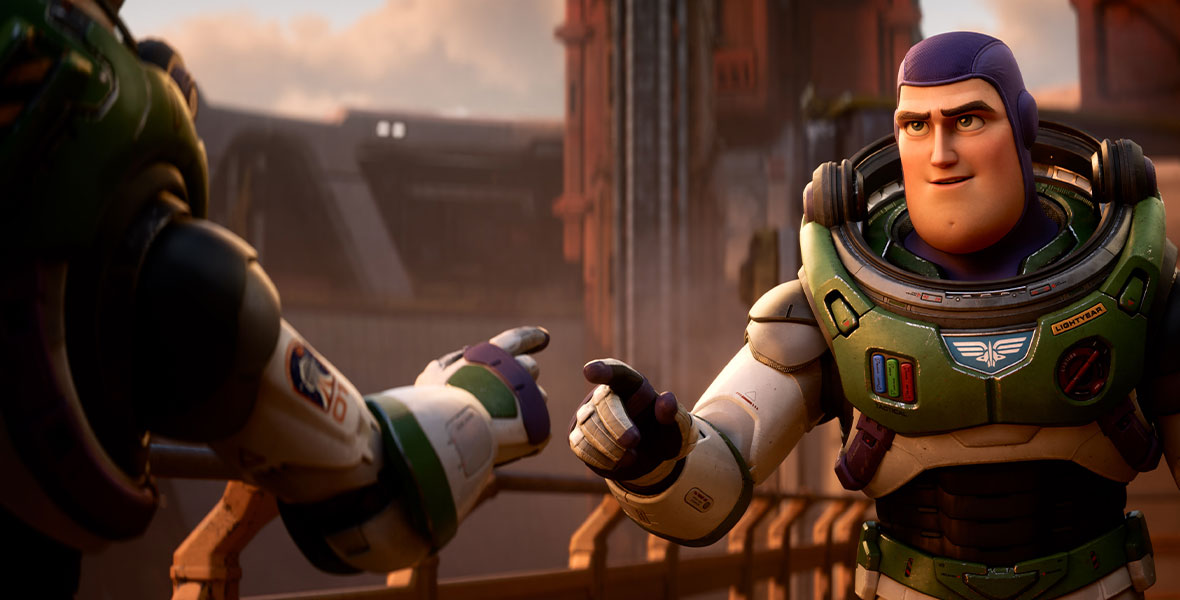 Buzz Lightyear (voice of Chris Evans)
Buzz is a confident, loyal, and accomplished Space Ranger whose pride in his work shines bright. "He enjoys the thrill and adventure of gallivanting around the galaxy, successfully completing missions with his friend and mentor, Commander Alisha Hawthorne," says director Angus MacLane. "Buzz really enjoys the kind of comfort and familiarity that comes with being part of a tight-knit team."
Buzz has tons of respect for Alisha—but he also doesn't have a lot of time for the upstarts who dream of being a Space Ranger like him. While that might seem like arrogance, it's more that Buzz is a perfectionist at heart... for everyone, including himself. When a clutch decision leads to a mission-disabling crash landing, stranding a spaceship full of intergalactic explorers on an uncharted and inhospitable planet, Buzz is determined to make things right—regardless of the cost.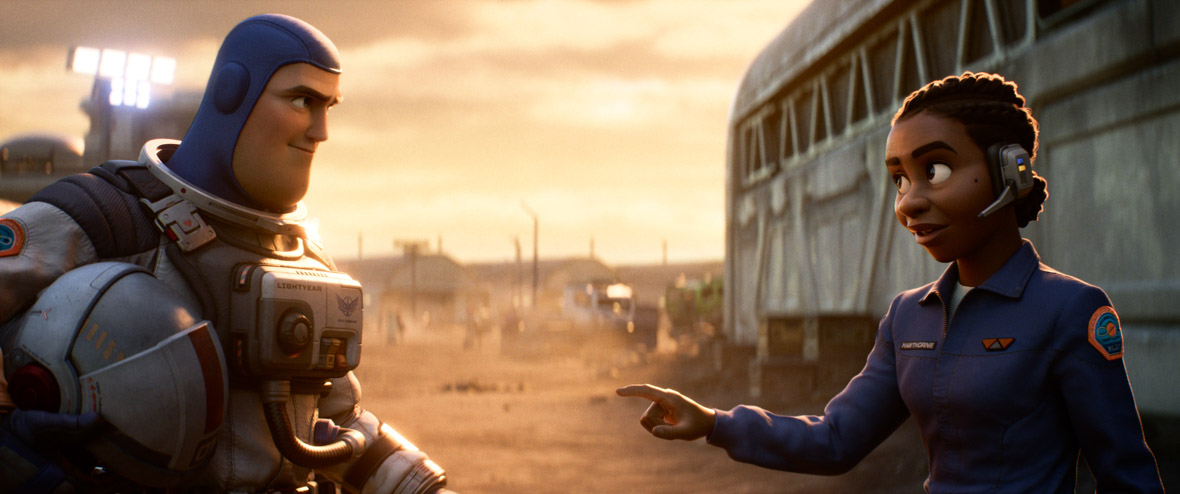 Alisha Hawthorne (voice of Uzo Aduba)
Alisha, Buzz's longtime commander, is a fellow Space Ranger and friend. "She is skilled, competent, and trusting," says producer Galyn Susman. "She invests in people, mentoring recruits and welcoming rookies to the action while Buzz just doesn't have the patience."
After crashing on an uncharted planet with Buzz millions of light-years from Earth, Alisha obviously shares Buzz's desire to fix their spacecraft, mine the planet's resources to create the fuel they need and—hopefully one day very soon—return home. But Alisha's response to their marooning, especially as it continues far beyond their expectations, differs from Buzz's. She opts to live her life regardless of the planet she's on... advancing her career, falling in love, and building a family with her wife. "She's going to make the best life she can with what she has in front of her," says Susman. Adds MacLane, "Alisha is somewhat of a founder of the colony. She keeps everyone sane and moving forward while Buzz is focused only on correcting his mistake."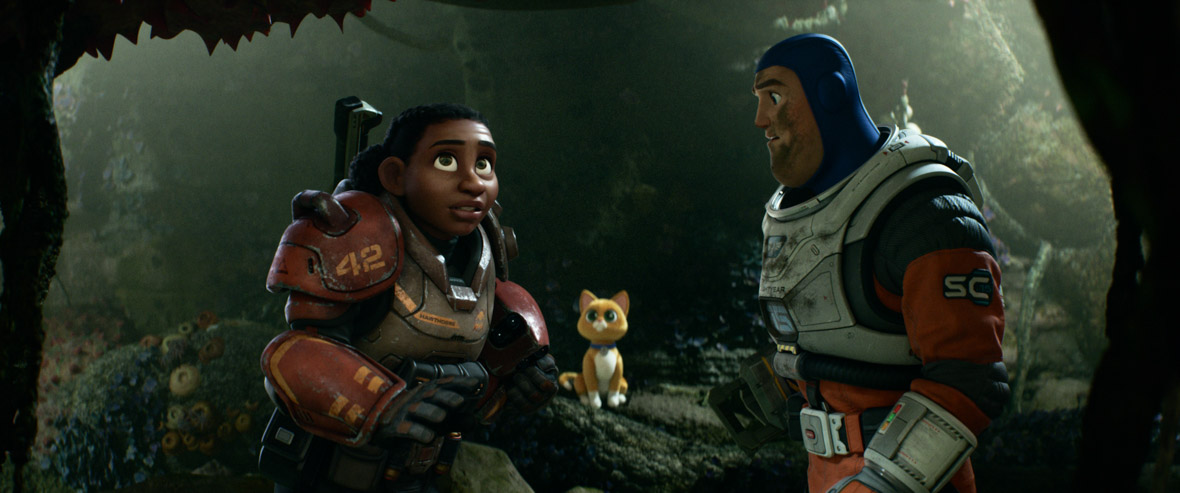 Izzy Hawthorne (voice of Keke Palmer)
Izzy is the eager leader of the Junior Zap Patrol—a volunteer team of self-motivated cadets training to become protectors of the fledgling society that's taken shape on the planet. She dreams of becoming a Space Ranger like her grandmother Alisha, but that's easier said than done, especially considering she has a secret standing in her way.
According to director MacLane, Izzy represents a part of the community that Buzz can't really understand: "She's only ever known life on [this planet], T'Kani Prime," he says. "She's heard tales about Space Rangers and knows everything about her grandmother's career. Her challenge is living up to that legacy... Izzy represents an opportunity for Buzz to reconnect with Alisha after losing so much time with his best friend through his own hubris. This is his chance to get it right."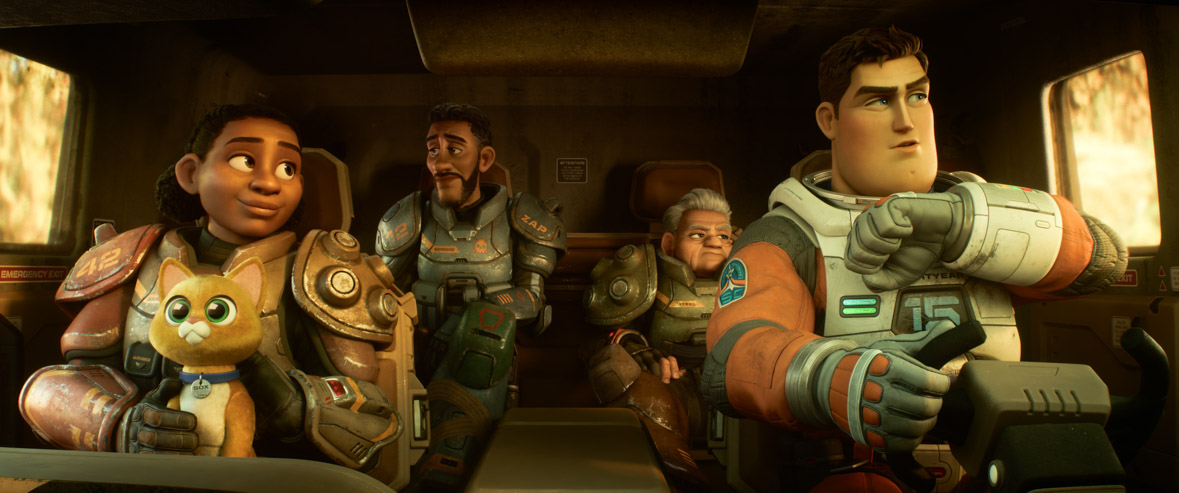 Maurice "Mo" Morrison (voice of Taika Waititi) (second from left, pictured above)
Mo suffers from a lack of direction—not for lack of trying, but Mo just can't seem to find his passion. There's a longstanding fear of commitment there... especially when it comes to a holding a full-time job. Ultimately, Mo decides to join forces with Izzy and the Junior Zap Patrol, but he doesn't exactly share Izzy's passion for the cause. It's just, well, something to do.
"Mo joins the unit because he doesn't have anything else going on," says MacLane. "He doesn't have a lot of confidence in his ability to succeed—he figures he'll just quit before he has a chance to find out. But it's impossible not to laugh at his antics."
Darby Steel (voice of Dale Soules) (third from left, pictured above)
Darby is a totally gruff, no-nonsense, and not-exactly-voluntary member of the Junior Zap Patrol. Nonetheless, she completes the trio in a refreshing, albeit abrupt, way: Darby says it like it is and doesn't care what anyone thinks about it. "Her mysteriousness is what I think makes her interesting," admits MacLane, "and kind of hysterical."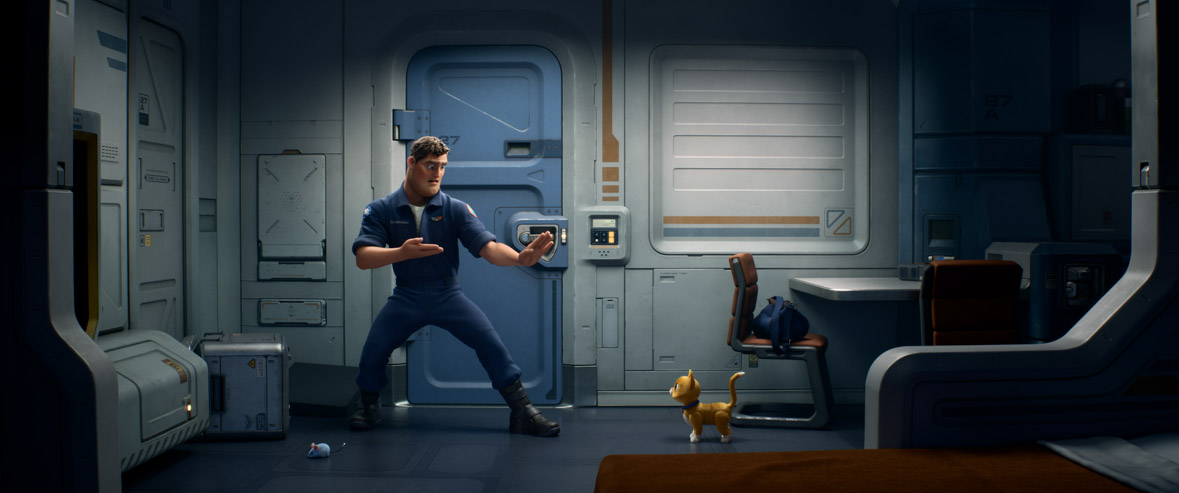 Sox (voice of Peter Sohn)
Sox is an obedient robot companion cat given to Buzz by Star Command and Alisha. Intended to help a Space Ranger's emotional transition after his time away, Sox basically exists to make Buzz happy. A hidden grab bag of gizmos in a delightful kitty package, Sox is sidekick and pal Buzz needs. He's also adept at providing soothing white noise and is even capable of complicated computations. "He can fill Buzz in on whatever he's missed while he's away," says Susman. "And, according to Sox himself, he's an excellent listener."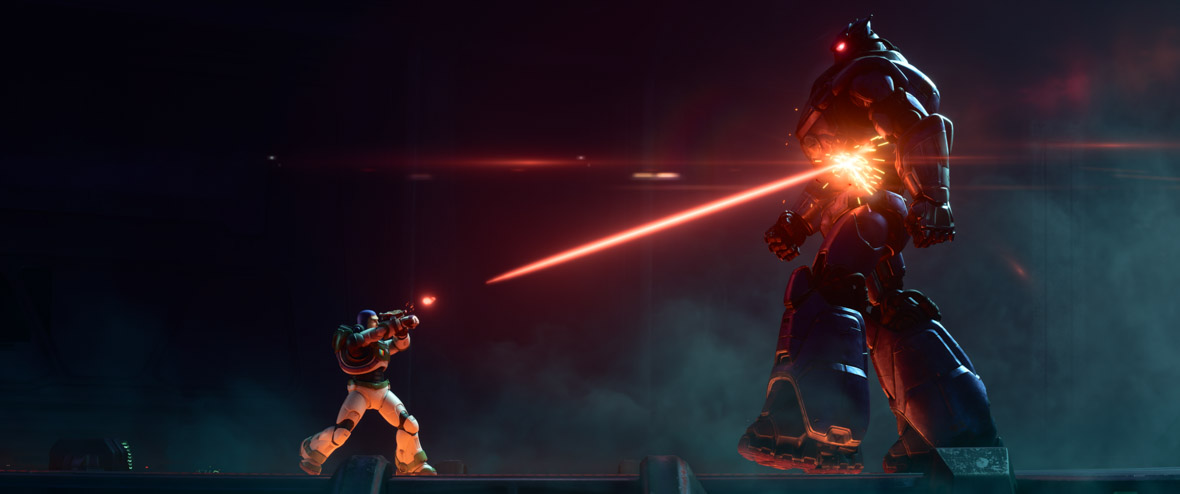 Zurg (voice of James Brolin)
Zurg captains the alien spaceship that shows up at T'Kani Prime while Buzz is on his final test flight. The imposing presence comes complete with an army of ruthless robots and a spaceship chock-full of high-tech gadgetry. Cloaked in mystery, Zurg's true mission is unclear—but the threat looms large.
MacLane, who was one of the artists who worked on Zurg's design in Toy Story 2, was thrilled to further explore the character. "Of course, Zurg's the villain," says MacLane. "We've known for a long time that he's Buzz's nemesis. But we never really knew why."
Lightyear premieres only in theaters on June 17!