By Zach Johnson
There wood be no Pinocchio without Benjamin Evan Ainsworth.
The young actor gives a solid performance as a wooden puppet who embarks on a thrilling adventure to become a real boy in Pinocchio, debuting on Disney+ Day. Directed by Academy Award® winner Robert Zemeckis, the live-action and CGI retelling of the beloved tale also stars Tom Hanks as Geppetto, Joseph Gordon-Levitt as Jiminy Cricket, Cynthia Erivo as the Blue Fairy, Keegan-Michael Key as "Honest" John, Lorraine Bracco as Sofia the Seagull (a new character), and Luke Evans as The Coachman. Before the film begins streaming on Thursday, September 8, Ainsworth joined D23: The Official Disney Fan Club in a Q&A, sharing secrets from set.
D23: How did you react when you discovered you'd won the role of Pinocchio?
Benjamin Evan Ainsworth (BEA): I was kind of shocked—and ecstatic! I was speechless. Obviously, it was an honor to audition with Robert Zemeckis, let alone land the role, and then to be on set and to do the whole process with them, too? I was really excited.
D23: What makes the story of Pinocchio so timeless?
BEA: I remember when I was younger, watching [the animated] Pinocchio, and it's a lovely story. It's something you remember, and he's an iconic character. There are still morals that relate to today's society, like being truthful. The world is an exciting place, but you have to ground yourself, and you must stay kind and truthful as you explore it.
D23: You provide the voice of Pinocchio in this film, but you were on set every day reading your lines. How did it feel to actually see the world of Pinocchio come to life?
BEA: Oh, it was amazing! It was shot all in this massive studio, called Cardington Studios [in England]—and it was as big as the Titanic! It was this massive place where they kept the zeppelins in the World War. It's since been converted, and they basically had all of the locations from Pinocchio in this one place, which was so special and cool.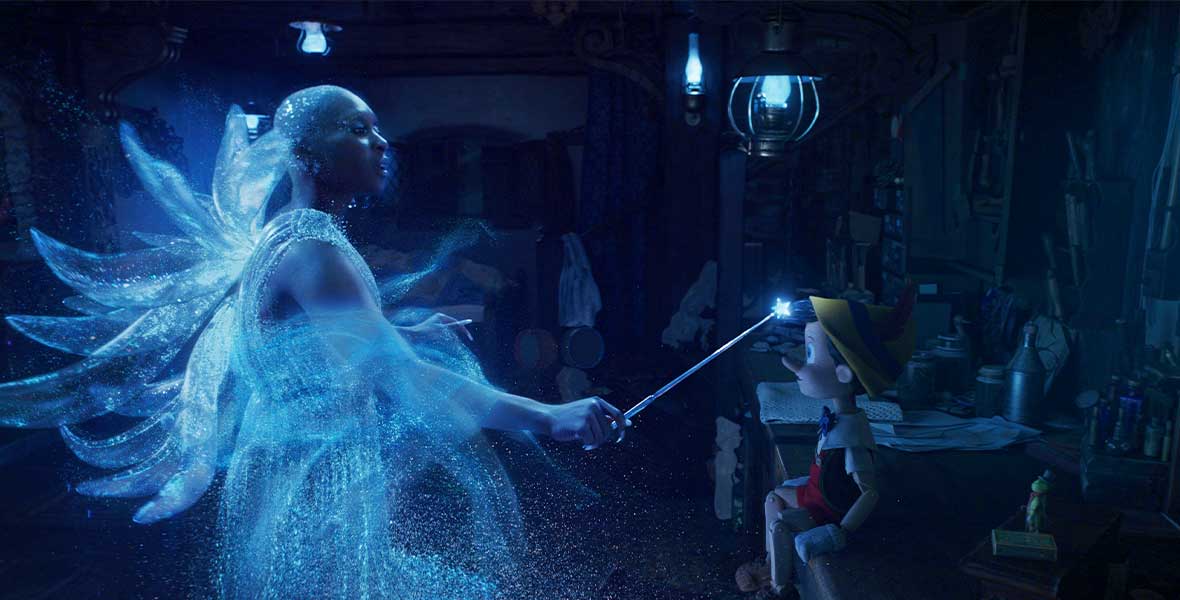 D23: What was the dialogue recording process like?
BEA: The first bit of recording I did was just with a microphone [in a studio] with Robert Zemeckis. We sat down and recorded the whole movie, but that was just the first part of it. And then we went on set, and I was behind the camera feeding in lines for everyone else. I had a microphone on that picked up any voice lines that I said on set.
D23: What was your favorite part about being directed by Robert Zemeckis?
BEA: I learned a lot about the technical side of things. Being off camera and feeding in lines, I was able to see how the CGI, the live action, the visual effects, and the special effects all come together. Robert was a master at that. Like, I'd see him say, 'Oh, that green screen needs to go this way.' He was in control of everything. It was cool to see.
D23: What did you learn from working with Tom Hanks?
BEA: I remember learning so much—not just about the work, but about his career and about all of these amazing things he and Robert Zemeckis had done in the past. I remember in the read-through, before filming, Tom Hanks was sitting to the left of me, Robert Zemeckis was sitting to the right of me, and they were sharing these stories about old films they'd shot together and older Disney movies that they know and love.
D23: How does it feel to reimagine this beloved story—and in such great company?
BEA: It's literally like a dream come true, right? I would often step back and be like, "Oh, my gosh! This is what I'm actually doing." It's a lot of fun. A few people I didn't actually get to meet when I was shooting, because some of the actors didn't come in for the live-action bit. That could be a bit confusing, between who was there and who wasn't—but it was amazing to know that these people were all [part of] the same thing.
D23: What fresh spin are you putting on this version of Pinocchio?
BEA: Well, there's a few cool new things—maybe a few new songs, a few new characters here and there. I don't want to spoil too much. Watch it on Disney+ to see!