By Zach Johnson
In this special series of intimate interviews, D23.com speaks with the most talented, prolific, and articulate storytellers from across The Walt Disney Company.
Only a psychic could've foreseen Raven-Symoné's bright future with Disney!
When That's So Raven premiered on Disney Channel in 2003, Raven—who had been working steadily since age 3—became the first Black woman to have her name appear in a comedy series title. Throughout the series' run, she won four NAACP Image Awards and two Nickelodeon Kids' Choice Awards. That's So Raven became the network's first series to cross the 100-episode mark, and it earned two Primetime Emmy® Award nominations, in 2005 and 2007, for Outstanding Children's Program. In addition to playing Raven Baxter, in Season 4 she became a series producer at age 19.
As her popularity skyrocketed, Raven starred in the Disney Channel Original Movies The Cheetah Girls (2003) and Cheetah Girls 2 (2006), as well as the ABC Family original movie Revenge of the Bridesmaids (2010). On the big screen, she starred in Walt Disney Studios' The Princess Diaries 2 (2004), alongside Disney Legend Julie Andrews and Anne Hathaway, and College Road Trip (2008), opposite Martin Lawrence. As a Hollywood Records artist, she released two feature-length albums, This Is My Time (2004) and Raven-Symoné (2008), and also contributed to multiple Disney soundtracks.
From 2012–2017, Raven served as a co-host on ABC's daytime talk show The View; she and her fellow co-hosts earned Daytime Emmy Award nominations in 2016 and 2017. She returned to Disney Channel in 2017 to reprise her role as Raven Baxter in Raven's Home (now in production on Season 6). The following year, she received a Daytime Emmy Award nomination for Outstanding Performer in a Children's, Preschool Children's, or Educational and Information Program. She made her directorial debut in 2019 with the episode "Sorry to Father You" and continues to direct to this day. She also directed several episodes of the popular Disney Channel series Sydney to the Max (2019–2021).
Over the years, Raven had recurring roles as Rhonda in ABC's black-ish (2015–2022) and as Alice in Freeform's The Bold Type (2017–2021), and she guest starred in Disney Channel series such as K.C. Undercover (2015–2018) and Just Roll with It (2019–2021). Raven's voiceover credits include Iridessa in the Disney Fairies feature film series (2008–2015), Monique in Kim Possible (2002–2007), Valkyrie in Marvel's Guardians of the Galaxy: Mission Breakout! (2015–2019), and Maria in Big City Greens (2017–Present). In addition, she's hosted several Disney Channel specials, from Holidays Unwrapped: A Disney Channel Music Event (2019) to Disney Holiday Magic Quest (2020) and beyond. And, for over 15 years, Raven has been very active with the Make-A-Wish®Foundation.
With more than 35 years of experience in the entertainment industry—most of which have been spent with The Walt Disney Company—the multihyphenate is just getting started. Now, Raven joins D23: The Official Disney Fan Club for a wide-ranging Q&A…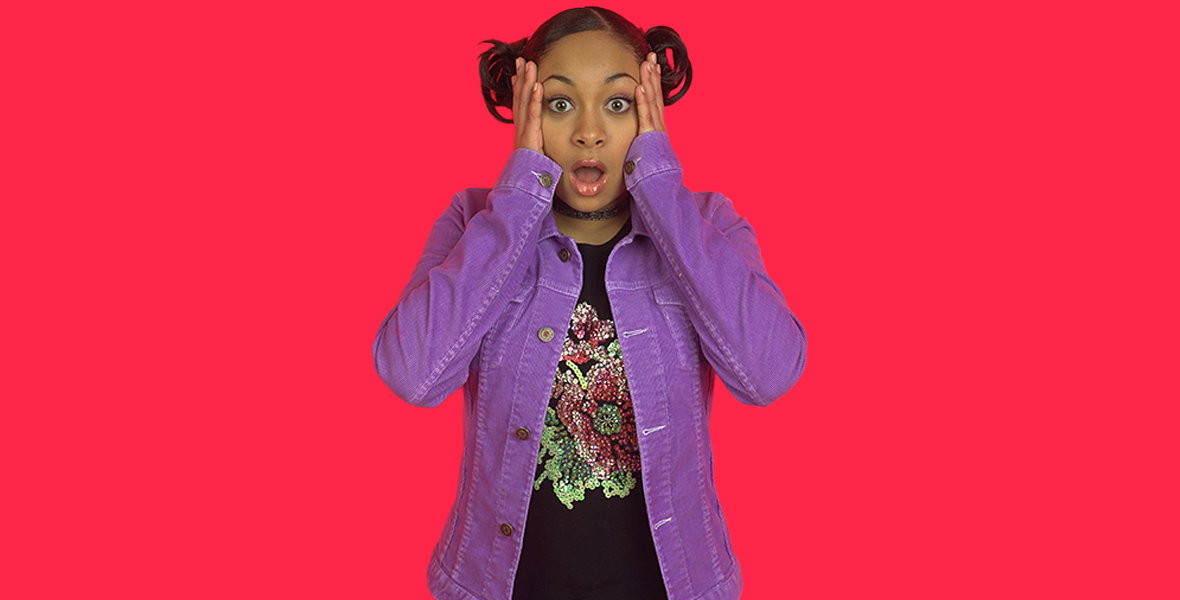 D23: What makes you want to work with Disney time and again?
Raven-Symoné (RS): They like to hire me every now and then! [Laughs] I understand their overall language when it comes to family, to inclusivity, to storytelling; I get that and I appreciate that. Also, they just have good content and I like being a part of it. They work well. They believe in what I call "the ladder up." I started in their family as an actress and they saw my passion for directing and producing, and they're allowing for that to happen. In a positive way, it's like old Hollywood, where you'd sign with a network and grow with it. That's kind of how my life is with the ABC and Disney family.
D23: Over the years, you've done so many incredible projects with The Walt Disney Company. Were there any roles or opportunities where you really felt like Disney helped you be the truest expression of yourself, both as a creative and as a storyteller?
RS: I think that would be Raven Baxter. Working with Disney on Raven's Home in this capacity has been eye-opening. I have been a part of television since I was 3 years old, but I had never been a part of it from the ground up. I remember working with Gary Marsh [former President and Chief Creative Officer for Disney Branded Television] and I was like, "Gary, I'm not trying to act. I'm trying to be a director and producer." He said, "OK, let's show you how to do a television show." And I was able to be in those meetings and have those conversations and actually be heard—not just because I ticked a box, not just because I'm the name of the brand, but because I was saying, "Let's do this together." And to this day, they know I'm here to make sure that this brand, this storytelling, and this character are always respected and looked at with loving eyes, because it's a reflection of our work. Sometimes I'm like, "You can't do that!" They're like, "Raven, the rules have lessened. It's OK."… I know that they trust me, and I trust them. We walked into this project together, because it reflects both of our brands. Yes, it's a company, but I'm also a human, and it means a lot to me how my face is portrayed and looked upon.
D23: How has Disney empowered you to create opportunities for other people?
RS: We try to do it every day. One of my favorite examples is that our script supervisor from That's So Ravenis now our technical director for Raven's Home; that's a big bump up! Cast members who want to try something new, if I'm able to open a door for them and get them a meeting, I will. Issac Ryan Brown started super young on Raven's Home, and he's like, "I want to be a writer." Now, he's in the writers' room working it out. Hopefully a script this season will have his name on it. I don't believe in gatekeeping. I don't believe that successful shows require people to stay at the same level from beginning to end. Every time I see somebody come through, I'll ask them, "What your goal? What are you trying to do?" Because if you've got a goal, I want to be a part of your story. Hopefully you'll pay it forward, like so many people did for me.
D23: How has Disney helped you touch people's hearts in unexpected ways?
RS: Working with the Make-A-Wish Foundation and Children's Hospital L.A. through Disney has been amazing, especially in the very beginning. I've been able to visit people all over the world, from South Africa to London, from Paris to Walt Disney World. Plus, getting to be in the homes of millions of viewers, being a part of their childhood, and then seeing them share that content with their offspring, connecting the loop in a chain of content—that's so cool. Not everyone gets to do that. I remember doing an interview and someone asked, "Why are you still doing children's content?" And I was like, "Because there will always be children. And why not?" I love being able to work with the new minds of the world and being able to share with them the comedy that I learned from the greats from back in the day, but in a palatable way so that they can understand and continue that legacy. I will always have my foot in children's content, no matter what. Who better to do it with than with Disney—the very first to start treating children with respect? I was taking an animation class at Academy of Art University, and I swear, two weeks were just on Disney! And I learned that The Walt Disney Company—that Walt, really—had decided to do a drama for kids using animation. It touches the heartstrings of so many, but it's done in a palatable way so that you teach humans how to deal with loss, how to deal with pain, how to deal with joy, how to deal with happiness. This is the best company to be part of to still do that.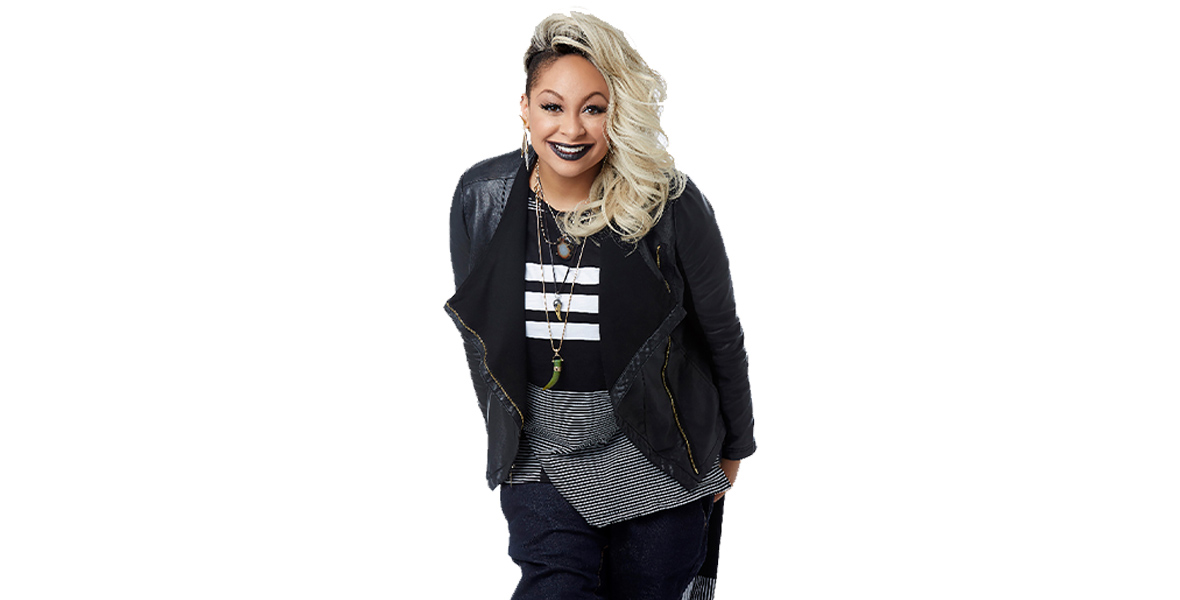 D23: You've played Raven Baxter for more than 200 episodes on two different television series. What do you enjoy most about playing her after all these years?
RS: Well, the obvious answer is now I'm able to play her as a grown-up. When I was younger and people asked what I liked about playing Raven, I'd say, "She's crazy! She's like the girl I wish I could be in high school, who probably gets attention—and I'm not trying to be like that person!" Years later, I thought, "Who does that person become? How does that mother look? Is that the mother I wish I had?" Raven seems like a cool friend, but she is also respected by the younger generation, because she teaches by doing. It's not just, "This is what you have to do." It's, "Listen, I've been there. I know it. Let's do it together. I'll explain why." I remember there was an episode where Booker [Brown] and Nia [Navia Robinson] wanted to do something, and Raven said no. They asked why, and she said, "Because." They were like, "Mom, 'because' it's not an answer." When they were writing that episode, I was like, "Dang, I got 'because' so much growing up. This is so smart." It gives parents accountability. I think we're pushing that paradigm a little bit with Raven, because a lot of stuff her kid gets into… those kids could have been grounded for six months! But she can't do that, because she did it herself. It really shows parents that yes, you are in charge—but let's not forget who you were as a kid. Now that Raven and Booker are living in San Francisco with her father, it's even more of a humbled experience for Raven. Just respect others!
D23: How has Disney helped you realize your dreams—and then dream new ones?
RS: After I stopped working on The View, I talked to Gary Marsh—he always kept in touch with me after the end of That's So Raven—and I told him what I wanted to do next. Because of the higher-ups being so welcoming to new faces and talent and making sure that people feel heard, I've been able to direct over 12 episodes across their IP—and that's continuing this very day. One of my co-workers who's new enough to the industry had an idea for a movie, so I'm like, "Listen, he's talented. Let's give him a shot." It's incredible to be able to go to your family—to your company—and say, "Let me test out my pitching skills. Let me see what you think about this." A lot of companies don't do that, especially with kids. With the kids on my show, I tell them all the time: "Listen, acting is great. Singing is great. Make sure you have a backup plan: writer, director, producer, or something outside of the industry. If I can help you cultivate any of those, then I'm going to do that for you." Ultimately, Disney listens.
D23: How would you summarize your relationship with Disney after all these years?
RS: Being a part of the Disney family means a lot. It means self-respect. It means respect towards others. They've been a part of my life since I was 7 years old. I'm 37 now, so for the last 30 years, they've kept me live. I don't have the words to correctly express what they mean to me, because how they make me feel is so deep and so guttural. They've been through personal issues with me, they've been through public issues with me, and they've always had my back. It's deeper than one might think. I'm not going to twist it—it is a business, so we both have our boundaries, obviously—but I have to say, the company, as a whole, is run by loving people who get gold stars all the way around. Massive gold stars! They're kind, energetic, respectful, and understanding.