By Beth Deitchman
Fans of Disney animation have been delighted by many an instance of colorful butterflies fluttering around beloved characters, but in our world, many types of these beautiful animals are in need of help. Monarch butterflies play an important role in the environment as pollinators that help flowers to grow, but their populations across North America are in trouble. These butterflies need habitats that include nectar-rich flowering plants and milkweed, a special plant where monarch butterflies lay their eggs. These important habitats are disappearing, but everyone can play a role in helping to protect or restore them for butterflies and other wildlife.
Since 1995, the Disney Conservation Fund has supported nonprofit organizations leading more than 25 projects across North America to save butterflies. This April, during Earth Month 2021, Disney VoluntEARS and Disney Conservation Team Wildlife encouraged Disney employees to don their gardening gloves and update their own yards and patios to provide vital resources for monarch butterflies. More than 800 employees and cast members across the U.S. planted backyard habitats to help ensure that migrating monarchs had plenty of habitat to help them on their journey.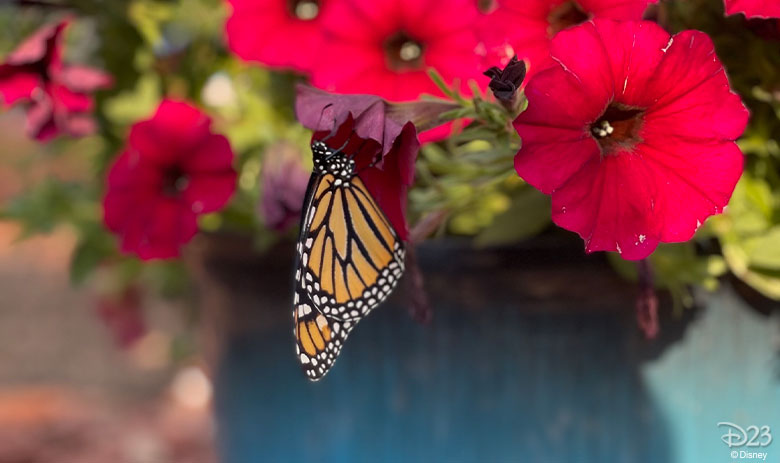 You can also join Disney Conservation Team Wildlife's efforts to save monarchs by planting native plants that attract and feed butterflies and other pollinators on your windowsill, in your yard, or at a community garden. The secret to creating good pollinator habitat is picking the right plants and getting them outside for the butterflies to visit. Make sure to plant milkweeds that are native to your region, like common milkweed (Asclepias syriaca) if you are East of the Rockies, showy milkweed (Asclepias speciosa) if you are West of the Rockies, or Yarrow (Achillea millefolium), which is native to all of North America. But the best bet is to talk to your local nursery for recommendations about the best pollinator friendly plants for your region. Be sure to tell them about your space to make sure you find a good fit for your home (e.g., Does your space have lots of sun or shade? Wet soil or dry?) You can also download a free Disney Conservation activity packet to learn how to plan a garden for butterflies with your family, and learn more about Disney Conservation's commitment to saving wildlife and building a diverse global community inspired to protect the magic of nature together at Disney.com/conservation.
For additional inspiration, the next time you visit Walt Disney World, look out for native pollinator gardens across the resort, where Team Wildlife has already spotted more than 70 species of butterflies and other pollinators.
And from now through July 5, Walt Disney World Resort guests can also visit Taste of EPCOT International Flower & Garden Festival to learn more about butterflies and their favorite plants in The Goodness Garden Butterfly House Presented by GoGo squeeZ® at Future World West. Within the Butterfly House, guests may view a kaleidoscope of butterflies up close, learn about their lifecycles, and maybe even see one emerge from its chrysalis. Find more details and theme park reservation information at Disneyworld.Disney.com.