By Beth Deitchman
In Godmothered, streaming now on Disney+, Jillian Bell plays Eleanor, who is a work-in-progress as a fairy godmother. Her wish-granting skills could use a little bit—or more than a little bit—of work, as does the vision of "happily ever after" that she's determined to help Mackenzie (played by Isla Fisher) achieve, whether she wants it or not. But there's real magic on screen in Godmothered, from the heartfelt relationship between Mackenzie and her daughters, to the friendship that develops between the film's two heroes; and in Bell's portrayal of a fairy godmother any Disney fan would be happy to call upon in their own time of need.
In our exclusive Q&A with director Sharon Maguire, the filmmaker (who previously helmed Bridget Jones's Diary and Bridget Jones's Baby) talks about how classic Disney films and characters influenced the film, the inspiration behind Eleanor's signature pink gown, and why the film's nontraditional approach—from "one upon a time" to "happily ever after"—makes Godmothered a perfect and contemporary fairy tale for viewers of all ages right now.
D23: How did you approach a film that has both fairy-tale sensibilities and modern storytelling at the same time?
Sharon Maguire (SM): That was part of the appeal for me, to do a Disney movie that honors the Disney legacy with all those wonderful Disney tropes of magic, wands, fairy godmothers, woodland creatures, and even princes and ballgowns… and "happily ever after" is delivered in a very different way than we've come to expect in previous Disney movies. Visually, as a director, I get to do magic but then with the comedy I get to subvert it; that was the big appeal for me and that's what I hope the appeal is as a movie. Eleanor has a formula for what she thinks will bring "happily ever after" but once she hits the modern world, none of her formula works anymore. I think that's what most of the comedy comes from.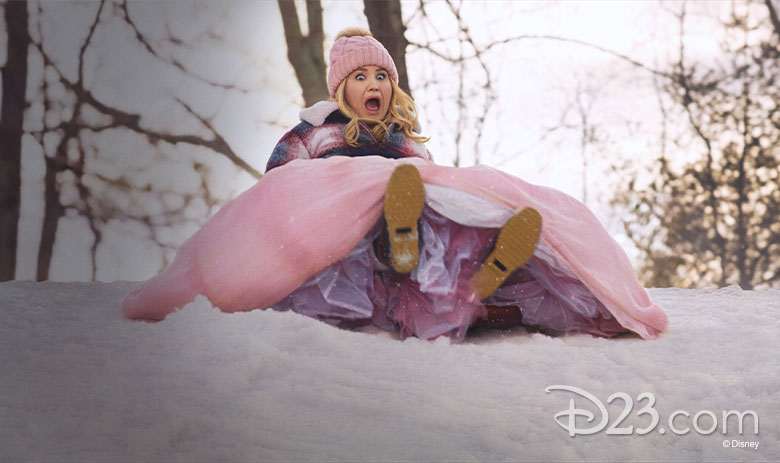 D23: What was it about Jillian Bell that makes her the fairy godmother that we all really need in our lives?
SM: I like the fact that the character is woefully naïve. It's quite a difficult thing to play somebody who is both woefully naïve and a true believer but has a kindness. I think Jillian brings that, with a level of irony and with a slight edge to her… Also, she's a thoroughly decent human being, so I think that always shows on screen. She's inherently funny and decent and kind, and all of those things at the same time… I thought that she'd make an interesting fairy godmother that maybe Disney hadn't seen before, and I was excited by the idea of subverting our idea of what a fairy godmother is and looks like, as well.
D23: Can you talk about why you saw Isla Fisher as Mackenzie and what she brought to the role?
SM: When we were casting, I thought, Who haven't we seen play a harried single mom who can carry those one-line zingers? I knew Isla a bit personally, so I knew that she has a fight in her that's like that and I would love to see it on film. I knew that she could play that role very well in a very grounded way and that she has that acerbic wit.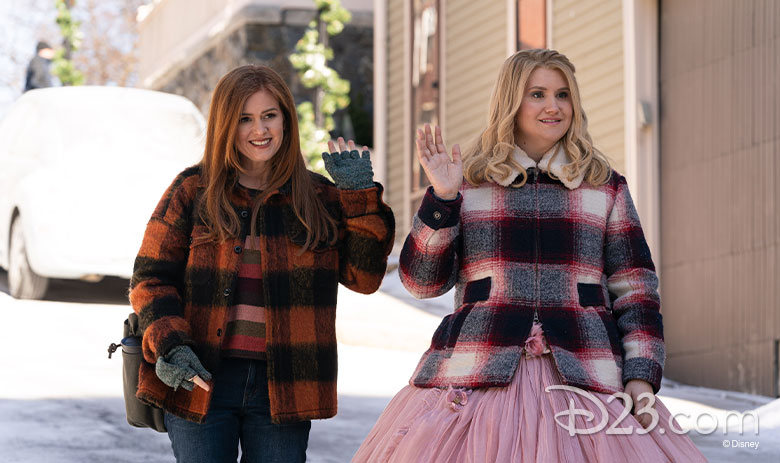 D23: What can you tell us about Eleanor's spectacular pink dress?
SM: [Laughs] Asking your fairy godmother to stand in a field in a pumpkin patch in minus-five degrees and not make her teeth chatter is quite difficult, as a director, and she was amazing. She was so heroic in that dress! There was a corset, and it was boned, and there were so many layers to it. It was made from this beautiful fabric called crepeline, which is kind of like a linen fabric that would have been around in Gothic times. It's a loose-weave fabric and we dyed it in the same shade that it would have been dyed back in Gothic times, with rose petals and things like that. It was quite faded in places and not faded in others. It sort of had an inner life, that dress, and it took a long time to get right and feel that it was something that suited the time, but also suited Jillian and that she felt happy in. But my God, it was cold when she was filming!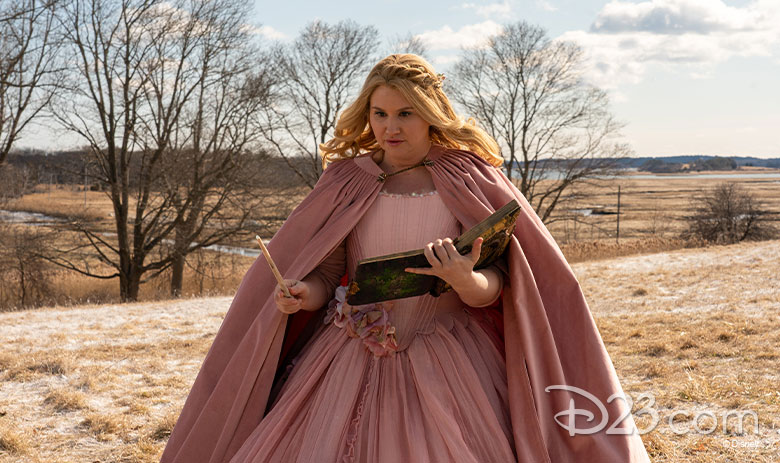 D23: Did any iconic Disney fairy godmothers influence the vision that you had for Eleanor?
SM: Working within Disney, copies of the original drawings of the first Fairy Godmother in Cinderella were on my walls of my office the whole time. That's what's kind of fascinating for me about doing the movie, that you get to honor that legacy and deliver on that legacy while subverting it. It's an interesting ride to be on!