By Sarah Sterling
On Tuesday, Hollywood came out to celebrate the world premiere of Disney and Pixar's 25th animated feature film Turning Red—and­­ has there ever been a more appropriate time for a red carpet? Turning Red is the story of 13-year-old Meilin Lee (voiced by newcomer Rosalie Chiang), an overachieving student, dutiful daughter, and steadfast friend whose life is flipped upside when she discovers her family's big, hairy secret. When the women in Mei's family reach adolescence, they gain the power to transform into gigantic red pandas! But is this power a blessing or a curse? Mei must decide between being her mother's perfect "Mei Mei" and embracing who she really is (furballs and all).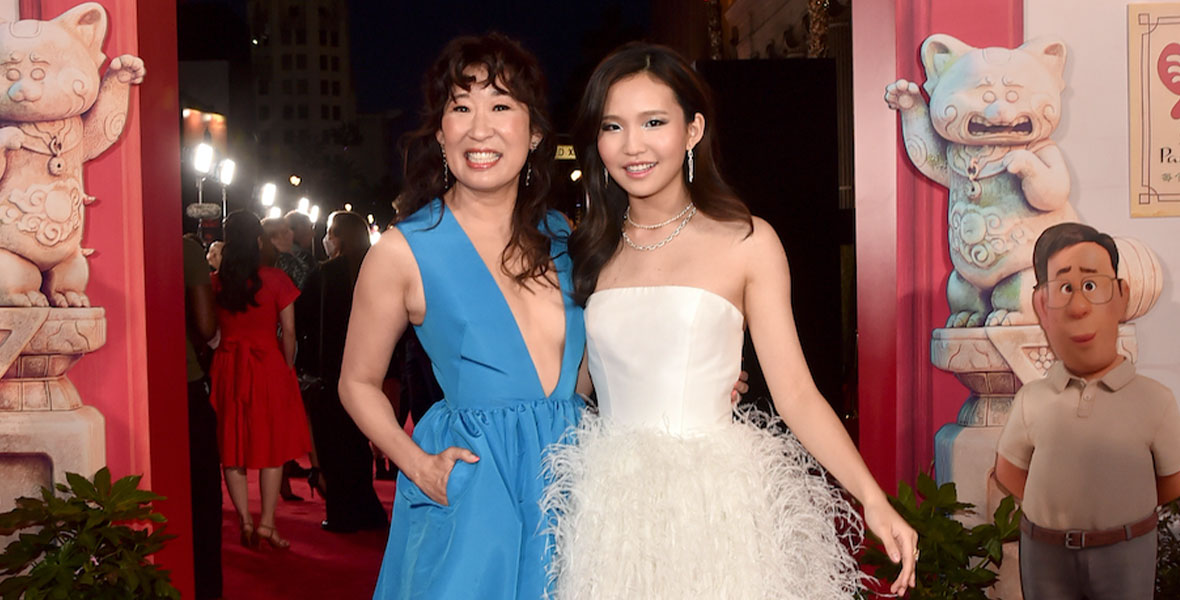 Mei's story heavily centers around her very close group of friends. These girls do everything together, whether it's causing chaos at middle school or convincing their parents to let them go to a 4*Town concert. Miriam, Priya, and Abby love Mei for who she is and are a key part in helping her tame her inner beast. On the red carpet, we spoke to Ava Morse, who voices Miriam, about the strong female friendship featured in Turning Red. "[Miriam] is so supportive of all of her friends and is always there for [them] no matter what," Morse said. "To be able to set the road for young girls to have that inspiration for what a true, healthy female friendship looks like? I'm honored to be a part of that."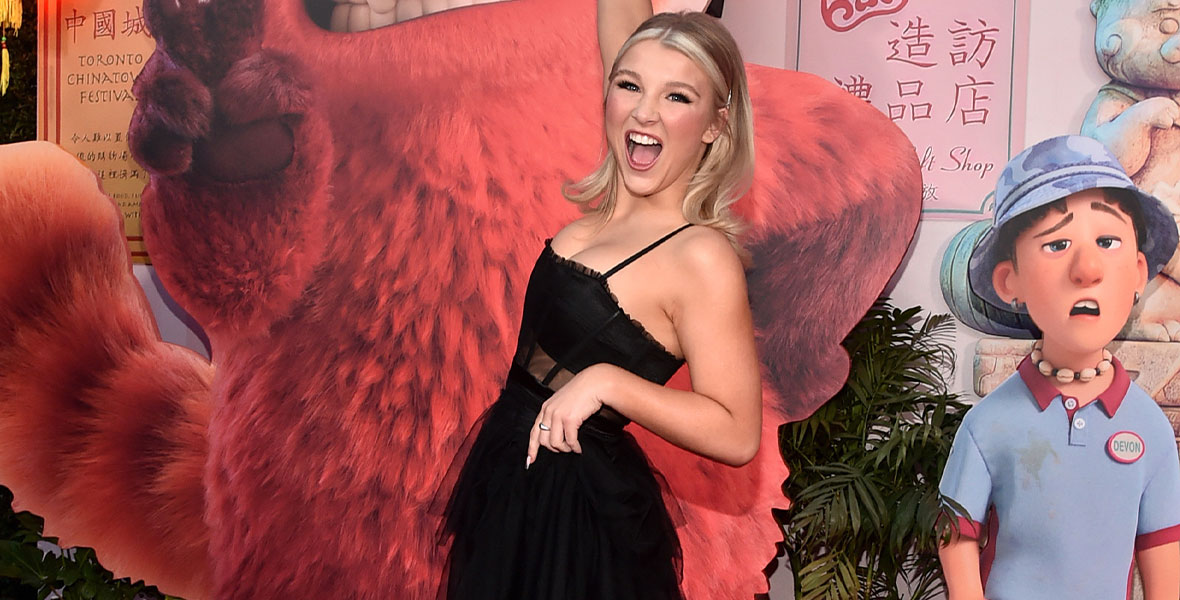 Speaking of Toronto's hottest boy band, 4*Town...
One of the most unique aspects of Turning Red is its noticeable setting in the year 2002. This movie is chock-full of Y2K nostalgia for millennial audiences to appreciate. Mei owns a Tamagotchi-esque virtual pet, she and her friends record themselves doing silly dances on a Hi-8 camcorder, and, YES, they have their very own boy band to obsess over! Grammy®-winning musical artists Billie Eilish and Finneas wrote 4*Town's hit single, "Nobody Like U" which is sure to have "Everybody" saying "Bye, Bye, Bye" to your old playlists because it is a massive earworm!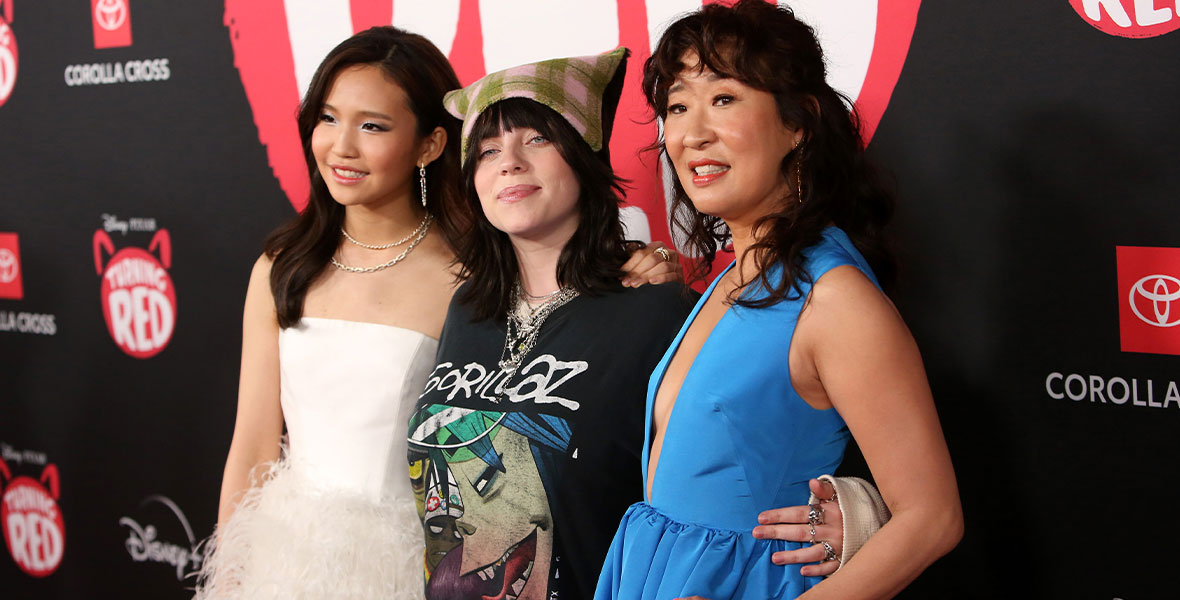 4*Town is made up of five members, including Finneas himself, who voices Jesse. Disney fan-favorite Jordan Fisher lends his voice to Robaire, with Topher Ngo, Josh Levi, and Grayson Villanueva rounding out the band as Aaron T., Aaron Z., and Tae Young. These guys are huge boy band aficionados themselves! Villanueva let us know he was especially inspired by *NSYNC and sang their music for his audition tape. Villanueva and Ngo also revealed they are real-life best friends who have supported and mentored each other throughout their musical careers! Ngo told us, "We sing in a cappella groups together and he's actually a big brother of mine. When I was first in L.A., I didn't know what I was doing, and he was like, 'Yo, man! Let's go get coffee. I'll sit you down and show you how to do this music thing!' So, it is so rewarding to be in this film with him."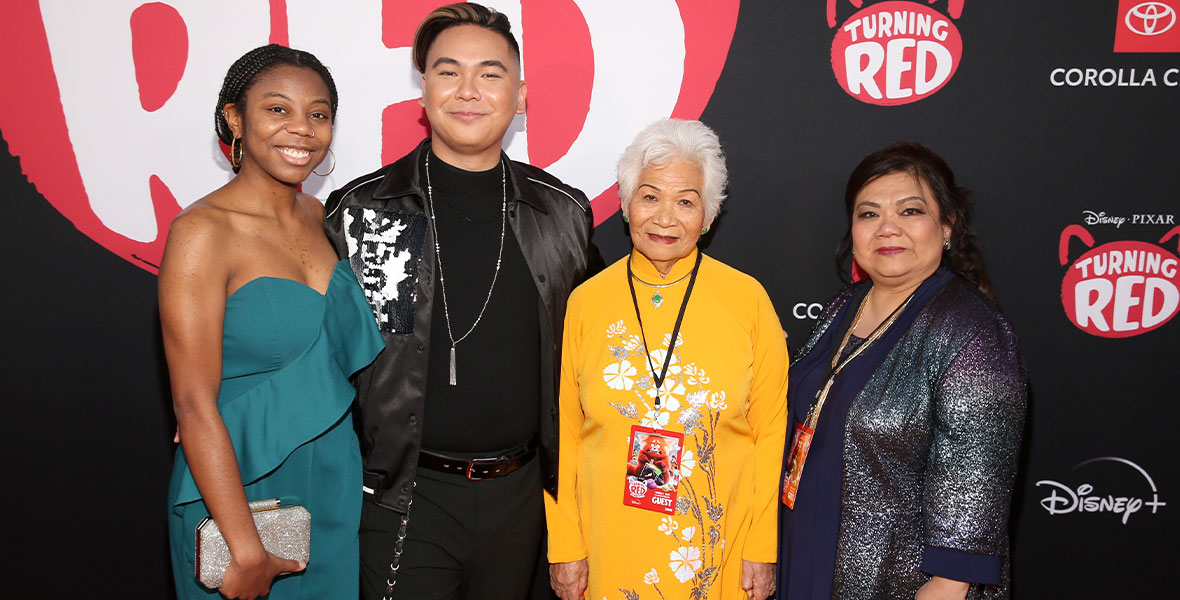 Sherry Cola, who voices one of Mei's aunties, honed in on the core message of Turning Red. "At the end of the day, it's about embracing who you are and staying true to yourself and letting that red panda unleash when it needs to!" Cola said. These are themes that any person can relate to, and while Pixar has crafted coming-of-age stories before, Turning Red differentiates itself with a pointedly female lens and understanding of the Asian Canadian experience. But this is a universal story, according to director Domee Shi, who explained, "We want to use the red panda in this movie as an adorable metaphor for the scary, unadorable, awkward, and cringey changes we go through during this age."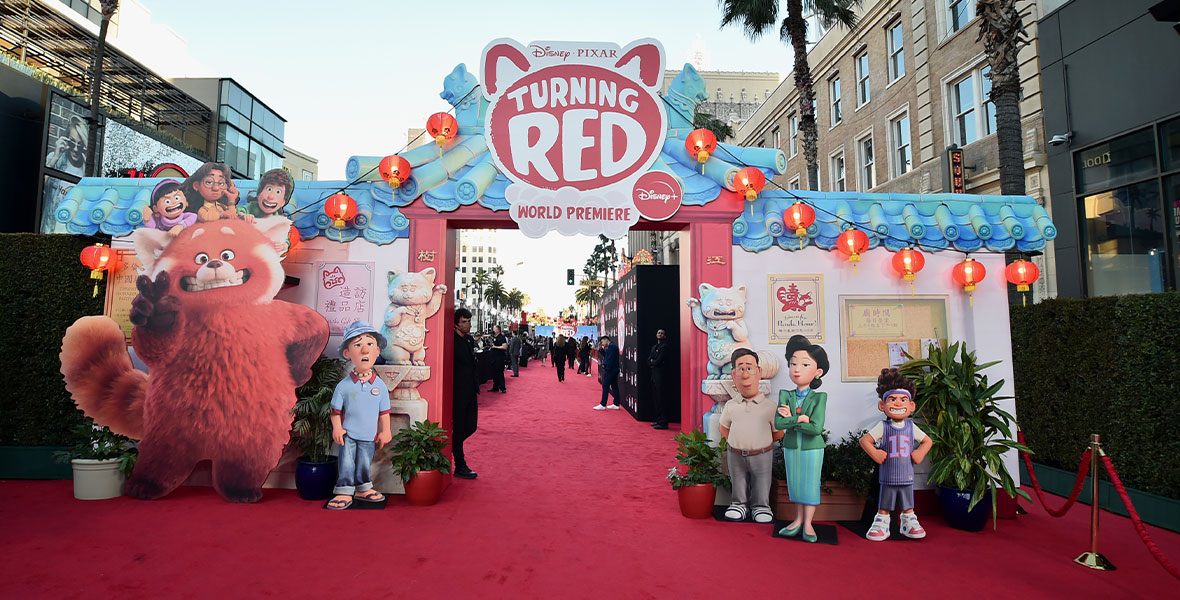 Turning Red will be available to stream on Disney+ starting March 11.
If you live in the Los Angeles area, you can also catch the film at The El Capitan Theatre during a one-week engagement from March 11-17. While you wait, enjoy this gallery from the world premiere below: