Where do all the worlds of Disney come together under one roof, taking you behind the scenes with The Walt Disney Studios, Pixar, Marvel, Star Wars, and Walt Disney Parks and Resorts?
The answer, of course, is D23 EXPO 2015—taking place August 14–16—and today D23 is happy to announce the lineup of the Expo's most highly anticipated presentations. The Disney Legends Awards Ceremony, hosted by Disney Chairman and CEO Bob Iger, will kick off the Expo on Friday, August 14. Later that same day, The Walt Disney Studios will give fans a sneak peek at all the latest from Disney Animation and Pixar. On Saturday morning, The Walt Disney Studios will preview the coming slate of live-action films from Disney, Marvel, and Lucasfilm. Then, on Saturday afternoon, fans will get a preview of what's in store at Walt Disney Parks and Resorts during a presentation hosted by Parks Chairman Bob Chapek.
To showcase these Expo favorites, Disney is creating "Hall D23," a new 7,500-seat venue located in Hall D of the Anaheim Convention Center, so that more guests than ever can see the presentations live and in person.
The Schedule of Hall D23 Events and Presentations includes the following (times and additional announcements forthcoming; all events subject to change):
The Disney Legends Awards Ceremony will take place Friday, August 14. The ceremony, hosted by Disney Chairman and CEO Bob Iger, will once again honor those who have made significant contributions to the Disney legacy. The creativity and innovation of these visionaries and artists have earned them a place among such names as Dame Julie Andrews, Howard Ashman, Annette Funicello, Sir Elton John, Angela Lansbury, Steve Martin, Alan Menken, Hayley Mills, Fess Parker, Dick Van Dyke, Barbara Walters, and Robin Williams. At D23 EXPO 2013, Tony Baxter, Collin Campbell, Dick Clark, Billy Crystal, John Goodman, Steve Jobs, Glen Keane, and Ed Wynn were inducted.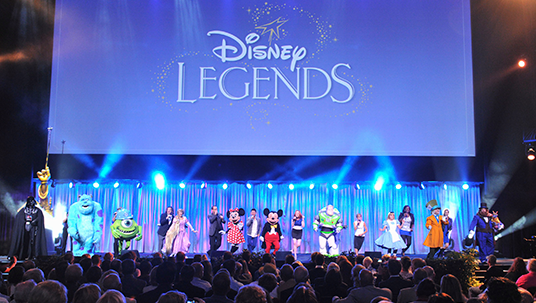 In two separate Hall D23 sessions, The Walt Disney Studios will unveil an exclusive behind-the-scenes look at its upcoming film slate. At Friday's session, fans will go in-depth with the talented filmmakers at Walt Disney Animation Studios and Pixar Animation Studios to get a sneak peek at films such as Zootopia and Finding Dory. On Saturday, live-action titles such as Alice Through the Looking Glass and The Jungle Book and films from Marvel and Lucasfilm, along with some very special guests, take center stage.
On the afternoon of Saturday, August 15, join Bob Chapek, chairman, Walt Disney Parks and Resorts, for a behind-the-scenes peek at the magical experiences and entertainment coming to Disney parks and resorts around the world.
Tickets for D23 EXPO 2015 are available at a discounted price for a limited time. Until June 30, 2015, tickets are $67 for a one-day adult admission and $48 for children 3–12. Tickets for D23 Members are $58 for a one-day adult admission and $42 for children. Multi-day money-saving tickets are also available. D23 Members can save as much as $188 off the price of admission, based on the purchase of four three-day tickets at the D23 Member rate. For more information on tickets and the ticket pricing structure for D23 Members and general admission, visit D23EXPO.com.