By Courtney Potter
Watch Emma Watson Sing "Belle" in New Beauty and the Beast Clip
"She really is a funny girl, that Belle!" The opening song from Beauty and the Beast, "Belle," is truly iconic… perfectly introducing our main character (as well as her nemesis) while illustrating what makes her so special. And thanks to the good folks over at Walt Disney Pictures, we just got a sneak peek at the song—as interpreted in colorful live action by director Bill Condon and star Emma Watson!
The film also stars Dan Stevens as Beast, Luke Evans as Gaston, Kevin Kline as Maurice, Josh Gad as LeFou, Ewan McGregor as Lumiere, Stanley Tucci as Maestro Cadenza, Sir Ian McKellen as Cogsworth, and Emma Thompson as Mrs. Potts. Thankfully, we only have a few more weeks of waiting before Beauty and the Beast waltzes its way into theaters around the country on March 17.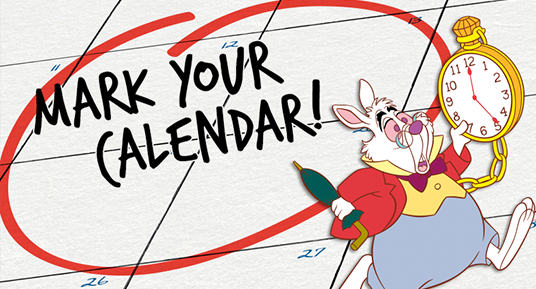 Save the Date!
Be sure to mark these upcoming Disney events on your calendar:
D23 and Walt Disney Archives


March 2, 2017


Be Our Guest at the Beauty and the Beast World Premiere


March 8, 2017


Exclusive D23 Beauty and the Beast Advanced Screening and Luncheon


April 7, 2017


Lunch with a Disney Legend: Burny Mattinson


April 10, 2017


D23 Members Invited to "Eat Like Walt" at the Disney California Adventure Food & Wine Festival


April 26, 2017


D23's Behind-the-Scenes Experience: Magic in Manhattan & More


July 14-16, 2017


D23 Expo 2017


Studios




March 17, 2017


Beauty and the Beast opens in theaters


April 21, 2017


Born in China opens in theaters


May 5, 2017


Guardians of the Galaxy Vol. 2 opens in theaters


May 26, 2017


Pirates of the Caribbean: Dead Men Tell No Tales
opens in theaters


June 16, 2017


Cars 3 opens in theaters


November 3, 2017


Thor: Ragnarok opens in theaters


November 22, 2017


Coco opens in theaters


December 15, 2017


Star Wars: The Last Jedi opens in theaters
Parks


March 1–May 29, 2017




Epcot International Flower & Garden Festival




March 10–April 16, 2017




Disney California Adventure Food & Wine Festival




May 27, 2017




Pandora—The World of Avatar opening at Disney's Animal Kingdom




May 27, 2017


Guardians of the Galaxy–Mission: BREAKOUT! opening at Disney California Adventure


August 31-November 13, 2017




Epcot Food & Wine Festival




2019




Star Wars-Themed Lands Opening at Disneyland and Walt Disney World




Television




February 26, 2017




The Oscars® are broadcast on ABC




March 10, 2017


Tangled Before Ever After premieres on Disney Channel at 8 p.m. ET


March 24, 2017


Tangled: The Series premieres on Disney Channel at 7:30 p.m. ET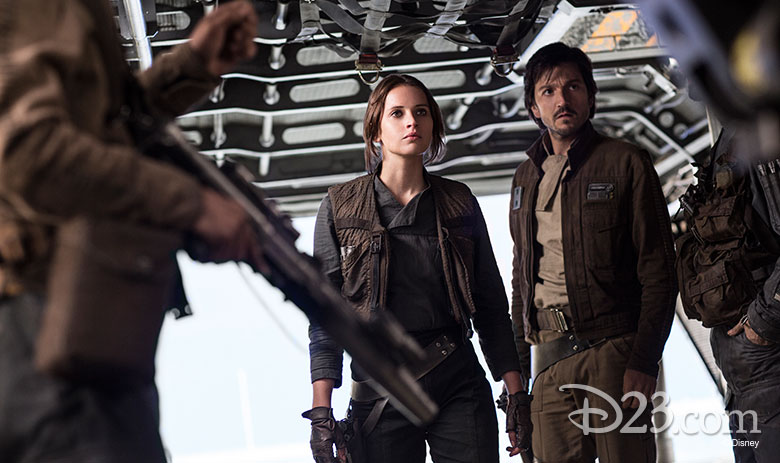 Bring Rogue One: A Star Wars Story Home Soon!
Whether you've lost count of how many times you've seen the blockbuster Rogue One: A Star Wars Story in theaters or you somehow missed a trip to your local multiplex after the film's December release (as if!), we've got great news for you: You'll be able to own the epic action-adventure thriller on Digital HD and Disney Movies Anywhere beginning March 24, with a Blu-ray™ Combo Pack, DVD and On-Demand releases coming 10 days later on April 4. Of course, an epic like Rogue One demands equally epic bonus material—among the features (which may vary by retailer) are "A Rogue Idea," in which Industrial Light & Magic's John Knoll discusses how he came up with the movie's concept; "Jyn: The Rebel," a look at the film's defiant and resourceful survivor, as played by Felicity Jones; and "The Princess & The Governor," which shows fans what it took to bring the vibrant young princess of Star Wars: A New Hope (along with one of her iconic nemeses) back to the big screen.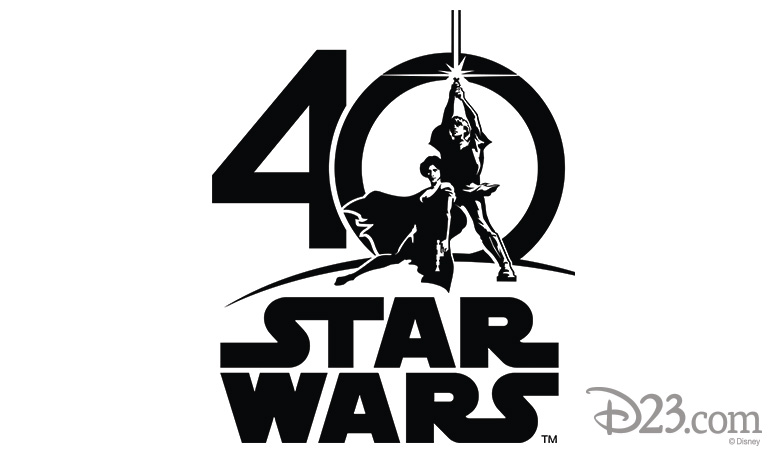 Star Wars Celebration Orlando to Feature Amazing 40th Anniversary Panel!
Heading down to Florida for the epic upcoming Star Wars Celebration, April 13 through 16 at the Orange County Convention Center? Well, you're in luck—because a very special panel will kick off the celebration, and it's all to honor the saga's huge 40th anniversary! The panel, hosted by Warwick Davis, will feature Lucasfilm President Kathleen Kennedy and discussions with some of the saga's brightest stars, highlighting the impact of "the galaxy far, far, away" and the fandom that has propelled it for the last four decades. As is tradition, this marquee Celebration event will undoubtedly include a ton of thrilling, can't-miss surprises.
So mark your Celebration calendars with a big red circle 'round Thursday, April 13! Begin your weekend with the panel everyone (literally, everyone!) will be talking about…
Production Begins on Han Solo Star Wars Story Film
Speaking of Star Wars Celebration, one of the huge pieces of news to come out of the event last year was that actor Alden Ehrenreich (Joel & Ethan Coen's Hail, Caesar!) would be portraying a young Han Solo in an as-yet-untitled film about the character's origins. Now that the cast has been rounded out with luminaries like Donald Glover (Atlanta), Woody Harrelson (The Hunger Games trilogy), and Emilia Clarke (Game of Thrones), we're ridiculously excited to report that production has officially begun!
Pinewood Studios in London, as of February 20, is now chockablock with all things Han, including—as seen in the photo above—everyone's favorite Wookiee, Chewbacca! The film, written by Lawrence and Jon Kasdan and co-directed by Phil Lord and Christopher Miller, is slated for release on May 25, 2018.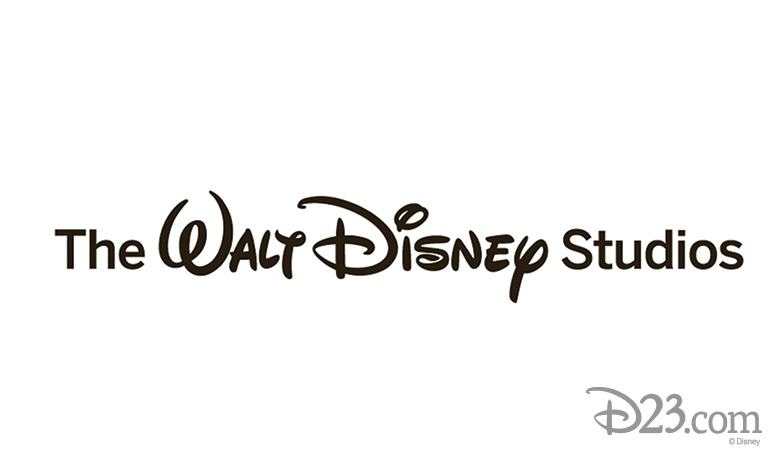 Live Action The Lion King Finds its Simba and Mufasa
So much Donald Glover news, so little time… yes, the man currently portraying young Lando in the Han Solo Star Wars Story is also involved in another ultra-cool, high-profile Disney project—namely, an upcoming retelling of the 1994 animated megahit The Lion King. Director Jon Favreau, who helmed 2016's live-action/CGI Jungle Book, recently made the big casting announcement on Twitter; Glover will voice adult Simba in the film.
But that's not all: Our collective prayers have been answered, and James Earl Jones himself will reprise his role as Simba's father, Mufasa! Keep your eyes peeled and "be prepared" for further Lion King casting announcements—and information about the film itself—as they cross the Pride Lands…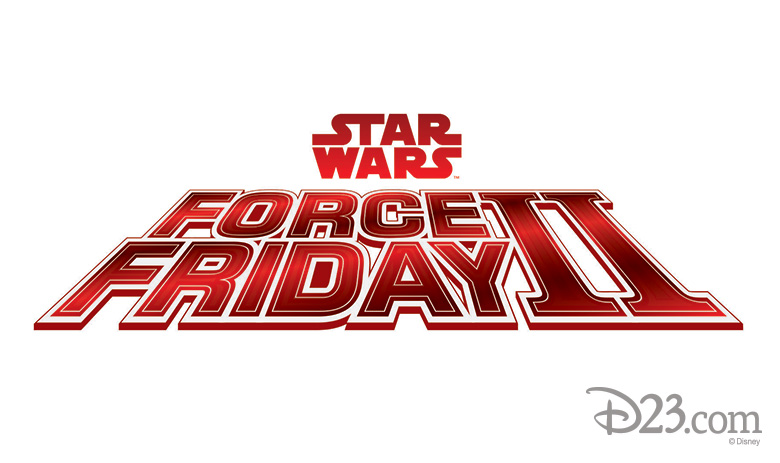 Star Wars Force Friday II Set for This September
Remember Force Friday—that massive, worldwide event in advance of Star Wars: The Force Awakens in 2015 that featured all manner of new toys, collectibles, books, and apparel? Brace yourselves… it's happening again! Disney and Lucasfilm recently announced Star Wars Force Friday II, a global fan event celebrating the launch of new items inspired by the highly anticipated Star Wars: The Last Jedi. The event's products will go on sale beginning at 12:01 a.m. on September 1, 2017, with stores around the world opening for a weekend-long celebration of all things Star Wars!
Specific details of how fans can participate will be revealed as we get closer to the event—but the worldwide launch will utilize new technology (and lots of Star Wars mythology) to create a truly unique experience. Just like in 2015, products for The Last Jedi will be kept under wraps until Force Friday II to maintain the suspense! Besides introducing new characters from the movie in toy form, the line will also build on the success of nifty, cutting-edge tech products like Sphero's amazing BB-8. Stay tuned in the coming months for more fun Force Friday II info.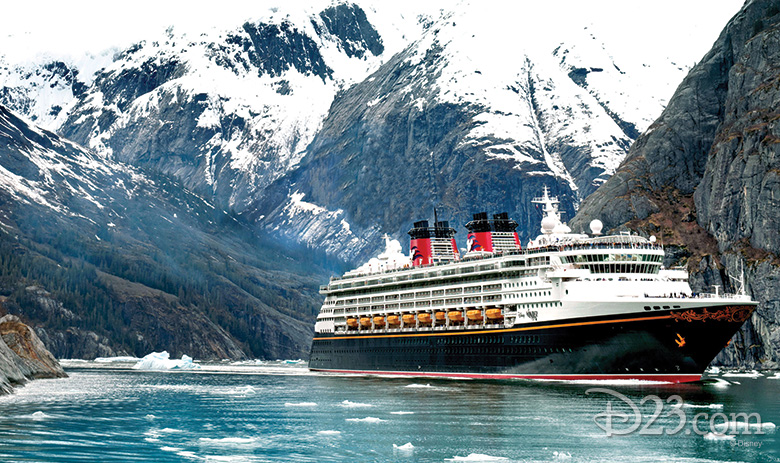 Disney Cruise Line Announces Brand-New Itineraries for Summer 2018
It's never too early to start planning a summer vacation… even if it's for Summer 2018. And to that end, Disney Cruise Line (DCL) has some fantastic news: They've just revealed where their ships will be sailing, and it includes several amazing new itineraries.
For the very first time, DCL guests will visit destinations in Italy—including Milan and Genoa—during special sailings from Barcelona to Rome, giving you the chance to experience the rich culture and inspiring history of these two cities as bookend experiences in a single cruise. Additionally, DCL will take guests to Cork, Ireland, on their first-ever seven-night British Isles cruise… it's a chance to connect with Ireland's ancient past and visit historic sites like Blarney Castle (where you can kiss the legendary Blarney Stone!).
But wait, there's more: The Disney Wonder is returning to Alaska for the Summer 2018 season, with a variety of itineraries departing from Vancouver, Canada, and including stops in Juneau, Skagway, Ketchikan, Icy Strait Point, and Tracy Arm Fjord. Plus, in June and July '18, the Disney Dream will sail four- and five-night cruises to the Bahamas, each with two stops at Castaway Cay! Twice the fun, twice the sun…
Bookings for these 2018 itineraries open to the public on Thursday, February 23. Check out DisneyCruiseLine.com for more details.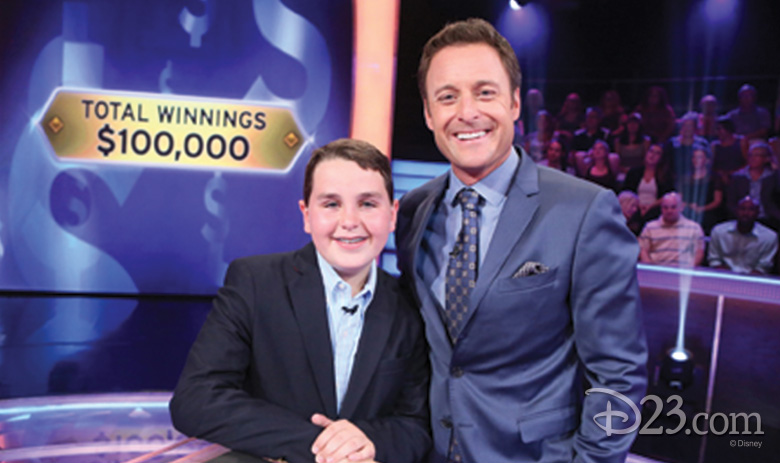 Whiz Kid Wows on Who Wants To Be A Millionaire
Do you remember being 12 years old? Do you think you could've competed on a TV game show? If you're 12-year-old Josh Darrow of Virginia Beach, Virginia, you not only compete… you also win. Just last week, Josh finished his game play and walked away with a cool $100,000! The "whiz kid" looked at the $250,000 question, but didn't know the answer—so, with no lifelines left, he decided not to risk his winnings with a guess. Such a smarty pants!
When host Chris Harrison asked Josh what this experience has meant to him, he replied, "It's amazing. I'd first like to thank all of my teachers; they really supported me when I figured out I was going to be on the show. One particular teacher, my science teacher, Mrs. Campbell, actually helped me a lot. Thank you for your support."
Who Wants To Be A Millionaire is taped in front of a live audience at Bally's Las Vegas, and is syndicated nationally by Disney|ABC Home Entertainment and Television Distribution.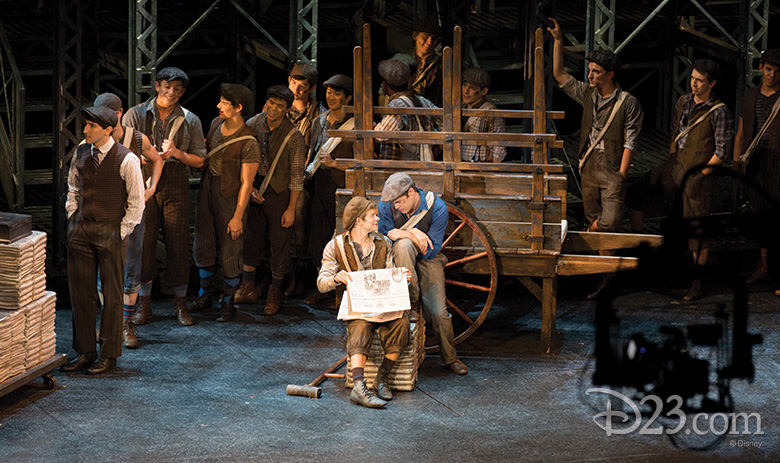 Get Your Theater Fix with The Official Disney on Broadway Podcast
Theater fans of the world, unite! (Especially if you're a fan of Disney on Broadway—and seriously, who isn't?) There's a brand-new podcast to add to your mobile device of choice, and it's all about what Disney brings to the Great White Way…
Disney Theatrical Productions (DTP) just released the first episode of The Official Disney on Broadway Podcast, a six-episode pilot series that includes interviews and behind-the-scenes stories of Disney's most beloved titles and their journeys to Broadway and beyond. Hosted by Patrick Hinds (founder of Theater Podcast Productions and creator, producer, and host of the podcasts Broadway Backstory and Theater People), the series will debut a new episode for download every two weeks on iTunes.
Episode 1 tells the story behind the Broadway production of Newsies and the filming for its big recent Fathom Events theatrical release; hear from original cast members Kara Lindsay (Katherine), Andrew Keenan-Bolger (Crutchie), Ben Fankhauser (Davey), the show's director, Jeff Calhoun, and Disney Theatrical Productions President and Producer Thomas Schumacher! Upcoming episodes will include behind-the-curtain stories from Aladdin, The Lion King, The Hunchback of Notre Dame, and DTP's most recent hit, Freaky Friday.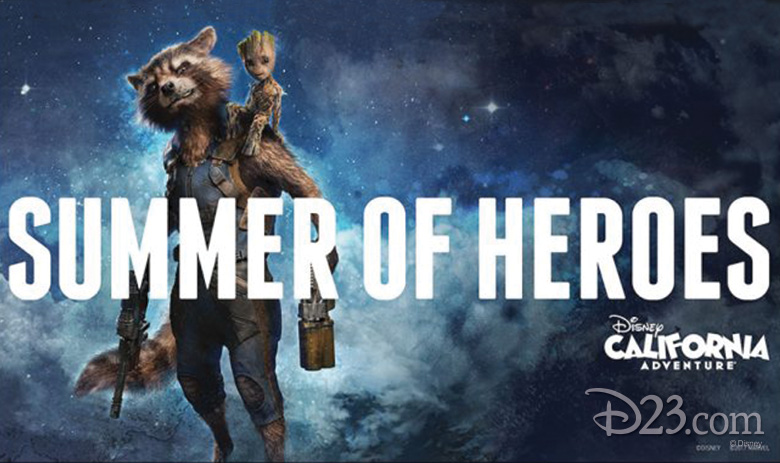 It's a Summer of Heroes at Disney California Adventure—Beginning May 27
Get ready to be "hooked on a feeling" in a whole new way, when Disney California Adventure's latest attraction, Guardians of the Galaxy—Mission: BREAKOUT!, has its massively mind-blowing grand opening on May 27! This new adventure blasts you straight into the Guardians of the Galaxy universe for the very first time, alongside characters from the blockbuster films (remember, Guardians of the Galaxy Vol. 2 debuts in theaters May 5) and comics. Rocket Raccoon needs your help to bust his pals out of the Collector's Fortress, but stay alert… with a randomized ride experience, you'll never know which adventure you'll get! Look for all-new visual and audio effects, and tons of great music inspired by the popular film soundtracks.
But that's not all: To coincide with Mission: BREAKOUT!'s opening, Disney California Adventure will bring you a Summer of Heroes—complete with Super Hero Encounters (meet Captain America, Black Widow, Spider-Man, and even Groot); an awesome Guardians of the Galaxy dance-off; an Avengers Training Initiative for young recruits; themed food and merchandise offerings; and so much more!
Sounds like the best summer vacation ever, right? Don't miss out: #HeroUp with Summer of Heroes, May 27 through September 10.