By Zach Johnson
This Friday, Disney Channel's family comedy BUNK'D returns for a fifth season of fun and friendship at Camp Kikiwaka. As a new season begins, former counselor-turned-fashion-designer Emma Ross (guest star Peyton List) pays a surprise visit to her old stomping grounds. Ahead of the season premiere, airing at 7:30 p.m. ET, we talked to List and series star Miranda May, who stars as Lou Hockhauser, owner and director of Camp Kikiwaka, about their TV reunion, the reason for Emma's return, and what to expect later this season.
D23: Peyton, tell us about reprising your role as Emma. How did this come about?
Peyton List (PL): Disney basically reached out to me over quarantine and asked if I would come back. They said the writers already had an idea of where Emma has been. Then they sent me the script and I was over the moon. I said yes before they could even finish asking! I was so excited to come back.
D23: Fill us in on what Emma has been up to since she left Camp Kikiwaka.
PL: Emma has been off doing what she's always wanted to do. It's really cool, because I played her for the past 10 years, and she's always talked about fashion and wanting to follow in her mom's footsteps and go off to Milan—and that is exactly what she is doing. She might be failing along the way, but at least she's pursuing her dream.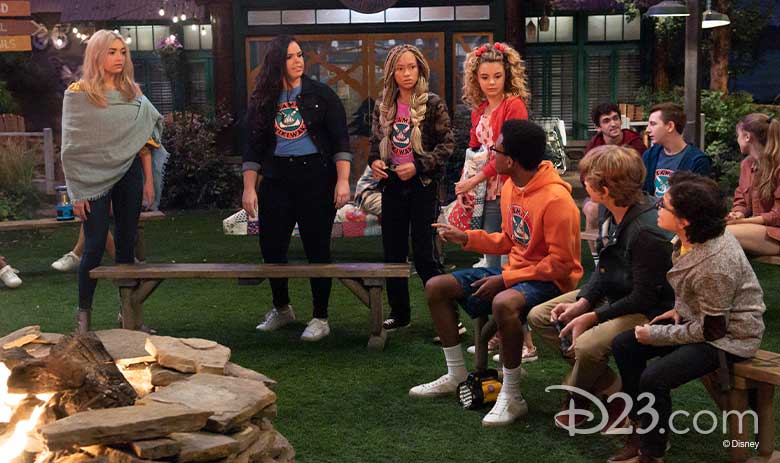 D23: What was it like for the two of you to get to work together again?
Miranda May (MM): I was so excited to see her, because obviously with everything going on in the world right now, we don't really get to see people—and this is a safe set. For her to be there, it was exciting, because we hadn't gotten to hang out in a while. And to see the characters together again made me really happy, because there are so many stories that they've had together, and we saw their friendship evolve… I loved that it was just immediately like they were right back to how they used to be with each other.
D23: Had you two kept in touch in the years since Peyton left BUNK'D?
PL: Oh, yeah! I feel like we also realized, "Oh, my gosh! I've missed you so much more than I even fathomed." I don't think we stopped talking the entire week. I was in her dressing room, and then she was at my house that night, and we just could not stop talking. It was like when you've seen that friend who you haven't seen in so long and it just feels so right. When we worked together every day, we were best friends—always with each other. But life takes you to other places for work and everything else. [This time] we were like, "We're not doing that ever again! That's not happening."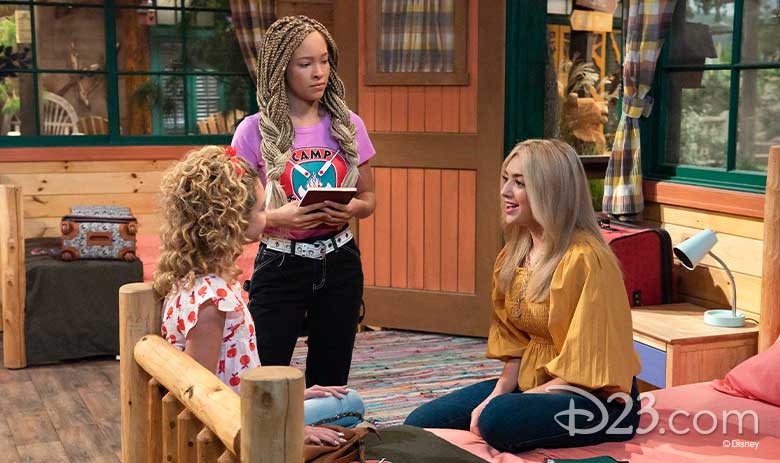 D23: Peyton, what was it like seeing some of younger cast members all grown up?
PL: It was really cool, I'm not gonna lie, to see the humans they're becoming. I think when you work on a show for a year of your life, or a season as a kid, there's so much growth within that [time]. And they're all such good kids. They have such good families supporting them. And yeah, their voices are getting deeper and they are so much taller! I feel like a year really changes a kid a lot. Now I realize what everyone meant when they would come back from hiatus breaks on Jessie with the kids, because you really do see a lot of changes.
D23: Miranda, what's in store for Lou and Camp Kikiwaka as the season moves forward?
MM: As always, we're gonna have a bunch of craziness and fun stuff happening. But also, we're gonna see Lou in college for the first time, which will be very fun. We will see her balancing school along with running the camp. And we're gonna see the kids doing what the kids do! I don't think that there is a dull moment at Camp Kikiwaka. There are some really heartfelt stories that I'm really happy we get to play out. It's so cool to do real stuff… We'll always have the fun, the real, and the heart of it all. I think everybody loves the show because of the heart in it, and these characters just love each other so much. I think that translates on-screen and also off-screen. Everybody gets along and everybody has a friend.
D23: Peyton, would you be open to having Emma return in future episodes?
PL: Oh, yeah! I really would. I would always be down to come back. I remember that Friday when we were wrapping, I was like, "Ugh, I want to be back here next week doing it again!"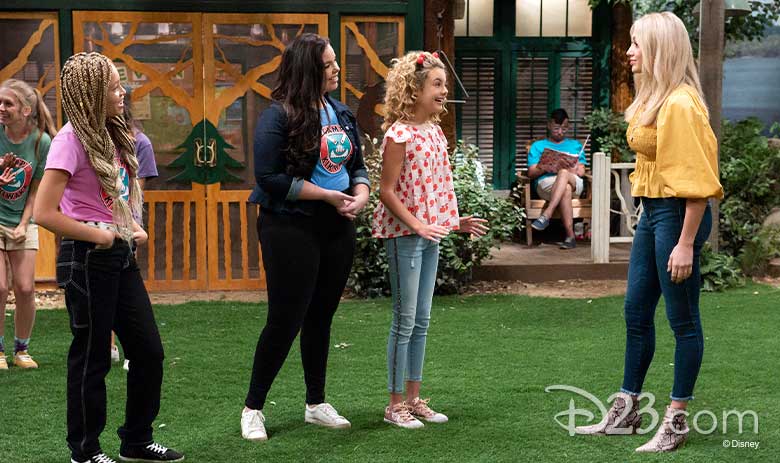 D23: Trevor Tordjman will also be joining the show later in the season as Parker Preston, who has 15% ownership of the camp. How will Lou adjust to that surprising development?
MM: The 15% is a big deal! There's a very definitive line of Lou being like, "I have more say than you have," and him being like, "But I do still have a say." There's definitely an arc of them learning about each other. I think for the first time we see Lou have her guard up with somebody. We have never in five seasons seen Lou not immediately want to hug somebody and not immediately want to be like, "Let me show you my camp!" She is just kind of taken aback by him [at first], so we'll see her in that situation. And, you know… I think Lou and Parker will evolve as time goes on. And people are gonna like it, I promise!
D23: Are you hinting at a possible romance?
MM: We're hinting at something. Who knows? Maybe they just get a dog!