By Andie Hagemann
Today at D23 Expo presented by Visa®, Walt Disney Studios, Walt Disney Animation, and Pixar unveiled exciting new trailers, debuted exclusive sneak peeks, and dazzled guests with spectacular live performances previewing what's to come for The Walt Disney Company.
Fans in Hall D23 were among the first to see a brand-new logo introduction of the iconic Disney castle—now platinum in honor of Disney's 100 Years of Wonder celebration. Created by Disney Studios and Industrial Light & Magic—and featuring an all-new arrangement of "When You Wish Upon a Star" by award-winning composer Christophe Beck—the new Disney castle introduction will play in front of all Disney theatrical and streaming releases starting this fall.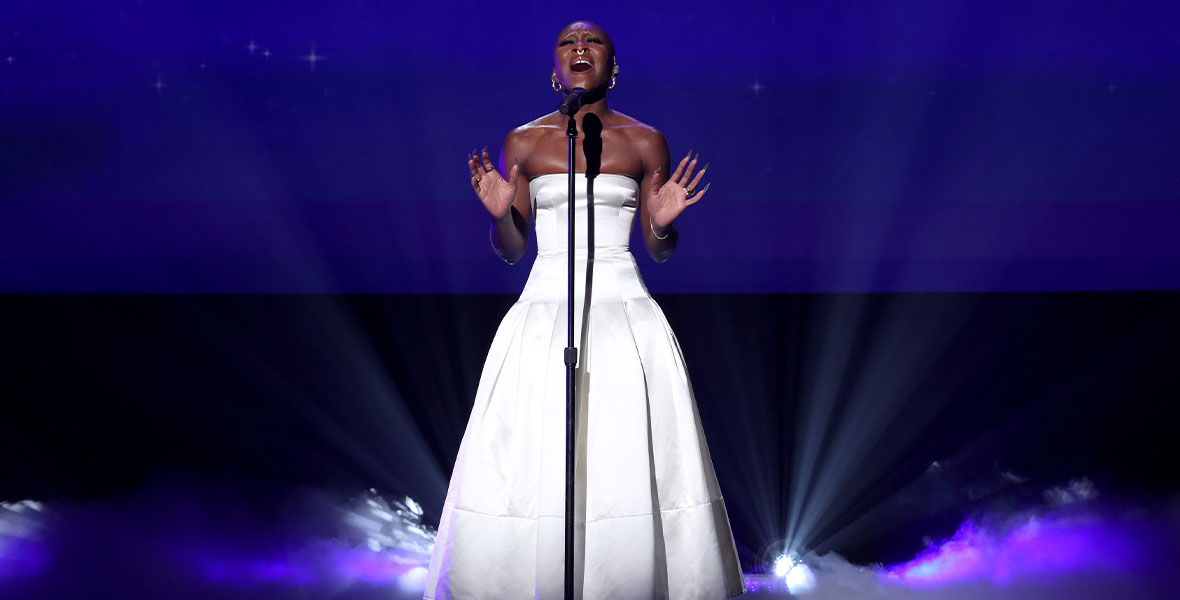 Cynthia Erivo gave a breathtaking performance of "When you Wish Upon a Star," from Disney's all-new live-action version of Pinocchio, now streaming on Disney+. Erivo portrays the Blue Fairy in the reimagining of the Disney classic.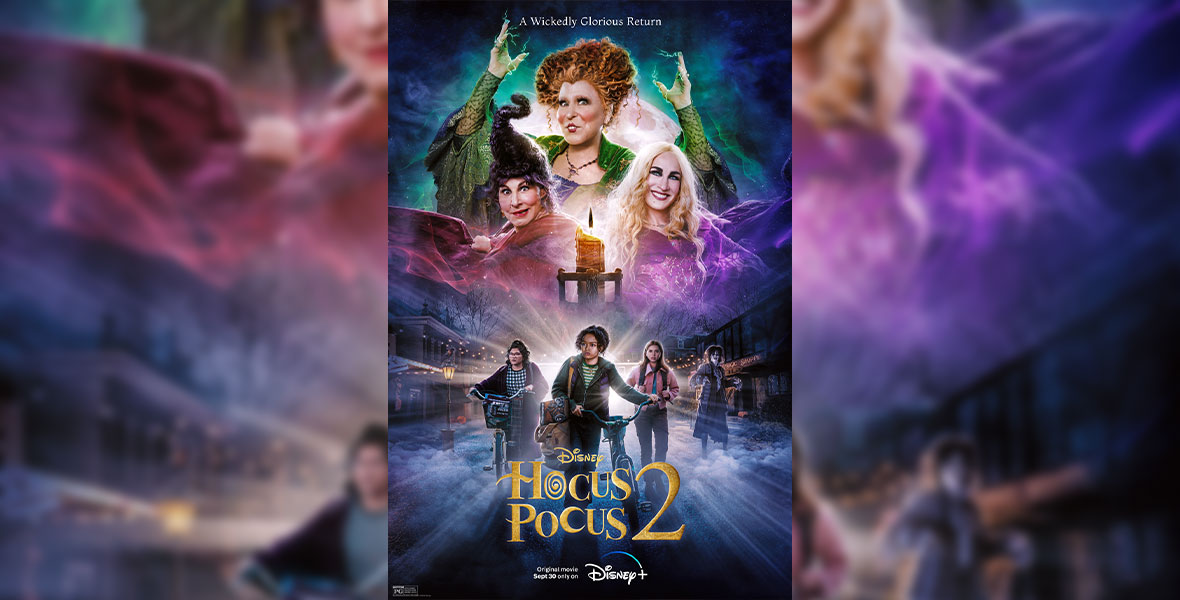 Walt Disney Studios
Hocus Pocus 2
Sean Bailey, president of Walt Disney Studios Motion Picture Production, introduced the stars of Hocus Pocus 2—Disney Legend Bette Midler, Kathy Najimy, and Sarah Jessica Parker—via video, who brought in a little magic themselves before debuting a new trailer.
It's been 29 years since someone lit the Black Flame Candle and resurrected the 17th century Sanderson sisters, and they are looking for revenge. Now it is up to three high school students to stop the ravenous witches from wreaking a new kind of havoc on Salem before dawn on All Hallow's Eve. The Disney+ Original Movie also stars Sam Richardson, Doug Jones, Hannah Waddingham, Whitney Peak, Belissa Escobedo, Lilia Buckingham, Froy Gutierrez, and Tony Hale. The film is produced by Lynn Harris, with Ralph Winter, David Kirschner, and Adam Shankman serving as executive producers. Hocus Pocus 2 premieres Friday, September 30, exclusively on Disney+.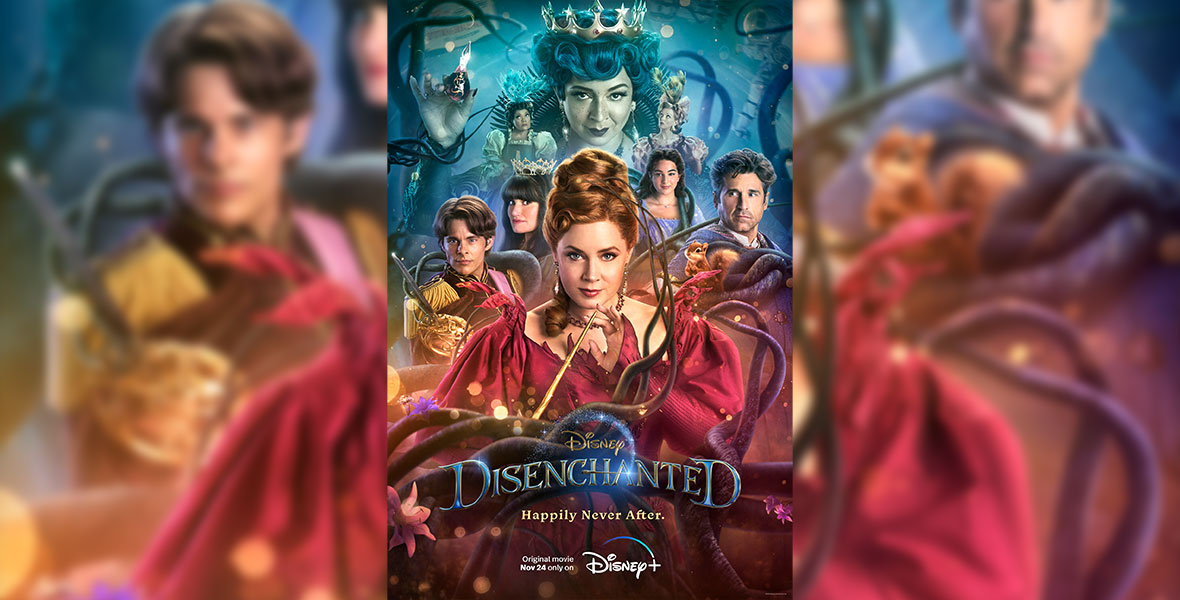 Disenchanted
The stars of Disenchanted, including Amy Adams, newly inducted Disney Legends Patrick Dempsey and Idina Menzel, Maya Rudolph, James Marsden, and Gabriella Baldacchino took the stage to share their excitement for the upcoming feature film, which debuts Friday, November 24, exclusively on Disney+.
Adams and Rudolph joined their co-stars onstage donning Disney outfits, complete with churros and bubble wands in hand. After the cast shared their excitement for the next installment of the beloved franchise, the audience was treated to an all-new trailer.
In Disenchanted, it has been 15 years since Giselle (Adams) and Robert (Dempsey) wed, but Giselle has grown disillusioned with life in the city. So, they move their growing family to the sleepy suburban community of Monroeville in search of a more fairy tale life. Unfortunately, it isn't the quick fix she had hoped for. Suburbia has a whole new set of rules and a local queen bee, Malvina Monroe (Maya Rudolph), who makes Giselle feel more out of place than ever. Frustrated that her happily ever after hasn't been so easy to find, she turns to the magic of Andalasia for help, accidentally transforming the entire town into a real-life fairy tale and placing her family's future happiness in jeopardy. Now, Giselle is in a race against time to reverse the spell and determine what happily ever after truly means to her and her family.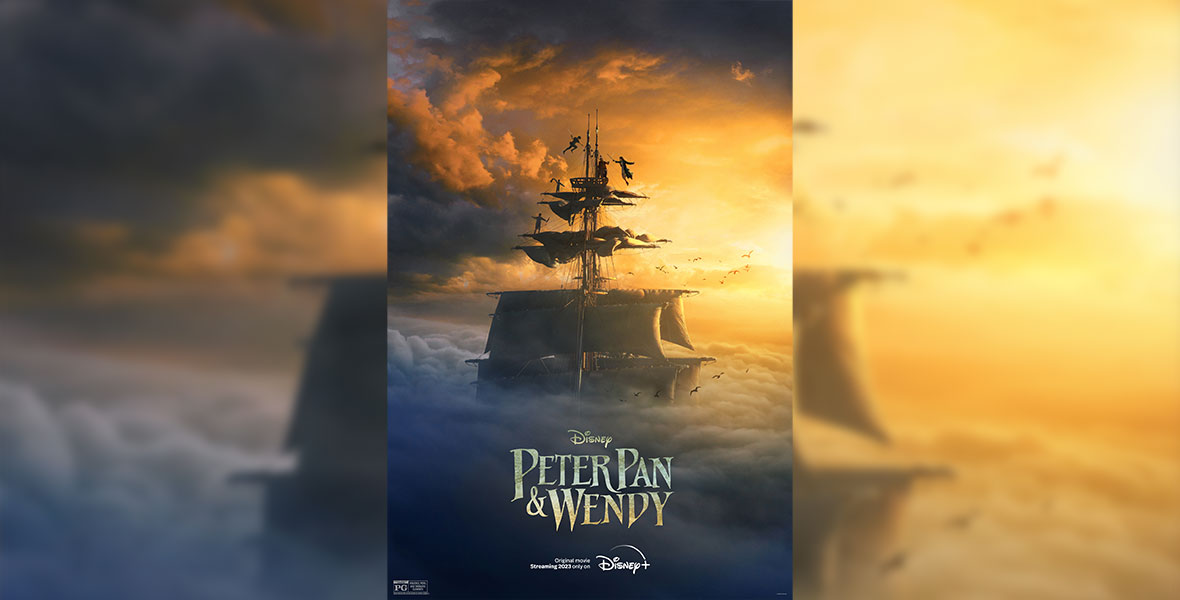 Peter Pan & Wendy
Peter Pan & Wendy spotlights iconic characters in a whole new way. Joining Bailey on stage were cast members Alexander Molony (Peter Pan), Ever Anderson (Wendy), Alyssa Wapanâtahk (Tiger Lily), and Captain Hook himself: Jude Law.
The new film dives deeper into Wendy's story as she joins the boy who refuses to grow up on a magical journey to Neverland and reveals the history behind Peter Pan's rivalry with one of Disney's most memorable villains. The cast discussed what fans can expect from the new film and revealed an exclusive first look at the film for the D23 audience. Directed by David Lowery and produced by Jim Whitaker, the live-action reimagining of the 1953 animated classic begins streaming on Disney+ in 2023.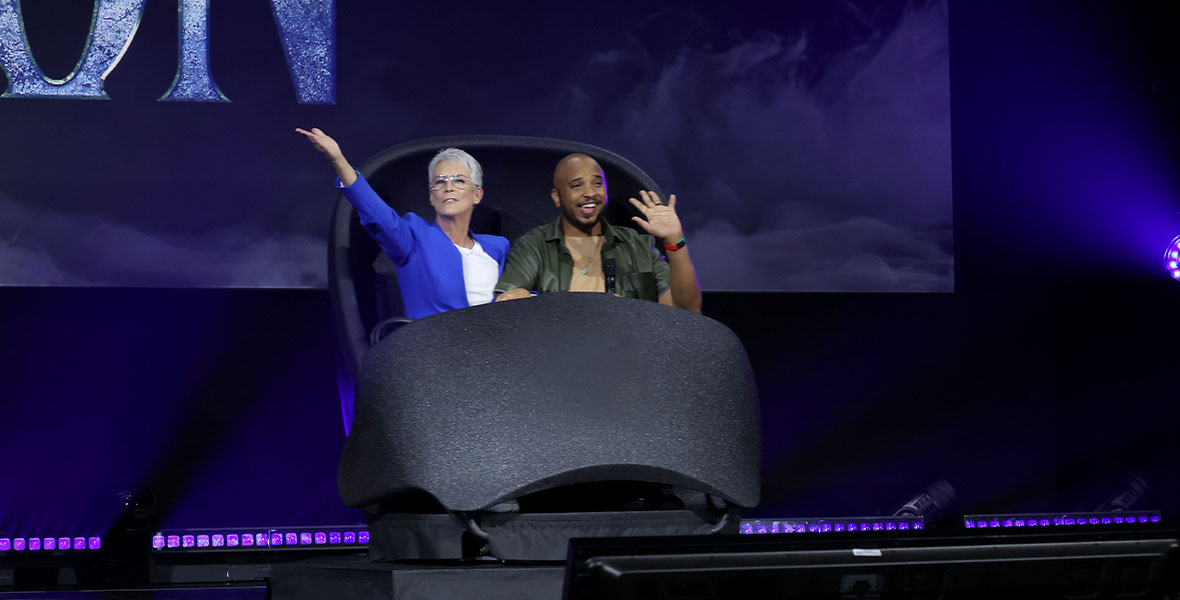 Haunted Mansion
Haunted Mansion director Justin Simien—who used to work at Disneyland—joined Bailey to discuss the ghostly adventure. Inspired by the classic theme park attraction, Haunted Mansion is about a woman and her son who enlist a motley crew of so-called spiritual experts to help rid their home of supernatural squatters. They shared a sneak peek of the film exclusively with the D23 Expo crowd, then welcomed the queen of scary movies, Jamie Lee Curtis, who made an unforgettable entrance aboard a Haunted Mansion doom buggy. Curtis plays Madame Leota in the film, which releases next year.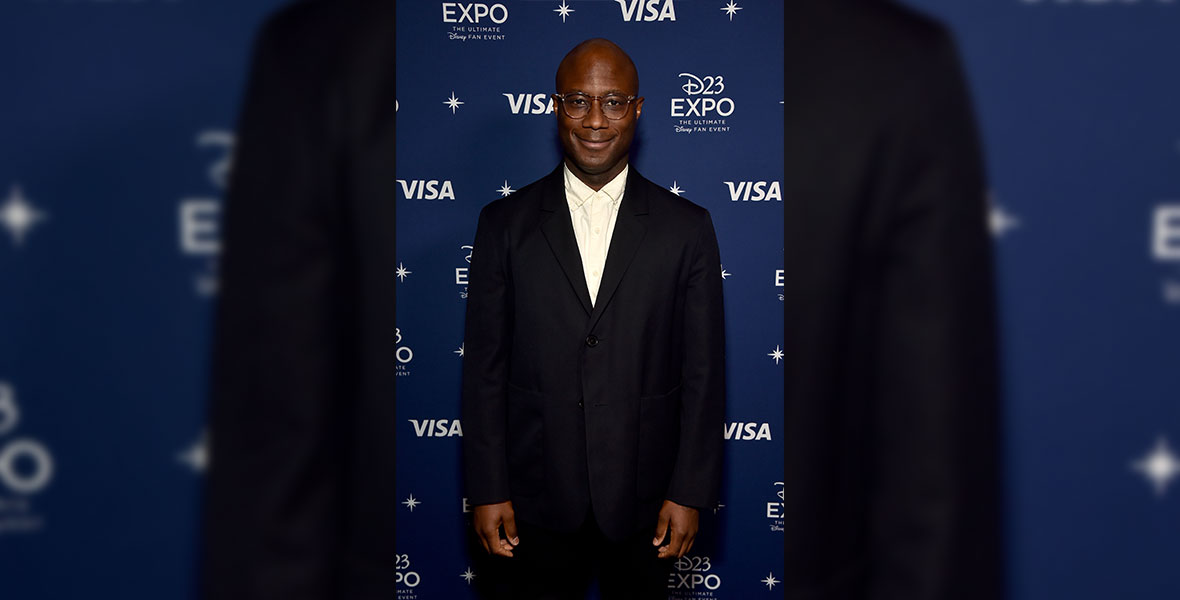 MUFASA: The Lion King
MUFASA: The Lion King, a prequel to The Lion King, won't release until 2024, but director Barry Jenkins was on hand to show a never-before-seen sneak peek and share a little about the film, which is currently in production. Told in flashbacks—Rafiki, Timon, and Pumbaa tell the story of Mufasa to a young lion cub—Mufasa reveals the rise of one of the greatest kings of the Pride Lands.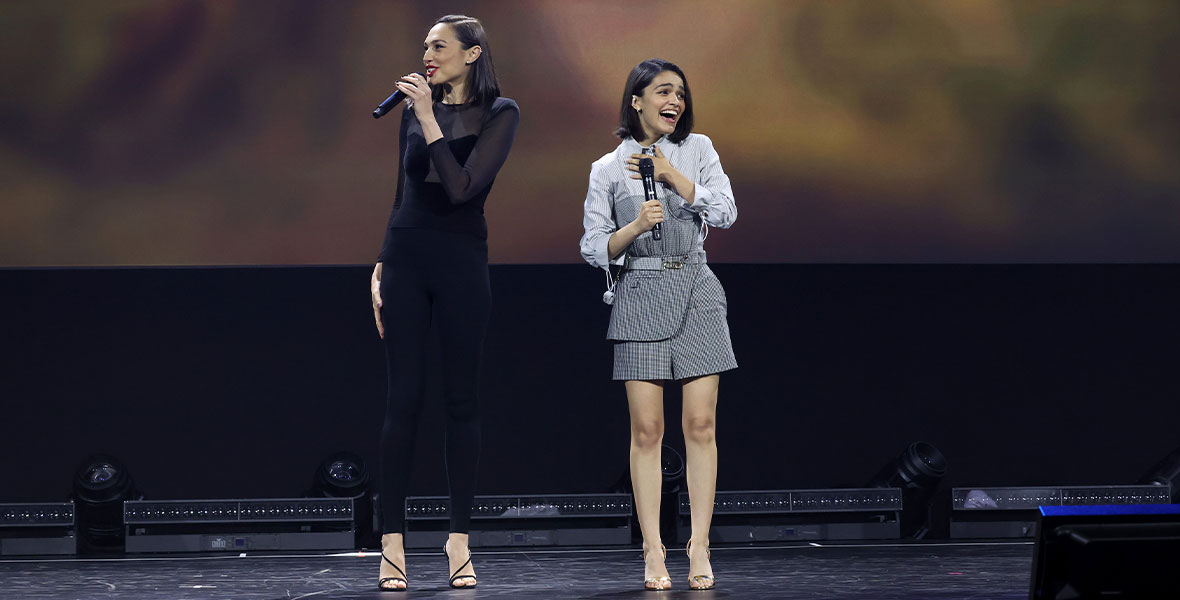 Snow White
Who is the fairest of them all? The live-action reimagining of the classic tale stars Rachel Zegler in the title role and Gal Gadot as Snow White's Stepmother, The Queen. The film's two stars joined Bailey to talk about their roles and to share a very early glimpse at the iconic characters in the 2024 film, which is directed by Marc Webb, produced by Marc Platt, and features new songs by Tony®-, Grammy®- and Oscar®-winning songwriters Pasek and Paul.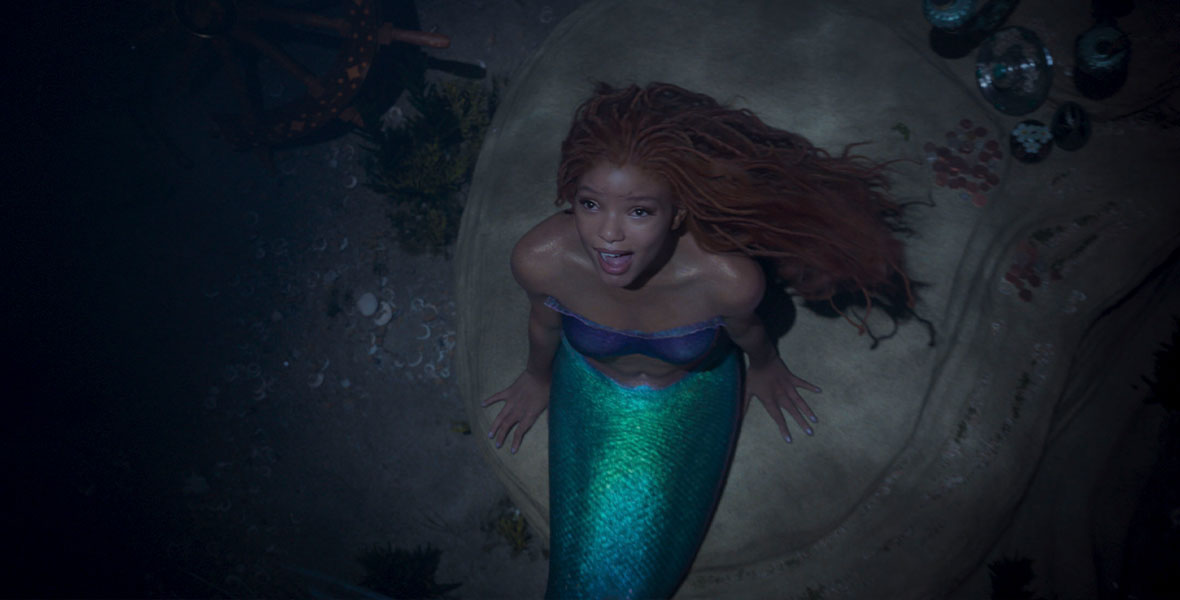 The Little Mermaid
Swimming onto the big screen in May 2023, Halle Bailey stars as Ariel in the live action adaptation of the beloved animated classic film. Director Rob Marshall took a break from post-production under the sea to share a sneak peek of the film's "Part of Your World" sequence. Bailey later joined Marshall on stage, adding portraying the iconic mermaid is a lifelong goal.
Featuring fan-favorite songs plus four new songs penned by Alan Menken and Lin-Manuel Miranda, the feature film also stars Melissa McCarthy as Ursula and Javier Bardem as Triton.
PIXAR
Pixar's Pete Docter took the stage to share the upcoming slate for the animation studio. "These last few years have been a time of great change in the world," said Docter. "And it's led us at Pixar to think about the future. Or, if I'm channeling my inner Joe from Soul, I'd ask: 'Why are we here? What's our purpose?' Well, for us, it's to tell great animated stories. Whether those are theatrical feature films, streaming series, or shorts, we think telling stories is foundational to who we are as people. They really define us. And we believe in the power of animation to capture and reflect the stories of our own lives."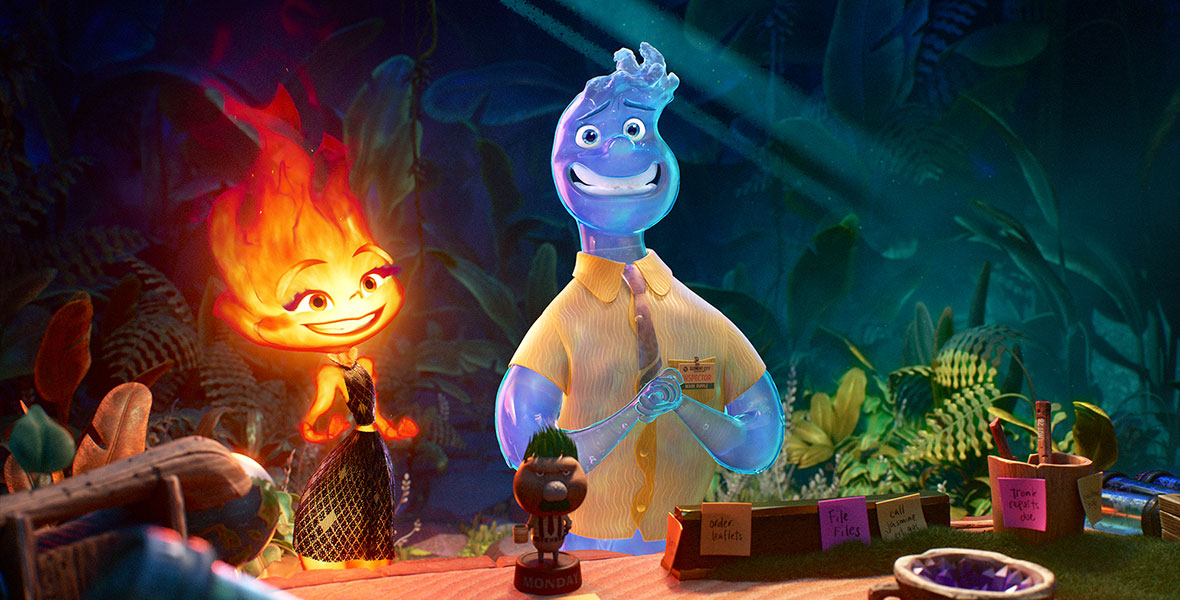 Elemental
First up, filmmakers Peter Sohn and Denise Ream joined Docter on stage to discuss Elemental, an all-new, original feature film releasing on June 16, 2023. Sohn, who directs the film, shared the personal inspiration behind the film—a story of immigrants pursuing dreams in beautiful neighborhoods where language and cultures come together. Filmmakers introduced the characters in Elemental, which is set in a city where fire-, water-, land- and air-residents live together. Ember is a tough and fiery young woman, and Wade is a fun, sappy, go-with-the-flow guy. Helping bring them to life are Leah Lewis and Mamoudou Athie, who were warmly welcomed to the Hall D23 stage. Audience members got an exclusive look at the film and received a mini-poster featuring Ember and Wade.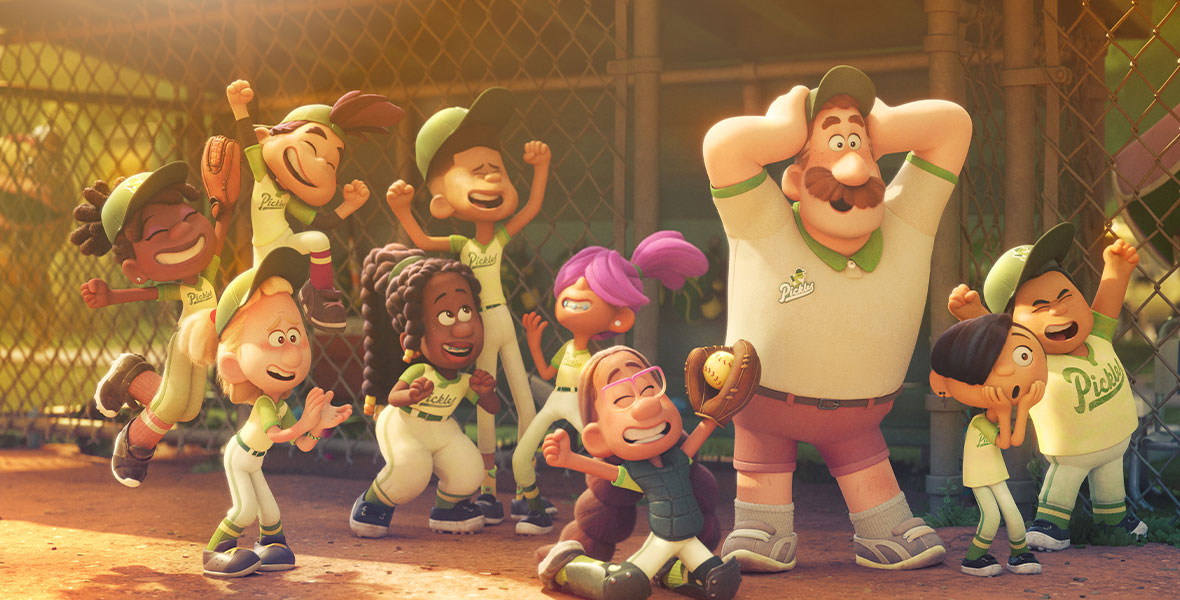 Win or Lose
Win or Lose directors Carrie Hobson and Michael Yates provided a closer look at Pixar's first-ever long-form series and what inspired it. The series follows the Pickles, a co-ed middle school softball team, in the week leading up to their championship game. Each episode takes place that same week, highlighting the perspective of a different main character—players, their parents, the umpire—each reflected in a unique visual style. Hobson and Yates revealed that Will Forte will voice Coach Dan in the series and shared a shout-out Forte recorded for the occasion, followed by a special clip just for fans. Win or Lose streams on Disney+ in Fall 2023.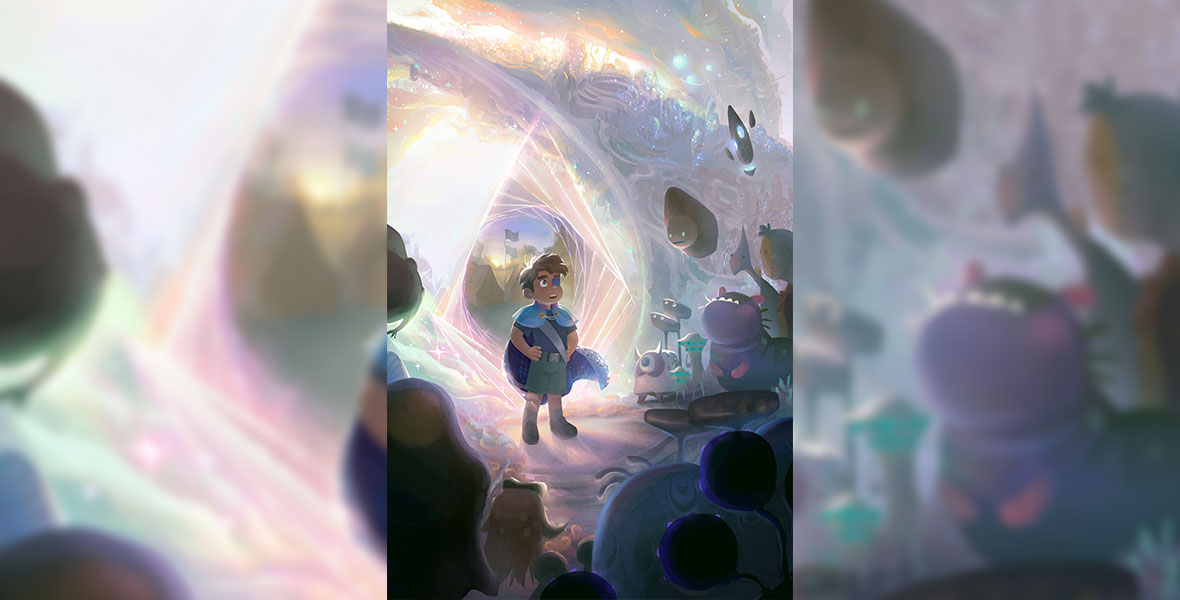 Elio
Docter welcomed to the stage director Adrian Molina and producer Mary Alice Drumm to showcase for the first time ever plans for the original feature film Elio. In the story, 11-year-old dreamer Elio is artistic, creative and an avid indoorsman who finds it hard to fit in. Meanwhile, Mom Olga, who runs a top-secret military project, is working to decode a strange signal from outer space. But it's Elio who makes contact, gets beamed into space and is subsequently mistaken for an intergalactic Ambassador for Earth. The voice of smart and super-confident Olga, America Ferrera, was invited on stage alongside Yonas Kibreab, who lends his voice to Elio. Kibreab revealed to the audience that Elio releases Spring 2024.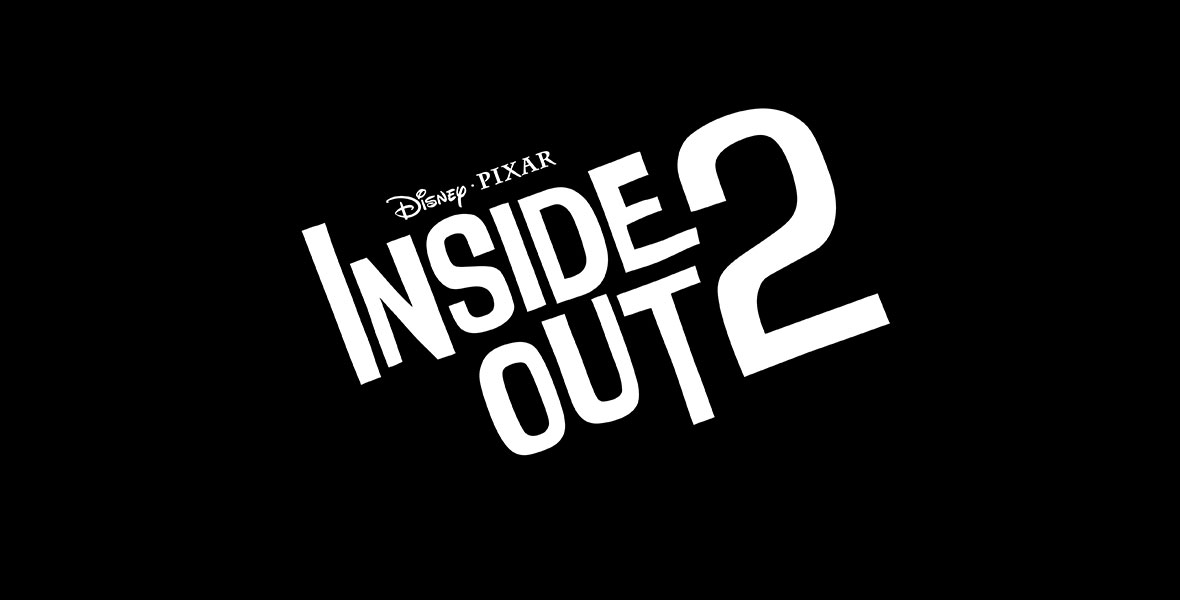 Inside Out 2
Before Docter could wrap Pixar's portion of the show, he heard a voice from inside his head. Fortunately, it was actually the voice of Joy, Amy Poehler, who arrived on stage to huge applause—especially when she informed the audience that Inside Out 2 is in the works at Pixar. Director Kelsey Mann, producer Mark Nielsen, and writer Meg LeFauve are hard at work on the all-new adventure inside the head of now-teenager Riley—who may or may not be feeling all kinds of new Emotions. Inside Out 2, the follow-up to 2015's Oscar- and Golden Globe®-winning feature film, is slated for release Summer 2024.
Walt Disney Animation Studios
Walt Disney Animation Studios' Chief Creative Officer Jennifer Lee took the stage to share the studio's plans for the yearlong 100-year anniversary celebration. Lee said, "At Walt Disney Animation Studios, the studio that started it all, on the eve of our 100th anniversary, we see today as a moment of privilege and promise—a privilege to be stewards of a studio and a dream that Walt and his brother, Roy, started a century ago and a promise to continue to take risks in our storytelling—and to explore and expand and turn the possible into the actual, just as Walt did."
Zootopia+
Lee discussed the opportunities Disney+ has created at Disney Animation, reviewing the slate of shows heading to the streamer, including new series like Zootopia+, launching on Disney+ November 9. Fans saw a trailer for the new short-form series, which heads back to the fast-paced mammal metropolis, diving deeper into the lives of some of the Oscar-winning feature film's most intriguing residents.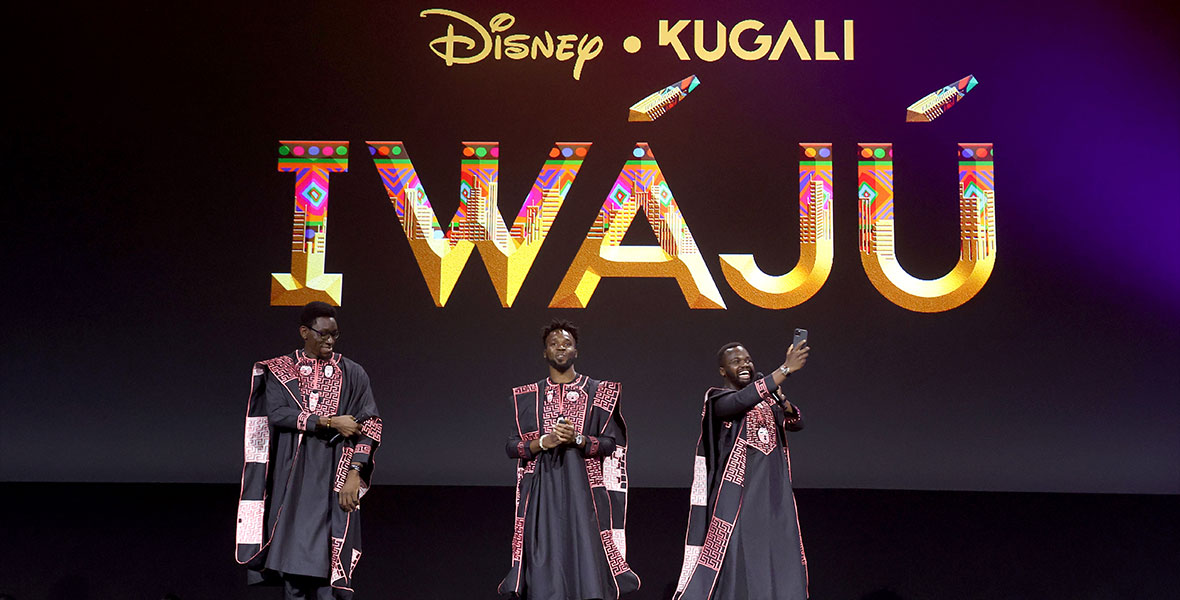 Iwájú
Coming to Disney+ in 2023, Iwájú is an all-new original long-form series created in collaboration with Pan-African comic book entertainment company Kugali. Lee invited to the stage Kugali filmmakers Olufikayo Ziki Adeola, Hamid Ibrahim, and Tolu Olowofoyeku, who introduced the setting of the series—a love letter to Lagos, Nigeria. Olowofoyeku and Ibrahim described the world of Iwájú as a futuristic depiction—a world bursting with color, unique visual elements, and technological advancements inspired by the spirit of Lagos, which is physically divided into an island and a mainland separated by both water and socio-economic status. The coming-of-age story introduces Tola, a young heiress from the wealthy island, and her best friend Kole, a self-taught tech expert and loving son from the mainland. Filmmakers shared a first look of the new series.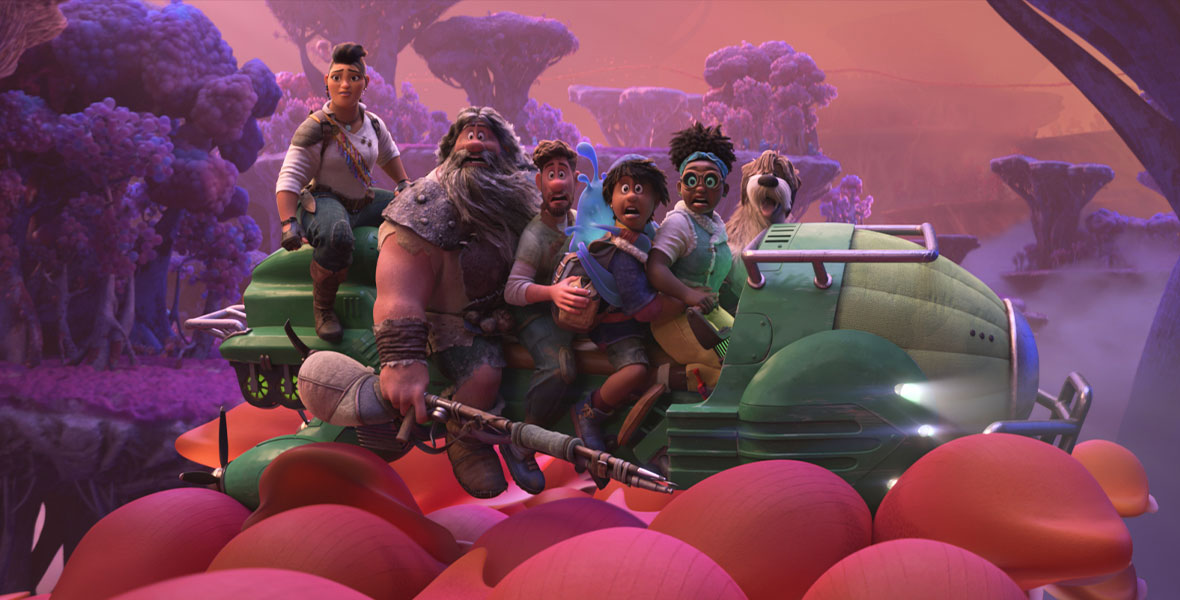 Strange World
Lee then set the tone for Disney Animation's next feature film, introducing the filmmakers behind Strange World. Director Don Hall and co-director screenwriter Qui Nguyen revealed their personal connections to the film about an incredible family who must get past their differences to save a strange world full of danger and surprises. The audience was treated to an all-new trailer from Disney Animation's 61st feature film before voice cast members Jake Gyllenhaal (Searcher Clade), Dennis Quaid (Jaeger Clade), Jaboukie Young-White (Ethan Clade), and Lucy Liu (Callisto Mal) joined the festivities. Fans also got a glimpse at an action-packed sequence from the film and received an exclusive poster. Produced by Roy Conli, Strange World also features the voice of Gabrielle Union (Meridian). The film premieres in theaters November 23, 2022.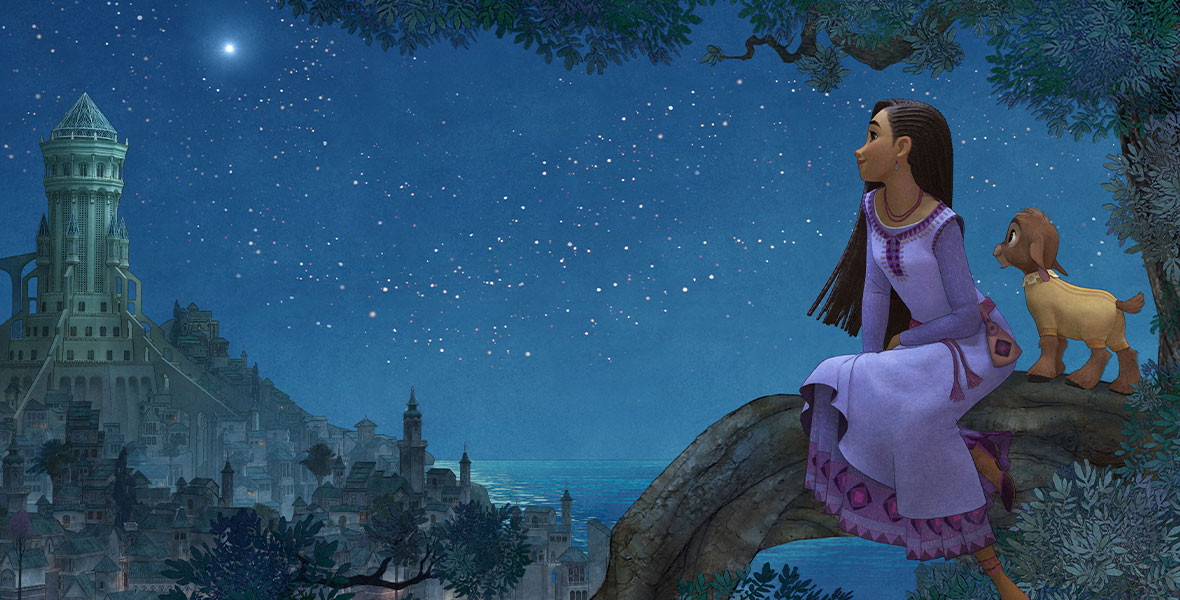 Wish
In the finale moment of the presentation, Lee returned to the stage to officially unveil Disney Animation's next original feature film, Wish, set to release Fall 2023, during the Studio's 100th year. A film that could only come from Walt Disney Animation Studios, the epic animated musical is inspired by the legacy of films from the studio and asks the question: "How did the wishing star, upon which so many characters wished, come to be?" Directors Chris Buck and Fawn Veerasunthorn outlined the story, which is set in Rosas, the kingdom of wishes where wishes can literally come true. Attendees were introduced to 17-year-old Asha—an optimist with a sharp wit who cares endlessly about her community. In a moment of desperation, Asha makes an impassioned plea to the stars, which is answered by a cosmic force, a little ball of boundless energy called Star. Together, they face the most formidable of foes to save her community and prove that when the will of one courageous human connects with the magic of the stars, wondrous things can happen.
Disney Animation good-luck-charm Alan Tudyk joined filmmakers on stage to share an animation test for his newest character, a goat named Valentino. Buck, Veerasunthorn, and Lee then introduced the voice of Asha, Academy Award® winner Ariana DeBose, who brought down the house singing an all-new original song written by Julia Michaels, who's writing all of the songs for Wish. DeBose's captivating performance of "More for Us" closed the showcase in signature Disney style. Lee is a writer on the film, Peter Del Vecho produces and Juan Pablo Reyes co-produces.