By Analise Warner
This is the way…to bountiful new Star Wars: The Mandalorian products! No need for holopucks or bounty credits to find and collect the galaxy's most-wanted merchandise. We have scoured the galaxy to share some new Grogu and Din Djarin inspired products to help you prepare for the premiere of Star Wars: The Mandalorian Season 3, premiering on March 1 on Disney+ with new episodes every Wednesday.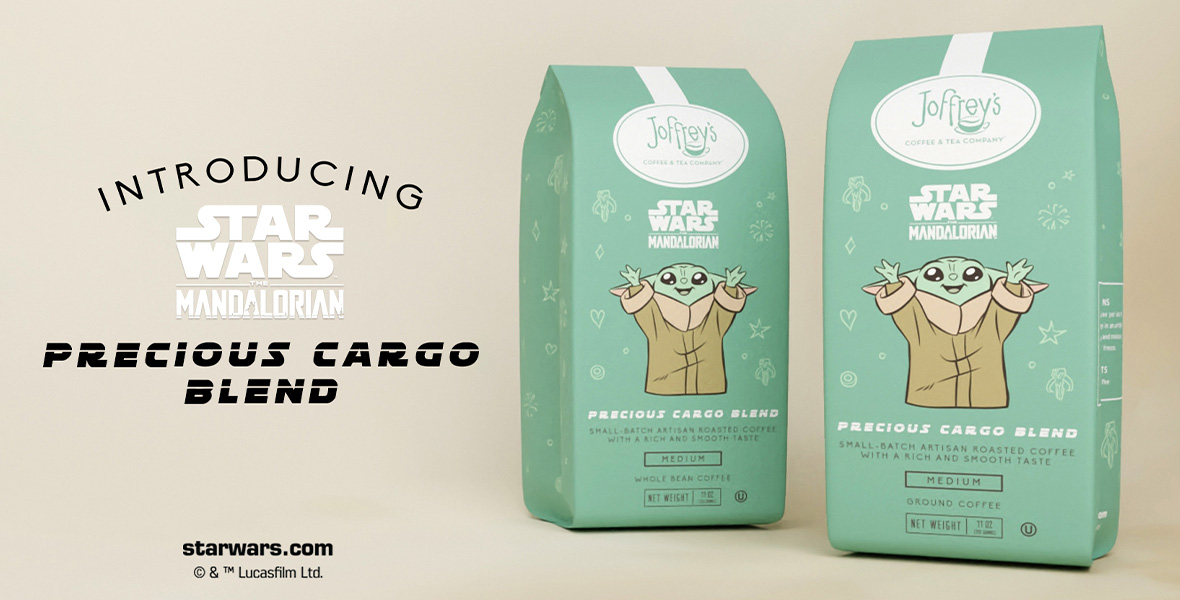 Joffrey's: STAR WARS™ The Mandalorian™ – Precious Cargo Blend Coffee D23 Exclusive Reveal
Joffrey's Roastmaster has searched across the galaxy for the finest quality Arabica beans and is excited to bring you this ethically sourced, 100 percent Arabica coffee that is small-batch roasted and delivers a rich and smooth taste. Part of the Disney Specialty Coffee Collection, this artisan brew brings you the galaxy's finest quality medium-roasted Arabica beans and exclusive packaging inspired by Grogu.
Available in 11oz: Ground and Whole Bean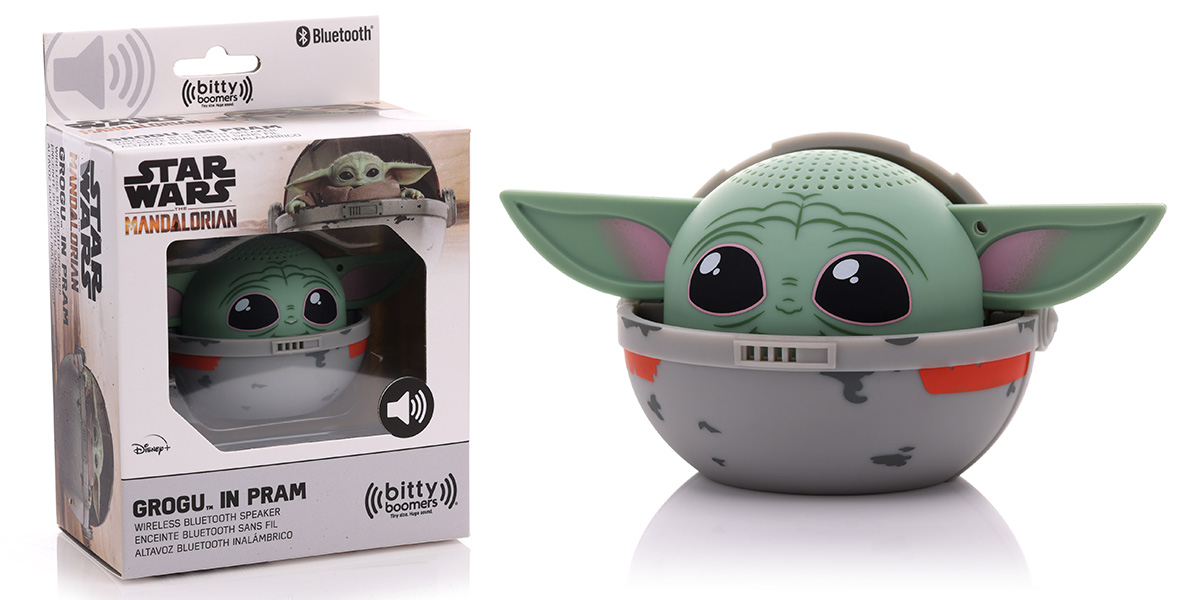 Grogu in Pram – The Mandalorian
That precious bounty Grogu is now available in his hover pram. Bitty Boomers are wireless Bluetooth speakers that are ultra-portable! Imagine a collectible with a purpose. Don't be fooled though, what they lack in size they make up for with mind-blowing sound. Tiny size. Huge sound.
Sync two speakers together for extra boom!
Connect to any Bluetooth enabled device
Four hours + of music play on a single charge
Backpack clip / strap included
Can be used as a selfie remote
2″ tall
Grogu™ Freshener
Imagine Grogu's™ meditative presence as he reaches out with the Force. Notes of gardenia fill the air, with touches of lavender and rosemary. Crafted with essential oils and recyclable materials.
Fragrance notes: Top: Lavender, Rosemary, Marine; Mid: Gardenia, Mineral Amber; Base: Patchouli, Vetiver, Sea Moss
To Use: Hang freely. Designed for cars or other small spaces. Control scent throw by only exposing part of the freshener at a time.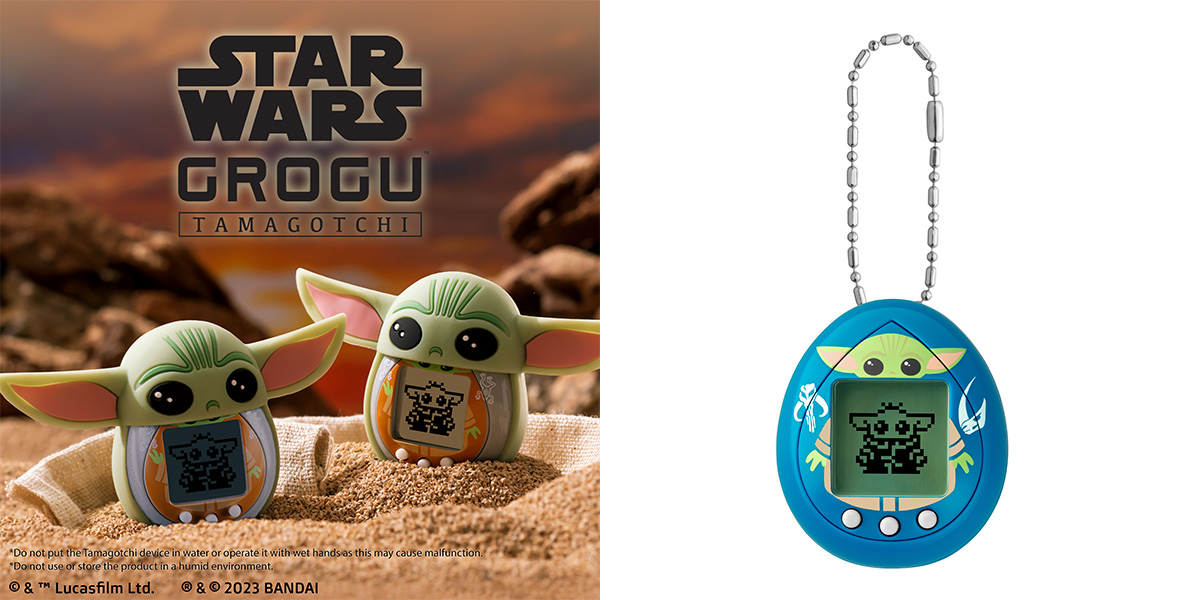 Star Wars Grogu Tamagotchi
The Star Wars™ Grogu™ Tamagotchi Nano brings the beloved character to the palm of your hand like never before. It's up to you to take care of Grogu, and how you do will change him into one of 12 different appearances, this includes three secret styles! Play two different mini-games, along with a third that alternates depending on how you interact with Grogu. The "Using the Force" device comes with an included chain for on-the-go fun and comes with a silicone case to show off your fandom!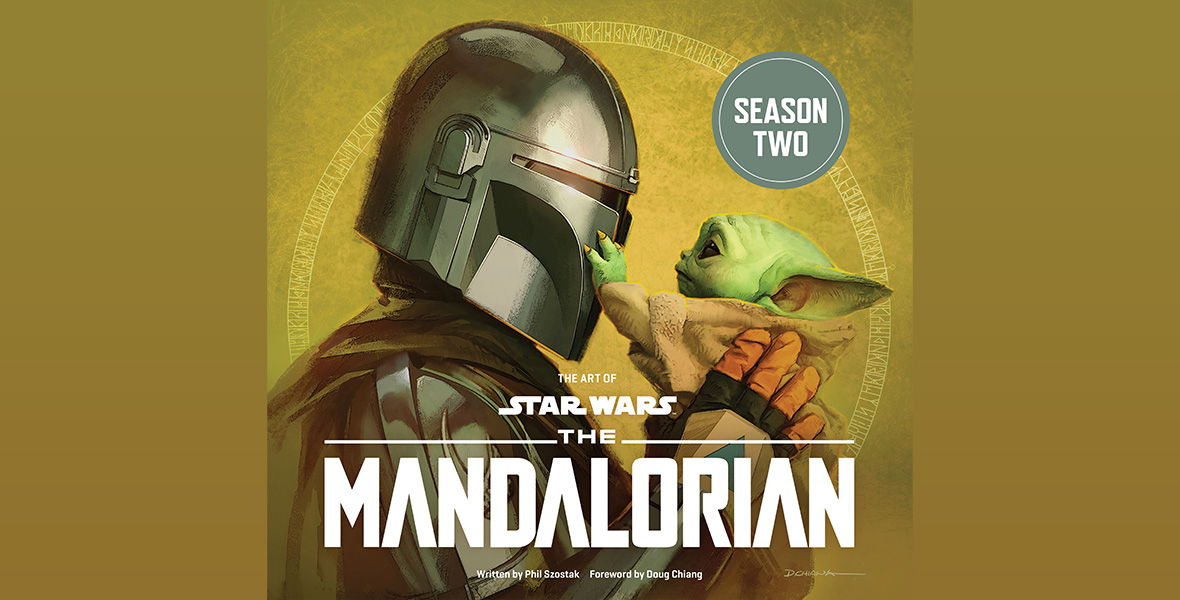 The Art of Star Wars: The Mandalorian (Season Two)
Explore the official behind-the-scenes companion to Season 2 of the hit Disney+ series Star Wars: The Mandalorian. Filled with concept art, character, vehicle, weapon, and creature designs, and interviews with key crew and creatives, including executive producer/showrunner/ writer and Disney Legend Jon Favreau (Iron Man, The Lion King) and executive producer/ director Dave Filoni (Star Wars: The Clone Wars, Star Wars: Rebels), The Art of Star Wars: The Mandalorian (Season Two) will provide readers with an exclusive look at the stunning art and design work that helped bring new and returning characters and locations to life. The Art of Star Wars: The Mandalorian (Season Two) is the only book to explore the artistic vision for this groundbreaking sophomore season, taking readers on a deep dive into the development of the next chapter of Din Djarin and Grogu's story. Exclusive interviews with the filmmakers and the Lucasfilm visualists provide a running commentary on Star Wars: The Mandalorian's innovative art and design, revealing the inspiration behind the look and feel of the series.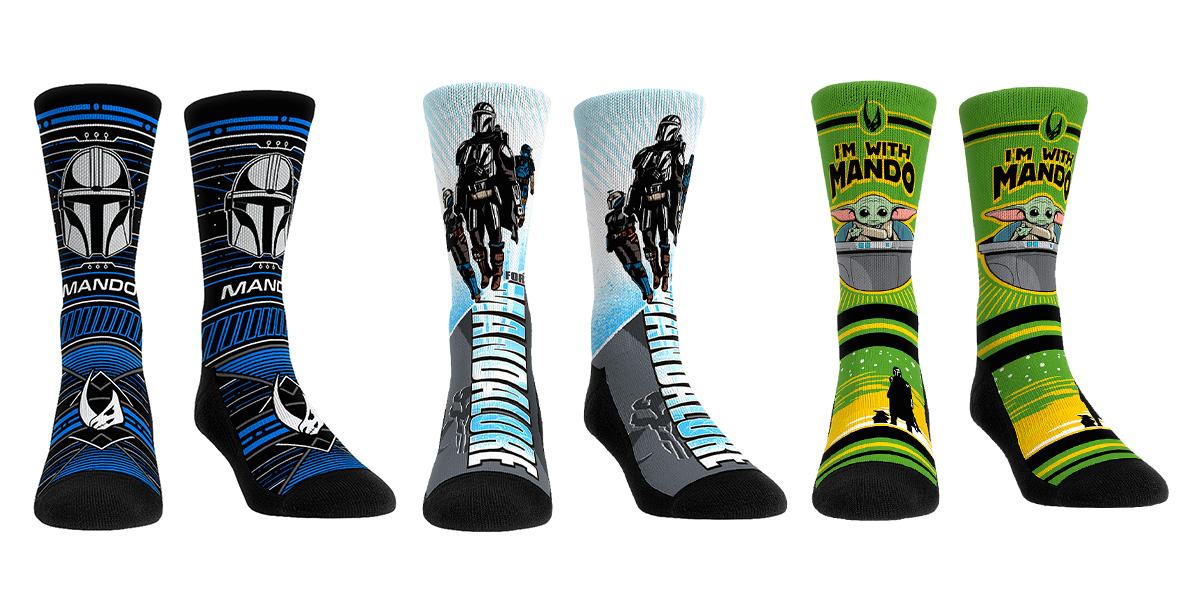 Mando Mono-Line, For Mandalore, and I'm With Mando
Bring home the bounty for your sock drawer! Get ready for Season 3 of Star Wars: The Mandalorian with brand new designs from Rock 'Em Socks.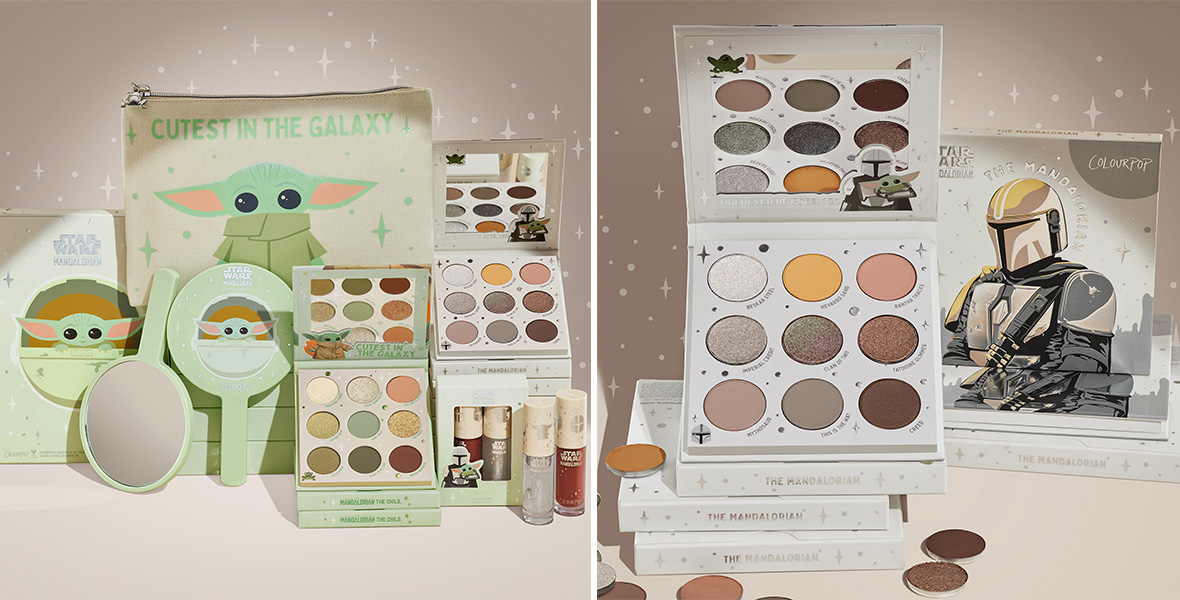 ColourPop Cosmetics' The Mandalorian™ Collection
Complete your galactic vanity with The Mandalorian™ Collection including our best-selling The Child™ Palette! This complete set includes the NEW 9-pan The Mandalorian™ Pressed Powder Palette with saturated neutrals and rich earth toned shades in buttery matte, matte with sparkle, and shimmering metallic finishes. Pair with The Child™ Pressed Powder Palette featuring a mix of sages, olives, golds, and neutral tones in a range of finishes from matte and metallic to our iconic Super Shock formula. Complete your The Mandalorian™ haul with two shades of our nourishing Lux Lip Oil, a super cute The Child™ Hand Mirror to check out your look on the go, and The Cutest in the Galaxy Makeup Bag for all your galactic beauty essentials!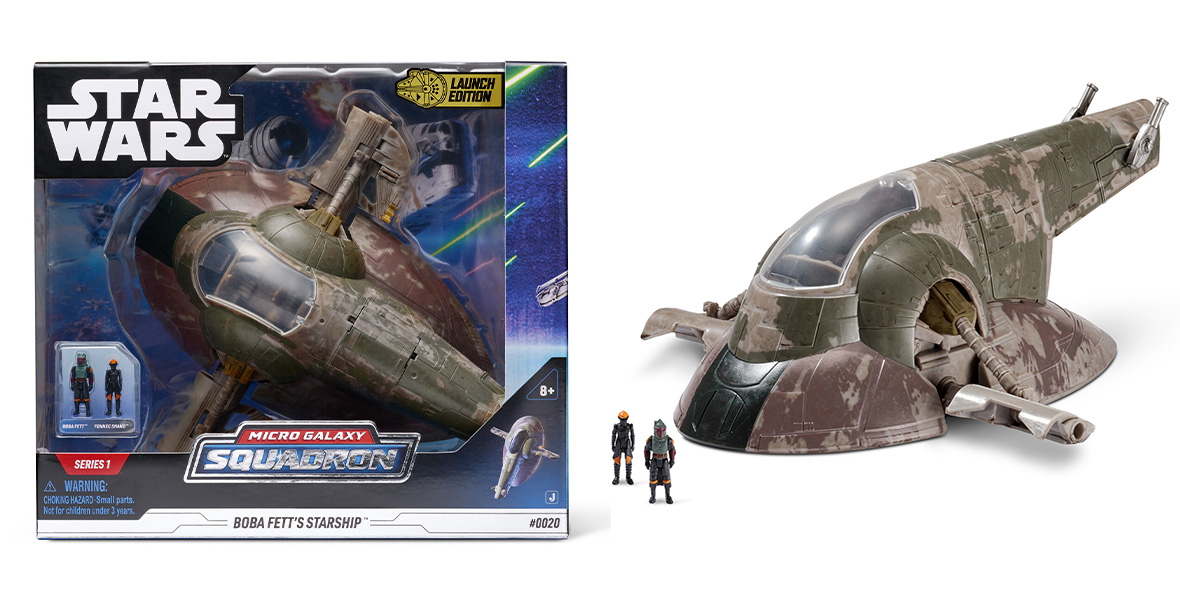 Star Wars Micro Galaxy Squadron Starship Class: Boba Fett's Starship
Take back Tatooine with the Star Wars Micro Galaxy Squadron Starship Class: Boba Fett's Starship. Featuring incredible details and authentic scaling, this 7-inch vehicle is based on the Firespray gunship reclaimed by Boba Fett when he became daimyo of Mos Espa. Blast into battle with a pivoting cockpit and wings, opening side panel, removable weapon block, extending boarding ramp, chin cannons that can be positioned and a seismic charge hatch. Vehicle also includes articulated 1-inch Boba Fett and Fennec Shand micro figure accessories, compatible with any Star Wars Micro Galaxy Squadron craft. Collect Boba Fett's Starship and rule the planet with respect. Officially licensed Star Wars product from Jazwares for ages 8+.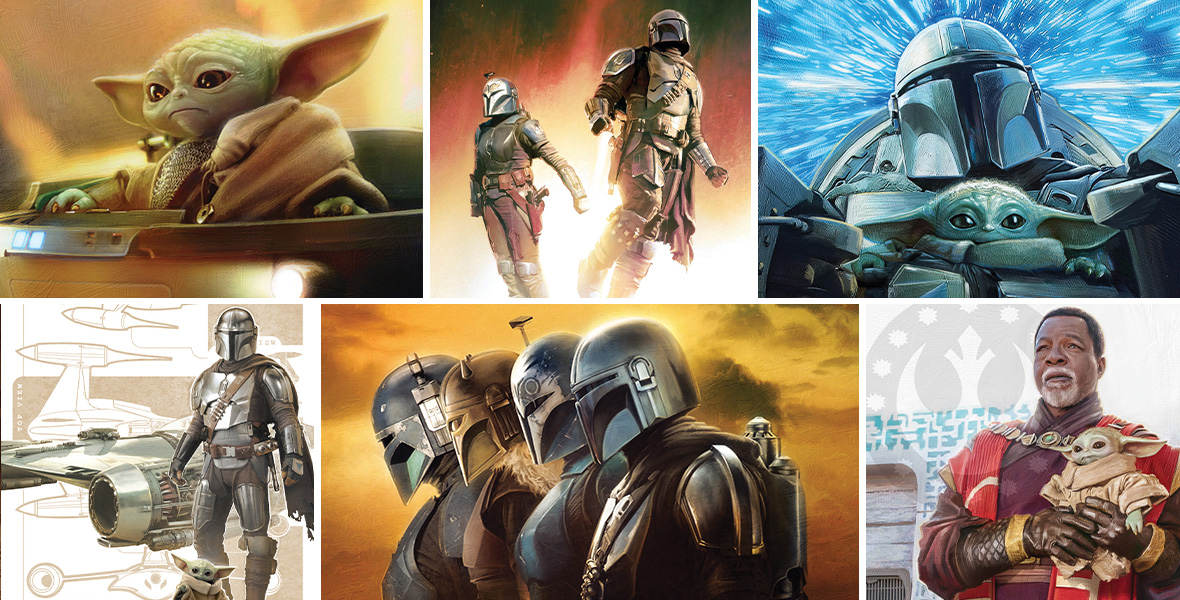 Star Wars: The Mandalorian Season 3 Posters
These Star Wars: The Mandalorian Season 3 posters are perfect for any Star Wars fan. Shop Trends posters are printed on premium paper with high-quality ink to ensure a sharp, vibrant design, making it the perfect wall decor for any room.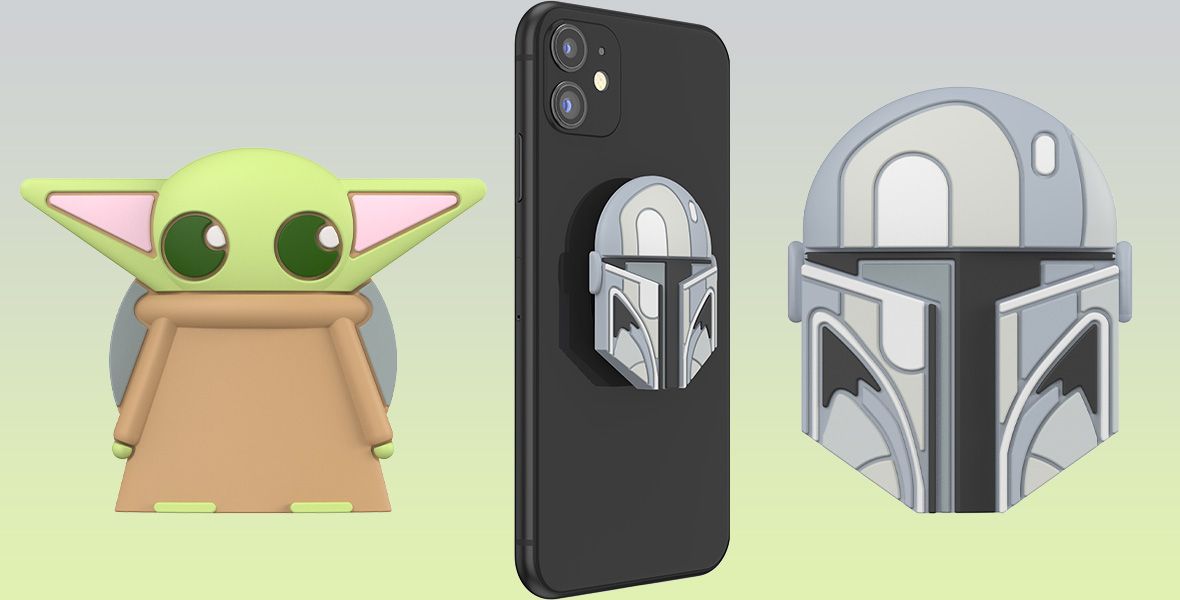 Mandalorian and Grogu PopOuts
Add a little bounty of choice to your phone with these convenient and out-of-this-world designs.