By Zach Johnson
Is this the end of Zaddison?!
Premiering Friday, February 14, at 8 p.m., the Disney Channel Original Movie ZOMBIES 2 picks up a few months after the original in the town of Seabrook, where the newly united communities of humans and zombies are living in harmony… for now, at least. The story begins with Addison (Meg Donnelly) finishing up a cheer camp session and Zed (Milo Manheim) devising a way to ask her to Prawn, their school's shrimp-themed prom. "It starts in a good place, really," says Manheim. "Then the werewolves come out of nowhere. They cause chaos in Seabrook and nobody knows what to do."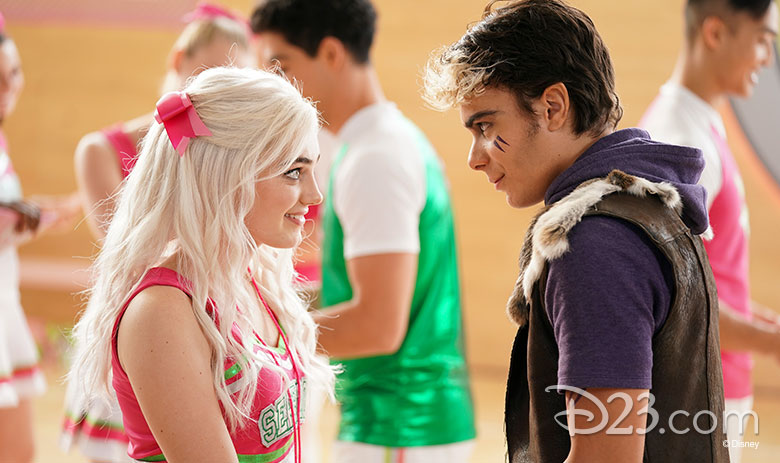 The teenage werewolves are searching for the moonstone, an ancient life source buried somewhere in Seabrook. But their unexpected arrival raises red flags, so the fearful city council reinstates its anti-monster laws, making it impossible for Addison and Zed to attend Prawn together. Their relationship is further tested when Addison befriends one of the werewolves, Wyatt (Pearce Joza), who believes she is the key to finding the all-important gem. Just seeing the two of them together can make Zed green(er) with envy.
"Zed's a little bit frustrated with the werewolves. He doesn't really like them," Manheim explains. "And Addison, being the loving person she is, wants them to be accepted. She decides to help them, and I think Zed perceives her relationship with the werewolves to be something different than what it is, because he's somewhat of a jealous guy." Even the other werewolves—Willa (Chandler Kinney) and Wynter (Ariel Martin)—are worried about the two of them teaming up. "The werewolves are very skeptical," Donnelly says. "And the only person who's driving it is Wyatt. He's like, 'Addison, you have to help us!'"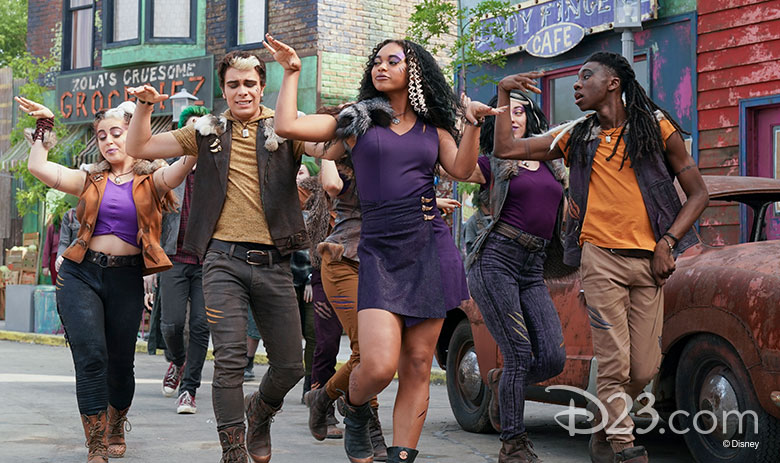 Still determined to become the first zombie/cheerleader couple to go to the prom, Zed decides to run for school president against cheer captain Bucky (Trevor Tordjman) to change the rules. "These werewolves come into Seabrook and make everyone scared," Manheim explains. "It's awful for zombies because they're set back to where they were." Meanwhile, Kinney says the werewolves decide to capitalize on that "tension" as they pull Addison even deeper into their circle. Says Donnelly, "They are really pursuing her."
In real life, the actors playing the cheerleaders, werewolves, and zombies were instant friends. "Pearce, Chandler, and Ariel are the sweetest people in the world," Donnelly says. "We're such a close family. I'm sure it was scary for them at first; it's like going to a new school where everyone knows each other. Now, I can't remember a time when they weren't like our family." Adds Manheim, "I can't imagine this movie without them."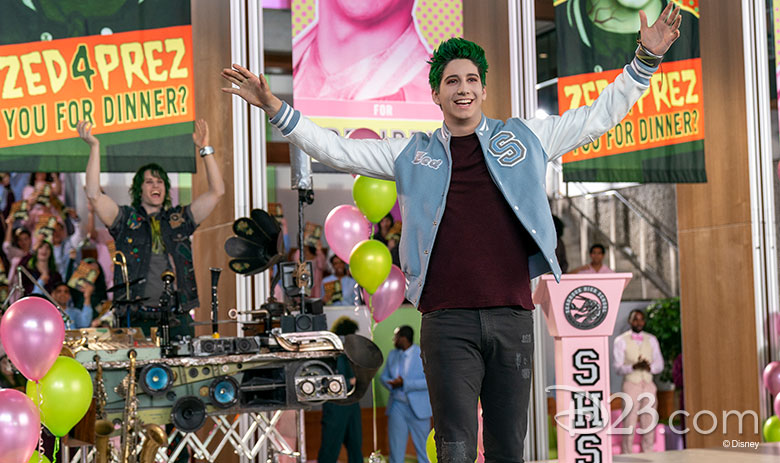 Rest assured, ZOMBIES 2 includes show-stopping musical numbers, with "Call to the Wild," "I'm Winning," and "Like the Zombies Do" among some of the cast's favorites. "I think what a lot of people loved about the first movie is that it was really entertaining to watch," says Joza. "They could dance, they could sing along, they could connect with the characters—and that's no different in the second one." Adds Kinney, "The music and dance numbers in ZOMBIES 2 are bigger—and some might say better—than ever."
Whether peace will be restored in Seabrook remains to be seen. However, Manheim teases, "Perseverance is a huge aspect of the movie, because none of these things would have happened—none of these changes would have been made—if somebody didn't keep trying. It also shows that you can make mistakes and still make up for them."
To see the electrifying dance numbers and bold new original songs, tune in for the television debut of ZOMBIES 2 this Valentine's Day, only on Disney Channel.