By Beth Deitchman
"We are going to show you things that no one has seen outside the walls of our studio."
That was the promise from John Lasseter—Pixar and Walt Disney Animation Studios Chief Creative Officer, not to mention a onetime Jungle Cruise skipper—at the start of this afternoon's presentation in Hall D23 at D23 Expo 2017. Wearing a signature Hawaiian shirt featuring characters from all of the films he's worked on, John took to the stage accompanied by a "spirit squad" brandishing T-shirt shooters, which they used to lob tees to a crowd who couldn't have been more eager to find out what's next for Disney's three animation studios.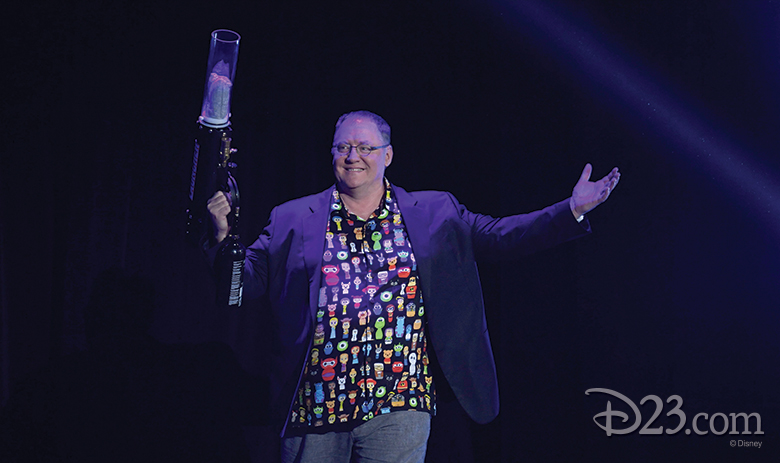 In the coming months and years, Walt Disney Animation Studios, Pixar Animation Studios, and Disneytoon Studios will roll out a slate of films that feature familiar faces (and voices) and new characters fans are sure to love. "I'm so excited about our upcoming movies; they are all hilarious, emotional, beautiful, and make you think," Lasseter said. "It's a great mix of incredibly creative and surprising new worlds and characters and stories we love returning to. Our filmmakers are putting so much heart into these films—I can't wait for people to see them."
Today's presentation included surprise appearances from the filmmakers and voice talent behind the studios' upcoming films, exclusive clips, and unforgettable moments that only happen at D23 Expo. If you're a fan of Disney animation—and aren't we all?—here are the films that are bound to exceed all Expo-tations!
Untitled Disneytoon Studios Film
According to Lasseter, the folks at Disneytoon Studios aim to elevate storytelling to new heights—literally—with their yet-to-be titled film that explores the future of aviation. Lasseter previewed a "speed test" for fans, and revealed that the film—which is directed by Klay Hall and Bobs Gannaway and produced by Ferrell Barron—opens in theaters on April 12, 2019.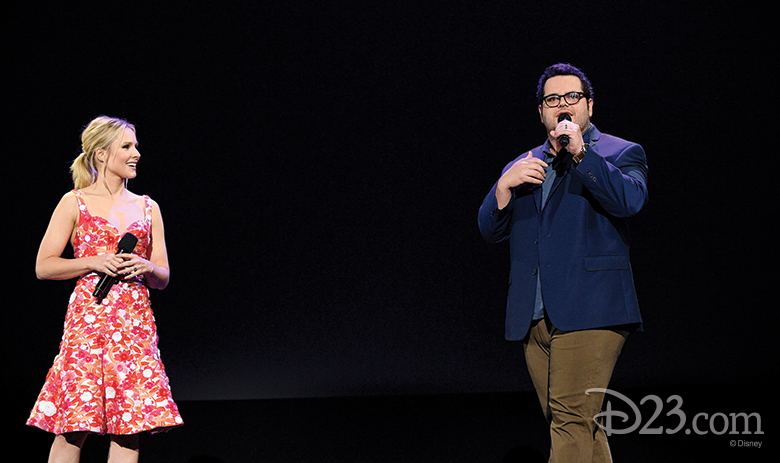 Olaf's Frozen Adventure
We were already shivering in anticipation of this new 21-minute Frozen holiday featurette, opening on the big screen in front of Disney•Pixar's Coco on November 22, 2017. Kristen Bell returned to the Hall D23 stage for 2017 with an animated clip from the film that audiences would be seeing "for the first time in forever." The 6,800 fans in Hall D23 let out a collective "Awww" when they saw their frosty friend Olaf once again, followed by a collective gasp when "audio problems" threatened to cut the clip short. Help was close at hand, however, as Josh Gad, the voice of Olaf, was waiting in the wings to surprise the crowd with a live performance of a new song from the featurette, "That Time of Year," from Elyssa Samsel and Kate Anderson (who have provided four new songs for the featurette). The full cast is back for Olaf's Frozen Adventure, including Idina Menzel as the voice of Elsa and Jonathan Groff as the voice of Kristoff. Kevin Deters and Stevie Wermers-Skelton (Prep & Landing) direct, and Oscar® winner Roy Conli (Big Hero 6) produces.
Frozen 2
We have to wait a big longer to learn the final title for the sequel to the 2013 blockbuster Frozen, but the creative team is hard at work on the film, which opens on November 27, 2019. In addition to the returning cast, Frozen directors Chris Buck and Jennifer Lee and producer Peter Del Vecho are also headed back to Arendelle. Fans were treated to a behind-the-scenes video from a recent research trip the filmmakers took to Norway, Finland, and Iceland.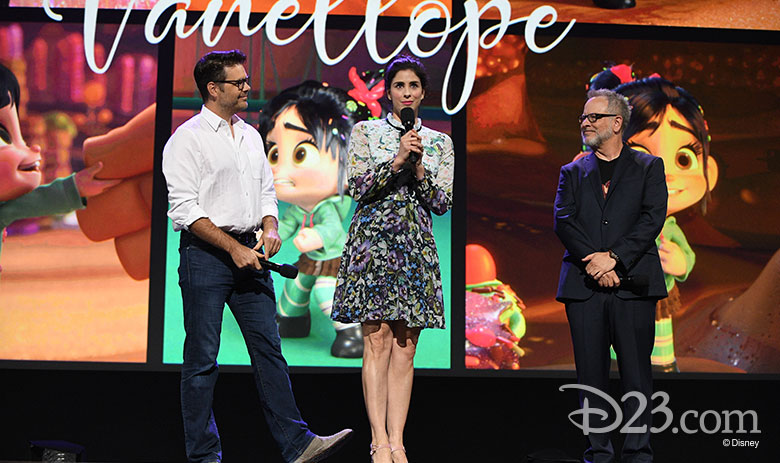 Ralph Breaks the Internet: Wreck-It Ralph 2
Director Rich Moore told D23 fans that the Ralph Breaks the Internet: Wreck-It Ralph 2 filmmakers knew they had to go "somewhere big" in the follow-up to the film that he described as "a love letter to video game arcades." That turned out to be the Internet. John C. Reilly is returning to voice Ralph, and Jack McBrayer will again lend his vocal talents to the role of Fix-It Felix. Sarah Silverman—Vanellope von Schweetz—joined Moore and director Phil Johnston on the Hall D23 Stage, and they introduced a new character, Yesss (all those esses are meant to be there). You'll be hearing Golden Globe winner Taraji P. Henson (Hidden Figures, Empire) as the character. According to Moore, "If it's cool, if it's trendy, if it's now, Yesss has discovered it and shared it with the world."
Fans were treated to a "break the Internet" moment in Hall D23, with the debut of a scene from the film that pays homage to the Disney Princesses like never before. After revealing that the original voice actresses behind the Princesses were asked to reprise their roles for the sequence, in an historic, only-at-Expo experience, Auli'i Cravalho (Moana), Kristen Bell (Anna in Frozen), Kelly MacDonald (Merida in Brave), Mandy Moore (Rapunzel in Tangled), Anika Noni Rose (Tiana in The Princess and the Frog), Irene Bedard (Pocahontas), Linda Larkin (Jasmine in Aladdin), Paige O'Hara (Belle in Beauty and the Beast) and Jodi Benson (Ariel in The Little Mermaid) came together for the largest gathering of Disney Princesses ever.
With Oscar® winner Clark Spencer producing, Ralph Breaks the Internet: Wreck-It Ralph 2 opens in theaters on November 21, 2018.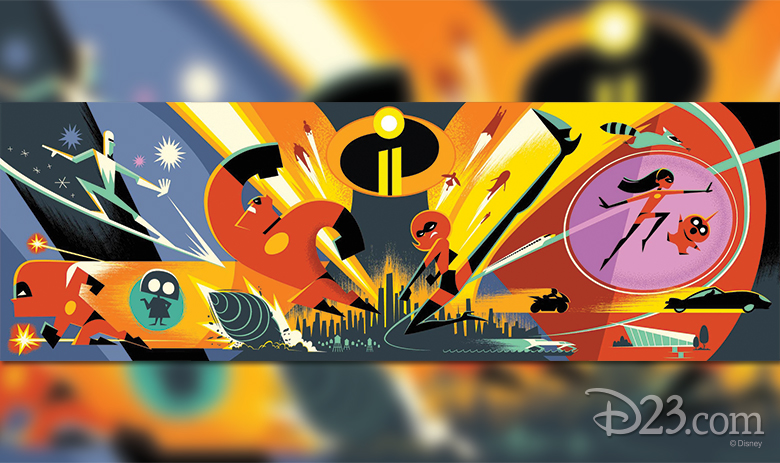 Incredibles 2
Lasseter has been waiting for this film "since before there was a D23," he said, prior to showing a look at the character people have been talking about since the film's release: Edna Mode. Featuring fashion luminaries such as Zac Posen, Rachel Zoe, Heidi Klum, Kendall Jenner, the video takes a fun look at what the fashion world thinks of the diminutive designer:
Director Brad Bird (who voices Edna Mode) joined Lasseter on stage, and presented clips that showed off the new animation technology filmmakers are using to bring the super-family to life in the sequel. Actors Craig T. Nelson (Mr. Incredible), Holly Hunter (Mrs. Incredible), Sarah Vowell (Violet), and Samuel L. Jackson (Frozone) were reunited on the Expo stage, joined by newcomer Huck Milner (the voice of Dash). Incredibles 2 is slated to open on June 15, 2018.
Toy Story 4
Josh Cooley, who joined Pixar in 2003 as an intern in the story department on Cars, joined Lasseter on the stage, who revealed that Cooley (who directed the Riley's First Date? short) has assumed full director responsibilities for Toy Story 4. D23 Expo attendees were treated to a behind-the-scenes look at a day in Cooley's life at the Pixar headquarters in Northern California and at the making of Toy Story 4, which is slated to open in theaters on June 21, 2019.
Untitled Dan Scanlon Movie
"D23 has become the place to announce new films—which we're going to do right now," Lasseter said. Monsters University director Dan Scanlon revealed a few details about a new, original feature in production at Pixar Animation Studios. The untitled film is based on a personal story for Scanlon, who lost his father when he was very young. The director has always wondered, "Who was my father?" The story is set in a world with no humans—only elves, trolls, and sprites—"anything that would be on the side of a van in the '70s," said the director. "In the film, we're going to tell the story of two teenage elf brothers whose father died when they were too young to remember him. But thanks to the little magic still left in the world, the boys embark on a quest that will allow them a chance to spend one last magical day with their father." Kori Rae (Monsters University) will produce.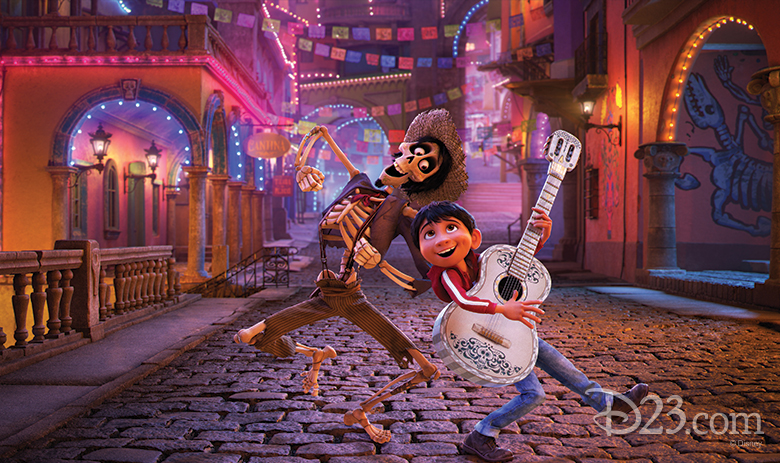 Coco
The last film of today's presentation, but, happily, the next animated film to be released by Disney, Coco opens in theaters on November 22, 2017. Director Lee Unkrich, co-director and screenwriter Adrian Molina, and producer Darla K. Anderson gave the audience a first look at a clip from the film, which introduces Miguel, who dreams of becoming a musician like his hero, Ernesto de la Cruz, but whose family long ago banned music. A fateful decision leads Miguel to the Land of the Dead. Molina said, "In the end it's a story about the importance of family, honoring your ancestors, and following your dreams."
Music is an important part of Coco, and Unkrich promised that the film will feature both traditional Mexican music and new songs created just for the film, as well as a score from Oscar®-winning composer Michael Giacchino (Up, Rogue One: A Star Wars Story). The song "Remember Me" was written by Kristen Anderson-Lopez and Robert Lopez, with additional songs co-written by Germaine Franco (Dope, Shovel Buddies) and Molina. Also part of the team is musical consultant Camilo Lara of the music project Mexican Institute of Sound.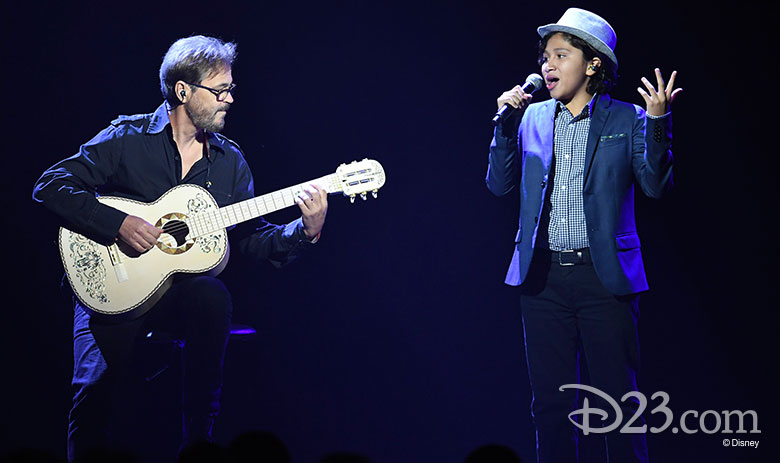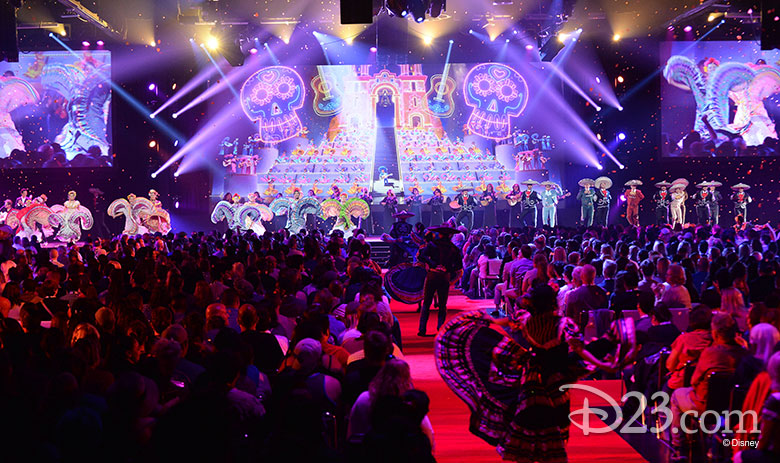 The presentation ended with a grand finale, the first-ever public performance of "Remember Me," performed by Anthony Gonzalez, (who voices Miguel in the film) and Benjamin Bratt, who lends his voice to Ernesto de la Cruz. They were joined by more than 160 performers, including Grammy®-winning Mariachi Divas de Cindy Shea and Ballet Folklorico de Los Angeles under the direction of Kareli Montoya, and the Grammy-winning Gordon Goodwin Big Phat Band. Orange confetti that filled the air suggested the film's stunning bridge of marigold petals, making a magical, memorable finish to an unforgettable afternoon.