By Courtney Potter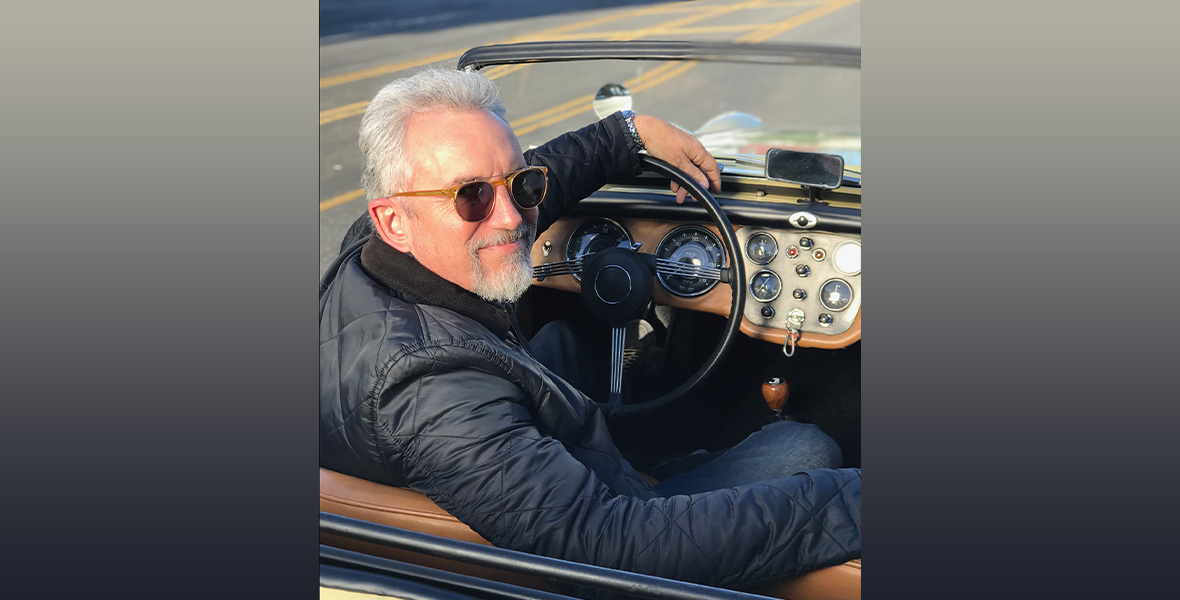 Jeff "Swampy" Marsh Returns to Production on Phineas and Ferb
Great news, Phineas and Ferb fans! (Hey, that's us!) We know what Jeff "Swampy" Marsh is going to do today—or at least very soon…
As recently announced by Disney Branded Television, the Emmy® Award-winning co-creator and executive producer of the award-winning animated series is set to executive produce and voice-direct all-new episodes for its big return! Marsh will join his longtime creative partner Dan Povenmire on the series, which announced 40 new episodes this past January.
Together, Marsh and Povenmire created and executive-produced Phineas and Ferb, the most successful animated series for kids, ages 6–11, and tweens, ages 9–14, in Disney Television Animation history. The original run of the series, which follows two resourceful stepbrothers who conquer boredom and make every day of their summer vacation count, spanned 126 episodes, five one-hour specials, and two hit movies.
Marsh also previously announced that a new series for preschoolers, Hey A.J., from his Surfing Giant Studios (in association with Disney Junior), is now in production. The adventure/comedy series is based on books by Super Bowl champion Martellus Bennett, who is also among its voice cast.
Stay tuned for more Phineas and Ferb news in the coming months…
ICYMI: How Disney Legend Robin Roberts Is Turning the Tables Again in Season 2
D23 was lucky enough to sit down with Disney Legend Robin Roberts to hear all about the new season of her series Turning the Tables, which just premiered this week on Disney+. Hear from the veteran journalist about how she creates each episode's guest list; what she hopes audiences take away from the show; and more.
The Ghost and Molly McGee Gets New Trailer and April Premiere Date
Time to get spooky: The Ghost and Molly McGee is ready to materialize in just a few weeks for a second frightfully fun season… and Disney Branded Television just released a new trailer to celebrate!
The buddy comedy follows tween optimist Molly, who lives to make the world a better place, and grumpy ghost Scratch, whose job is to spread misery. When one of Scratch's curses backfires, he finds himself forever bound to Molly, creating an unlikely friendship that leads to humorous misadventures as they navigate Molly's new school and town.
Season 2 kicks off when the Chens, a ghost-hunting family, move in across the street from the McGees. Meanwhile, a new Chairman is declared in the Ghost World, making life (and afterlife) even more complicated for Molly and Scratch.
The series' voice cast includes Ashly Burch as Molly McGee, Dana Snyder as Scratch, Jordan Klepper as Pete McGee, Michaela Dietz as Darryl, and Sumalee Montano as Sharon McGee and Grandma Nin. Season 2 guest voice cast includes Tony Hale, Paul F. Tompkins, Yvette Nicole Brown, Danny Trejo, Jane Lynch, Liza Koshy, Jenifer Lewis, Pamela Adlon, and more.
Look for the Emmy® Award-nominated series to premiere on Saturday, April 1, at 8 a.m. ET/PT on Disney Channel and Disney XD; it'll then stream Sunday, April 2, on Disney+.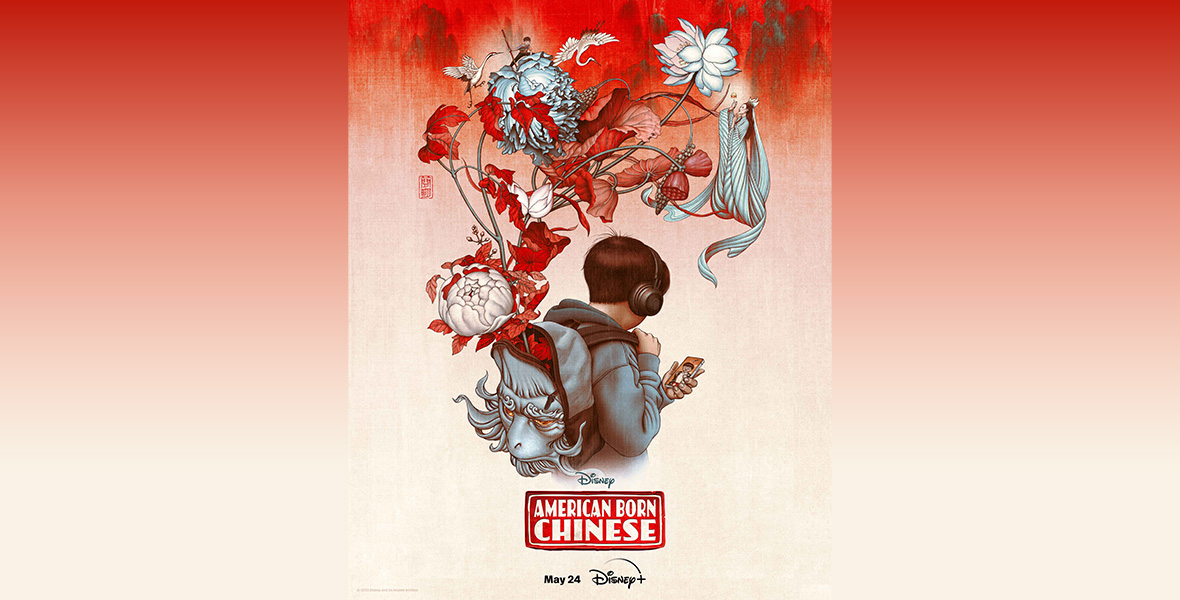 Disney+ Reveals Exclusive American Born Chinese Poster Art
This week, the Disney+ Original series American Born Chinese had its world premiere at SXSW at the Paramount Theatre in Austin, Texas… and during the event, the cast and creatives revealed exclusive poster art created for the series by multidisciplinary visual artist James Jean.
The newly designed art depicts the journey of the main character, Jin Wang; it captures Jin on his way to school, with Chinese mythological hero The Monkey King shapeshifting into his backpack. While the backpack hints at ideas of cultural and emotional baggage, the flora emerging from within it is based on the paintings of Giuseppe Castiglione—an Italian missionary who became a court painter in China during the Qing dynasty and revolutionized traditional silk scroll painting by combining Western rendering techniques with traditional Chinese aesthetics. The entire look also reflects Jean's own experiences as an Asian American…
In attendance at the SXSW event were cast members Ben Wang, Daniel Wu, Chin Han, and Sydney Taylor, and executive producers Kelvin Yu, Gene Luen Yang, and Melvin Mar. They also took the opportunity to celebrate their fellow cast members Michelle Yeoh's and Ke Huy Quan's historic wins at the Academy Awards®on Sunday, March 12.
The Disney Branded Television series, produced by 20th Television, will premiere May 24 with all eight episodes, exclusively on Disney+.
5 Fantastic Things to Watch This Weekend Presented by State Farm®
So what's there to view from around the worlds of Disney over this sure-to-be-delightful March weekend? Pop some corn and get ready for all-new episodes of Big City Greens and Kiff on Disney Channel; National Treasure: Book of Secrets on Freeform; an all-new episode of American Idol on ABC; and more where that came from…
Disney Speedstorm Gets Early Access Release Date
Drivers, start your engines! The ultimate hero-based combat racing game Disney Speedstorm is racing onto the scene for early access on Tuesday, April 18, for PlayStation 4, PlayStation 5, Nintendo Switch, Xbox One, Xbox Series SIX, and PC.
Suit up and hit the high-speed circuits as beloved Disney and Pixar characters in this exhilarating game. Navigate the Season Tour in single-player mode or challenge your friends in local and online multiplayer modes. Even more Disney and Pixar characters will be added regularly—bringing new special skills for users to master (or overcome), new karts to upgrade, and unique tracks with each season update.
Grab one of the Disney Speedstorm Founder's Packs today on the Nintendo eShop, Microsoft Store, and/or Epic Games Store, available worldwide. Pre-orders start Monday, March 20, on the PlayStation Store.
Depending on the purchase of either the Standard, Deluxe, or Ultimate Tiers, users will receive exciting add-ons—including new racers; tokens and golden pass credits; exclusive racing suits; and more. Click here to learn more about the Founder's Packs.
Players who pre-order a Founder's Pack on PlayStation, Nintendo Switch, Xbox and/or the Epic Game Store will also receive the exclusive early bird kart livery and racing suit for everyone's favorite feathered racer, Donald Duck! Also, Steam users can Wishlist the game today and purchase any of the Founder's Pack starting on April 18 to receive the same Donald cosmetics as a first week bonus.
Infusing Tiana's Bayou Adventure with the Energy of New Orleans
Construction on Tiana's Bayou Adventure, at both Disneyland Resort and Walt Disney World Resort, continues—and accordingly, a tiara-topped water tower emblazoned with the Tiana's Foods logo will make its way to Magic Kingdom Park later this summer, say our pals over at Disney Park Blog.
Walt Disney Imagineers recently traveled to New Orleans to capture the essence of Mardi Gras—all the energy, the colors, and the musical rhythms that will surely infuse Tiana's Bayou Adventure with incredible, memorable fun for guests. See what happened during their trip, below:
The attraction's story picks up where the film left off, as guests join Princess Tiana (as well as fun, jazz-loving alligator Louis) on an adventure down the bayou as they prepare to host a one-of-a-kind celebration during Mardi Gras season—where of course, everyone is welcome! Along the way, guests will encounter familiar faces, make new friends and travel through the bayou accompanied by original music inspired by songs from the film.
Stay tuned for more Tiana's Bayou Adventure news as it becomes available!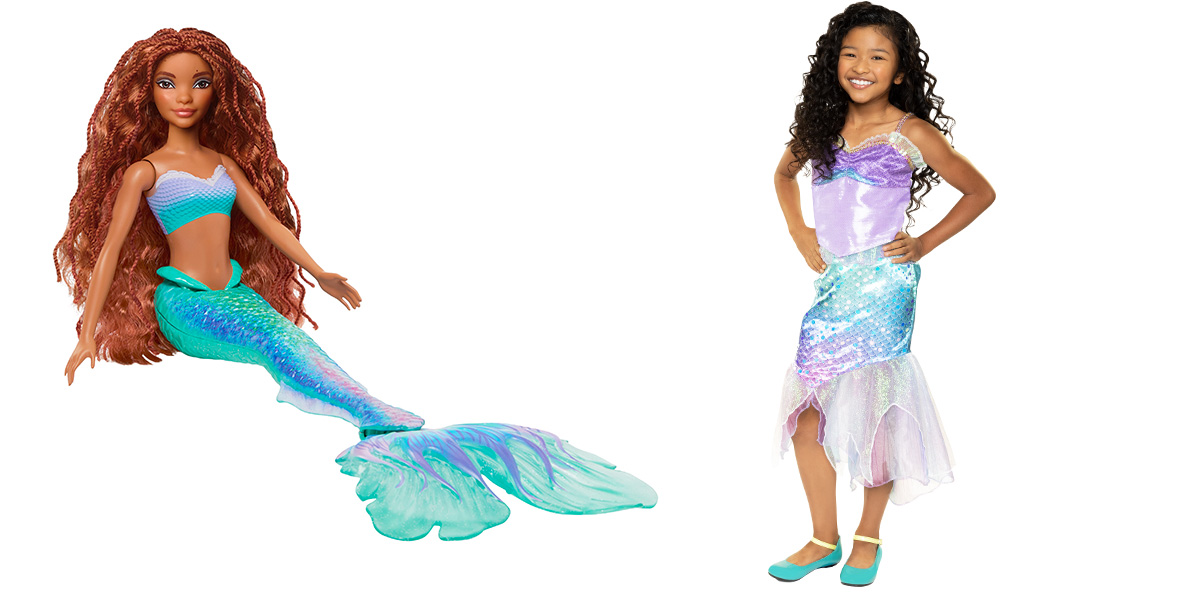 The Little Mermaid Doll and Dress Available Soon for Pre-Order
It's almost time to be a part of Ariel's world once again… so celebrate the upcoming live-action reimagining ofThe Little Mermaid with the brand-new The Little Mermaid doll and dress, available soon for pre-order!
Mermaid Ariel, a new doll from Mattel, is inspired by Halle Bailey's portrayal in the upcoming film—and will be available beginning Sunday, April 23, for $14.99 at retailers nationwide. With an embellished fin and flowing red hair, the doll shines in a gradient aqua and purple palette.
Kids can prove "life is the bubbles!" with the same colors in a new costume by Jakks; inspired by Ariel's look in the new film, the outfit is perfect for make-believe adventures at home or during a trip to the Disney Parks.
The Little Mermaid debuts exclusively in theaters on Friday, May 26.
Mark Consuelos to Join Kelly Ripa on Live Beginning April 17
Big changes on the ABC daytime landscape… Mark Consuelos will join wife Kelly Ripa as co-host of Live beginning Monday, April 17! As Consuelos takes over the role currently held by Ryan Seacrest, Live with Kelly and Ryan will be rebranded as Live with Kelly and Mark.
Ripa, Seacrest, and Consuelos revealed the news during Countdown to Oscars® 95: The Red Carpet LIVE, with the show's co-host Vanessa Hudgens—in the clip seen above.
Ripa has hosted the weekday show since 2001. As for Seacrest, who can still be seen as the host of ABC's American Idol, "It's going to be an exciting last few weeks," he said on the carpet, "and a lot to come." "Nothing will really change between the three of us; it's just Ryan will get to have his coffee later," Ripa added.