By Zach Johnson
Derek Hough is dancing to a different beat in season two of High School Musical: The Musical: The Series. The affable Dancing with the Stars judge and six-time Mirror Ball champion joins the cast in a recurring role, playing Zack Roy, a Broadway star who returns to Salt Lake City and becomes the drama teacher at North High—East High's biggest rival. Like Hough, Zack is charming—but unlike Hough, he's also pretty smug. Oh, and did we mention Zack used to date Miss Jenn (Kate Reinders) back in the day?! Talk about drama!
Before the new season begins streaming this Friday on Disney+ (with new episodes debuting every Friday), Hough joined us for a virtual chat to answer our burning questions.
D23: What can you tell us about Zack and Miss Jenn's backstory?
Derek Hough (DH): Zack and Miss Jen have a history with one another, both romantically and competitively, I suppose. Just like any type of high school romance, there's a bit of heartbreak or disappointment—or whatever it might be—going on. And now, with Zack coming back onto the scene, there's a connection there. It's genuine. But I think above all, there's a rivalry and competitiveness that is going to fuel this season, because it's personal.
D23: Miss Jenn gets flustered after she bumps into Zack and learns that North High will be staging a production of The Little Mermaid, so she decides to change the East High drama club's production of High School Musical 2 to Beauty and the Beast. Is it fair to assume that Zack and Miss Jenn's dynamic will only become more competitive?
DH: Absolutely. Absolutely! And I think that it's only going to get worse. More things will be revealed as the season goes on. Zack will do pretty much anything it takes, and unfortunately, that will lead to some questionable decisions. We'll see how that all unfolds.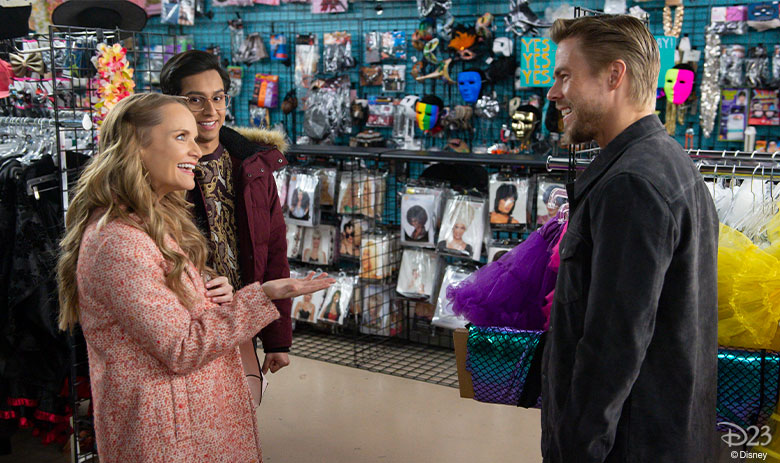 D23: Did you watch the first season before you were cast?
DH: I was a big fan. I love how they've approached this whole show in general. I'm really impressed with the pace, the tone, the humor, and the style, and to be part of it is an honor.
D23: How much dancing will we see you do as Zack?
DH: Not a crazy amount. The dancing I do is more character driven. It's more like a song and dance moment—but it's a lot of fun. I'm looking forward to people seeing it. It's cool.
D23: Just to confirm, you said you'll be singing this season too, right?
DH: There will be some singing. It's a great, original song. I'm looking forward to people hearing it. I'm also looking forward to seeing it, to be honest, because we filmed it on set and I saw, like, two seconds of playback. I'm looking forward to seeing how it all turns out.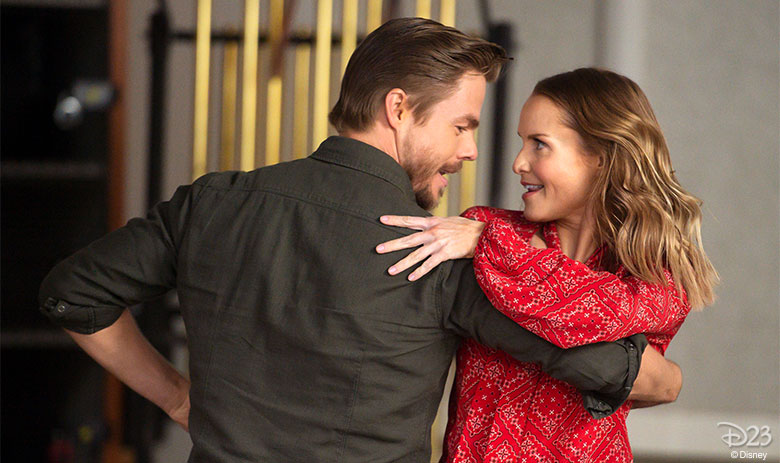 D23: Aside from Kate, did you get to share the screen with any other cast members?
DH: Unfortunately for me, I didn't get a chance to spend a lot of time with cast in person. I think we did a few Zoom table reads, so I was able to see a lot of them do the performance pieces. But from afar, just seeing this amazing cast thrive—even in their solo careers outside of the show—is phenomenal. It's quite extraordinary, you know? There's just something about High School Musical that's magical. It's produced such incredible talent.
D23: If Dancing with the Stars does another Disney Night next season, would you consider dressing up as your High School Musical: The Musical: The Series character?
DH: Ha! Maybe. Who knows? I like getting dressed up. I like playing characters. If there's a Disney Night again, I might have some fun. It's always fun to get dressed up as a character.
Hear more from Derek Hough on the November 19, 2020 episode of D23 Inside Disney here.