By D23 Team
On Saturday, November 18, more than 600 D23 Gold Members and their guests joined D23 for two fun-filled events at the Walt Disney World Resort! The day began at Disney Springs, where attendees bounced their way to AMC Theatres to celebrate a beloved chubby little cubby with a special 40th-anniversary screening of The Many Adventures of Winnie the Pooh (1977) and two exclusive presentations!
Kicking off the event, 2017–18 Walt Disney World Ambassador Ken Facey welcomed guests and shared favorite memories of Pooh, as well as a Disney character who happened to be celebrating his birthday that day: Mickey Mouse! After wishing Mickey a happy birthday through song, guests enjoyed a historical session about the origins and legacy of the 1977 Winnie the Pooh feature, presented by D23's Steven Vagnini. Guests discovered secrets and details about the original three Pooh featurettes—Winnie the Pooh and the Honey Tree, Winnie the Pooh and the Blustery Day, and Winnie the Pooh and Tigger Too—that combined to create The Many Adventures of Winnie the Pooh. As a commemorative gift, each attendee received a thotfully-created D23 coaster set that featured poster artwork for the three featurettes and the 1977 film!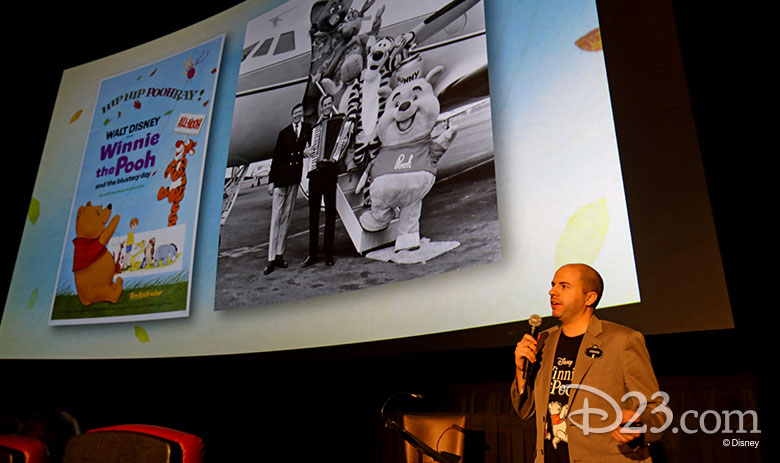 As the event's highlight, legendary voice actor Jim Cummings—the current voice of Pooh, Tigger, and countless other Disney favorites—took the stage to share stories about his Hundred Acre Wood voice-acting predecessors (Sterling Holloway and Paul Winchell), as well as the dozens of characters he has voiced over the years. Jim even treated D23 Members to a couple of musical moments, performing songs live as Pooh bear, Tigger, King Louie, and even Ray the firefly (The Princess and the Frog)!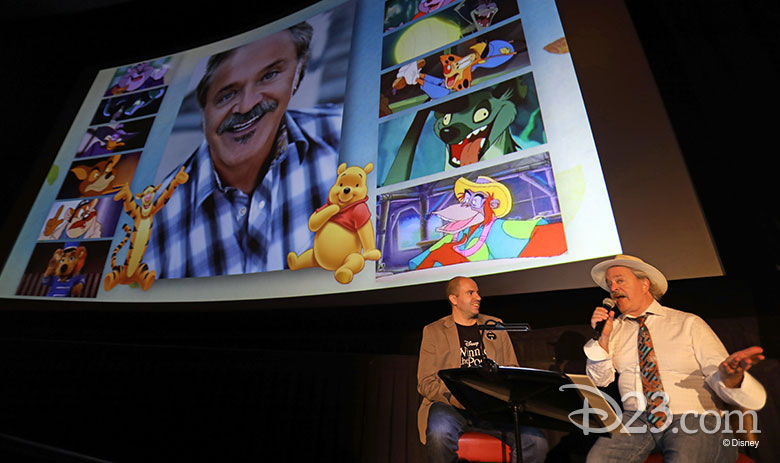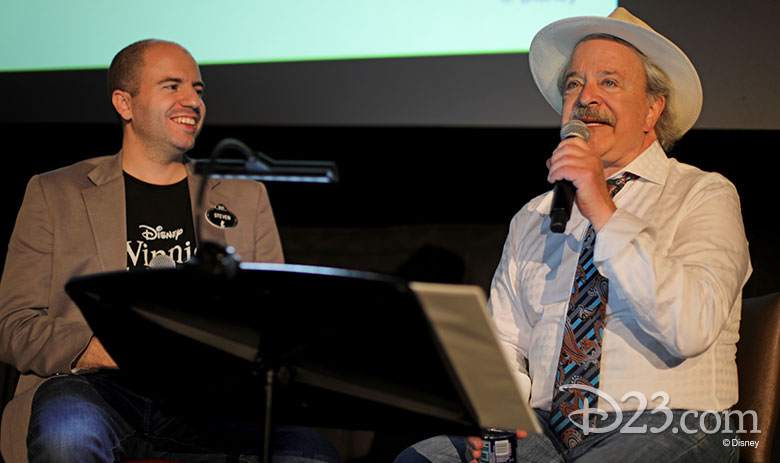 "Winnie the Pooh sees the world through honey-colored glasses," Jim shared with D23 Members. "The pot is never half-full; it's completely full! And can I have another glass? And it's that positive attitude that we all love and we need."
Following the screening of The Many Adventures of Winnie the Pooh, guests proceeded to Disney's Contemporary Resort, where they received early access to a Mickey's of Glendale pop-up shop. The Walt Disney Imagineering store offered product exclusively created for D23 Gold Members, as well as other specialty items normally reserved for Disney Imagineers and cast members. Later in the day, all D23 Gold and Gold Family Members and their guests were invited to shop a variety of merchandise celebrating the wonderful worlds brought to life by the creative design arm of Walt Disney Parks and Resorts.
We look forward to seeing you at our next exciting D23 Member event! Click here for our calendar of 2017 events and here for our lineup for 2018!