By Alex Williams
Weird glows gleamed at The Walt Disney Studios as D23 Members gathered for a Mostly Ghostly Halloween!
The evening began as an eerie fog settled on the lawn next to Dopey Drive, where Members gathered before making their way into the Studios' Main Theatre. A display of Haunted Mansion artifacts greeted them as they entered the theatre and received complimentary popcorn and bottled water and a special pin commemorating the 70th anniversary of Walt Disney's The Legend of Sleepy Hollow.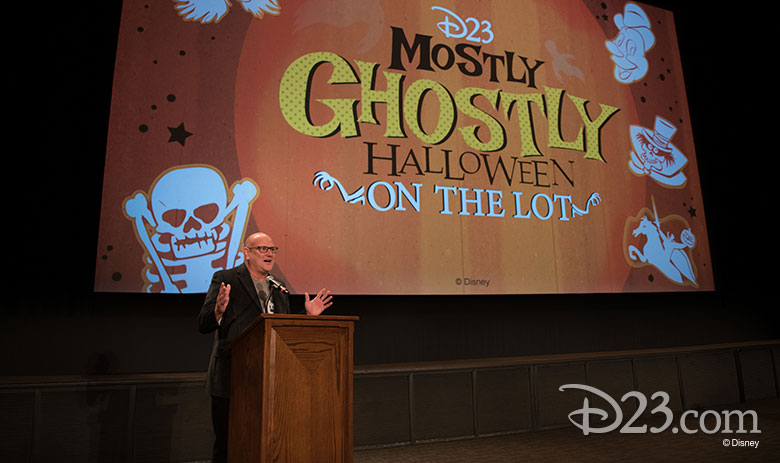 As D23 Members, decked out in their Halloween best, settled into their seats, our special "package presentation" took them into the boundless realms of Halloween favorites, hosted by Head of D23, Michael Vargo!
First, Chris Merritt, Disney Imagineer and author of Marc Davis in His Own Words: Imagineering the Disney Parks, took us into deep into the crypts of the Haunted Mansion, sharing some of the earliest stories and incredible development artwork behind the beloved attraction, celebrating its 50th anniversary this year.
The show continued with Becky Cline, director of the Walt Disney Archives, who shared a few tricks and treats as she introduced on the big screen the classic cartoon shorts Trick or Treat and Lonesome Ghosts.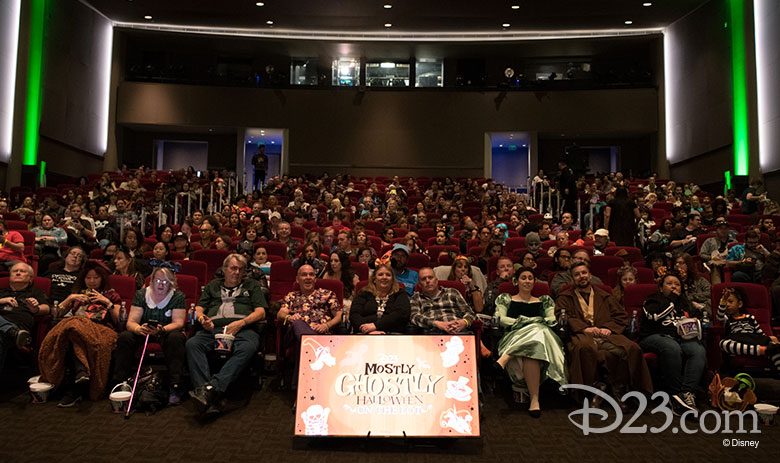 To conclude, Fox Carney of the Animation Research Library took us back to the sequestered glen of Sleepy Hollow as he shared some rarely seen production artwork before introducing The Legend of Sleepy Hollow, including a rarely seen introduction by Walt Disney.
Lastly—and ghastly—Members had the studio lot to themselves for a late-night reception filled with a variety of photo ops, sweet treats, and an opportunity to shop at the Studio Store! Hot apple cider and cocoa kept everyone warm as they enjoyed pumpkin pie, chocolate cake, and pecan pie to celebrate the season. Special photo backdrops continued our celebration of the Legend of Sleepy Hollow and the Haunted Mansion, and spectral Halloween songs played into the moonlit night!
Thank you to all of the amazing D23 Members who joined our swinging wake! Want to join our jamboree? Check out our upcoming events page, and stay tuned for many more exciting D23 events in 2019 and beyond!