By Christine Baum
Earlier this month, D23 Members from across the U.S. and abroad gathered for an amazing visit to Walt's hometown of Marceline, Missouri, at an event presented by Citizen Watch America.
To start, members gathered in nearby Chillicothe, Missouri, where they were welcomed by Mayor Theresa Kelly and Head of D23 Michael Vargo at a festive reception in the heart of the city known as "The Home of Sliced Bread." D23 Members had a chance to catch up with one another over board games, mouthwatering desserts, live music, and were given a front row seat as a local muralist completed a painting of Walt's barn (complete with a hidden Mickey of course).
The next morning, D23 Members boarded buses for the short drive to Marceline where town residents awaited their arrival at the Walsworth Community Center. Local children cheered for them with Mickey flags. As members disembarked, the children handed each guest a clock-faced Mickey that they had colored for them, making for an unforgettable welcome!
Once everyone was settled in, D23 Members were treated to a warm welcome from Kaye Malins, founder of the Walt Disney Hometown Museum; Christopher White, board member of the Walt Disney Hometown Museum and former cast member; Scott Hovis, chairman of the Missouri Tourism Commission; and Michael Vargo. From there, guests headed out to explore a street fair, visit the Walt Disney Hometown Museum, listen to special speakers, and enjoy lunch at local restaurants.
In the afternoon, a special dedication was made to the city of Marceline by Vargo, in which he presented the museum with a very special flag in honor of the Disney100 Celebration. This flag was a special version of one presented to the city of Marceline previously but was made in honor of the 100th anniversary of The Walt Disney Company. And, of course, what presentation would be complete without the special appearances of two very special Disney friends, Mickey and Minnie Mouse—both dressed in their Disney100 best!
Another surprise awaiting D23 Members was a proclamation made my Marceline Mayor Sallie Buck. She officially declared honorary citizenship to all D23 Members worldwide and proclaimed that June 3 is now D23 Day in recognition of the 100th anniversary of The Walt Disney Company!
The afternoon continued to be enjoyed by D23 Members as Citizen Watch America, sponsor of this year's Marceline trip and the Official Timepiece of the Walt Disney World® Resort and Disneyland® Resort, dedicated a replica of the clock found at Walt Disney World® on Main Street U.S.A. to the Walt Disney Hometown Museum. Alongside Buck and a number of board members from the Walt Disney Hometown Museum Board, Robert Goldberg and Samantha Barker from Citizen Watch America presented the clock to the city of Marceline during this special "moment in time."
Before heading out to the Disney Family Farm, guests had a voucher to enjoy a hometown specialty known as the Dusty Miller. This Marceline must-have treat was created many years ago for one of the members of the local Miller family who always happened to be dusty…. or so the legend goes. When in Marceline, stop by Ma Vic's and try one yourself!
The evening would not have been complete without a celebration at Walt Disney's family farm. D23 Members made their way to the farm where they were escorted into a special speakeasy amongst the trees where they enjoyed snacks, drinks, and had time to enjoy the farm that Walt so loved.
D23 Members then went to Walt's Barn and the Dreaming Tree to gather inspiration, learn more about Walt's time on the farm, and leave a message on a special beam that will be placed in the barn.
Afterwards, D23 Members then made their way to outdoor tents where a curated dinner awaited them. Marcy Smothers, author of Eat Like Walt, shared stories she learned while writing her book and explained the importance of items selected for the menu to Walt. For example, members learned about how Walt's mother Flora would sneak butter to her kids by putting it on the bottom side of the bread before handing it to them. (Walt's father would have preferred she save the butter to sell.) All guests were given a slice of bread, a knife and butter with which they buttered their bread, turned it over, and then raised their bread to toast Flora. It was special moments like these that allowed some of the biggest Disney fans to celebrate the Disney family in a personal and unique way.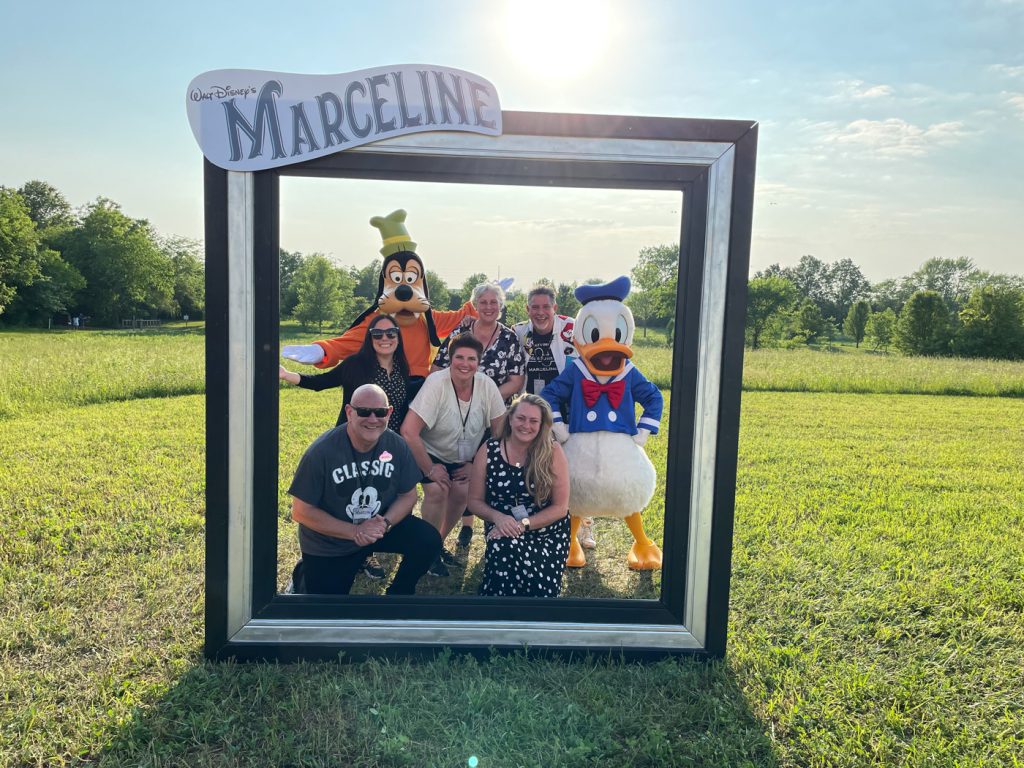 Walt's favorite foods were served while Bret Iwan, the voice of Mickey Mouse, shared his personal journey as a tribute to Walt Disney and 100 years of The Walt Disney Company. After dinner, homemade apple pie was served and members were treated to a special firework presentation over the farm's pond.
To end the evening, D23 Members were given a special a memento to remember the trip—a preserved piece of Walt's Dreaming Tree to take home.
I have been part of the D23 team for several years now, but it is a rare treat that I get to attend these events and meet so many wonderful Disney fans. Thank you all for making this event so incredibly special and memorable. For those that have not had a chance to attend this truly one-of-kind place, I hope you will join us on future trips or, if your find yourself in Marceline be sure to stop by the Walt Disney Hometown Museum and tell them I sent you. It will be a memory that will stay with you for years to come.