Whether your destination is Agrabah or Batuu, join D23: The Official Disney Fan Club to relive all the excitement of this fantastic week that stretched across the worlds of Disney, Marvel, Star Wars and more! As part of D23 Fantastic Worlds Celebration, each day brought us a new journey, with conversations with filmmakers, Imagineers, animators, archivists and other Disney insiders that celebrated milestones—like Fantasia's 80th, Captain America's 80th, and Mickey & Minnie's birthday—to a look at what is on the horizon at Marvel and Disney Parks!
Plus all week our friends at Topps released D23 Fantastic Worlds-themed digital collectibles, including a special D23 Adventure Series that was exclusive for Gold Members! Visit D23.com to learn about the latest digital offerings from Disney Collect! By Topps®, Marvel Collect! By Topps®, and Star Wars: Card Trader by Topps®
On top of all that excitement, D23 Gold Members had an extra treat with exclusive, limited-run events and merchandise!
Be sure to check out the different events below and keep visiting D23.com for exciting new things in the future!
The Fantasia Legacy: A Conversation with Eric Goldberg
In celebration of the 80th anniversary of Fantasia and the 20th anniversary of Fantasia/2000, enjoy this special retrospective with master animator, Eric Goldberg of Walt Disney Animation Studios, one of the key creators of Fantasia/2000. Tune in for a look at the beautiful sights and sounds of these beloved Disney classics.
Fantasia and Fantasia/2000 are now streaming on Disney+
Star Wars: Galaxy's Edge – Storytelling through Merchandise
Brad Schoeneberg, Tracie Alt and Cody Hampton from the Disney Parks Merchandise team explore the rich storytelling that goes into the exotic and authentic imports of Star Wars: Galaxy's Edge!
Marvel's 616 Uncovered
Get an exclusive first look at this exciting new Disney+ docuseries with Executive Producers Sarah Amos and Jason Sterman, and Directors Clay Jeter and Brian Oakes. Get a glimpse into these remarkable stories, showcasing the intersections of storytelling, pop culture, and fandom within the Marvel Universe.
Episodes of Marvel's 616 began streaming November 20 on Disney+!
Marvel Celebrates 80 Years of Captain America
A journey eight decades in the making! Join Marvel Comics Editor-in-Chief C.B Cebulski and Executive Editor Tom Brevoort as they follow the All-American Avenger through the comics, pop culture, and onto the big screen!
Celebrate Mickey & Minnie on Their Birthday

It's all aboard for a birthday celebration of everyone's favorite pals, Mickey Mouse and Minnie Mouse! Host Mark Daniel takes you on an inside look at the wild and zany world of Mickey & Minnie's Runaway Railway at Disney's Hollywood Studios with one of the attraction's lead Imagineers, Kevin Rafferty. Then get a special look at the new Disney+ series The Wonderful World of Mickey Mouse and hear from Bret Iwan, official voice of Mickey Mouse, as he shares a sneak peek of his designer Mickey Ears.
Be sure to visit Mickey & Minnie's Runaway Railway at the Walt Disney World Resort and watch The Wonderful World of Mickey Mouse on Disney+ beginning November 18!
Walt Disney World: Destination Tomorrow
Once you decide you are going to Walt Disney World Resort, the fun really begins. The dreaming, planning and sharing of excitement takes on a magic of its own. Join host and Walt Disney World Ambassador Stephen Lim as he talks with fellow planners sharing stories and secrets on creating a memorable vacation to The Most Magical Place on Earth and discover how a great big beautiful tomorrow is just a dream away.
EPCOT – The Magic of Possibility
Host and Walt Disney World Ambassador, Marilyn West, is joined by Zach Riddley, Imagineering Portfolio Executive for Walt Disney World Resort, and Melissa Valiquette, Vice President of EPCOT as they share about the Magic of Possibility at EPCOT and how this park is transforming today and building toward the future. You'll also hear from Pixar's Roger Gould and Harley Jessup along with Tom Fitzgerald from Walt Disney Imagineering about the making of Remy's Ratatouille Adventure and what it takes to bring this animated favorite to life in the France pavilion.
---
D23 Gold Member Exclusive Events!
These exclusive events were only available during Fantastic Worlds Celebration
Globetrotting with Mickey Mouse and the Walt Disney Archives
D23 Gold and Gold Family Members were in for a special treat as we traveled the globe to celebrate the birthday of the leader of the club himself, Mickey Mouse! Diving into exciting stories of the international icon with rarely seen images and a fascinating look at the Walt Disney Archives.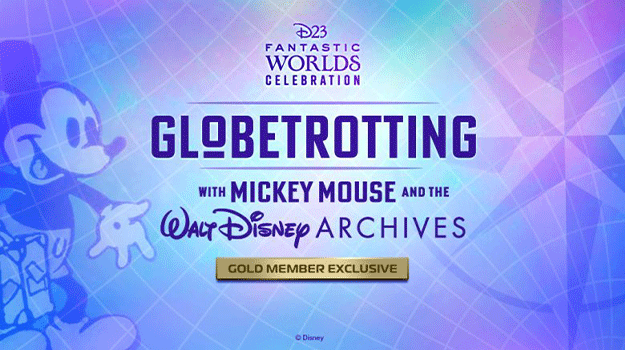 Creating Fantastic Worlds: A Journey into Disney Worldbuilding
From San Fransokyo and Wakanda to Treasure Cove, Mustafar, and beyond, this special event brought together creative wizards from across the realms of Disney to share a collective look behind the magic in creating the worlds that we all love.
Hosted by Justina Ireland (Star Wars: A Test of Courage, Star Wars: Lando's Luck), this all-star lineup of creative geniuses included Paul Felix (Production Designer, Walt Disney Animation Studios), Noah Klocek (Production Designer, Pixar Animation Studios), Luc Mayrand (Creative Portfolio Executive, Walt Disney Imagineering), Ryan Meinerding (VP of Visual Development, Creative Director, Marvel Studios), Mark Miller (Executive Creative Producer, ILMxLAB) and Andy Park (Director Visual Development, Marvel Studios).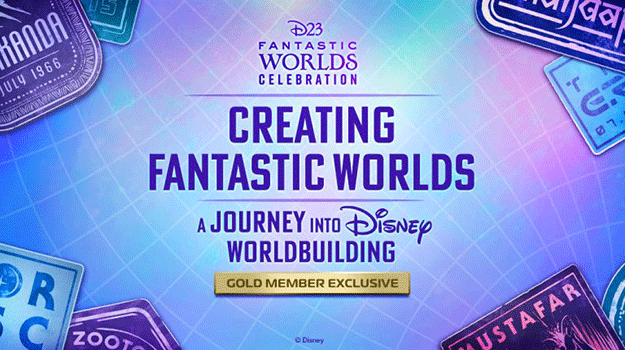 ---
There's only a few weeks left to get the 2020 D23 Gold Member Gift, the D23 Fantastic Worlds Adventure Kit! Get the 2020 Gold Member Gift when you join or renew a D23 Gold Membership before the end of the year. Act quickly if you want to add some extra Disney magic to your future adventures!