By Courtney Potter
Ready to become an "honorary toy"? Guests now have that chance with this week's opening of the brand-new Toy Story Hotel at Tokyo Disney Resort! Inspired by Disney and Pixar's beloved Toy Story franchise, the hotel immerses visitors in a world filled with the wonder of childhood dreams, imagination, and play.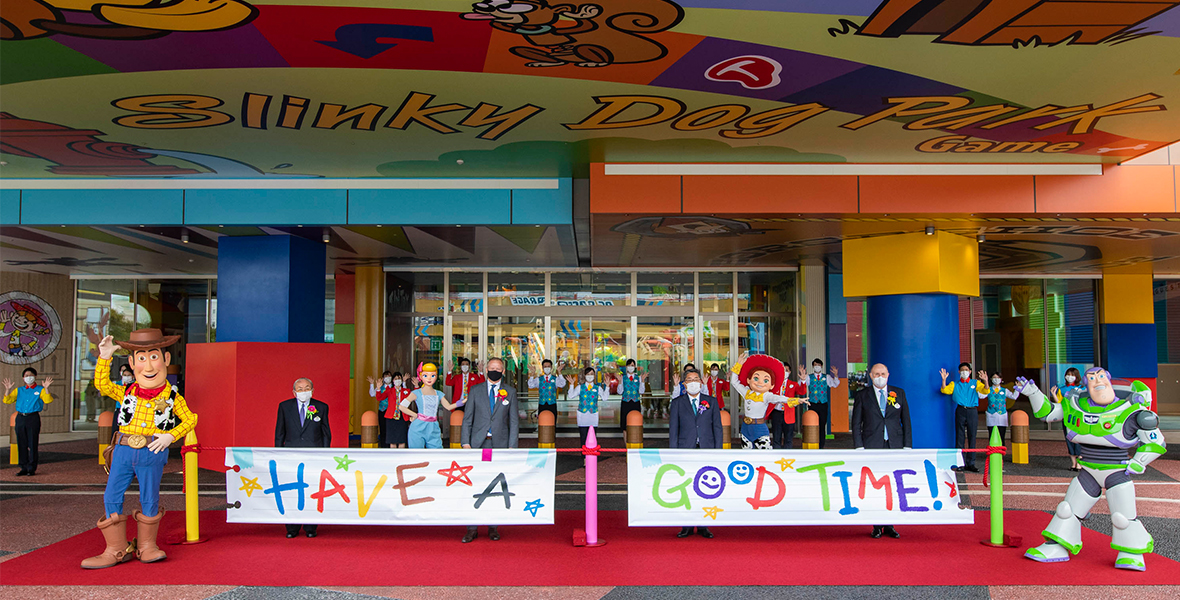 From the moment they arrive, guests will feel like they've been shrunk to the size of a toy. Outside the hotel, they'll find amazing, oversized action figures (each around 13 feet tall!) of their favorite Toy Story pals. For example, Buzz Lightyear and Jessie can be seen in Slinky Dog Park in front of the entrance, while Woody and Bo Peep can be found in Toy Friends Square, a private courtyard off the lobby—itself a colorful, toy-filled space with a jigsaw puzzle-inspired floor and a ceiling designed to look like a Bo Peep board game. Guest rooms are themed after Andy's bedroom from the first Toy Story film, featuring his iconic blue-sky-and-puffy-white-cloud wallpaper, along with Woody's Roundup-inspired headboards and even an oversized Mickey Mouse wristwatch hanging on one of the walls—among lots of other cool toy-like fixtures and furnishings. Hungry visitors can enjoy food and beverage at Lotso Garden Café, inspired by the pink teddy bear from Toy Story 3, while those looking for souvenirs and other sundries can shop 'til they drop at both Gift Planet (featuring Tokyo Disney Resort merchandise and items exclusive to the hotel) and Shop Together.
Toy Story Hotel is the fifth hotel overall, and the first "moderate-type" Disney hotel at Tokyo Disney Resort. With 595 rooms, its facilities and services are designed to bring guests an incredibly fun new option between the resort's existing deluxe- and value-type Disney hotels. Recently, D23 spoke with Walt Disney Imagineering's Bhavna Mistry (Portfolio Creative Executive) and Anne Miller (Principal Interior Designer), as well as Pixar Animation Studios' Krista Sheffler (Production Manager, Disney Theme Parks), to find out some fun facts about the hotel and their experiences helping create it…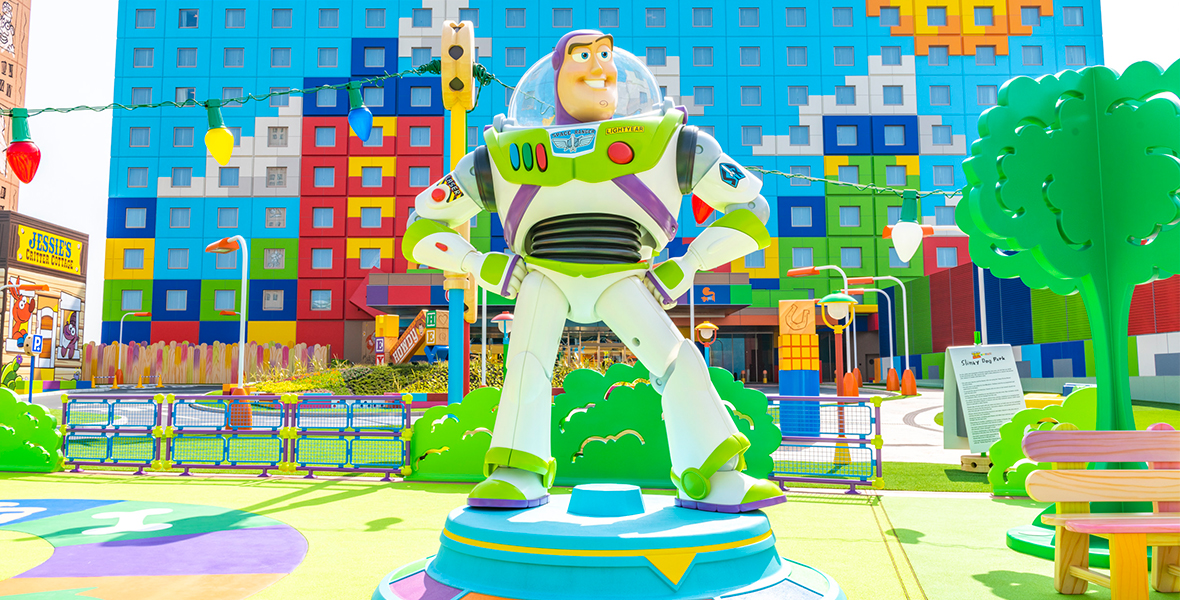 D23: What was the collaboration between Imagineering and Pixar like on this project?
Anne Miller (AM): I was going back through some notes, and our work together goes back to 2018. Pixar were great partners; they've been extremely helpful. Plus, when we worked with outside vendors, it got them really excited to talk with Pixar and hear their background on the characters and everything.
Krista Sheffler (KS): The creation of the Toy Story Hotel has been an amazing international effort among Pixar, Walt Disney Imagineering in Glendale, Walt Disney Imagineering Shanghai, and the Walt Disney Imagineering team in Tokyo. Due to COVID restrictions, all of our sculpt, paint, and construction reviews have been video remote meetings—but everyone's commitment to faithfully bringing our super-sized toys to life has made this collaboration incredibly successful.
D23: What has excited or surprised you about the creation process as it's gone along?
Bhavna Mistry (BM): We actually love the building itself. It's a "moderate-type" hotel, and we were basically going to use a structural panel system that people might think are just cast concrete panels. But we ended up creating something really fun out of it, because they look like building blocks—they pop in and out a bit, and they create the scene of a city, on the front and on the inside. It's as if Andy was putting this hotel together—parts of it he got through building blocks, and but he didn't have enough blocks for other parts of it, so he took a cardboard box and drew clouds. It's made to look like how a child would build a building with whatever toys they had.
AM: Once the design team determined that the building should look like it's built out of actual toys, everything became clear. The toy scale gives the perception that everything is supposed to be there.
KS: Wood blocks, Tinkertoys, dominoes, books, cardboard boxes, stickers, popsicle sticks, and more are our construction pieces. Everything is a toy! And it's exciting to have so many of our toy friends there: Jessie, Buzz Lightyear, Woody, Wheezy, Bo Peep and her sheep. And with all these wonderful character figures, there is a feeling of fun and friendship throughout the hotel which I think guests are going to really enjoy.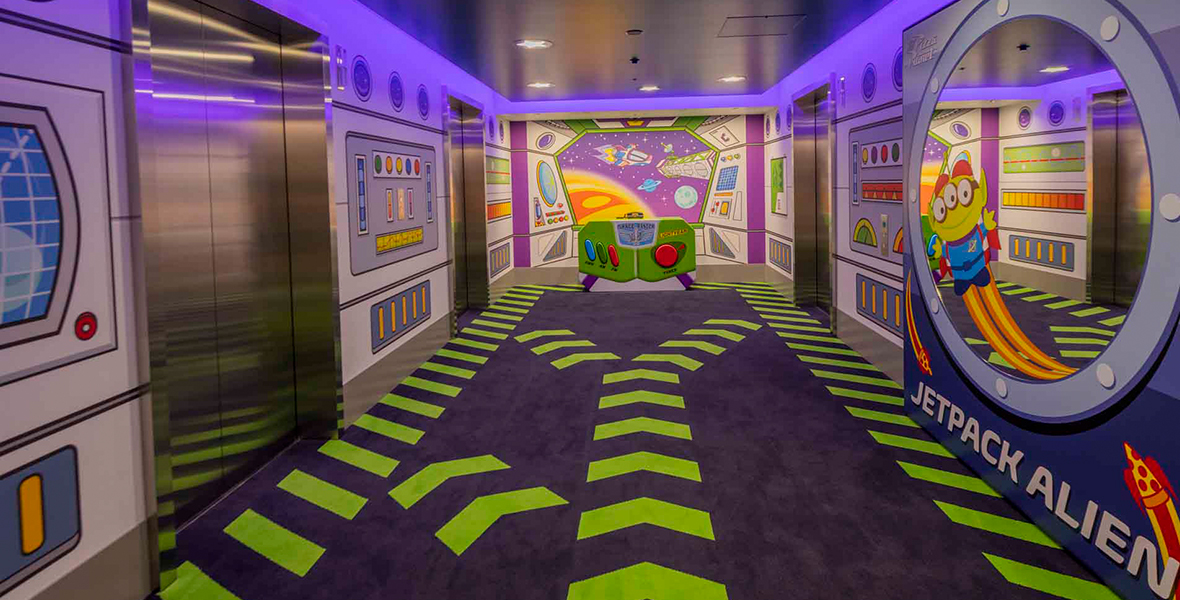 D23: What's your favorite part of the hotel, personally?
BM: Sometimes, something happens in the constructing of a building that you wish didn't happen—an architectural issue or a structural issue. One day, this giant soffit [a horizontal architectural feature designed to cover the underside of a roof overhang] shows up… We had expected that to be all clear glass and not this huge soffit. But it shows up, and we thought, "Well, what if we just had race cars zooming across it?" It ended up being probably one of my favorite things. We took something that was an architectural challenge and turned it into a very unique feature.
AM: One of my favorite elements is the corridors. As soon as the guest gets off the elevator, they're either on the Buzz side or the Woody side—but when they get into the corridor, there are all these character footprints that lead you to your room. It's super cute to see Rex's footprints. Woody has a boot footprint. There's Buzz's footprint. You see the whole long shot of the corridor and it looks like the characters were running in and out of the rooms. It's really cute.
KS: My favorite character is Bo Peep, and I cannot wait to see her in person. She is over 13 feet tall! This is the first time we've done a large-scale figure of Bo Peep in her Toy Story 4 look in any of the parks. The craftsmanship that was put into all of her delicate lace details is just amazing.
D23: What do you hope guests take away from a stay at Toy Story Hotel?
AM: This will be an immersive hotel experience bringing our guests into the toy world and we are so excited for them to become honorary toys in Tokyo.
KS: We've done that in the different Toy Story Lands throughout the Disney Parks, but this is the first time we've brought that idea to a hotel. We really had to think about how guests will use the spaces in a much more close-up and intimate way. You can walk right up to all of the toys. These films are very special because adults who grew up with them now have children who also love the films; it's spanned the ages. So, the hotel is going to be a wonderful spot for Toy Story fans of all ages to stay together. And it's a picture-taking heaven!
Take a gander at a few more photos from the colorful new hotel below…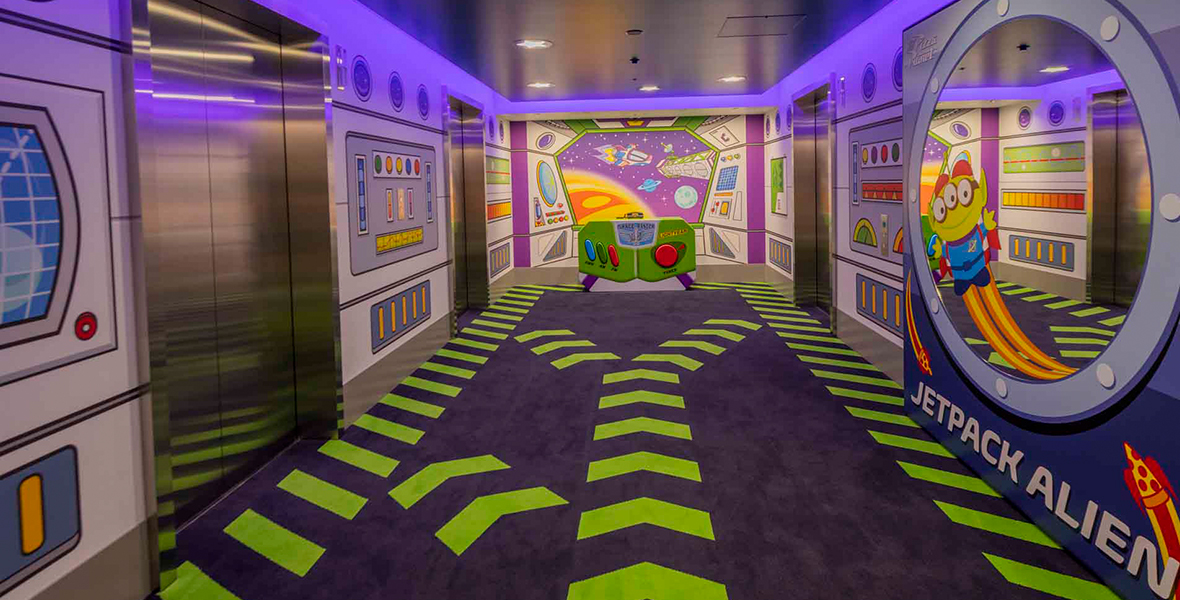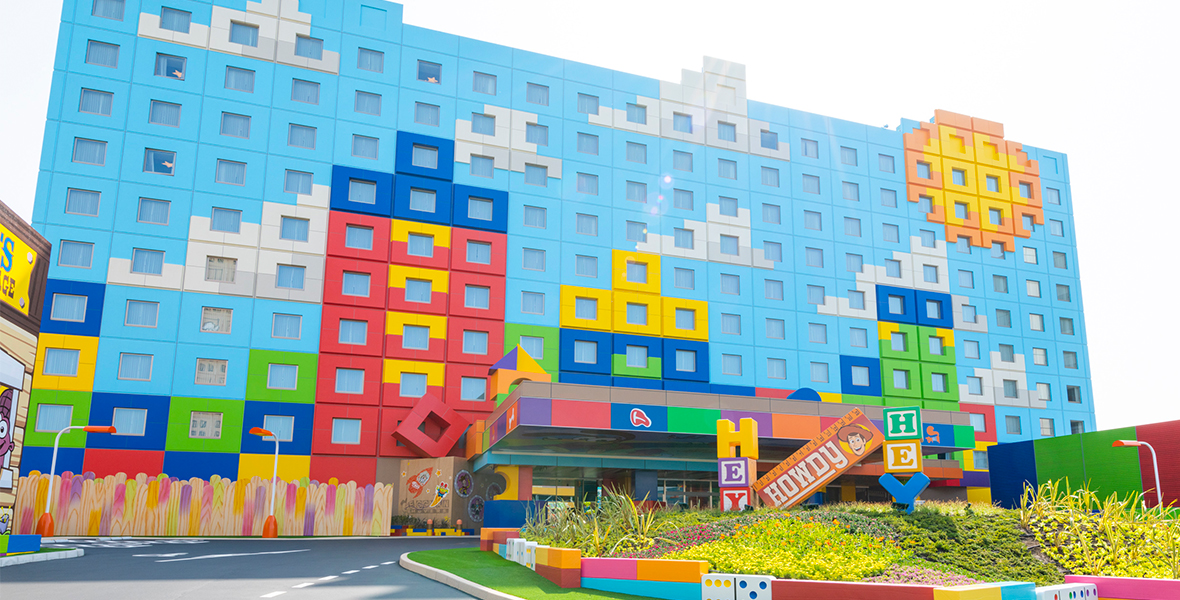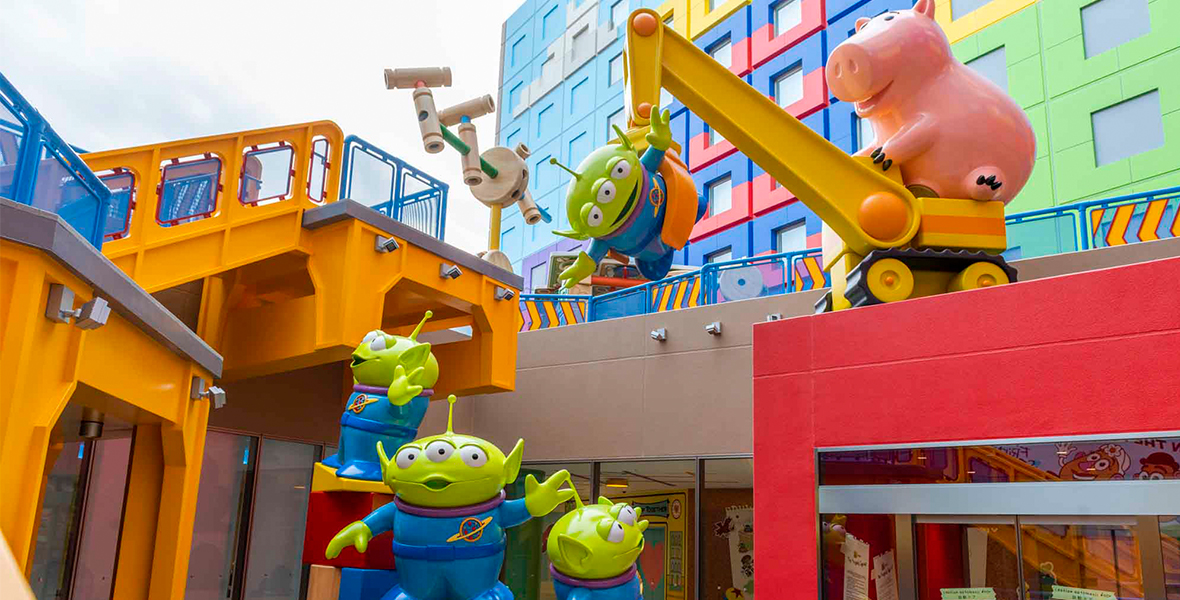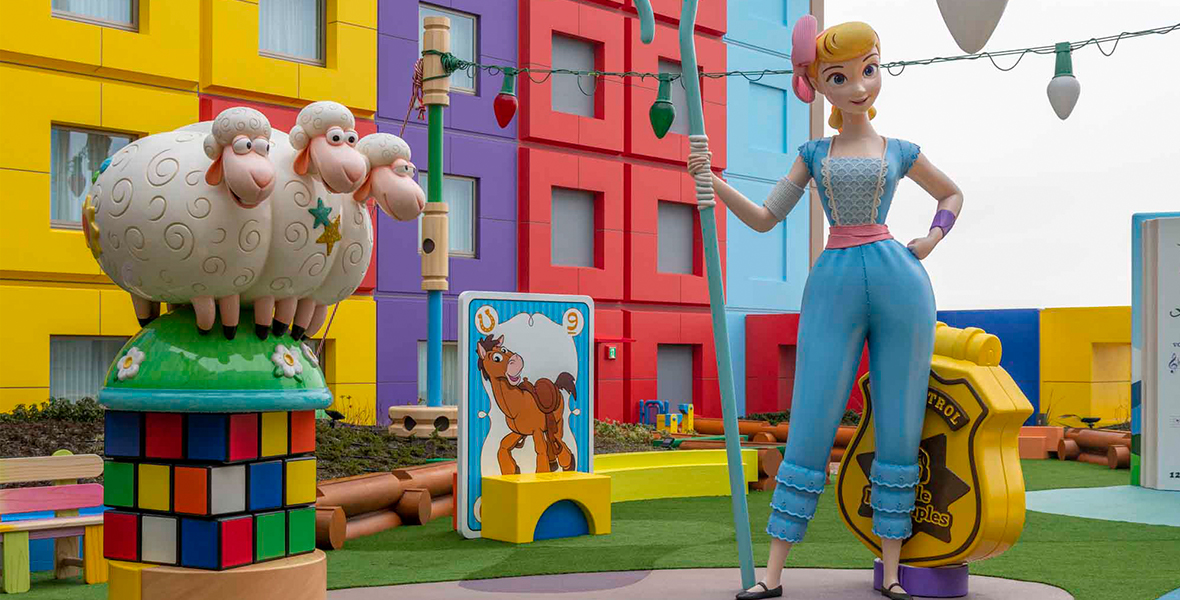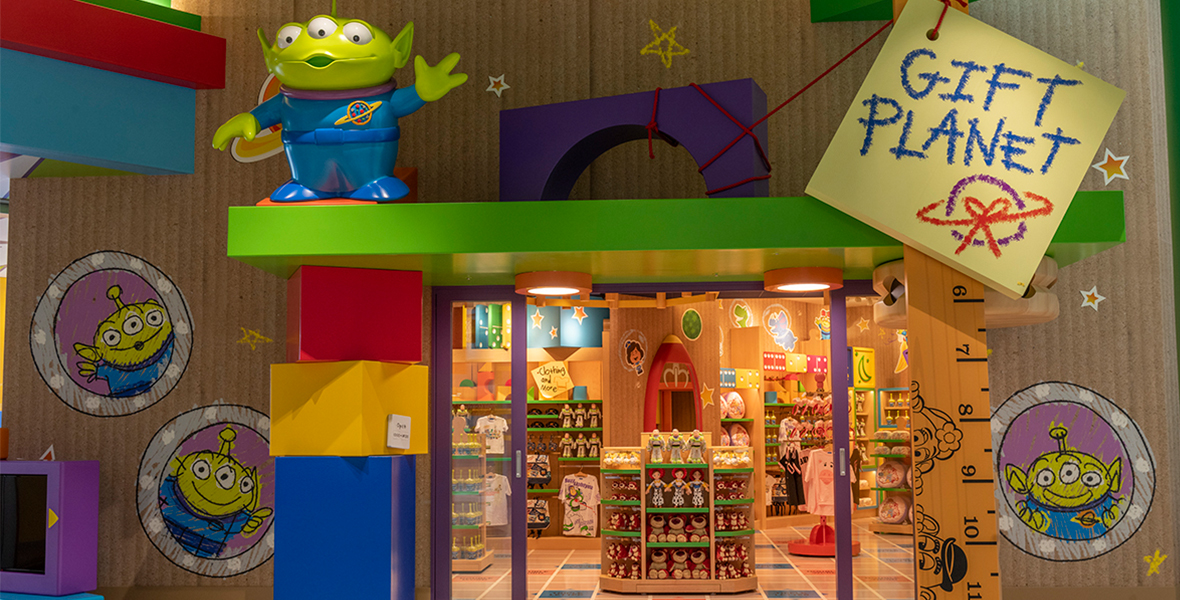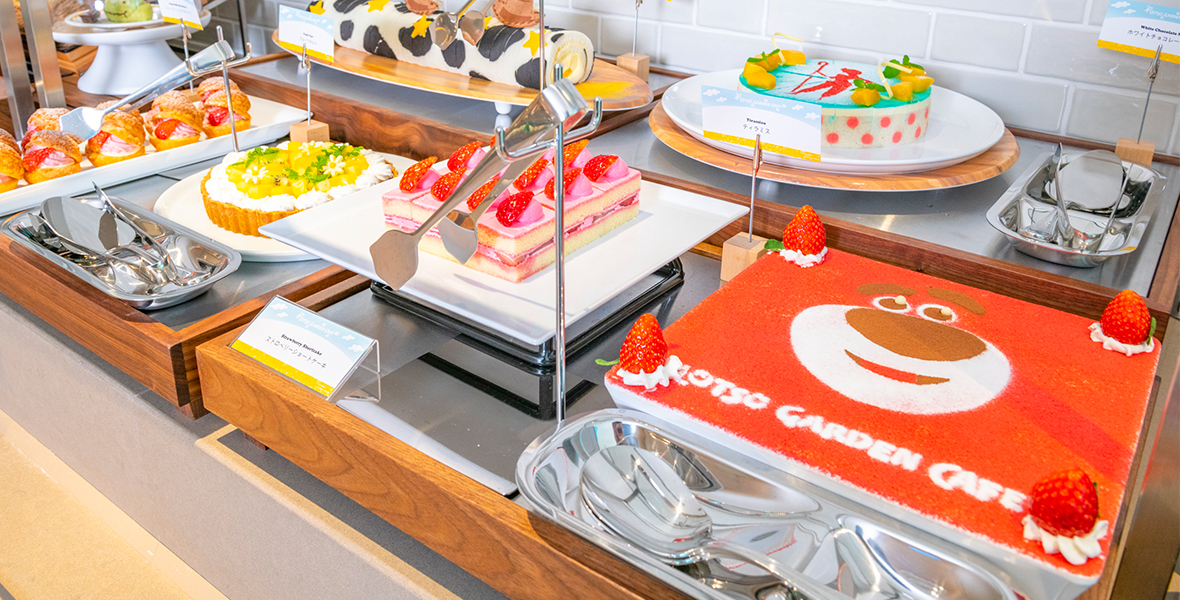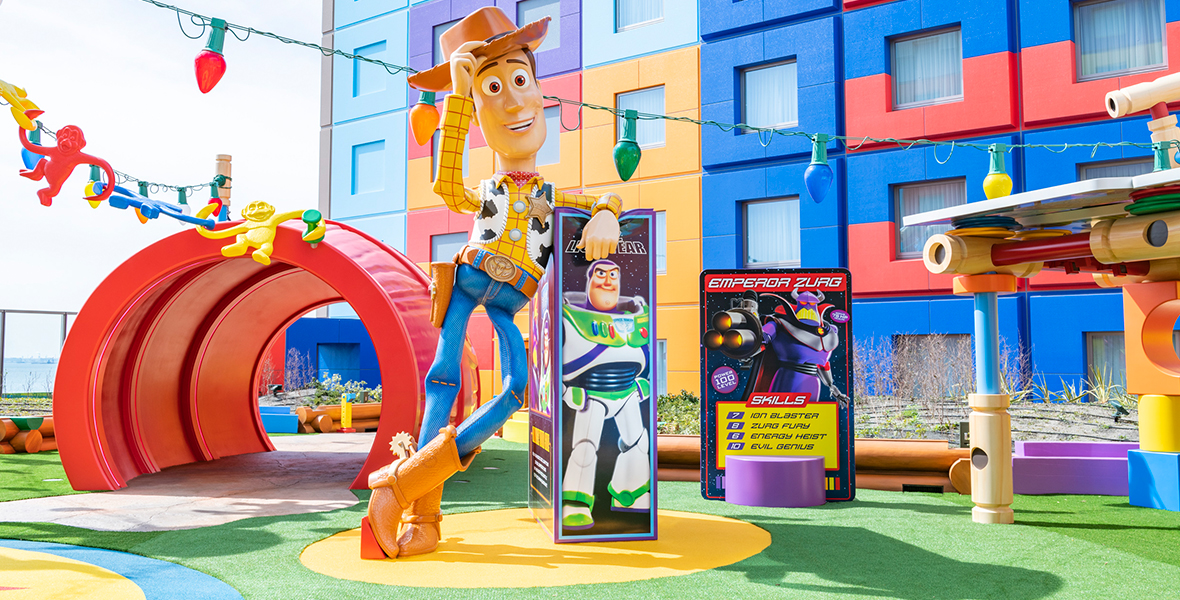 Slinky ® Dog © Just Play LLC
TINKERTOY is a trademark of Hasbro and is used with permission. © 2021 Hasbro. All Rights Reserved. Licensed by Hasbro.
Barrel of Monkeys © 2021 and ® Hasbro, Inc. All Rights Reserved.
SCRABBLE is a registered trademark of Mattel, Inc. Trademark and game tiles used with permission. © Mattel, Inc. All Rights Reserved.
RUBIK'S CUBE © 2021 and ® Rubik's Brand Ltd. All Rights Reserved.
ETCH-A-SKETCH © 2021 and ® Spin Master, Ltd. All Rights Reserved
LINCOLN LOGS is a trademark of Hasbro and is used with permission. © 2021 Hasbro. All Rights Reserved. Licensed by Hasbro.
"You've Got A Friend in Me" Words and Music by Randy Newman ©1995 Walt Disney Music Company (ASCAP)
All Rights Reserved. Used With Permission.