By Walt Disney Archives Staff
In celebration of the 100th anniversary of The Walt Disney Company, a series of six all-new illustrations explores the vast history of Disney's creative endeavors by the eras—from the humble beginnings of the Disney Brothers Cartoon Studio in 1923 to the company's latest cinematic, streaming, and Disney Parks adventures.
Illustrated by noted visual artist Sam Carter (whose work has been featured at the EPCOT International Festival of the Arts, WonderGround Gallery, and beyond; see interview further below), in creative partnership with senior Disney designer Melanie Lapovich, the artwork first debuted as a series of photo locations at the Disney100: D23 Royal Anniversary Ball, held at The Walt Disney Studios in Burbank, California, on October 15, 2023—the eve of the company's centennial.
The artwork is so stunning—and filled with so many beloved moments from Disney history—we thought D23 Members around the globe would love the chance to celebrate with an up-close look!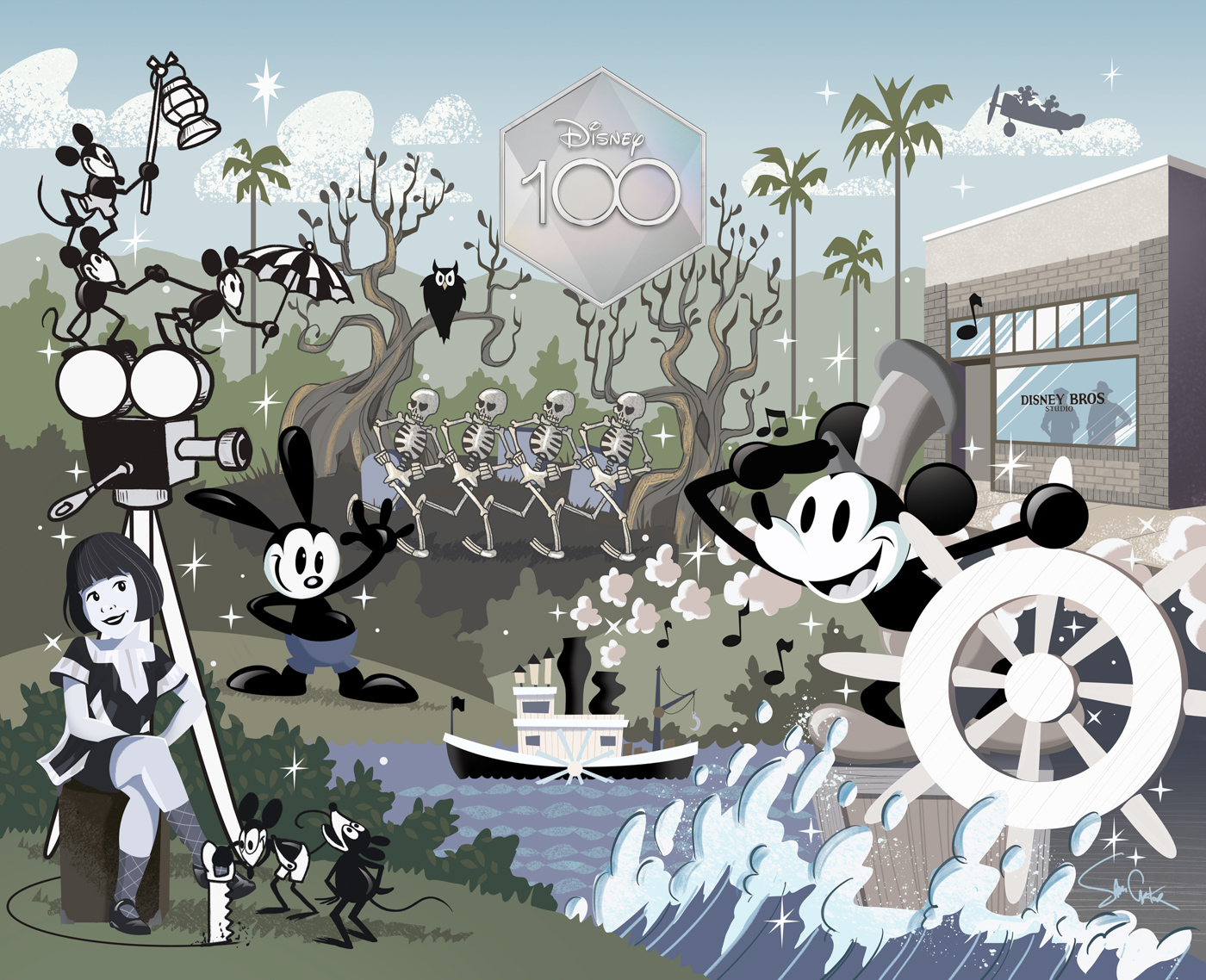 1920s


This decade is when it all began. In 1923, the Disney Brothers Cartoon Studio launched, soon to be renamed the Walt Disney Studio, then Walt Disney Productions. In this piece, we have Alice from the Alice Comedies, Walt's first series of films distributed after he arrived in California, having established his own studio with his brother Roy. Behind her is Walt's first breakout animated star, Oswald the Lucky Rabbit. Two of the first iterations of Mickey Mouse are also represented here: Plane Crazy (1928) in the distance and Steamboat Willie (1928), the first Mickey Mouse short to be distributed and the first-ever animated film with fully synchronized sound, in the foreground. We can also catch a glimpse of the memorable skeletons from the first Silly Symphony short, The Skeleton Dance (1929).
1930s–1940s


The 1930s mark the debut of Walt's first full-length animated feature film, Snow White and the Seven Dwarfs (1937). Snow White herself serves as the focal point of the piece, with the Carthay Circle Theatre, where the film premiered, behind her. This era also saw the release of Fantasia in 1940, with Mickey Mouse playing the Sorcerer's apprentice. Other animated features from the 1940s include Pinocchio (1940) and Bambi (1942). To celebrate the Burbank opening of The Walt Disney Studios lot in 1940, we have the famous water tower, the iconic Mickey Avenue and Dopey Drive street sign, and the original Animation Building. This piece also celebrates the beginnings of Disney comics and consumer products in 1930 with the very first Mickey Mouse newspaper comic strip; the first Mickey Mouse book; and a 1940s edition of the Mickey Mouse watch.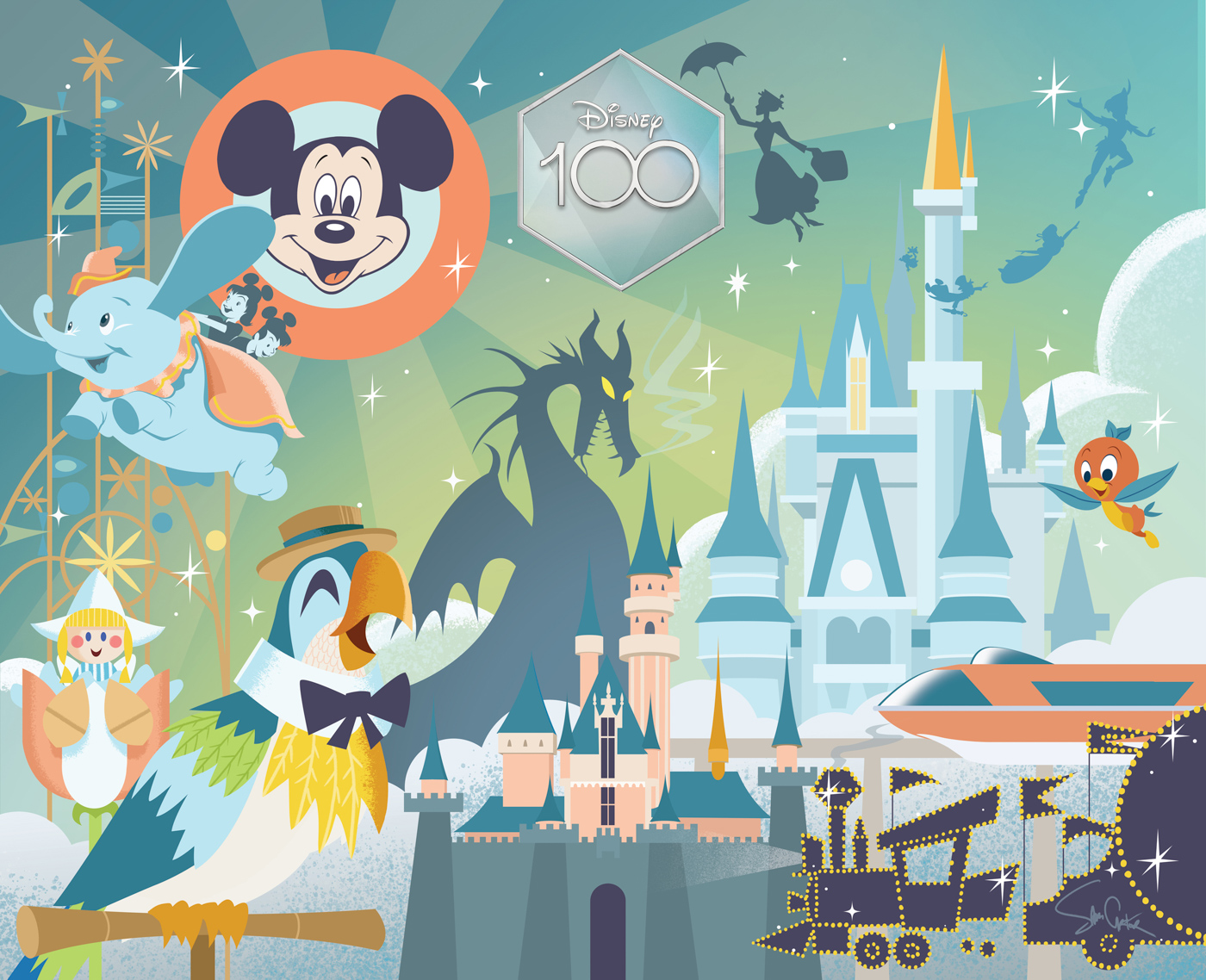 1950s–1970s


This era is famous for the opening of our first Disney theme park, with Disneyland opening in Anaheim, California, in 1955 and Walt Disney World opening near Orlando, Florida, in 1971. This piece contains many famous attractions and characters created by WED Enterprises, now known as Walt Disney Imagineering: "it's a small world," the original Barker Bird from Walt Disney's Enchanted Tiki Room, Dumbo the Flying Elephant, the Monorail, and the Main Street Electrical Parade. The Orange Bird, created by Disney for the Florida Citrus Commission, also flew in! In the sky is the famous badge from the original Mickey Mouse Club television series in 1955. Famous icons from memorable movies round out this era: Maleficent in dragon form from Sleeping Beauty (1959), Peter Pan and the Darling children from Peter Pan (1953), and the title character of Walt Disney's live-action masterpiece Mary Poppins (1964).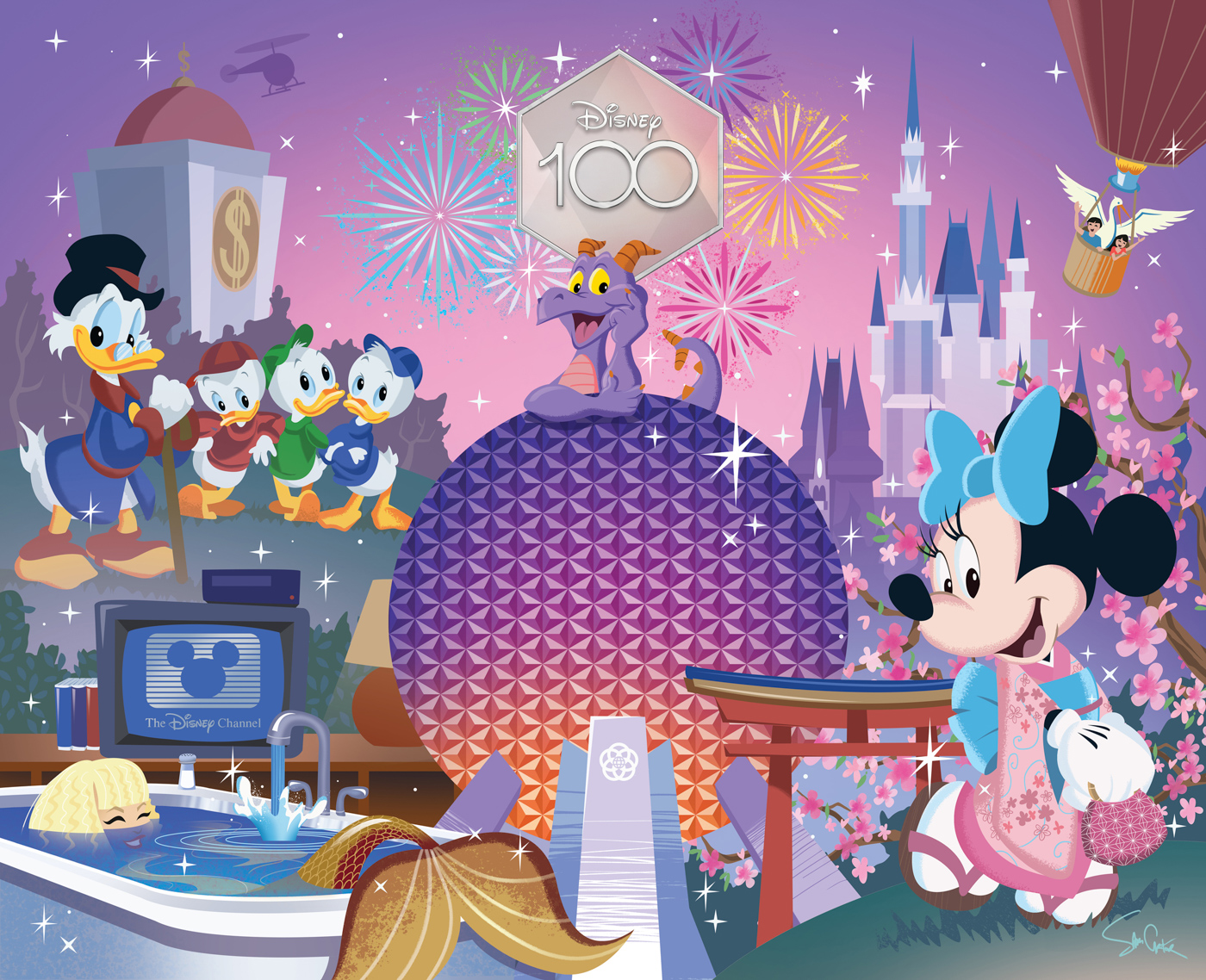 1980s


This decade saw the opening of EPCOT Center (now EPCOT) at Walt Disney World Resort, with the iconic Spaceship Earth attraction and the lovable original character Figment. The first Disney Park outside the U.S. also opened in 1983—Tokyo Disneyland—represented by Cinderella Castle, the Meet the World attraction, and Minnie Mouse wearing a kimono. In this piece you'll find an homage to Splash, released by the newly created Touchstone Pictures banner in 1984. This decade also marked the launch of The Disney Channel in 1983 and other original programming for television, including DuckTales (1987–1992) with Scrooge McDuck, Huey, Dewey, and Louie in front of Scrooge's Money Bin!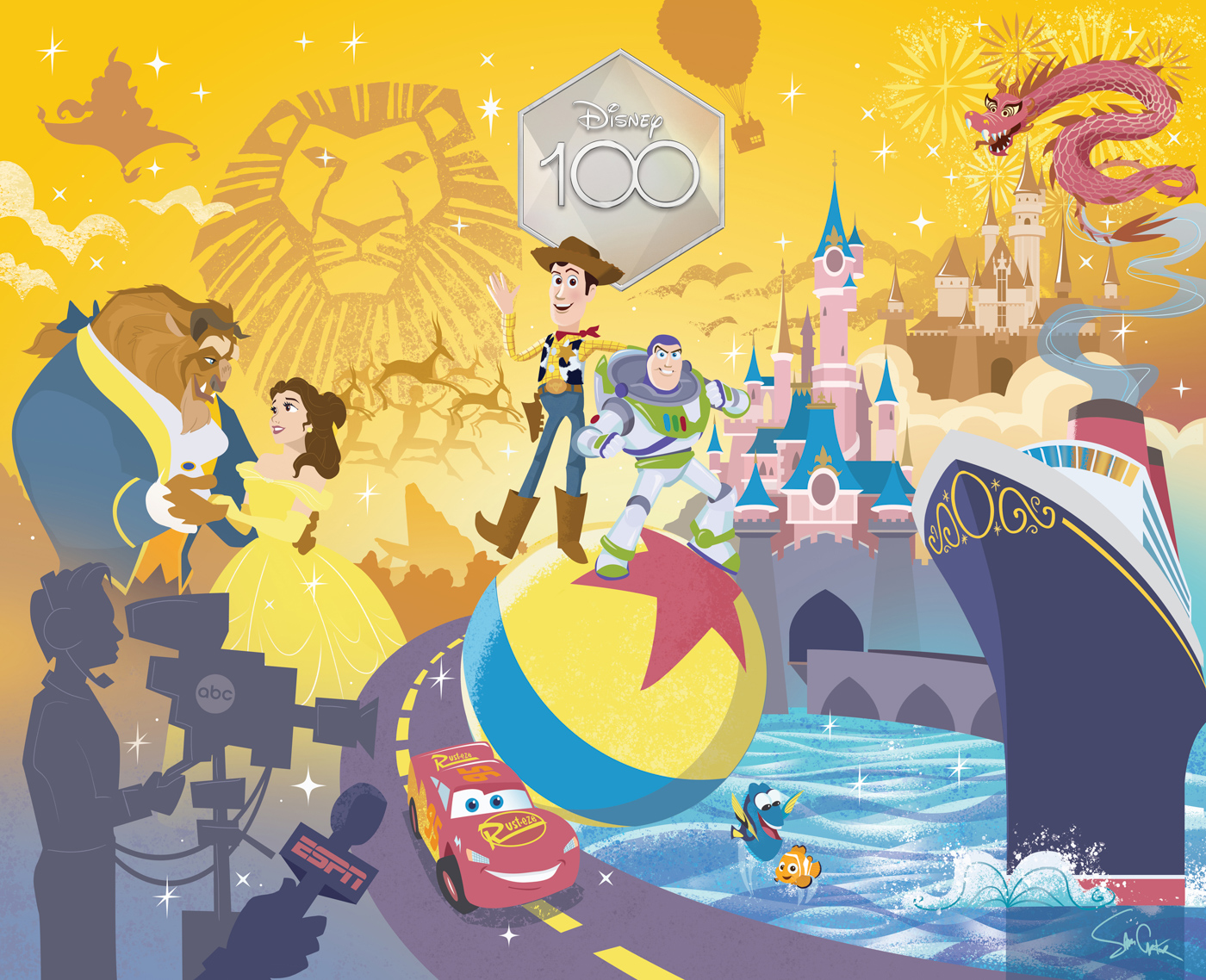 1990s–2000s


This era is home to some of Walt Disney Animation Studios' most iconic films, including Beauty and the Beast (1991) and Aladdin (1992). Disney Theatrical Productions also launched in the 1990s, with The Lion King debuting on Broadway in 1997—and it's still performed in New York today! We also see an ABC camera and an ESPN microphone in this piece to celebrate the TV networks, which joined the Disney family in 1996. Six theme parks opened during this era—Disneyland Paris (originally called Euro Disneyland) in 1992; Disney's Animal Kingdom Theme Park in 1998; Disney California Adventure Park and Tokyo DisneySea in 2001; the Paris-based Walt Disney Studios Park in 2002; and Hong Kong Disneyland in 2005—and Disney Cruise Line's first ship, the Disney Magic, embarked on its maiden voyage in 1998. In 2006, Disney welcomed Pixar Animation Studios to the company, so we see the Pixar ball along with Woody and Buzz Lightyear from the Toy Story films, Lightning McQueen from Cars (2006), Nemo and Dory from Finding Nemo (2003), and Carl's house from Up (2009).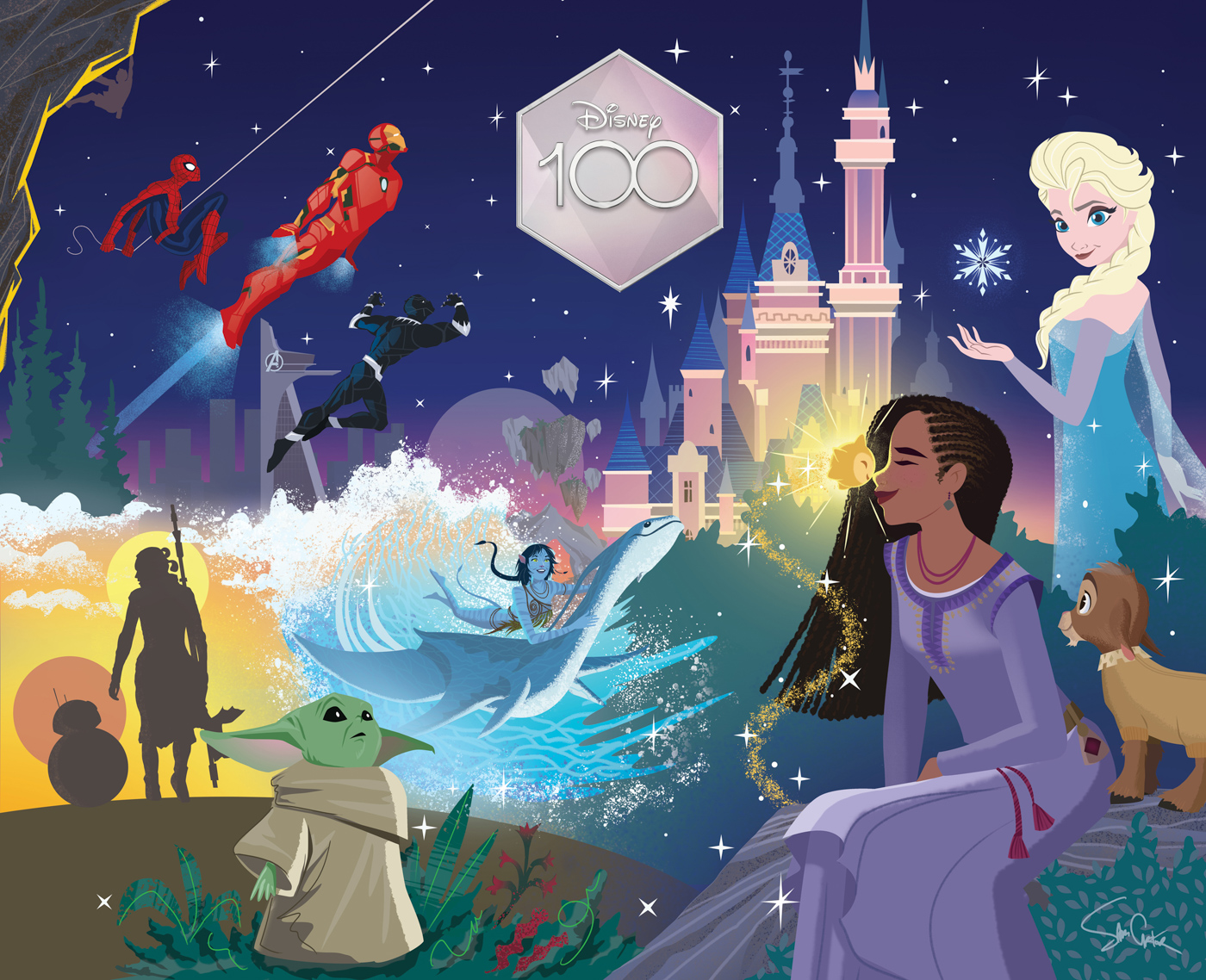 2010s–2020s


This era saw the additions of Marvel Studios, Lucasfilm, and 20th Century Studios, so you'll find several iconic characters and scenes to celebrate. Iron Man, Black Panther, and Spider-Man fly over a skyline featuring Avengers Tower to honor the Marvel Cinematic Universe and The Infinity Saga. Representing Star Wars is Grogu from The Mandalorian (2019–), while Rey and BB-8 venture off in the distance. We see Alex Honnold Free Solo-ing a cliff (from the 2018 National Geographic documentary), while Kiri from Avatar: The Way of Water (2022) rides an ilu. Enchanted Storybook Castle fills out the skyline to celebrate Shanghai Disney Resort's opening in 2016. Finally, we highlight two films from Walt Disney Animation Studios: Frozen from 2013 and the upcoming Wish, in theaters November 22!
D23: Tell us how you went about creating the artwork.
Sam Carter: They were a labor of love. I had about a month to create them all, and it really was a group effort with the creative team at Disney Corporate Creative Resources (who outlined the things we should focus on and how they would be split up, by era: 1920s; 1930s and '40s; 1950s, '60s, and '70s; 1980s; 1990s and 2000s; and 2010s to now).
I was addicted to working on this art, always thinking about the next composition puzzle-piece type of placement. There were a lot of late nights. For whatever character or building I was working on, I often played the music from that subject matter. So, these pieces are infused with one of the things that makes them so special to people: music.
When I first saw them off my Mac screen and printed 10' x 8' each, on [The Walt Disney Studios] lot of all places, it was hard not to tear up when I saw everyone taking pictures in front of them. I've done a lot of cool projects for [The Walt] Disney Company, but this was by far the most special; I'm bursting with pride and joy. I'm so glad everyone enjoys them.
D23: Looking back across 100 years of Disney, which era sticks out to you as a personal favorite? How did you translate your passion for that era into the final illustration?
SC: They were all a blast to work on. I'm passionate about all the content throughout, but I think the last one [2010s to today] is the most impressive—not because of the art, but because of all the studios that needed to give their input. And rightfully so... They all had great feedback and collaboration with us: Lucasfilm, Marvel, the Avatar team at [20th Century Studios], Walt Disney Animation Studios, and Walt Disney Imagineering. It was an honor to do one piece with all of those industry juggernauts.
D23: What are some of your favorite elements incorporated across the illustrations? Are there any hidden Easter eggs that fans should search for?
SC: Melanie Lapovich from Disney Corporate Creative Resources helped me out throughout the whole project. In one of many examples, she noticed that Minnie Mouse wore a kimono during the opening years of Tokyo Disneyland that had some fabric that happened to [resemble] the Spaceship Earth pattern. So, we added that to her purse. Composition-wise, I make sure there is reason for placement. Staying in that 1980s piece, Spaceship Earth is front-and-center, of course, but I chose the Japanese arch from World Showcase for a nice transition to Tokyo Disneyland.
Melanie also suggested that since Pixar was front-and-center for the 1990s and 2000s, we take those colors for the whole piece. Brilliant suggestion.
[There are] some "deep cut" things I dropped in and expected to be cut for various reasons. But I was very happy that I was able to put in the characters in the hot-air balloon from the [former] Meet the World attraction at Tokyo Disneyland. The night of the D23 Royal Anniversary Ball, I met a guest who came all the way from Japan; although little details like that might go unnoticed, even if one person got the feels, it is worth it.
I got my start at Disney in 1995 with the Main Street Electrical Parade, so you'll find it in the 1970s piece... plus I really wanted some Disney Live Entertainment presence represented. I've always felt like that department is family and my home nest.