On Friday, November 1, 2013, a window on Main Street, U.S.A., was unveiled to honor Disney Legend Tony Baxter, who began his career at Disneyland Park serving ice cream and went on to design some of Disney's most marvelous realms of adventure and creativity. To commemorate this special occasion, Walt Disney Parks and Resorts Chairman Tom Staggs, Walt Disney Imagineering Chief Creative Executive Bruce Vaughn and Disneyland Resort President Michael Colglazier hosted the ceremony.
To kick off the ceremony, Tony Baxter arrived in a Main Street vehicle to the tune of "Zip-A-Dee-Doo-Dah," played by the Disneyland Band. The song is a tribute to Tony's work on Splash Mountain.
As Tom addressed the crowd, he spoke about the power of imagination and how Tony's creativity has led to some of the most iconic attractions found at Disney Parks and Resorts.
"Receiving a window on Main Street, U.S.A. is an honor reserved for those who have made an indelible mark on Walt Disney Parks and Resorts,"said Tom. "It's a subtle, yet significant in-park tribute to the people who have lent their talents, passion and creativity to making our parks and resorts a place where dreams become reality.
Tony has taken us on some incredible journeys over the years
. . . and has amassed a remarkable legacy–one now marked with a tangible recognition of his efforts."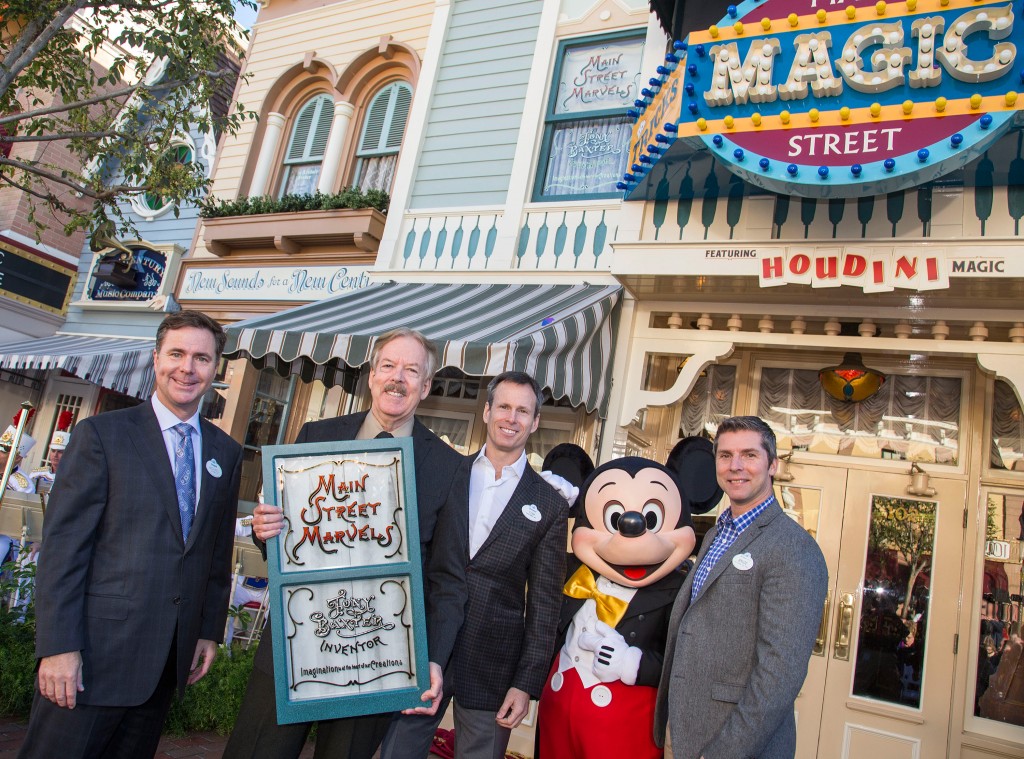 Bruce Vaughn, chief creative executive for Walt Disney Imagineering, then took the stage and described Tony's passion for mentorship and guiding the minds and hearts of the newest Imagineers.
"Tony applied what he learned to help create the next generation of iconic Disney attractions — many right here in this park," said Bruce. "As a result, he has become a mentor to the next generation of dreamers and doers."
After their remarks, Mickey Mouse made a special appearance to help unveil Tony's window, located above the Main Street Magic Shop. The window pays tribute to Tony's marvelous imagination, reading, "Main Street Marvels–Tony Baxter, Inventor: Imagination is in the Heart of our Creations." The final line is a nod to "One Little Spark," the memorable song written by Disney Legends Richard M. and Robert B. Sherman for the Journey Into Imagination Pavilion at Epcot – a project spearheaded by Tony for the park's original lineup of attractions in 1982.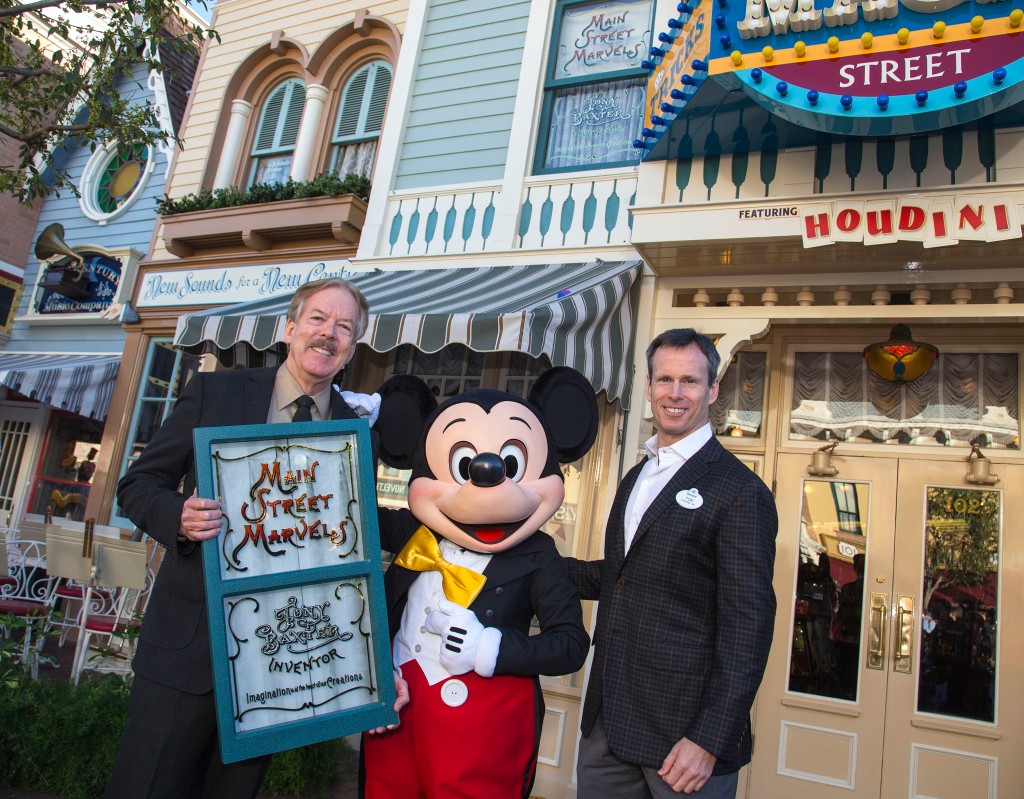 After the window was revealed, Tony delivered a heartfelt speech recognizing the incredible partnerships that helped him throughout his career and expressing his lifelong devotion to Disneyland, which he will always see as "Walt's park."
"This is Walt's park, and this is where it all began," said Tony.
"The names on those windows gave the world a very magical kingdom, but more importantly, created a yardstick by which everything that's followed Disneyland has been measured. I was fortunate to know and work with many of these people. To be included with them here at Disneyland, is to me, the ultimate honor."
Tony Baxter is not only known for playing a key role in the development of many beloved attractions at the Disneyland Resort, such as Big Thunder Mountain Railroad (1979), New Fantasyland (1983), The Disney Gallery (1987), Star Tours (1987), Splash Mountain (1989), and Indiana Jones Adventure (1995), but also for his creative influence at other Disney Parks and Resorts. Tony was involved in the opening of Walt Disney World Resort in 1971, and later worked on concepts for Epcot and the unrealized Discovery Bay and Dumbo's Circus areas for Disneyland. In 1982, the Journey into Imagination Pavilion opened at Epcot, taking guests on a flight of fancy through the creative process with hosts Dreamfinder and Figment. Tony also served as senior vice president responsible for the concept development, design, and creation of Disneyland Paris for its opening in 1992.
More recently Tony was involved in the development for the Finding Nemo Submarine Voyage (2007), the re-opening of an enhanced Sleeping Beauty Castle Walkthrough (2008), an upgraded restoration of Great Moments with Mr. Lincoln (2009) and Fantasy Faire (2013).
On February 1, 2013, Tony transitioned from his role as senior vice president of creative development to a creative advisor and mentor at WDI. Tony was named a Disney Legend in August 2013 at the D23 Expo in Anaheim.