Like Mork, the character he first played on an episode of ABC's Happy Days, this utterly original comic and movie star appeared on our television sets seemingly out of nowhere, almost as if from outer space.
But, by 1978, when ABC's Mork & Mindy arrived on screens, Robin Williams soared to superstardom faster than you could say "Na-Nu-Na-Nu," "Shaz-bot," or any of the other catchphrases the improvisational comic made part of the pop culture lexicon of the late 1970s. Within two weeks of the show's premiere, Robin was hailed as a new star. Little could we have known that he was just getting started.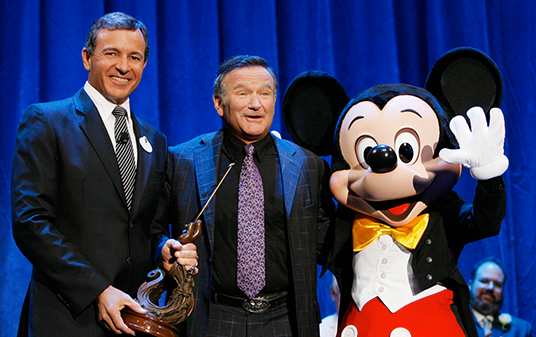 Commenting on his passing, Bob Iger, Chairman and CEO of The Walt Disney Company, said,
"We're deeply saddened by the loss of Robin Williams, a wonderfully gifted man who touched our hearts and never failed to make us laugh."
"An incredible actor and a comedic genius, Robin will always be remembered for bringing some of the world's favorite characters to life, from his zany alien on ABC's Mork & Mindy to the irascible genie in Disney's Aladdin. He was a true Disney Legend, a beloved member of our family, and he will be sorely missed. We join Robin's friends and fans everywhere in mourning, and offer our thoughts and condolences to his family during this difficult time."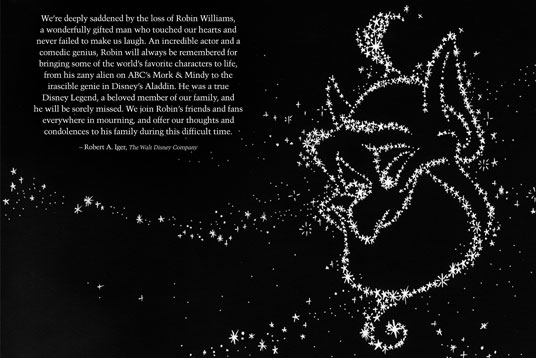 Robin was born in Chicago, Illinois, on July 21, 1951, the son of an automobile executive and his wife, a former model. He was raised in Chicago and Detroit, moving with his family to the San Francisco area during his last year in high school. A gifted student, Robin majored in political science at both Marin and Claremont Colleges. While at Marin, he won a scholarship to Juilliard in New York City, where he studied with the legendary John Houseman, along with Christopher Reeve, with whom he remained lifetime friends.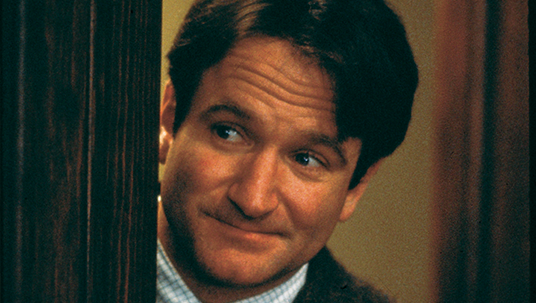 "I am beyond devastated," Eric Goldberg, supervising animator of Genie in Aladdin said. "I cannot express how influential and important Robin was, and will continue to be, to me and countless other animation artists.
Robin gave those of us who worked on the Genie so much humor, inspiration, and just sheer delight, that we were always spoiled for choice whenever we came back from a recording session. Like the Genie, Robin's immense talent could not be contained in the lamp. I think we all knew, as the world does now, if there was ever a person who was tailor-made for the medium of animation, it was Robin. We have lost not just a great voice, though. We have lost a warm, human, miraculous person whose numerous and amazing talents will continue to inspire people for generations upon generations."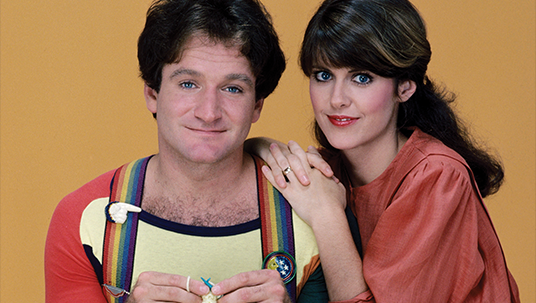 Critics waxed euphoric in their attempts to describe Robin's stand-up comedy work, a craft he turned to with vigor and perfected in the years following the conclusion of Mork & Mindy. "An outstanding lunar Wildman, out of Jonathan Winters by way of Lenny Bruce with a touch of Richard Burton thrown in," is how one critic enthused about Robin's performances. "An engaging, bright, and inventive actor," said another. After taking in the sight of the deliriously manic comic's nightclub act on an HBO special, The Hollywood Reporter characterized the incendiary performance as "unadulterated brilliance."

Film critic Leonard Maltin stated, "I felt lucky every time I got to chat with Robin Williams, but when I once said, 'I'd love to get inside your brain,' he replied, 'Leonard, you don't want to go there.' We'll always be able to see him, thank goodness, but now the experience will be bittersweet."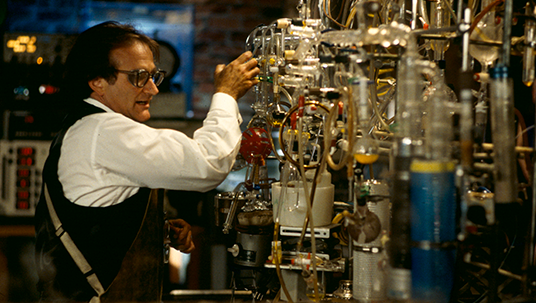 In 1987, Robin trained his talents on live-action and animated films and almost immediately became one of America's biggest stars. Beginning with his Academy Award®-nominated performance as Adrian Cronauer in Touchstone Pictures' Good Morning, Vietnam, Robin starred in an impressive string of Disney films. They included the haunting portrayal of teacher John Keating in Dead Poets Society, a hilarious voice performance as the Genie in Aladdin, and high-caliber performances in Flubber and Bicentennial Man.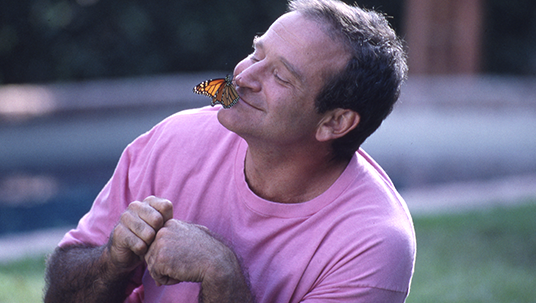 "If I had only watched Robin Williams on the TV screen, in the movies or on stage, I would consider myself blessed for having simply experienced his brilliance, his joy, his humor and his heart," composer Alan Menken says. "The fact that I had the honor of sharing the creative process with him is an honor and a privilege that I will cherish for the rest of my life."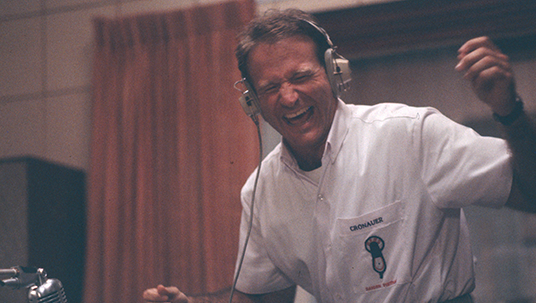 Along the way, Robin starred in several seminal films, including Moscow on the Hudson, for which he earned his first Golden Globe® nomination, Miramax's Good Will Hunting, for which his nuanced role as grieving psychologist Sean Maguire earned him the Academy Award for Best Supporting Actor, and Mrs. Doubtfire, which earned him his third Golden Globe—this time for Best Actor-Motion Picture Musical or Comedy.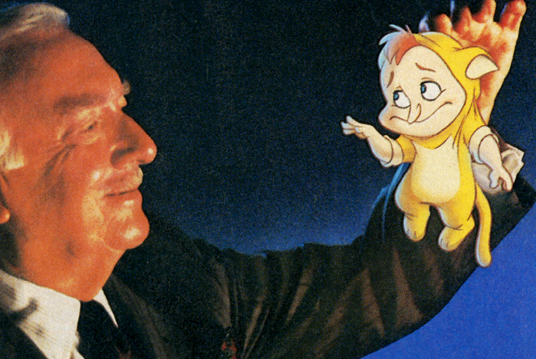 Robin appeared alongside Walter Cronkite in Back to Neverland, a humorous look at the animation process, for the Disney-MGM Studios Animation Tour, and provided the voice of the Timekeeper for the attraction of that name at Walt Disney World's Magic Kingdom.
Other Disney appearances include a reprise performance as Genie in Aladdin and the King of Thieves; Hollywood Pictures' Jack, directed by Frances Ford Coppola; and the 2009 comedy Old Dogs.