Hundreds of family members, friends, and colleagues of Mel filled the historic Studio Theater and remembered the artistic legacy of a man whose remarkable career spanned classic films from Bambi to The Lion King.
A panel of Shaw and Lounsbery family members recalled stories of a happy and loving father.
Hosted by Disney animation veteran and film producer Don Hahn, the Mel Shaw Life Celebration recalled many favorite stories of an artistic visionary whose work influenced people around the world. A panel of Shaw and Lounsbery family members recalled stories of a happy and loving father whose talent was simply unparalleled. Family photos, stunning artwork, and outrageous caricatures painted a picture of a passionate, fun-loving, and adventurous leader of a close-knit family.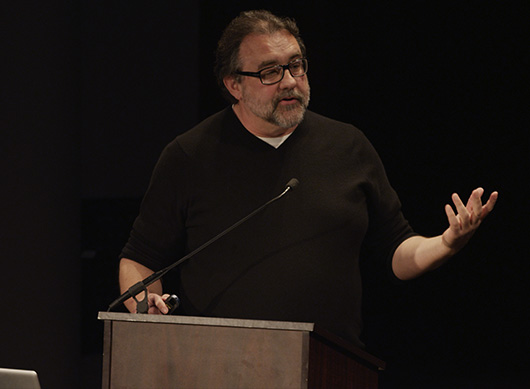 Born in Brooklyn on December 19, 1914, Mel showed artistic promise at an early age. After moving to Los Angeles in 1928, he went on to design title cards for silent films, and later moved into animation at the Harman-Ising studios. Shaw began working at Walt Disney's Hyperion studio in 1937, contributing greatly to the visual style of Fantasia, Bambi, and The Adventures of Ichabod and Mr. Toad.
During World War II, Mel enlisted in the U.S. Army Signal Corp. as a filmmaker under Lord Lewis Mountbatten. After the war, Mel brought his masterful aesthetic to many different projects- including ceramics, children's toys, architecture, and city planning- even designing the original Howdy Doody marionette puppet for NBC!
Mel was brought back to the Disney Studio in 1974 to ease the transition of the retiring animators of Walt's era into the next generation of young talent. When asked why he returned, Mel replied, "Working on animated films gives me more satisfaction than anything else I can think of," he once said.
"And Disney's is about the only place where good animated films are still being made."
Along the way, Mel brought his skill to such projects as The Rescuers, The Fox and the Hound, The Black Cauldron, The Great Mouse Detective, Beauty and the Beast, and The Lion King. Known around the studio for his warm personality and his dazzling work in pastels, Mel's visual panache helped shape these projects into the classic Disney films that we now know as a great renaissance of Disney animation.
A second panel of the evening, hosted by animation historian Charles Solomon, featured animation veterans Andy Gaskill, Burny Mattinson, Ron Clements, John Musker, and Doug Lefler, all of whom worked with Mel during his second tenure at Disney. They reminisced about their great pleasure in collaborating with Mel and the enormous influence he had on their role as the next generation of animators. They also discussed Mel's incredible concept art for the unproduced follow up film to Fantasia, known as Musicana.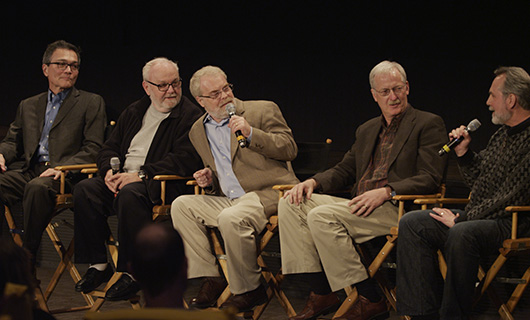 Mel was named a Disney Legend in 2004, and many fellow Legends, including Alice Davis, Kathryn Beaumont, Tyrus Wong, and Dave Smith were in attendance at the Life Celebration, sharing stories and remembering a great man and his legacy.
The title sequence of The Rescuers was screened at the tribute, featuring Shaw's gorgeous pastel artwork. Originally, these pieces were done as visual development artwork, but they so masterfully conveyed the story, expertly capturing the color and movement of a message in a bottle travelling over the seas, that co-director Wolfgang "Woolie" Rietherman decided that they would make a perfect opening sequence.
This evening of colorful stories, images, and songs was without a doubt a perfect testament to variety and vibrancy of his work.
By Walt Disney Archives' Justin Arthur