By Zach Johnson
"I am deeply honored and so very proud to be named a Disney Legend," says Barnette Ricci, one of 12 remarkable people who were inducted August 23 at D23 Expo 2019. "And this is going to be especially exciting for me because I used to direct the Disney Legends ceremonies!"
Ricci actually started her career with The Walt Disney Company in the late 1960s as Disneyland's Staff Choreographer. She created, choreographed, and directed the Kids of the Kingdom shows, as well as dozens of parades. "Having been offered this wonderful position was just really something special," she says. "I felt so fortunate and so happy that my work was recognized as being something that was a good fit for Disney."
For more than 40 years, Ricci's career highlights include working on the grand openings of Walt Disney World, EPCOT Center, and Tokyo Disneyland, and directing The Main Street Electrical Parade and popular stage shows such as Golden Horseshoe Revue at Disneyland and the Diamond Horseshoe Revue in Magic Kingdom at Walt Disney World Resort. Perhaps her biggest project to date is the creation of Fantasmic! Debuting at Disneyland in 1992, the production combines state-of-the-art special effects with live performers along the Rivers of America. "I had previously done several shows on the river where we used the Mark Twain Riverboat, rafts, and barges as traveling stages for singers, dancers, and characters to perform," Ricci recalls. "I always felt it was a unique venue, you know, and would be the perfect location to present this spectacular production."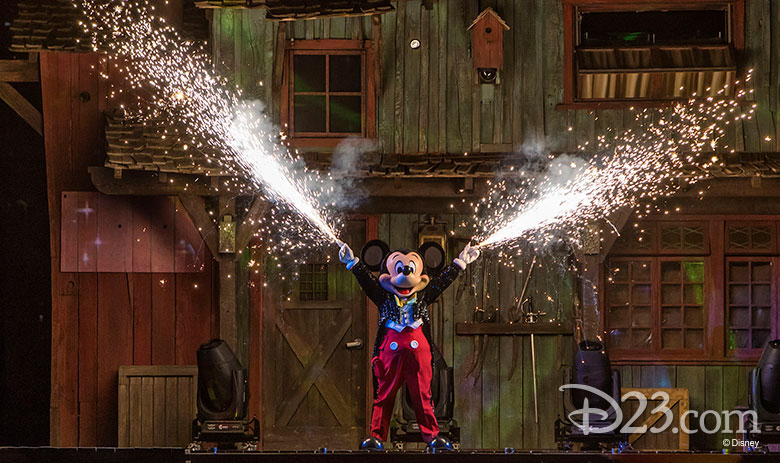 Fantasmic! continues its successful run at Disneyland, Disney's Hollywood Studios at Walt Disney World, and now Tokyo DisneySea. "It's a really special feeling to know that something you've created is so beloved. The looks on the children's faces watching a Disney show is always so heartwarming and fulfilling, but it has been especially rewarding to see and hear their response to Fantasmic!" Following Fantasmic!, Ricci moved to The Walt Disney Studios as the vice president/show director of Special Events, eventually retiring in 2013.
"I had the opportunity throughout my career to work with thousands—literally thousands—of super-talented people," Ricci says. "I feel so fortunate to have had this amazing and exciting career with Disney."
Barnette Ricci was inducted during the Disney Legends Awards ceremony at D23 Expo 2019 alongside Christina Aguilera, Wing T. Chao, James Earl Jones, Kenny Ortega, Robin Roberts, Diane Sawyer, Ming-Na Wen, and Hans Zimmer—and Robert Downey Jr.
Read Barnette Ricci's extended profile and the rest of the 2019 Disney Legends profiles in the fall issue of Disney twenty-three.